Beautiful, Secluded Daufuskie Island, South Carolina Off Beaten Path
What an experience you'll have on Daufuskie Island, South Carolina. Whether it's a positive or negative experience, it all depends on what YOU want when you get there. My sister absolutely hated this island when she visited it years ago . . . there isn't a hotel and one of the golf courses has been swallowed up by the sea. Forget about looking for a day spa, and there just might be two small eateries (maybe 3) available, but nothing gourmet as some travelers seek out on their sojourns.
You'll be surprised at how many people go to Daufuskie Island for a weekend, a week, a month, or are among the 350 + peeps who live there year-round purposefully giving up the rat race of normal contemporary life . . . and they want it to stay that way.
And you'll be surprised at how far people come from and how long they've been coming to Daufuskie. The first family that we met at the dock drove from Indiana with their small children. They have been doing it for over 20 years since their own childhoods. If that ain't a sell, I don't know what is.
Daufuskie Island Named Oned "The Best Memorial Day Weekend Getaways" by Conde Nast
https://www.daufuskieisland.com/daufuskie-island-named-oned-the-best-memorial-day-weekend-getaways/
Daufuskie Island Named Oned "The Best Memorial Day Weekend Getaways" by Conde Nast
Part of the old-days-gone-by charm of Daufuskie that keeps it so authentic in time and place and irreplaceable, is that there are absolutely NO BRIDGES to get to this island. You either get there by boat . . . or you swim.
I recommend you take the ferry.
The folks who operate the ferries are super professional and run their outfits like clockwork. You don't lose a thing and they run on time!
Be at the dock an hour earlier than your ferry departure time . . . you need this time to load your luggage, food, and whatever geer and stuff you want to take (the docks are on Hilton Head Island where you park your car . . . and yes you pay a daily parking fee while you're on Daufuskie — this all adds up — this is no cheap vacay my friends).
Everything that you bring is placed in it's own huge blue container . . . make sure that you have each and every piece of "anything" tagged with your last name so it all gets transported together. It's really quite an operation! Pay these guys a good tip. They seriously deserve it because it's back-breaking work loading up all of our luggage, coolers of food, and 'stuff'.
Mother Nature isn't shy and begins to show off the minute you're on the water on board the ferry. Dolphins aren't shy and come right up to your boat to entertain you, along with blue heron swooping overhead. You're on your way to a national nature preserve, so this is just an introduction to what lies ahead on this secluded island.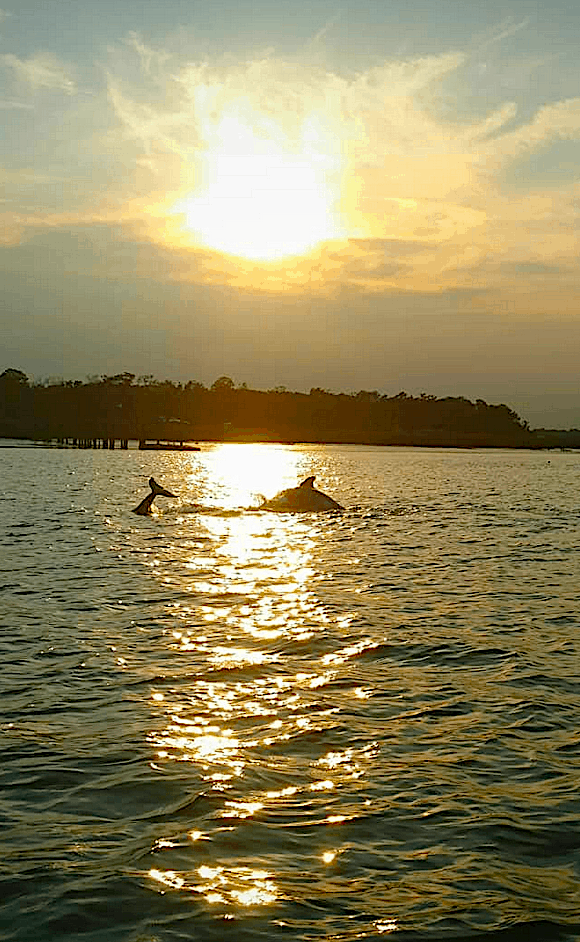 Oh and there's one grocery store and one liquor store. Both places were out of everything when we went for a bottle of vodka and some eggs (It was Memorial Day weekend).
Nada! Nothing.
So rule of thumb: Pack all of your food before you get there. It costs $45 dollars to go shopping on Hilton Head Island for groceries each and every time you go on the ferry. If you don't plan well, you'll be spending pretty heavily in ferry fees. Forgetfulness can literally be super expensive on this island!
No cars are allowed (except for commercial vehicles that are few and far between). Rental golf carts or bikes allowed only. And just plain walking. It's awesome! Only 2-½ miles by about 5 miles, it's pretty small so you can't get lost. No speed limits, etc. Whatever floats your boat!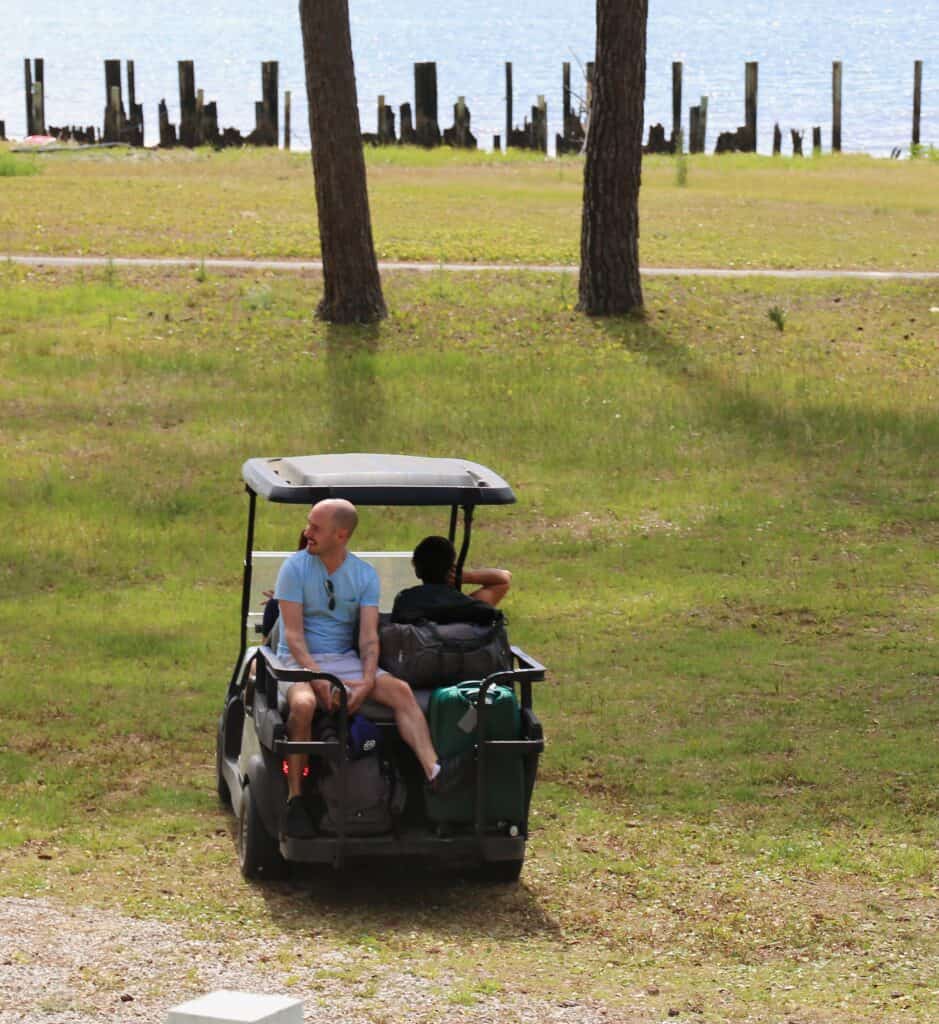 Get your tender rear in shape if you'd like to bike around.
or you can always ride some of the local horses!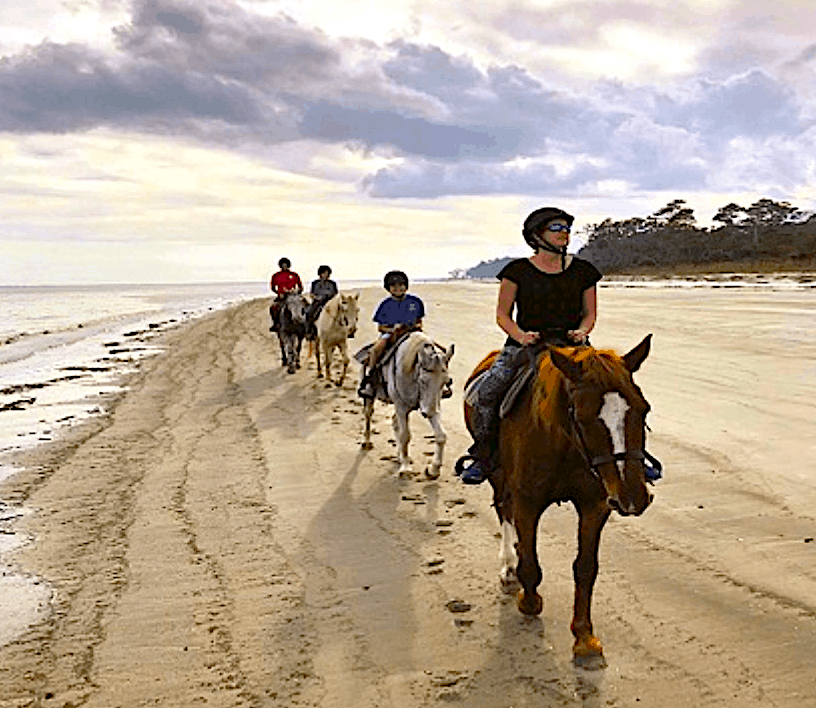 Daufuskie Island is both a national historic and nature treasure. Every natural element is protected from the turtles who lay their eggs at night on the beach, to the egrets, blue heron, an even alligators rule the roost on this island. Be smart and stay away from them.
There's so much history on this little island from when the first Africans were brought over and developed their own unique and beautiful "Gullah" culture including a language of their own. Tours of all the special places are strongly advised.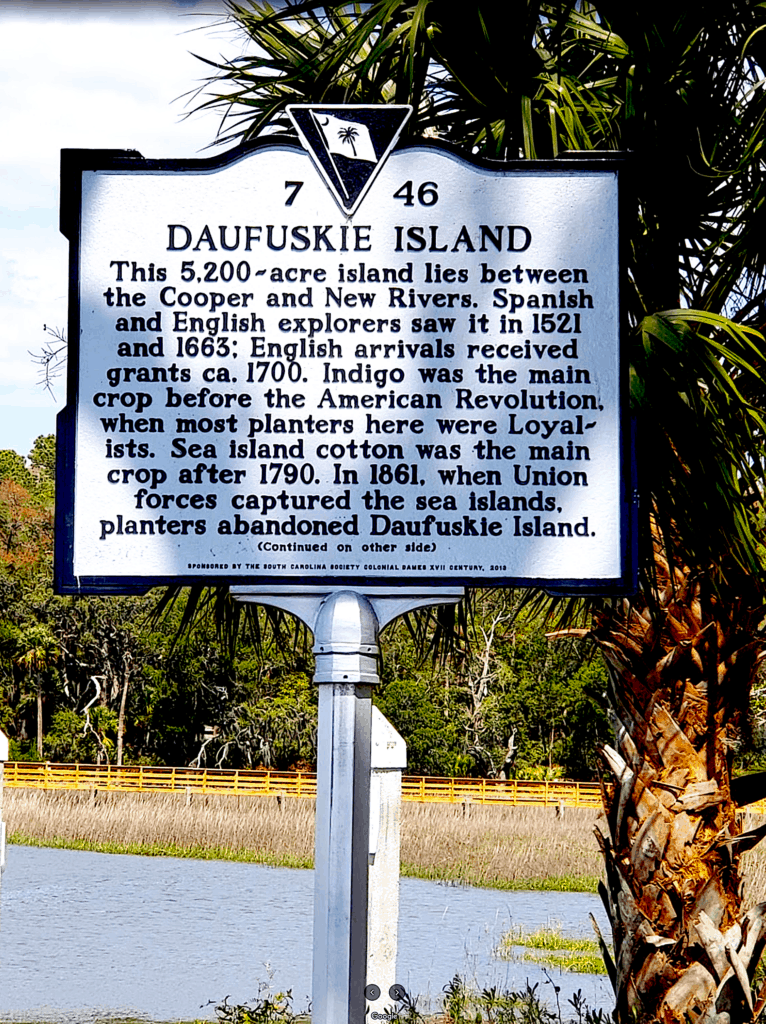 Handpainted signs showing you where something is located are a blessing on this thickly wooded, forest island.
Author Pat Conroy taught school here as well. One of his famous books, "The River Runs Wide" was influenced by his time on this isle.
Daufuskie Island is rustic, secluded, undeveloped, basic, quiet, relaxing, and rejuvenating to the soul . . . for our family of 10 (6 adults and 4 children under the age of 7) it was sheer heaven!
From Chicago, our son, an accountant flew in with his beau, an event planner. From Tennessee, arrived our daughter, an art teacher and mother of triplets (+ one more son, age 7) with her husband, an attorney, and myself, a university professor and department chair with my happily-retired-from-Clemson-University husband.
The four boys were ready to run wild in a super safe (non Covid) environment where we literally had the beach to ourselves for one full week.
In between the lines above about my family, you had to realize that we have lifestyles of high stress! Each of us (well not the kids or my retired hubby) were in much need of chilling on the beach, in a hammock, on a beach towel, or in a creaking southern wooden porch rocker.
That's what we all wanted.
When the time came, It was painful for all of us to leave.
I don't know when I've ever slept and relaxed like I had during this week on this weird (yea, it's kind of strange) island.
After about 45 minutes of figuring out how to get to the rental property. After unpacking all of our stuff from the blue containers. After re-loading all of our stuff onto trailers happily offered some locals wanting to earn some good money (and who also provide jibber-jabber of local lore and stories to entertain you during your 10-minute max drive), you drive through this . . . and only this: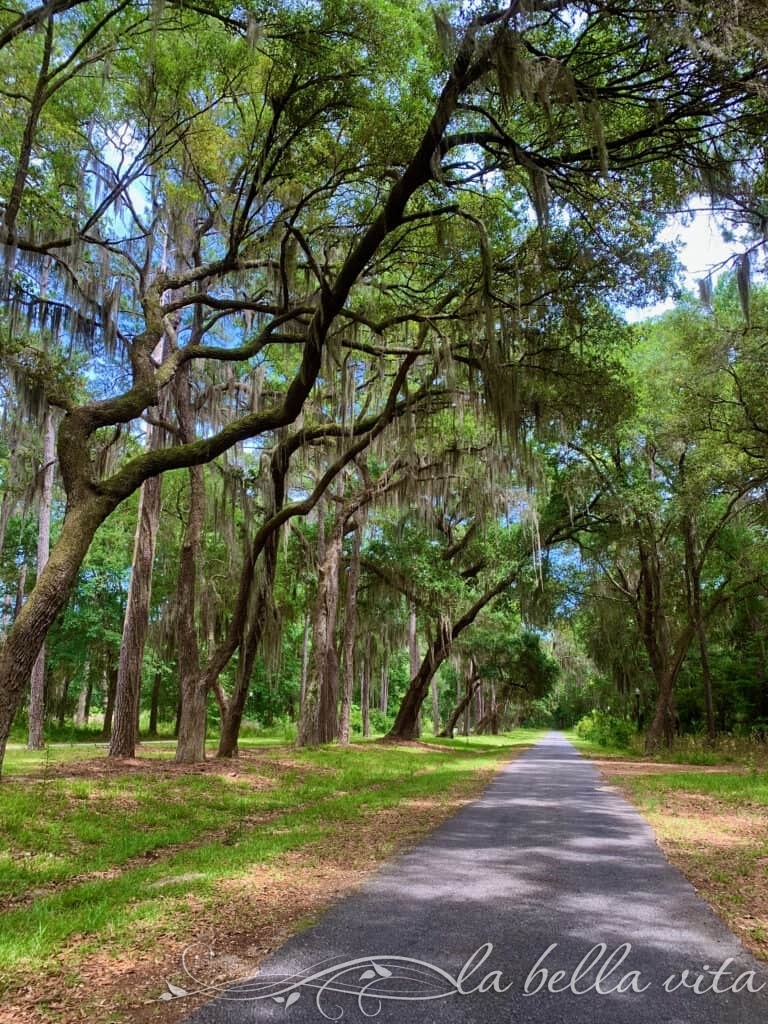 No Disney World, no shopping malls, no signs, no sounds . . . nothing but beautiful and untouched nature.
Period.
Good morning world! Hot coffee in hand, enjoying the silence, the quiet, the birds, and the view.
This (above photo) is what we woke up to every morning from the balcony on the second floor where our room was located.
So quiet, with a full view of the shore and sea with no obstructions.
Just the quiet sounds of cardinals and sea birds singing their morning songs, and the aroma coming from my cup of java.
You get the picture!
When the breeze takes a break and the air stands still, it's the perfect time to slowly rock back and forth on a humble Southern oak rocking chair.
The rhythmic sounds and motion of these chairs worked their magic on the hypnotic characteristics of the sea-worn wooden front porch.
With glasses of wine and smartphones in hand, Jesse and Kenny relax in an old hammock on the homes' screened-in back porch.
Life is good!
But young boys like to stay busy, so several rounds of corn hole were played constantly on the front porch.
The boys were so self-entertained with each opportunity.
No clinging on anyone during this sojourn.
And no iPad or cellphone necessary!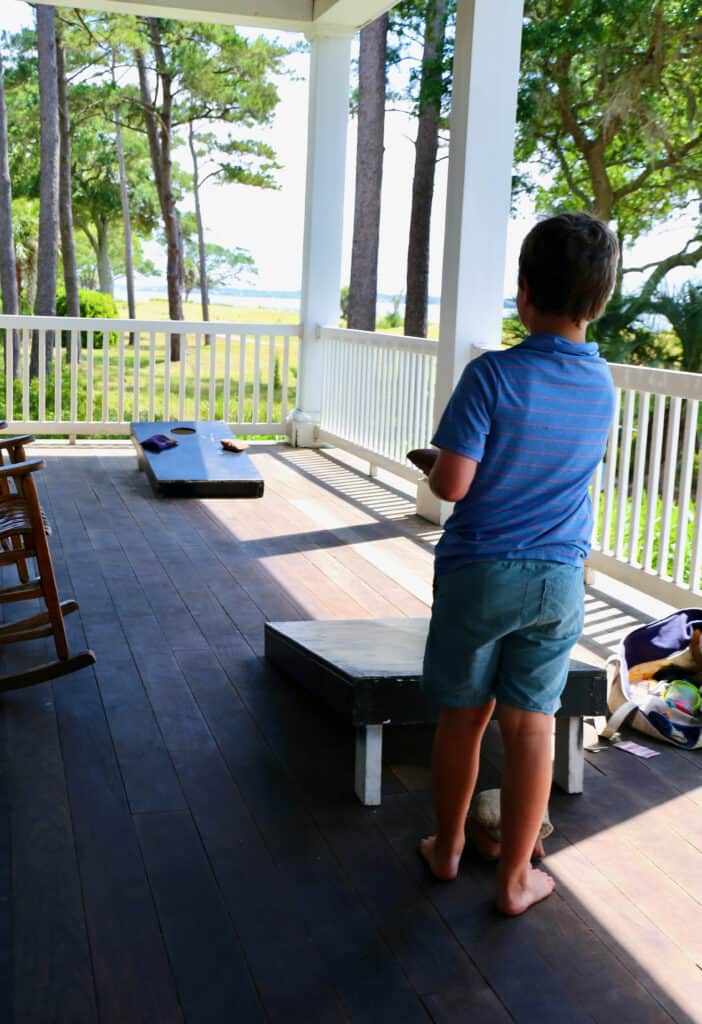 Afternoons were spent briefly at a community pool with nice menu options for lunch.
Then it is back to the house for some discovery time on the beach in front of us.
Nature has a way of being beautiful in so many ways. Here a fallen tree joins the sand and soil of the beach. The strength of the wind in hurricanes and coastal storms has no match.
My grandson digging and prepping a fire pit for everyone to enjoy in the evening!