How To Make Limoncello Rambutan Martini Cocktails
If you've never tasted the exotic Asian fruit, rambutan, than you are totally missing out! This funny looking, fuzzy, hairy exterior ball-like thing contains an ever so sweet and delicious fruit inside that has the consistency of a grape and is SO. SWEET. and Juicy. Most people just plop them in their mouthes to eat fresh and on the spot just like a handful of green or red grapes! But what else can you do with crazy delicious, but crazy looking fruit? Make some delicious Limoncello Rambutan Martini Cocktails!
You will rarely find this on a cocktail menu!
Once you bite into one, you're smitten! You'll want some anytime that you EVER find them on the market. And you won't find them very much. You see, rambutan are only in season in July and August and again in December and January. When in season, fans of rambutan go nuts scrambling to buy them to get their seasonal fill (or fix)! And lastly, they only grow in a few places on the planet; Southeast Asia in particular. Thailand is best known for rambutan. I've found them in local food markets in Hawaii and St. Thomas, U.S. Virgin Islands too.
Speaking of Thailand, when I worked at a university there during my summers off in the States, I was introduced to just about every unusual food you can think of.
And that's when I first bit into this luscious, magnificent food from the gods.
Next to Italy, I swear Thailand is my favorite country for so many reasons. I can't tell you how much I love Thailand. Could it be the food?
Oh my gosh, Thai food is a super big part of my love affair with Thailand. The amazing fruit and vegetables that are so difficult to find in American food markets are just . . . indescribable!
So let me just start with Thailand's best fruit, available only for a few months and then POOF . . . it's gone! No wonder that the Thai people will suddenly stop while driving along a country road just to buy some fresh rambutan from a local fruit stand.
What is a Rambutan?
Rambutan is an exotic tropical fruit that grows in Southeast Asia and Hawaii. It's related to the lychee and longan.
This small 2″ oval/round shaped red fruit is covered with strange green, yellow, or pink hairs sticking out all over the entire orb. As weird and funky as they look, don't be deceived! Inside is waiting a super sweet surprise treat that you'll come back and beg for more!
The fruit of rambutan is slightly smaller in size than a lychee. The one main difference between the two is the long hairs on the rambutan exterior which lychee don't have; they're basically hairless with a lumpy exterior.
What does Rambutan taste like?
It has been described as tasting similar to a green grape and a ripe pear, with a similar soft, chewy texture.
It's flavor is often compared to a lychee, nice and sweet with some subtle sour notes that sneak in, but yet not quite as sweet as lychee. If you compared a rambutan to a lychee they both taste a little sweet with a little sour like a grape.
What to look for when buying Rambutan:
Keep in mind that Rambutan does not ripen after being picked. So, pick a nice ripe batch to start with. Rambutan should have a sweet scent . . . never sour!
The interior fruit should be snowy white, firm, and moist.
How to tell when Rambutan is ripe?
Rambutan should be bright red with green hairs sticking out all over the surface.

If the rambutan have turned brown with dark, brittle hairs falling off, then it is over ripe. So just keep going through all of them to pick out what you want.
How to eat Rambutan?
First wash/rinse the fruit before eating.
Place your rambutan on a cutting board or between two hands. Just slice with a knife through the skin only at the center of the rambutan . . . to get it started. Finally, peel apart with your hands or squeeze to gently push the fruit out.
This will reveal the snowy white interior sweet flesh of the rambutan. Discard the outer hairy peel.
Next, remove the seed inside because it is toxic and not to be eaten.
An inner shell lining of the seed will be found inside on the snowy white fruit. Don't worry about that since it's safe to eat.
Where can you buy Rambutan?
I just received my online order of imported fresh rambutan from Thailand (available when in season from Amazon). And I needed to act fast before any spoiled. You can purchase these fresh tropical fruits from Asian Markets and even on Amazon from the fresh market. They are also available canned by Ariy-D without the hairy skin or seeds! Lucky you, if you live in Hawaii, as you can find them at the local markets. I've also found them in St. Thomas, U.S. Virgin Islands.
How is Rambutan stored and for how long?
Rambutan are always best eaten fresh. They can be stored at room temperature for only 2 days at best. Then, they must be stored in the refrigerator in a bag with perforated holes to allow them to breathe. You can also peel, pit and store them in a freezer safe bag or container in the freezer for up to 2 months.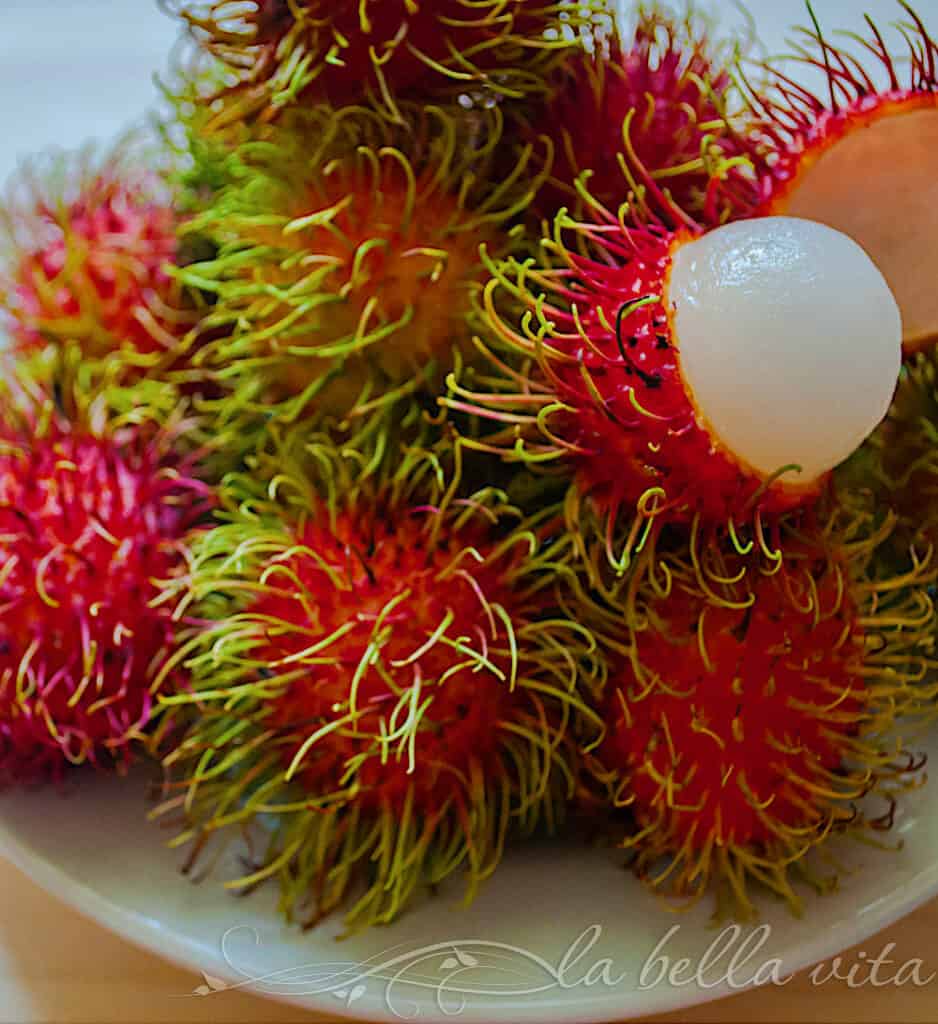 Why you'll love this Limoncello Rambutan martini!
It's unique and exotic! Not just anyone prepares these! So they're really pretty special!
It has the most refreshing sweet, floral flavor that's light and not heavy at all, which makes it . . .
Refreshing on a hot afternoon or evening, exuding feelings of lounging on a tropical island!
The limoncello adds a nice, crisp bite to it.
You can easily increase or decrease the sweetness preferred of your martini by adding simple syrup of the syrup from the can or . . . you can squeeze more fresh lemon juice in for a more sour martini. How you 'balance' your sweet vs. sour elements is totally up to your personal desires.
And like all martinis, it's rather sophisticated served strained and 'up' in a lovely martini glass.
You can make alcohol-free rambutan mocktails for the kids or anyone who doesn't drink alcohol. Just add either lemon-lime soda, such as 7-Up, Ginger Ale, or sparkling water.
So let's get this party started and go chill some martini glasses!
While they chill nicely, remove the hairy exterior from the white fruit inside:
Take a knife and make a slit around the center; gently push the fruit and it will pop out easily!
When you have finished removing the hairy exterior, rinse the white fruit with clean, cold water.

Then with a knife, cut out the seeds.
If any bit of the 'lining' of the seed is left in, that's okay to eat.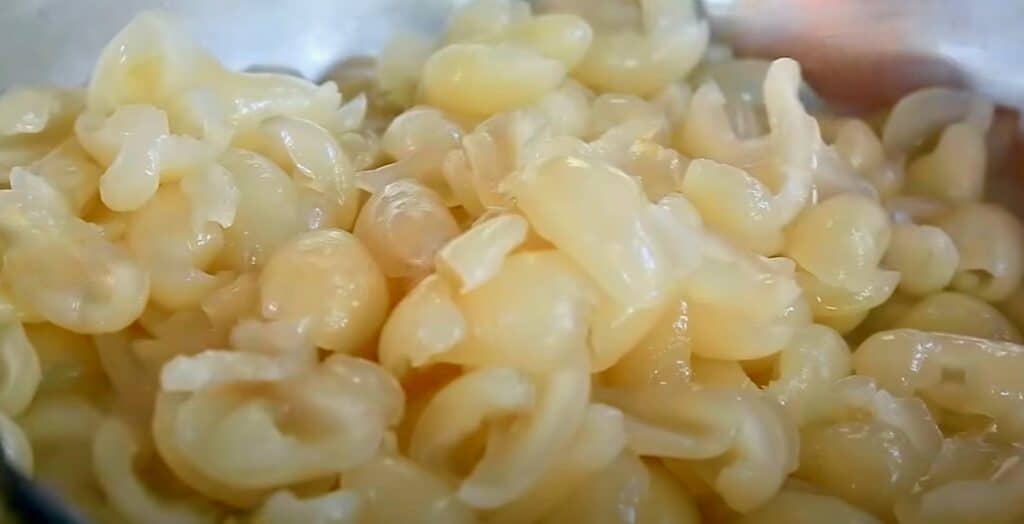 Place the seedless rambutan fruit in a medium mixing bowl to puree.
I recommend using an immersion blender to puree the rambutan.
Now go get that cocktail shaker and shake it all up with the limoncello, vodka, simple syrup and some fresh-squeezed lemon juice.
Strain into the chilled martini glasses.
Enjoy!
PIN FOR LATER!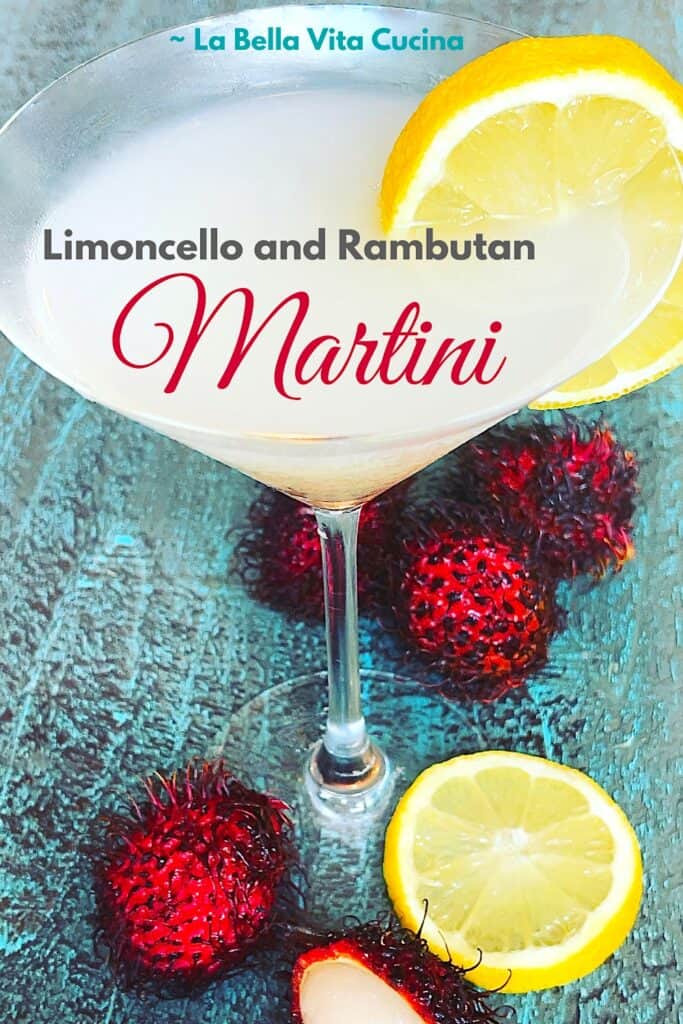 The Recipe!
XX.
Do you enjoy La Bella Vita Cucina?
We'd love to have you as part of our community!
Subscribe below to receive a FREE e-Cookbook and all of the latest recipes, travel tips,
and gardening ideas straight into your inbox!