Delicate and Delicious Thai Salmon — So Easy
Salmon is one of our all-time favorite fish. My family simply loves the flavor of salmon that welcomes so many ways of preparing it. The texture is luscious and smooth when cooked to perfection (which is not very long on the heat). Served cold it's is great on bagels with cream cheese or on a party's buffet table with some caviar! What a splurge, huh? At parties, platters of salmon are always placed where people swarm to before it disappears in ot time.
And OH. THE. COLOR. of salmon. One of Mother Nature's beautiful gifts! I wanted to share this recipe that I discovered in Mary Berry's endless library of cookbooks. Here is lighter, healthier version of Thai Salmon. It is not dripping with thick, sugar-loaded Thai chili sauce.
Yes, that's a delicious Asian method of enjoying salmon. True. True. But if you're on keto or low-carb, this is the recipe that has a delicate Thai flavor with no guilt after eating it.
The marinade is what this recipe is all about next to the salmon that takes center stage. It has all the traditional Thai flavors that we expect: lime, galangal (ginger), garlic, lemongrass, fish sauce, Thai hot red peppers, shallots . . . just to name a few.
When all the prepping is done (chopping, slicing, etc.) this salmon is on the table to feed your family in less than 15 minutes. It's that fast! My husband wanted some steamed broccoli for a side dish, so I knew the water needed time to boil. You want to have water for steaming finished before you place the salmon in the oven. Fast cooking is what I'm trying to get at. At the same time that the salmon goes in the oven, put your broccoli in your steamer. After 5 minutes, flip the filets over as gently as you can.
Broil for another 5 minutes. Keeping a strong eye on the salmon so it won't burn! Set the table during these 10 minutes to set the table while it bakes.
Here are several other recipes for Salmon and Thai cuisine that I think you'll enjoy:
The BEST Tuscan Salmon in Creamy Sun-Dried Tomato Sauce
Salmon, Asaparagus and Peas Over Pasta and a Lemon Sauce
3 Spice Thai Encrusted Red Snapper in Thai Chili Sauce
I hope you enjoy this recipe from Mary Berry's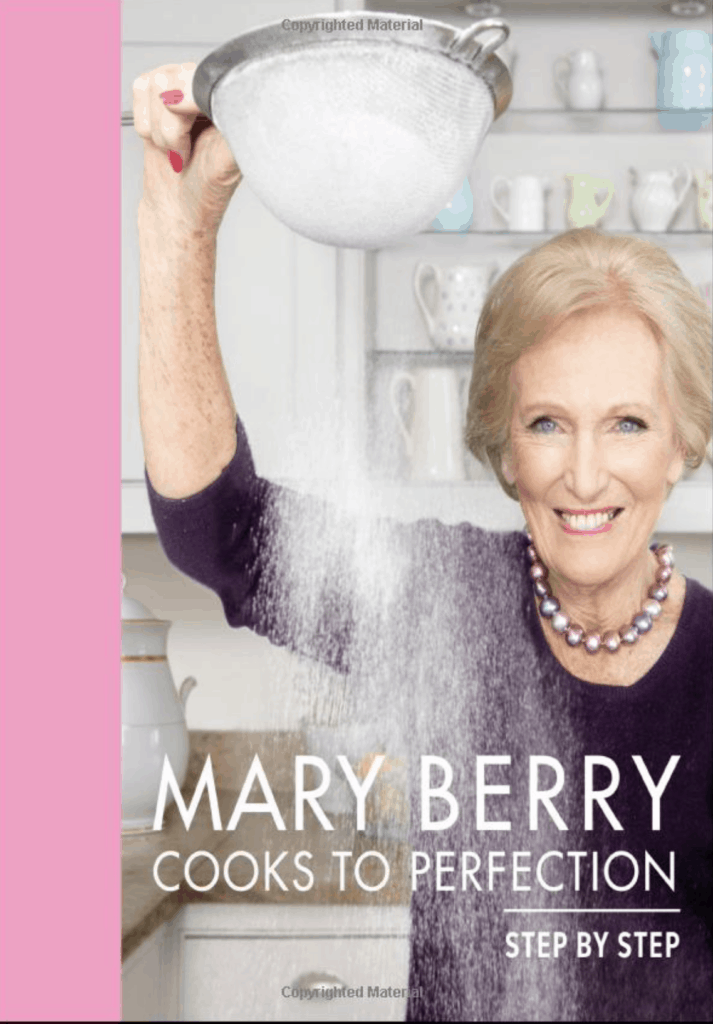 .
Do you enjoy La Bella Vita Cucina?
We'd love to have you as part of our community!
Subscribe below to receive a FREE e-Cookbook and all of the latest recipes,
travel tips, and gardening ideas straight into your inbox!
Print
Delicate Thai Salmon
Prep Time: 20 minutes
Cook Time: 10 minutes
Total Time: 30 minutes
Yield: 4 Servings 1x
Category: Fish
Cuisine: Thai
---
4 pieces of skinned, boneless salmon fillets, each approx. 6 oz. each
ground white pepper
oil to grease pan
1/2 cucumber, sliced very thin
MARINADE
1 stalk lemongrass with tough outer layer removed
3 Tbsp freshly-squeezed lime juice
3 Tbsp. fish sauce (nam pla)
1–1/2 tsp. finely chopped ginger
2 large garlic cloves, finely minced
1 fresh Thai red mild chili, seeded and finely chopped
---
Instructions
Lay the salmon in a shallow, nonmetal dish and season with white pepper(and also Adolf's 'Lemon Pepper'.
Make the marinade: smash the lemongrass stalk with a rolling pin, slice it into thirds, and place the pieces in the pan with the salmon.
Mix all of the remaining marinade ingredients in a medium-sized bowl with 1 teaspoon of water. Set aside 2 Tbsp. of the marinade to use at the point of serving. Pour all of the remaining marinade over the salmon. Cover and chill for 2 hours minimum (up to overnight), turning the fish only once.
Preheat the broiler for 5 minutes on its highest setting. Meantime, line a baking tray or broiler pan with foil and brush it with a little oil. Remove and discard the lemongrass from the marinade. Transfer the salmon from the marinade to the baking tray or broiler pan, placing it skinned-side down. Spoon the marinade over the salmon and brroil for about 10 minutes. Do not turn the salmon or it may break.
While the salmon is broiling, peel the cucumber and then slice it into wafer-thin slices. Put the siced cucumber in a wide, shallow dish, and pour over the reserved marinade.
Serve the salmon fillet with the cucumber slices on the side. Spoon the marinade from the cucumber over both the salmon and the cucumber.
Serve immediately.
---