Polenta Crostini with Caramelized Mushroom Cicchetti – Venetian Tapas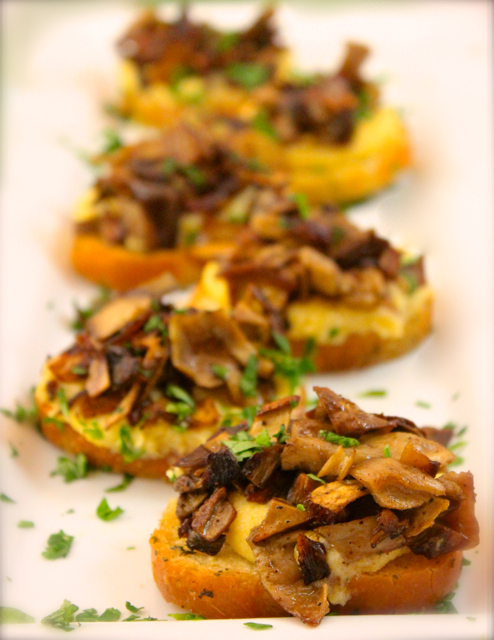 I love these little bites! Especially now when mushrooms are in season!
On a trip to Oaxaca, Mexico, a group of friends and I went to an incredible and authentic tapas eatery where I first enjoyed Spanish tapas. It was an amazing experience, both culinary and culturally! I was thrilled to be able to experience these wonderful little plates in 1994 when few Americans had ever heard of these little dishes yet. Tapas were not yet a mainstream food item!
Although tapas are beloved by many today, a lot of people don't know that Venice, Italy also has a culinary tradition of tapas known as 'Cicchetti' — aka: Italian tapas!
Cicchetti are simple, small 'little bites', and are often quite salty since Venetian cuisine was founded on salt because of it's location on the Adriatic Sea (think: salt-cured sardines, anchovies, cod, and more). So for Italian tapas, or 'chicchetti', you need a strong salt element to excite the taste buds . . . freshly ground sea salt is my favorite to use in the kitchen.
The custom of Italian cicchetti is similar to Spanish tapas – appetizers eaten to offset drinking alcohol in the afternoon or early before the evening meal. There is a strong Mediterranean influence in all cicchetti and tapas: olives, anchovies, sardines, and garlic served on little breads, such as Italian crostini. It's easy to understand why Venetian 'cicchetti' are often compared with the much-loved tapas from Spain.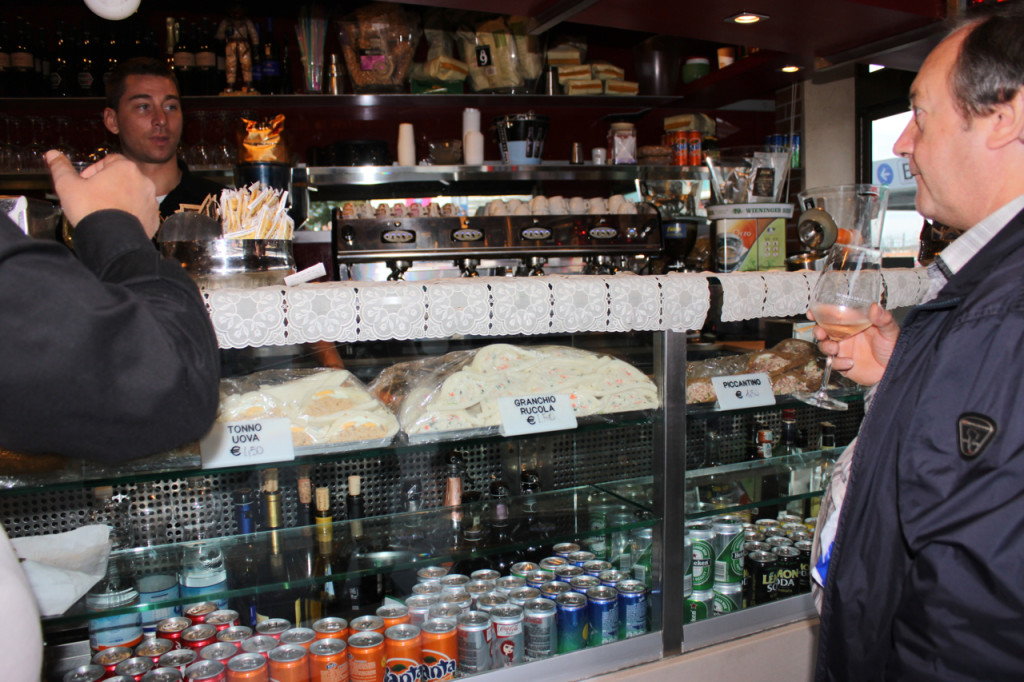 Cicchetti are typically served in Italy's traditional 'bacari' or ''osterie'). Cicchetti bars have a social standup zone and a couple cozy small tables where you can sit down with your cicchetti that you ordered from the bar or I as did, order off a simple menu. I always ask where the locals eat. So that my husband and I go for some good eats that the locals enjoy. Because we went to a popular local bacari, the local crowds were spilling out in the 'street' along one of the canals . . . and they were happy and jovial locals.
But whether you sit or stand, cicchetti cost the same price whether you stand or sit.
Common cicchetti include tiny sandwiches, olives and vegetable, hard-boiled eggs, seafood and meat . . . and all laid simply on top of sliced bread or polenta. We tried samples of nearly everything!
You can literally have a huge lunch or dinner simply by choosing multiple plates of cicchetti.
Cicchetti are not considered a food option in Italian homes. It's culturally normal to be offered and enjoyed by the locals in the city or town center. Everyone, whether the town banker or a cheese delivery person, stops for cicchetti.
Only your fingers and toothpicks are used to eat cicchetti, and always like in a cafe', while standing up at the bar or by the cicchetti counter where they taunt you throughout the entire day. Cicchetti bars are quite lively during the day, as the local Venetians and tours typically eat cicchetti in the late morning, for lunch, or as afternoon snacks. Cicchetti are usually accompanied by a small glass of local white wine, which the locals refer to as an 'ombra' (shadow).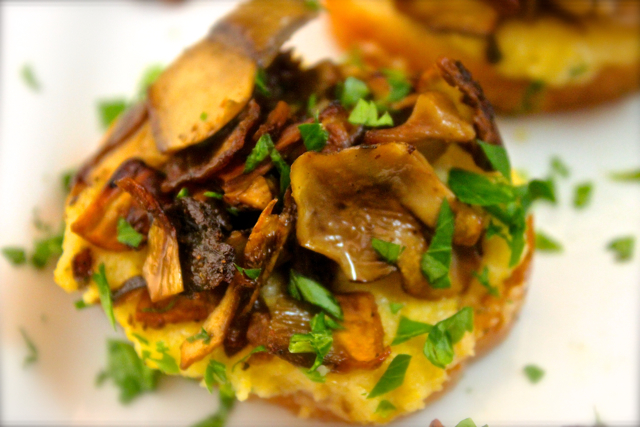 If 'cicchetti' are like Spanish tapas . . . then what are tapas?
Tapas actually refers to a style of serving food, rather than specific dishes.
A "tapa" is a little bit of food served in a creative ways to tease the eyes first.
When you go for tapas, you order lots of small plates to share with others who also share their tapas with you. This way, you can try a huge variety of different dishes all at once.
Tapas start out with slices of meat placed on bread slices. They were then laid down on the top of cocktail glasses to keep flies from getting to your cocktail. "Tapas" is the Spanish verb for "to cover".
Soon the small bar snack started becoming just as essential as the drinks. So tapa bars started to become more elaborate. Just about anything can be served tapas-style!
Today's tapas can be quite sophisticated, ranging from small dishes of olives to elaborate culinary creations. There are even tapas contests to create the very best tapas!
In his article on eating cicchetti in Venice, Rick Steves sums it all up:
"Venice has a wonderful tradition of cicchetti (pronounced chi-KET-tee) — the local appetizers that line the counters of little pubs all over town at the end of each workday. When in town, my favorite meal is what I call the "Stand-Up Progressive Venetian Pub-Crawl Dinner" — visiting a series of these characteristic hole-in-the-wall pubs, eating ugly-looking morsels on toothpicks, and washing it all down with little glasses of wine. An added advantage is that local characters surround you. And, in a town with canals and no cars, pub-crawling is safe and easy.
Venetians call this pub crawl the 'giro d'ombra'. Giro means "stroll," and ombra — slang for a glass of wine — means "shade." This dates back to the old days, when a portable wine bar scooted with the shadow of the Campanile bell tower across St. Mark's Square. That wine bar is long gone, but the cicchetti bars remain, tucked away in the back streets."
I highly recommend what my husband and I do: Get off the beaten trail where it's heavily touristy and wander down the quiet streets in "the far reaches of Venice" as Rick Steeve's says: Because it is off the beaten path "that you'll bump into the thriving little bacari (as the local pubs are called)."
Look for these cicchetti options:
deep-fried mozzarella cheese, gorgonzola,
calamari,
artichoke hearts,
anything odd on a toothpick.
crostini (small toasted bread with a topping) are popular, as are
marinated seafood,
olives, and
prosciutto with melon.
Prices:
Meat and fish (pesce) munchies can be expensive, but veggies (verdure) are cheap, at about €3 for a meal-sized plate.
In many places, there's a set price per food item (e.g., €1.50)
To get a plate of assorted appetizers for €8 (or more, depending on how hungry you are), ask for: "Un piatto classico di cicchetti misti da otto euro." Bread sticks (grissini) are free for the asking.
As I mentioned earlier above, cicchetti cost the same price whether you stand or sit.
Best Substitutes for Porcini Mushrooms
If you can't find Porcini mushrooms or would like to try other mushrooms that are similar, the following can be substituted:
Portobello Mushrooms – Portobellos are quite large with a super meaty texture and a great umami flavor. You can find them easily in supermarkets, making them one of the best substitutes for porcini. They are delicious added to risotto, soups, and gravies.
Shiitake Mushrooms – Often considered the best substitute for porcini mushrooms because the two have a very similar look, texture, and earthy, umami flavor. Shiitake can easily replace porcini in any recipe especially risotto. Like portobello mushrooms, shiitake mushrooms have a strong meaty and umami flavor.
Button Mushrooms – The most common type of mushroom in any supermarket, and therefore are the most affordable substitute for porcini mushrooms. When using button mushrooms, keep in mind that they are smaller and thus less meaty in texture. You might need to add more for an equal substitution for porcini mushrooms.
Crimini Mushrooms – Cremini mushrooms are also quite small and pack a strong, earthy flavor. They have a similar meaty texture as porcini mushrooms so they are another choice to use in place of porcini.
Enjoying a perfect glass of prosecco! I had two!
Typical Cultural Norms for a Venetian "Giro d'ombre (Pub Crawl) Giro means "stroll," and "ombra" — slang for a glass of wine — means "shade." :
Enjoy an aperitivo, a before-dinner drink, such as a spritz con Aperol, or a prosecco,
I always, without fail, order a Bellini, which draw approving looks from the natives,
Drink the house wines. A small glass of house red or white wine (ombra rosso or ombra bianco) or a small beer (birrino) costs about €1. The house keg wine is cheap — €1 per glass, about €4 per liter. Venetian for fine wine such as Vin bon can run you up to €10 per little glass. A blackboard usually lists several fine wines that are uncorked and available by the glass.
Bars don't stay open very late, and the cicchetti selection is best early, so start your evening by 6 p.m. Most bars are closed on Sunday.
For one dinner this week I prepared some flavor-packed Polenta Crostini Bites with Caramelized Mushrooms. I bet you can't eat just one! These are absolutely delightful! Enjoy!
Print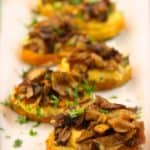 Polenta Crostini Bites with Caramelized Porcini Mushroom Cicchetti
Author:
Prep Time: 0 hours
Additional Time: 0 hours
Cook Time: 0 hours
Total Time: 0 hours
---
For the polenta
1 cup heavy cream
1 cup chicken stock
1 tsp. finely ground sea salt
1 cup polenta
1 – 2 cups freshly grated Italian Fontina cheese, plus more to pass around to guests
1 – 2 cups freshly grated Parmesan, plus more for garnish and to pass around to guests
For the mushrooms
3 tablespoons extra-virgin olive oil
1/2 pound porcini mushrooms, diced
Finely ground sea salt
Freshly ground black pepper
2 Tbsp. unsalted butter
1 Tbsp. freshly minced garlic
1 tsp. finely chopped fresh thyme leaves
2 Tbsp. freshly-squeezed lemon juice
3/4 cup dry white wine
2 Tbsp. finely chopped Italian parsley leaves
1 long, thin loaf of Italian or French bread, sliced thin, toasted, drizzled with olive oil and rubbed with fresh garlic
---
Instructions
Cook the polenta
In a medium, heavy pot over high heat bring the cream, stock, and sea salt to a boil.
Add the polenta gradually, whisking constantly.
When the mixture thickens, switch to a wooden spoon and adjust the heat to maintain a bare simmer.
Cook, stirring often, until thick, smooth, and creamy, about 15 minutes.
Stir in the Fontina and Parmesan cheeses.
Keep the polenta warm over low heat, stirring occasionally.
If the polenta gets dry as it sits, stir in about 1/4 cup of cream at a time, until it reaches your preference of wetness/dryness.
Saute the mushrooms
In a medium skillet over high heat, heat the olive oil.
When the oil is hot, place the mushrooms in a single layer, and do not stir!
Cook the mushrooms to a sizzling point until they have caramelized on the bottom, about 2 – 3 minutes.
When the bottoms are caramelized, toss them once and season with salt and pepper, to taste. Continue to cook without stirring for about 5 minutes.
Season mushrooms with salt and pepper.
Add the butter and cook until it begins to brown.
Then add the garlic.
Continue to cook until the garlic begins to brown, do not burn the garlic.
Add the thyme and cook for about 10 seconds more.
Add the lemon juice and cook until it evaporates.
Add the wine, and simmer until the mushrooms are glazed with the sauce.
Add the parsley.
Then stir and remove the pan from the heat.
Place about 1 tablespoon of warm polenta on each little slice of toasted bread (crostini).
Place about 1/2 teaspoon of the mushroom on top of the polenta.
Garnish with grated Parmesan and minced Italian parsley.
Serve immediately.
---
Enjoy these Polenta Crostini Bites with Caramelized Mushroom Cicchetti – Venetian Tapas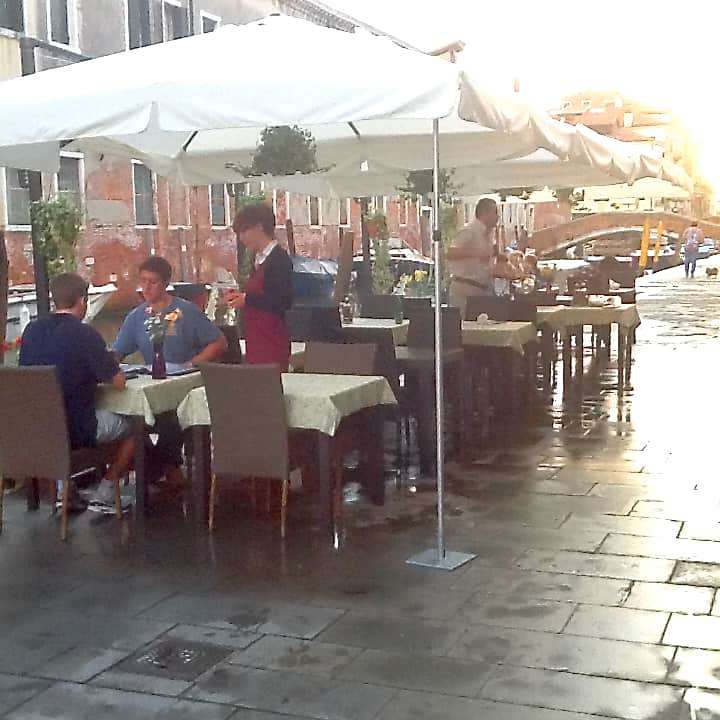 This post was originally posted in 2010 and reposted in 2020 with more timely information and photos.