Old Fashioned Caramel Apple Bread Pudding ~ Easy
Those of you who have read this blog for 10 years now (oh my, time flies doesn't it?), know that a love affair with anything made with pumpkin just isn't for me. Nope. I'll pass, thank you. There's only one recipe with pumpkin that's edible to me and it's for pumpkin brownies.
And so here we are! Thanksgiving is nearly upon us!
Just as I am every year, I'm a bit non-traditional by not preparing anything pumpkin to offer my pumpkin-crazed guests. Through the years, I've always introduced something new.
After all, isn't that part of the fun in our love of cooking?
To try something new and step out of our comfort zones?
Most of those new recipes have become perennial favorites! One bite of this Caramel Apple Bread Pudding, my dear friends, and I guarantee you won't miss the tiniest slice of pumpkin pie and you'll include it on your holiday menu for years to come!
An Italian Twist to Caramel Apple Bread Pudding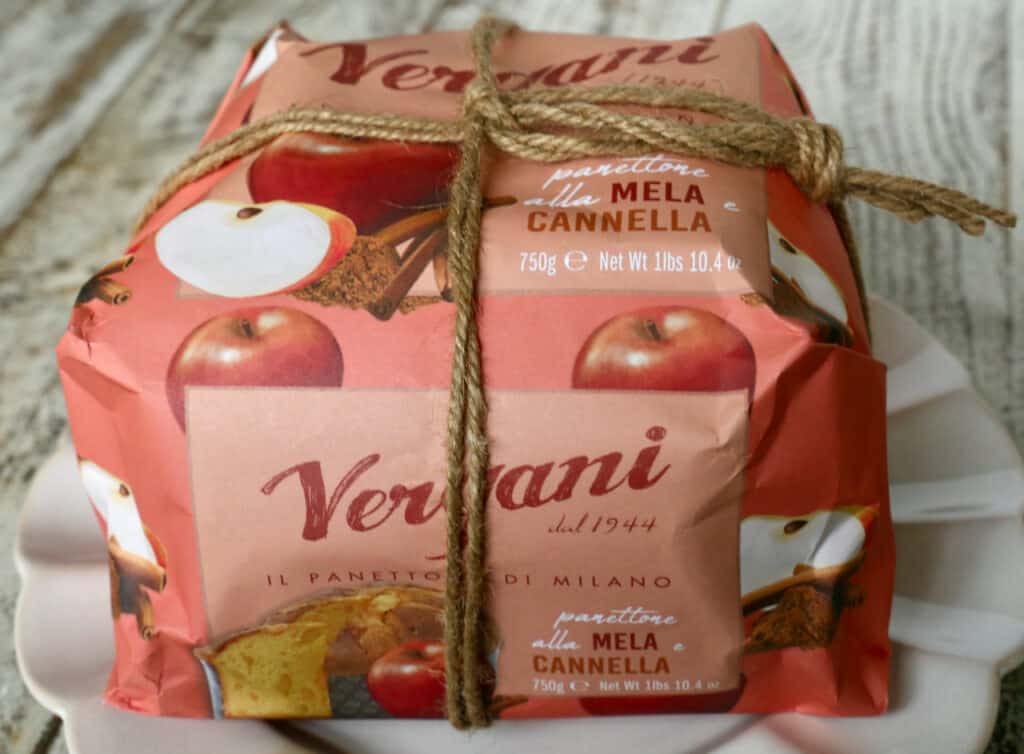 Normally, bread pudding is made with hearty, day-old bread. Brioche, challah, French or Italian bread are great in bread pudding. But I also love to use panettone that's already flavored.
For this recipe, in tribute to the season, I used an apple-cinnamon-flavored panettone as the base of this bread. And it was perfect!
ITALIAN CULTURE NOTE: Many people don't know that panettone (pronounced "pah-neh-TOE-neh") is a Northern Italian dessert/bread recipe that originated in Milan. It can be recognized by the high amount of BUTTER included in the recipe, which is mostly a northern Italian ingredient. Southern Italians use more olive oil because of the warmer weather and lack of dairy cattle where it's near impossible to graze in the mountains of the South. Northern Italians live so close to Switzerland, Austria, and Germany, that their regional cuisine has a huge influence from their close northern neighbors. Panettone is the #1 ingredient at Christmas time because of the numerous flavors available to prepare breakfast and dessert recipes such as bread pudding!
Tis The Season For Italian Panettone
Right now, Italian Panettone is offered in numerous outlets in the U.S. . . . . and all imported from Italy.
Every year, it's fun to see the new flavor combinations used to infuse into the soft, buttery dessert bread. Limoncello with white chocolate sounds so good! Or how about one with hazelnuts and milk chocolate? Or espresso and cream? If you love cranberries with orange, there's a panettone just for you.
The"Vergani" brand of panettone with apples and cinnamon is available now on Zummy Bazaar. You can also find an unknown brand of panettone with apples and cinnamon sold by The Vermont Country Store (one of my favorite online shops).
Upon unwrapping the panettone, you can enjoy the aroma of apples, cinnamon, and butter. Just take this sensory delight in long, deep whiffs. Ahhhhh!
You'll need to gently and slowly peel off the paper wrapper from both the sides and the bottom (see below).
Once the paper wrapping is completely removed, cut the panettone in half. You'll see chunks of apples amidst the touch of the softest bread.
Then slice each of the bread halves into 1″ slices.
With a serrated knife, gently slice one half and then slice the other half of the panettone.
Now slice the panettone in the opposite direction (the bread will look like a "blooming onion" from the Outback Steakhouse!)
Finally, slice the bread entirely into 1″ cubes. Nibble as you go . . . that's what I do! Mmmm!
Bread pudding recipes require DRY BREAD. So do one of two methods:
Heat the oven to 300 degree. Spread out all of the bread cubes on one or two baking sheets. Bake for 15 minutes and then turn over the bread crumbs and bake for another 10 minutes. Do not burn.
OR:
Spread out all of the bread cubes on one or two baking sheets and let them set out overnight.
From this point, simply follow the rest of the easy steps on the recipe card!
Just combine bread (in this case, panettone) with a mixture of cream, eggs, sugar, and cinnamon, combined with apples, a bit of apple pie filling, sweet golden raisins, and crunchy bits of nuts. . . bake . . . then serve warm with a generous drizzle of a sweet caramel cream sauce on top for breakfast or brunch . . . and a scoop of vanilla ice cream if serving for dessert.
How you would serve this Caramel Apple Bread Pudding? Is it more for breakfast or brunch for you? Or do you feel that it's better to serve for dessert?
Truthfully, I have to admit that I wouldn't refuse this Caramel Apple Bread Pudding served either way!
Pin For Later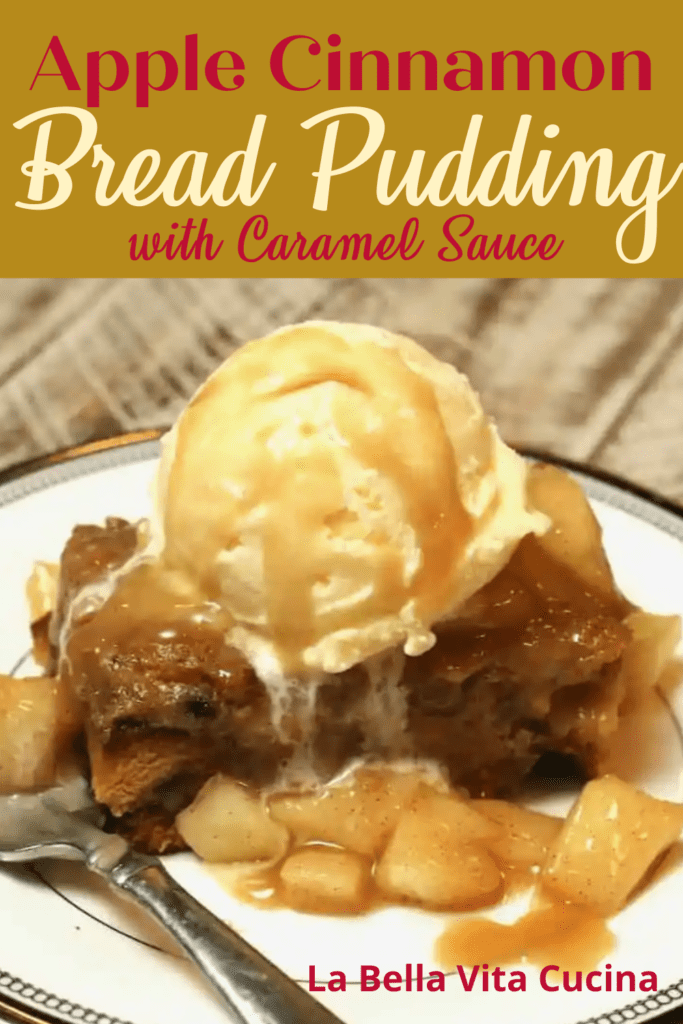 Delicious Recipes That You May Enjoy:
Before you leave our little space together here on this blog, be sure to check out some of these guaranteed-delicious recipes for bread pudding or with apples:
Yield: 10 Servings
Caramel Apple Bread Pudding
A delicious and decadent warm apple treat made with fresh Italian Panettone bread! Your guests will be delighted with this sweet, comforting bread pudding made with apples, raisins, cinnamon, crunchy nuts, cream, and sugar. For the ultimate taste experience, drizzle it with a sweet caramel sauce and your guests will beg for seconds. Served warm with scoops of vanilla ice cream this Caramel Apple Bread Pudding can be enjoyed year-round.
Prep Time 30 minutes
Cook Time 1 hour
Additional Time 30 minutes
Total Time 2 hours
Ingredients
4 cups of 1" cubes of day-old* Italian panettone bread (apple cinnamon was used in this recipe), brioche, challah, French or Italian loaf bread can also be used
1/2 can apple pie filling (primarily use the apples)
1 cup walnuts, chopped (or your choice of nuts)
1 cup golden raisins
For The Apples
8 Honeycrisp apples, peeled, sliced, seeds removed, cut into 1 inch chunks
1 large bowl filled with ice and water
1 Tbsp. lemon juice (for the apple water bath)
1 stick of butter
½ cup of granulated sugar
2 tsps. cinnamon
1 Tbsp. corn starch
For The Bread Pudding Sauce
1 stick of butter
2 cups of heavy cream
8 large or jumbo eggs
1-½ tsp. vanilla
1 cup light brown sugar, packed into measuring cup
½ cup granulated sugar
2 tsp. ground cinnamon
Pinch of Salt
For The Caramel Sauce
1 cup of cream
⅔ cup butter, melted
¾ cup light brown sugar
2 tsp. cornstarch
1 tsp. vanilla
pinch of salt
Instructions
Following the step-by-step photos on the blog, cut the panettone bread into 1" cubes.
Dry out the bread cubes by spreading them out on 1 or 2 baking sheets and set them out overnight OR place them on the baking sheets in a 300-degree oven and bake for 10 minutes, flipping them over and baking the other side for 10 more minutes. Do not burn. When nicely toasted remove the dried bread cubes from the oven and the baking sheets.
In a medium saucepan on a medium-hot stovetop add the butter, cream, eggs, sugar and brown sugar, cinnamon, vanilla, and salt. Stir and heat up.
Pre-heat the oven to 350 degrees.
Fill a large mixing bowl with ice water and lemon juice.
Peel, slice, and core the apples. Cut the apple slices into 1/2" cubes, placing them into the ice water as you go.
Place either a large saucepan or frying pan on a medium-hot stovetop. Melt butter, add the apple cubes, cinnamon, and corn starch.
Prepare a large baking pan (9 x 12") with cooking spray.
Evenly lay half of the bread in the dish. Evenly lay half of the apples, raisins, and nuts all over the top of the apple cubes. Drop large dollops of apple pie filling all over the top. Evenly lay the second half of the bread cubes on top of the apple mixture. Gently press down on the ingredients.
Pour all of the butter/cream/egg mixture over the entire apples and bread mixture.
Evenly spread the remaining sauteed cinnamon apples all over the top.
Cover with aluminum foil and keep overnight in the refrigerator.
Bake the bread pudding in a 350-degree oven for 55 minutes. Remove from oven and cool for 15 minutes.
Prepare the Caramel Sauce
In a medium saucepan on a moderate hot stovetop, whisk together the cream, butter, brown sugar, cornstarch, vanilla and salt.
Heat and stir until the sauce clings to a spoon. This is one of those things that you have satisfy yourself in terms of how thick you want the sauce to be. Just know that you need to take this off of the heat when it begins to get too thick. But it's a forgiveable sauce. You can always add more cream and butter to thin it down.
Serving
Serve with vanilla ice cream (OR cinnamon ice cream).
Pour the caramel cream sauce on top.
Enjoy the 'wow's'!
Notes
A variety of breads can be used instead of Italian panetonne: Brioche, challah, French bread, Italian bread.
If you've made any of my recipes and shared them on Instagram, please tag me @italianbellavita and #italianbellavita so I can see all the things you tried!
Connect with La Bella Vita Cucina!
I invite you to follow along on social media or sign up for email, so you never miss a recipe.