Ultimate, Decadent Chocolate Cake with Ganache
My quest to find the PERFECT chocolate cake has finally come to an end! THIS IS IT! TRULY! I assure you that my fellow chocoholics will beg for this recipe!
I can't describe this INSANELY delicious chocolate ganache cake!
DECADENT!
LUSCIOUS!
IRRESISTIBLE!
DROOL-WORTHY!
SINFUL!
UNREAL!
Should I keep going with the accolades and adjectives?
You get the picture, I know!
A moist, dense, dark chocolate cake covered with a luscious, satiny chocolate ganache makes this Ultimate, Decadent Chocolate Cake with Ganache a true showstopper!
The exquisitely glossy ganache topping takes this chocolate dessert over the top! I doubled the recipe for the ganache and everyone raved about it!
And the best thing next to the amazing flavor and super moist crumb texture is HOW EASY IT IS to make! You don't even need a mixer!
I can honestly say, this is seriously the best homemade dark chocolate cake EVER!!!
The minute the batter was made, I found myself dipping into it before it even made it into the baking pan!
"Stop that!" I said to myself so I would have the right amount to bake according to the directions!
But, whoa, wait a second . . .
When the batter did finally make it to the oven, I made the ganache.
And then I was at it again . . .
scooping the ganache out of the bowl and eating it like a fool!
I almost needed chains to prevent me from devouring the gorgeous, satiny chocolate ganache!
The secret to the ultra-moistness of this extremely dark (almost black) chocolate cake is SOUR CREAM.
All of you talented bakers know what sour cream does to cakes!
The crazy rich flavor is enhanced by using super dark or black cocoa powder (preferably Dutch chocolate).
TIP: Don't use all black cocoa because it doesn't have a lot of fat which results in a less moist cake.
The chocolate ganache just glistens in the light. And it has just the right amount of sweetness.
Calling it rich is an understatement!
Make sure that you have some premiere vanilla ice cream on the side to compliment the cake.
Adding some lovely red raspberries to garnish would be impressive indeed.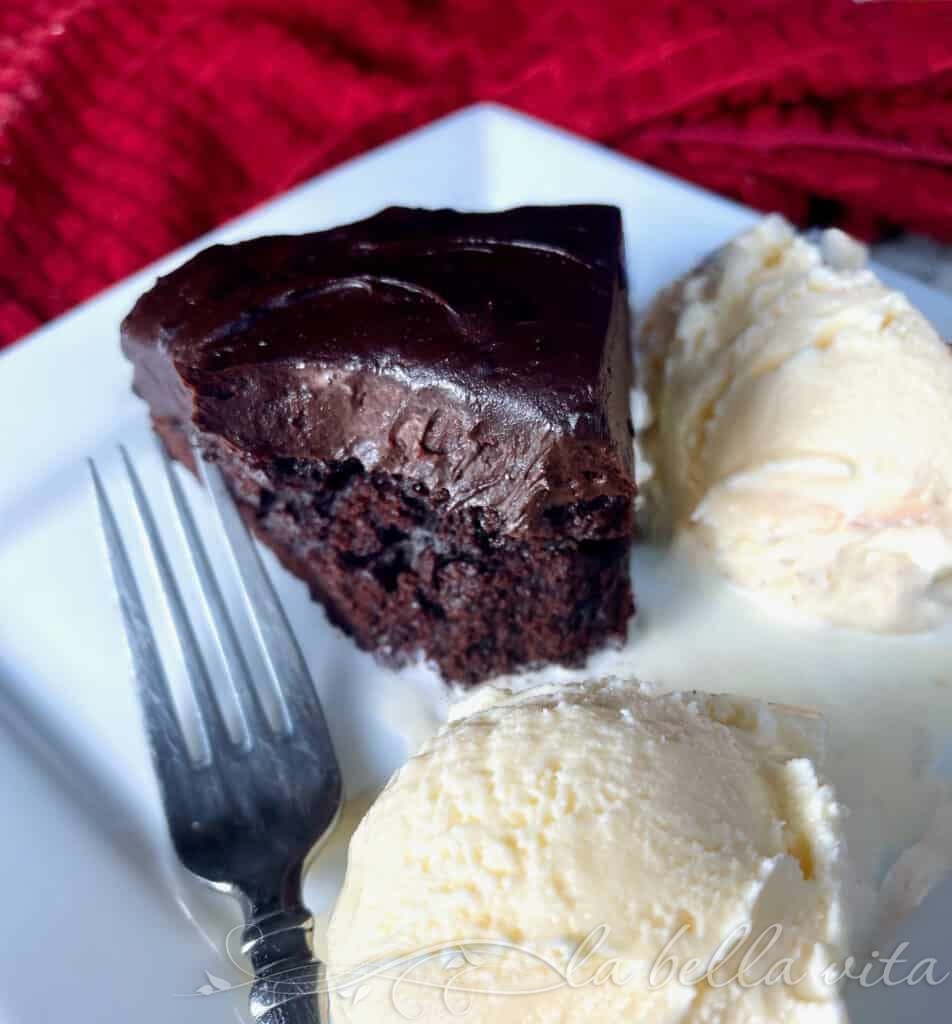 This recipe is for just one 8″ single-layer cake, but when I make it again (soon), I'm going to double the recipe!
Just LOOK at the ultra moistness in this one forkful.
The entire cake is like that and yet it has a wonderful firm shape, not sloppy or goopy.
"Dear Roz,"
In your letters, you've asked "What is Ganache?"
Ganache is an elegant, rich mixture of cream and chocolate, yet it's very simple to prepare. Every home baker should master making ganache. And once you make it and see how easy it is to make, you'll wonder what has been keeping you from making this soft, dreamy blissful topping!
It's soft and versatile for filling sweet truffles, stuffed in pastry such as an Italian sfogliatelle, or used as a topping for pies, cakes, cheesecakes, tarts, and more. This dreamy delight takes pastry baking to new heights. Adding some butter gives ganache a shiny, silky texture. Coffee, fruit puree, as well as liqueurs can be added for flavor.
And it is oh-so French!
How Do You Make Ganache?
Ganache can vary in consistency. It can have a pourable thick liquid consistency (like cake or pancake batter) or it can be made into a more thick, firm scoopable form. It all depends on the type of chocolate you use, the cream-to-chocolate ratio, and whether the ganache is warm, room temperature, or chilled. Now how's that for confusing????
For an all-purpose ganache, one that can go from pourable to spreadable to scoopable, use a cream-to-chocolate ratio (based on weight) of 2:3 (bittersweet or semisweet) or 1:3 (milk chocolate, baking chips).
Ganache changes consistency as it cools. If you're worried that your warm ganache is too thin, not to worry, just sit a spell and it thickens up nicely. Refrigeration speeds this up if you want. But what's the rush when you're in your cucina? Grab a glass of wine and chill, my friend!
Don't use all black cocoa because it doesn't have a lot of fat which results in a less moist cake.
What's the difference between Dutch-processed cocoa and regular cocoa powder?
There's a big difference between the two types of cocoa powder and that means that they aren't very interchangeable. The reason is that they each have a different pH (acidic vs. alkaline) balance.
A serious baker's pantry should have both natural and Dutch-processed cocoa powder stocked.
"Regular" or unsweetened or 'natural' cocoa powder is more acidic, intense, and full-flavored. You may have read in some recipes that use regular cocoa powder, an increased amount of baking soda is called for to act as a leavening agent in order to neutralize the acidity of natural cocoa powder.
Dutch-processed cocoa (also known as European-style) is treated with an alkali in order to neutralize/reduce the acidity. This Dutch-invented process is of key importance in order to obtain a more mellow, smooth flavor with the added benefit of a darker cocoa powder. Dutch-processed cocoa is not as easy to find in local food markets, but can easily be found on the Web. I've included a few links to the best brands of Dutch-processed cocoa powder just below for you.
"What are the best brands of Dutch-processed cocoa powder?"
Based on my experience and that of other bakers that I know, here are the top 3 brands that I recommend:
Valrhona Pure Cocoa Powder 8.8 oz.
Cacao Barry Cocoa Powder 100% Cocoa Extra Brute, 2.2 lb
Guittard Rouge Red Unsweetened Dutch Process Cocoa Powder, 8oz.
Before we say goodbye for this moment in time in a blog post, I hope your spirits will be lifted higher than they currently are as you gaze upon the happy yellow faces of daffodils now blooming in February in South Carolina — the very first sign of spring . . . along with the songs of Cardinals singing every morning!
Cheers and salute' my amici (friends),
Roz
I hope that you make this cake and the marvelous ganache. Please promise to send me some photos and what your guests (and you) think of this cake.
I'll be happy to feature you and your photos on the blog and in our community newsletter.
How fun is that?
Yield: 10 servings
Decadent Chocolate Ganache Cake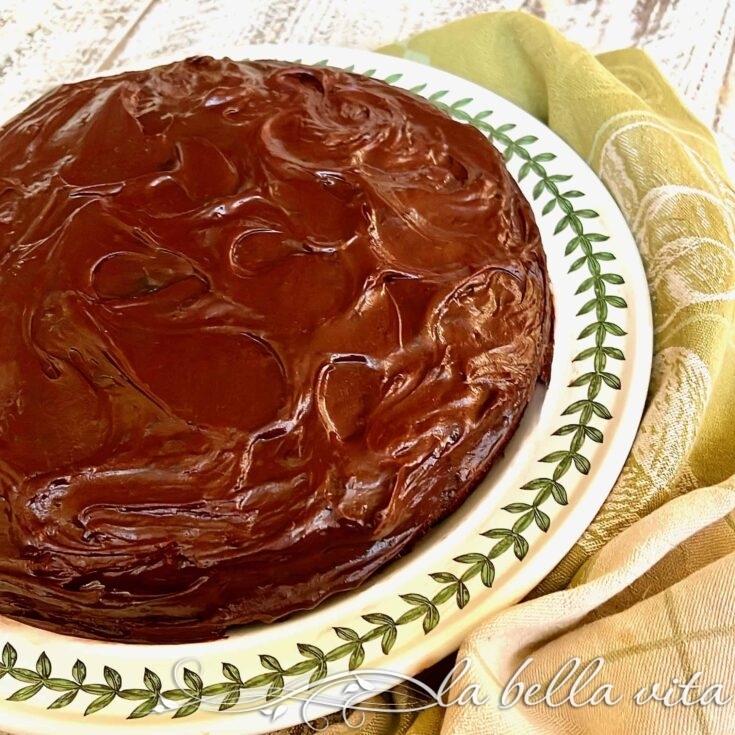 Prep Time 30 minutes
Cook Time 30 minutes
Additional Time 30 minutes
Total Time 1 hour 30 minutes
Ingredients
For The Cake
¾ cups all-purpose flour
¾ cups granulated sugar
½ cup Dutch-process cocoa powder, sifted
1 teaspoon baking powder
¼ teaspoon baking soda
¼ teaspoon fine sea salt
⅓ cup full fat sour cream
¼ cup vegetable oil
1 jumbo egg, room temperature
2 teaspoons vanilla extract
½ cup hot water
For Frosting:
⅓ cup heavy cream
¼ cup unsalted butter, cut into chunks
2 oz good quality dark chocolate (60-70%), finely chopped
⅓ cup granulated sugar
⅓ cup Dutch-process cocoa powder, sifted
1/3 cup sour cream, room temperature
1 teaspoon vanilla extract
pinch fine sea salt
Instructions
For Chocolate Cake:
Preheat oven to 325 degrees F. Lightly butter or grease the bottom and sides of an 8-inch round baking pan; line the bottom with a round of parchment paper.
In a bowl, whisk together flour, sugar, cocoa powder, baking soda, baking powder and salt.
In another bowl or 2-cup glass measuring cup, whisk together sour cream, oil, eggs, and vanilla until evenly incorporated. Make a well in the center of the dry ingredients and pour in sour cream mixture. Stir until nearly combined and just a few streaks of dry ingredients remain.
Pour in hot coffee or water and stir until smooth (it will start off very sloppy, but will incorporate eventually. Use a whisk if you're having trouble.)
Pour batter into prepared pan, spreading the batter into an even layer.
Bake for 35 to 40 minutes or until center is springy and a toothpick inserted near the center comes out with just a few moist crumbs attached (no gooey batter). Remove from oven and let cool on a wire rack until pan is cool enough to touch, then invert on a wire rack to cool completely.
For Frosting & Assembly:
Combine cream and butter in a small saucepan. Stir gently over medium heat until butter is melted.
Remove from heat and stir in chopped chocolate. Gently stir until completely melted (if the residual heat isn't quite enough to melt the chocolate, return to a low burner for 30 seconds, then remove from heat and continue stirring).
Add sugar, cocoa powder, and salt and whisk until incorporated; it will look like a slightly grainy brownie batter at this point.
Add sour cream and vanilla and whisk until smooth and shiny. Set aside and let cool until slightly thickened and spreadable, about 15 to 30 minutes depending on the temperature of your kitchen, stirring occasionally to ensure even cooling.
Generously spread frosting onto cooled cake, swirling with the back of a spoon or an offset spatula.
Slice, serve, and enjoy! Cake will hold at cool room temperature for a few hours, otherwise refrigerate until ready to serve. Store leftovers in an airtight container in the refrigerator for up to 5 days.