Perfect and Easy Pot Roast
Oh my goodness, isn't pot roast just one of the most all-time delicious and yet super easiest of recipes to prepare? This is one of our family's hands-down, favorite food to eat, should I say to "devour". Whenever there is little talking going on around the table while everyone is eating, then I know that everyone is in food heaven.
And then someone will speak some words of wisdom that delight any cook's ears: "outstanding!"
No other words are needed to describe this perfect and easy pot roast recipe. And honestly, most of the ingredients for a perfect and easy pot roast are normally on hand.
And I emphasize "easy" because truth is, once you know how to make a super easy-peasy pot roast, there is no turning back; you're hooked . . . you'll have this on your table more than ever before!
A few basics is all that's necessary to conquer this uber-simple meat and veggie treat:
use a cheap chuck roast cut with lots of marbled fat (that's right, no prime filet mignon or beef tenderloin here, cheap but good is BEST!)
sear the beef roast good and brown on both sides for some crazy-good flavor PLUS the brown bits on the bottom of the pan that result from the searing.
slow cook these bad boy pieces of meat to tenderize them for that perfect fall-off-your-fork tenderness that drives you crazy! Like the perfect Italian Bolognese sauce, this takes time with little effort, just sit back and wait while the oven does it's magic on the beef.
So gather all of your ingredients:
large carrots, celery with leaves, Italian parsley, rosemary, thyme, and garlic
red potatoes, small yellow potatoes, mushrooms, and butter
I almost forgot! Don't forget the onions!
For the sauce, you need beef broth, tomato puree, Worcestershire sauce, Kitchen Bouquet, and Better Than Boullion (beef flavor).
Seasonings: Morton's Nature's Seasons, Onion Powder, Mrs. Dash Salt-Free Seasons
and one beautiful chuck roast!
Now let's get to your kitchen!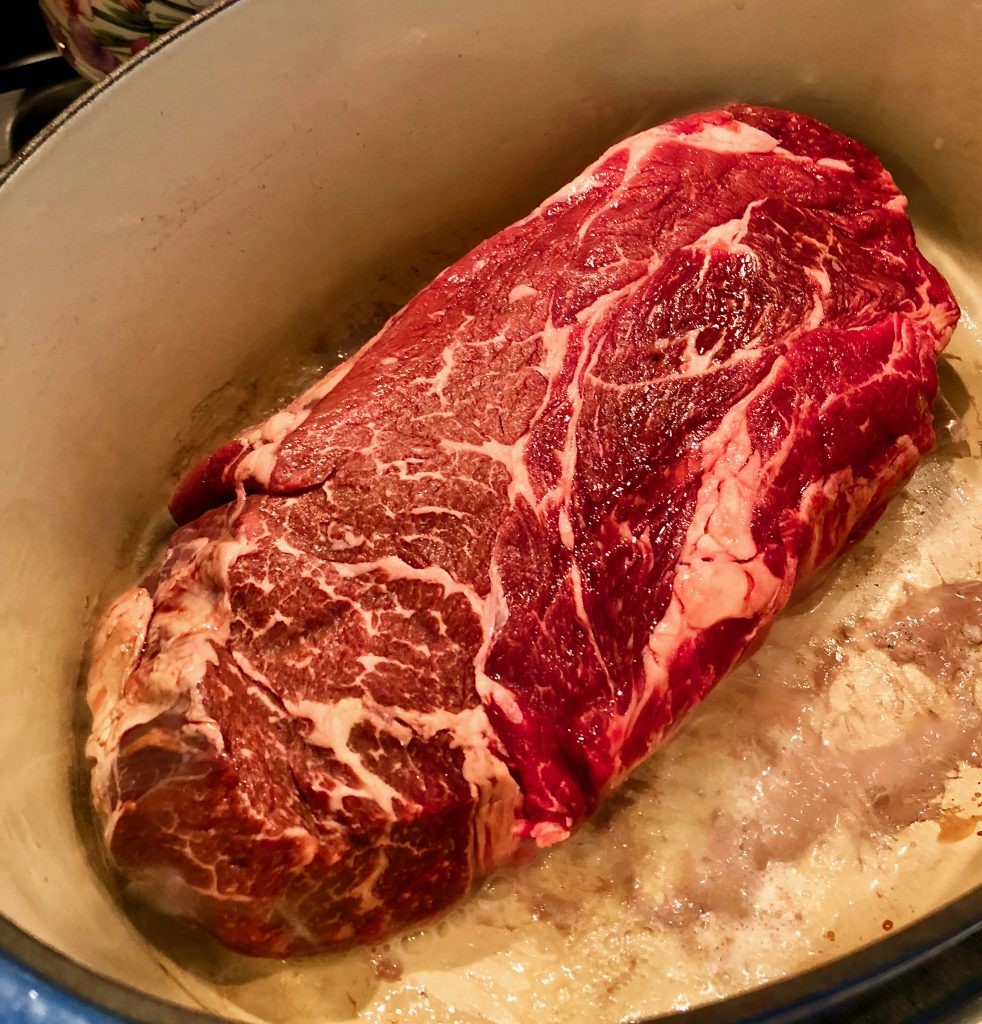 Take a look at this cut of meat. "Chuck roast" means that it's full of marbled white fat throughout. And that, my friends, is the fountain of goodness that flows throughout the meat. You must have this fat in your beef when preparing a pot roast.
The marbling of fat = tenderness = flavor!
Mmmmmm, 'nuff said!
So carrying on, next you're going to need to season that beautiful bad beef boy . . .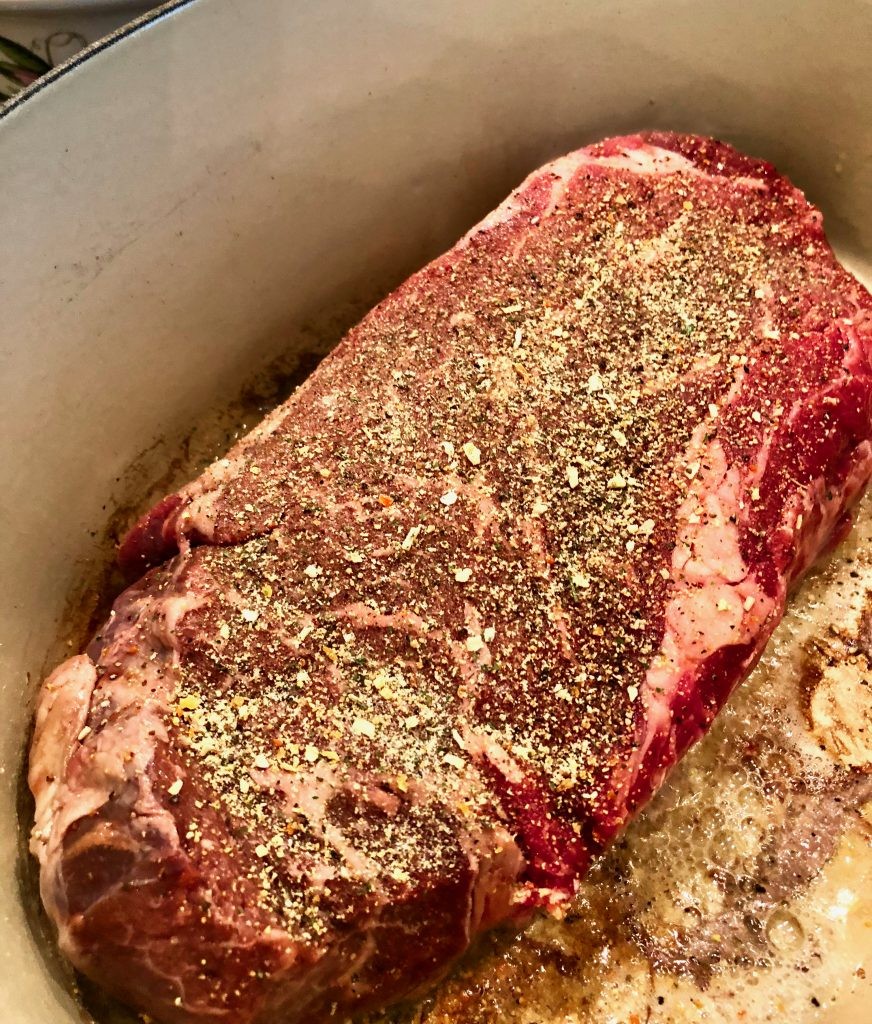 I have a standard set of seasonings that I use on every single recipe that calls for beef or pork: Nature's Seasons and Mrs. Dash Salt-Free seasonings.
Liberally sprinkle these seasonings on both sides of the chuck roast before you begin the searing process.
If you think that you need to salt the beef at this point, you can…..HOWEVER, you won't need a lot of salt in this recipe since there's salt in the worcestershire sauce and the Kitchen Bouquet.
Trust me, add salt after it is completely roasted due to the seasonings added above. Plus it's better for your blood pressure to use less salt.
Throw in a medium-heated heavy pot: 1/2 stick of butter. I know what you're asking: "Why don't you use olive oil?" And that's a fantastic question! I don't use olive oil to sear anything because at high heat, olive oil burns . . . plain and simple, it just burns. And that, to me, is a major bummer. Whatever you're searing will pick up that burnt flavor. YUCK! Resulting in a major waste of money and time.
SO I USE BUTTER!
For those of you who aren't familiar with my family's 'Northern" Italian cooking style, we use a lot more butter than Southern Italians, simply from the wonderful and oh-so-yummy influence from Austria, Switzerland, and Bavaria, Germany. The food in the northern region of Italy is more likely to use butter than the olive oil grown and harvested in the southern region of Italy. Today more olive oil is indeed used for its health benefits in the northern part of Italy. But traditionally, it has always been butter in cooking.
My humble cooking thoughts: If you're going to use a fatty, marbleized cut of beef anyway, then you might as well use butter when you saute the beef.
Oh my Lord in heaven, just look at that beautiful brown, black, golden sear and all of the delicious brown bits at the bottom of the pot to use in the recipe! Do not ever throw those away.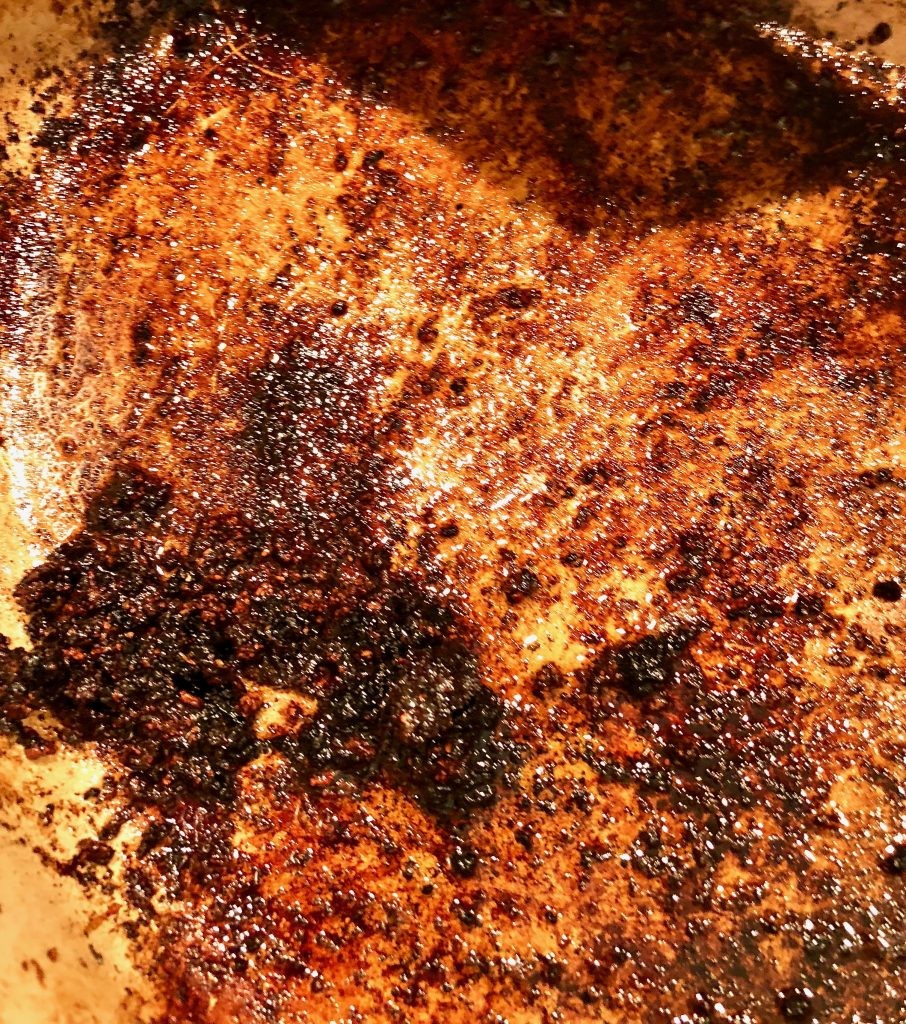 I realize that this photo may appear a bit fuzzy to you on your end, but trust me, you want to keep those beautiful brown bits at the bottom of your pan after searing the beef! Do not remove this absolutely, crazy-good stuff from your pot!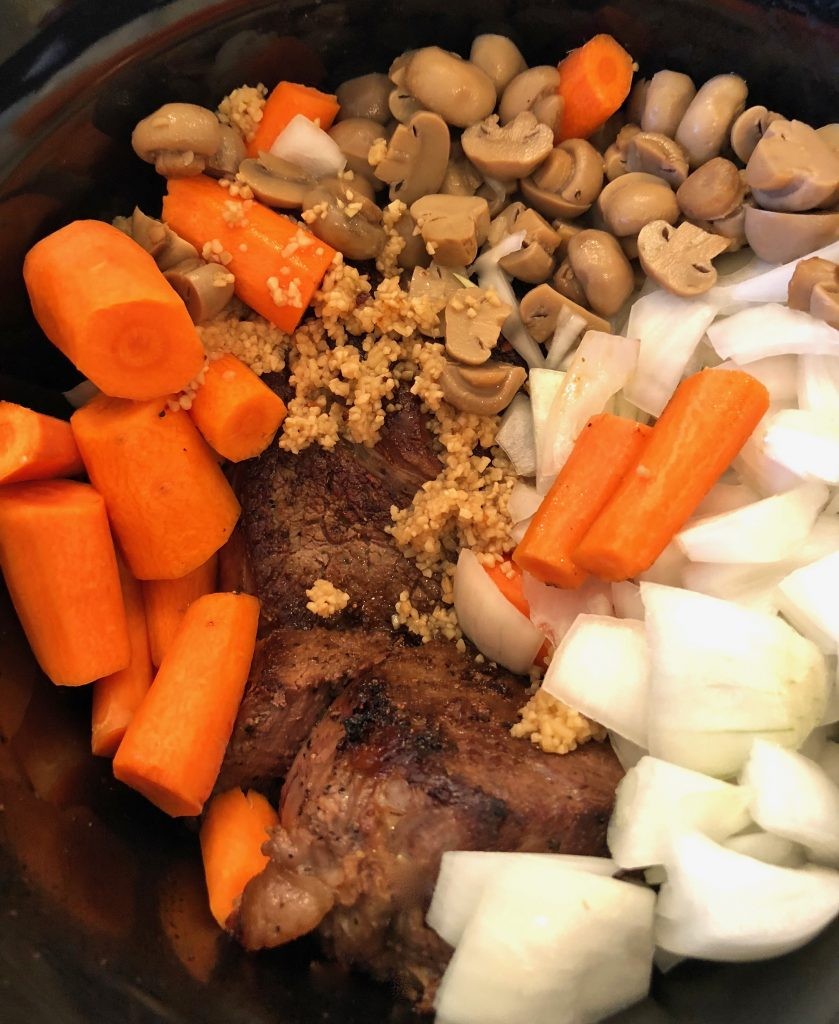 Keeping the beef in your heavy pot, now add your vegetables: carrots, celery (with leaves), onion, mushrooms, potatoes, parsley, AND garlic.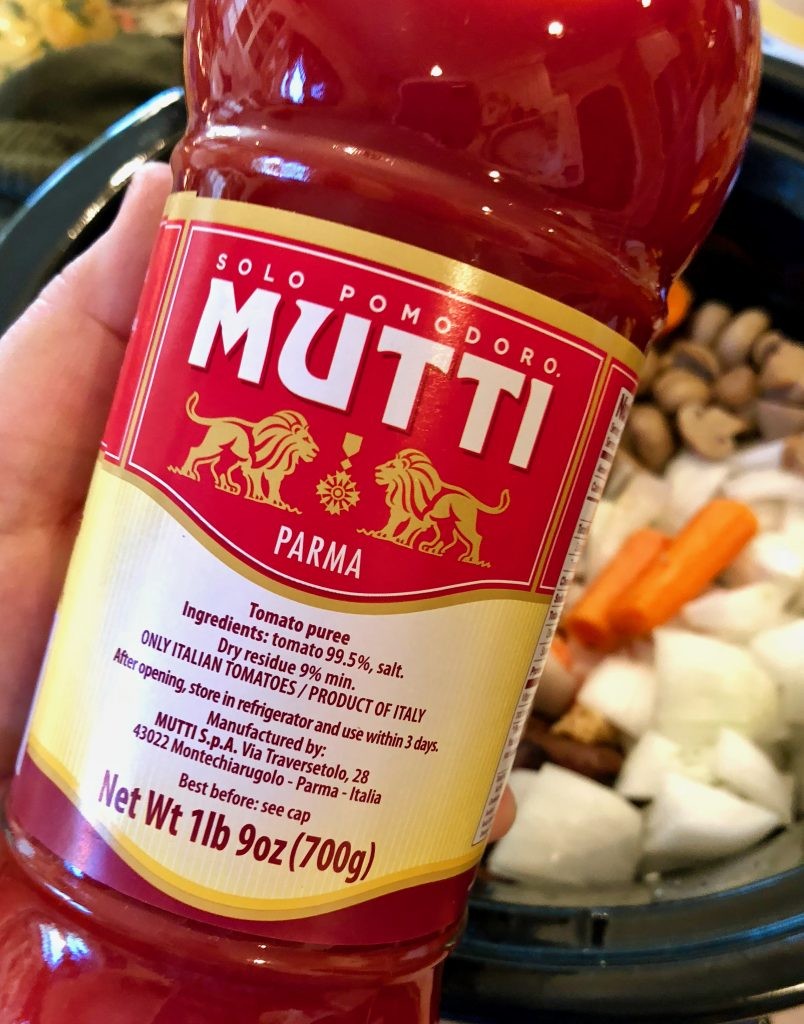 Add 24 oz. tomato puree to the pot of roast with vegetables.
If at all possible, add Mutti tomato puree imported from Italy and now available in the USA, by clicking on the image below: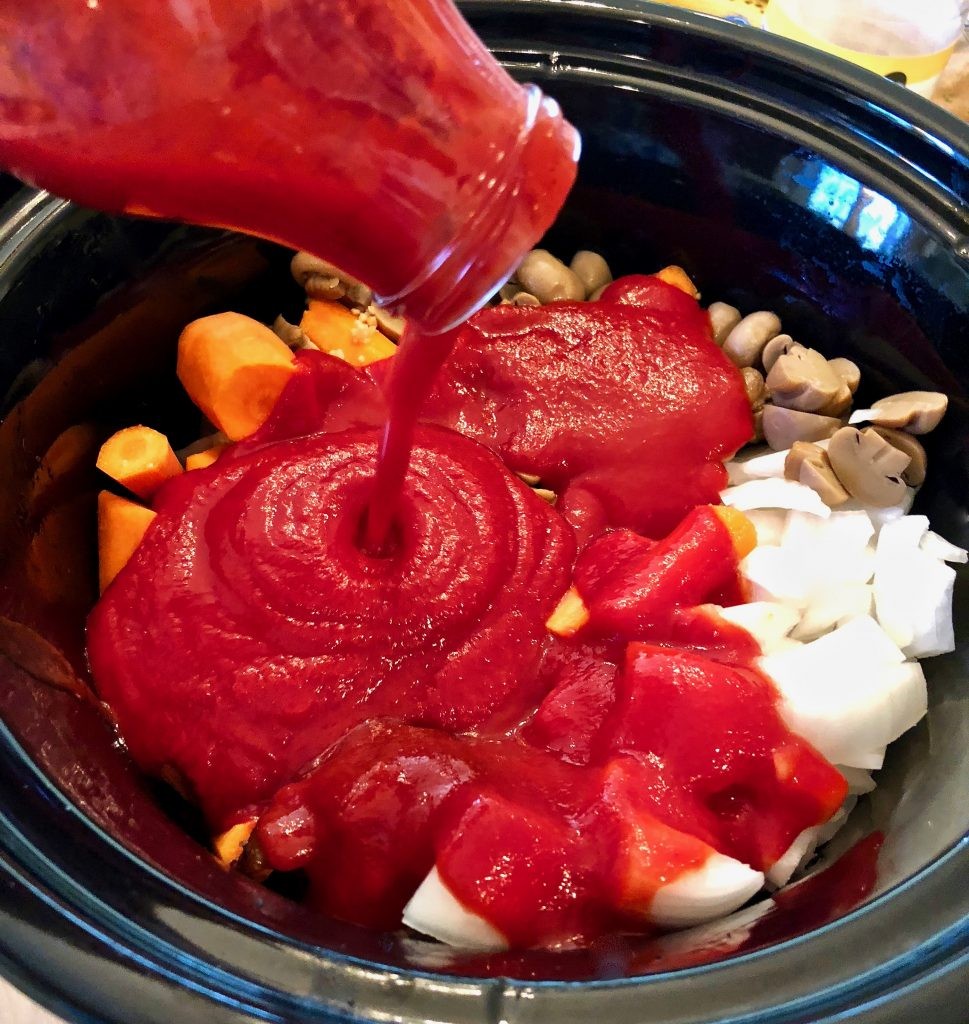 We use only Mutti tomato products from Parma, Italy since that is what our family uses in Italy. The flavor is richer with that sun-kissed maturity found only in ripe, home-grown tomatoes. The difference is stunning and noticeable!
Next, add a few of my mother's 'secret' ingredients for a great 'beefy' flavor that we adore:
"Better than Boullion" beef paste, PLUS "Kitchen Bouquet" infamous for preparing beef sauces.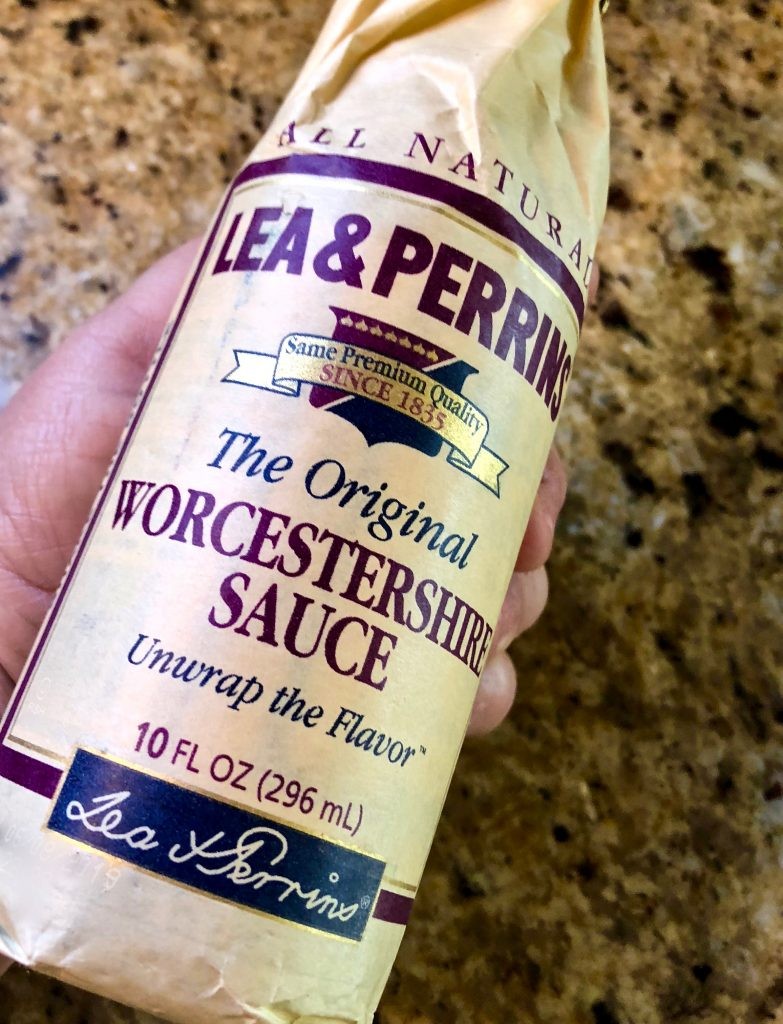 Add Worcestershire Sauce and onion powder.
Optional: At this point add minced rosemary and thyme.
Add 4 cups of water or beef broth and gently stir.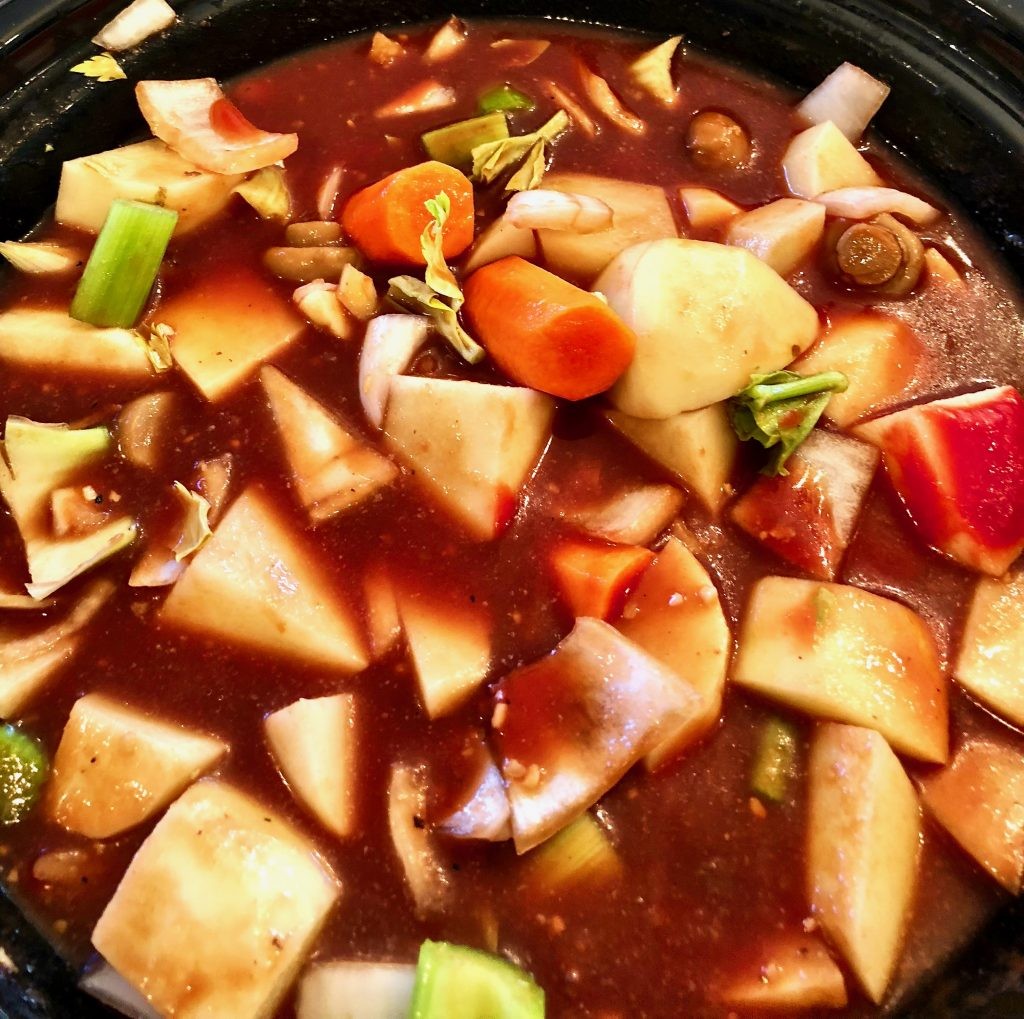 Bake at 275 F degrees for 3 hours minimum.
Don't mess with the beef roast while the slow-cooking magic is going on in your oven.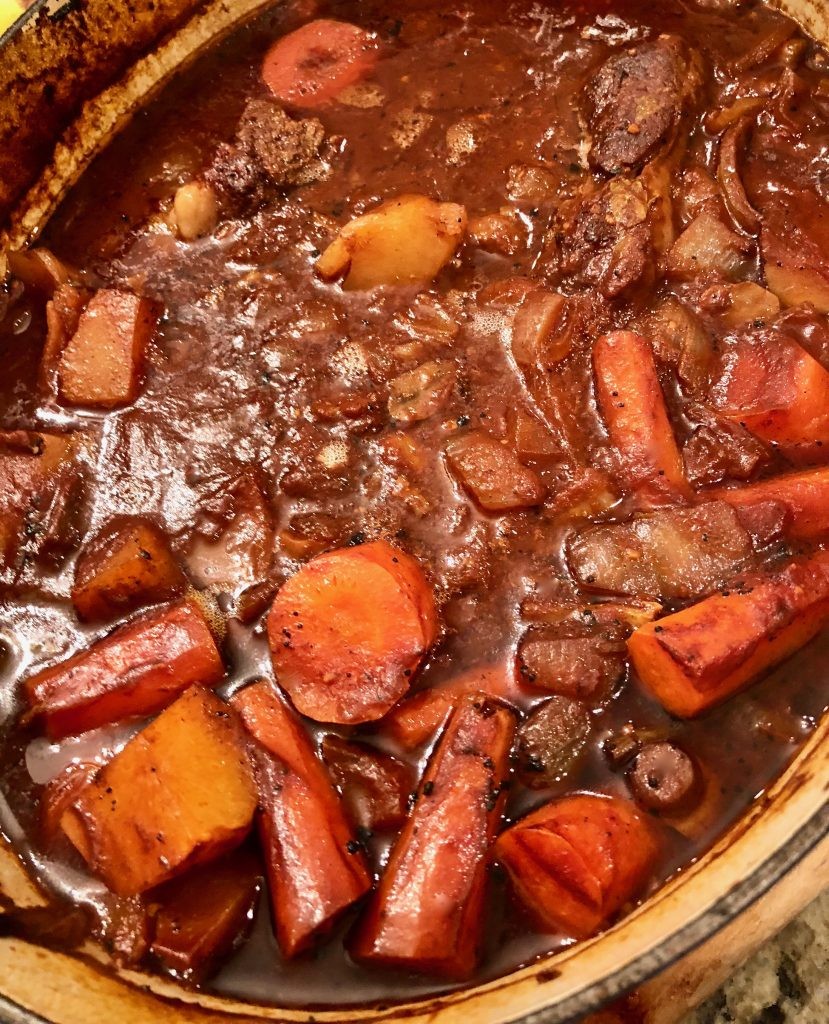 When finished cooking, just look at how nicely the broth thickens up into a wonderful sauce!
After the cooking, check for tenderness by cutting into a few sections with a knife.
It is important to note that the pot roast may be cooked throughout, however, it may not be tenderized enough. If that's the case, cook the roast and vegetables for another 30 – 60 minutes to gain the perfect tender "doneness".
Just enjoy the aroma that drifts through your home while you have a nice cup of tea or glass of wine, watch the day go by, or take that lovely nap that you want so much (I know that I do!)
Just be patient and enjoy this time!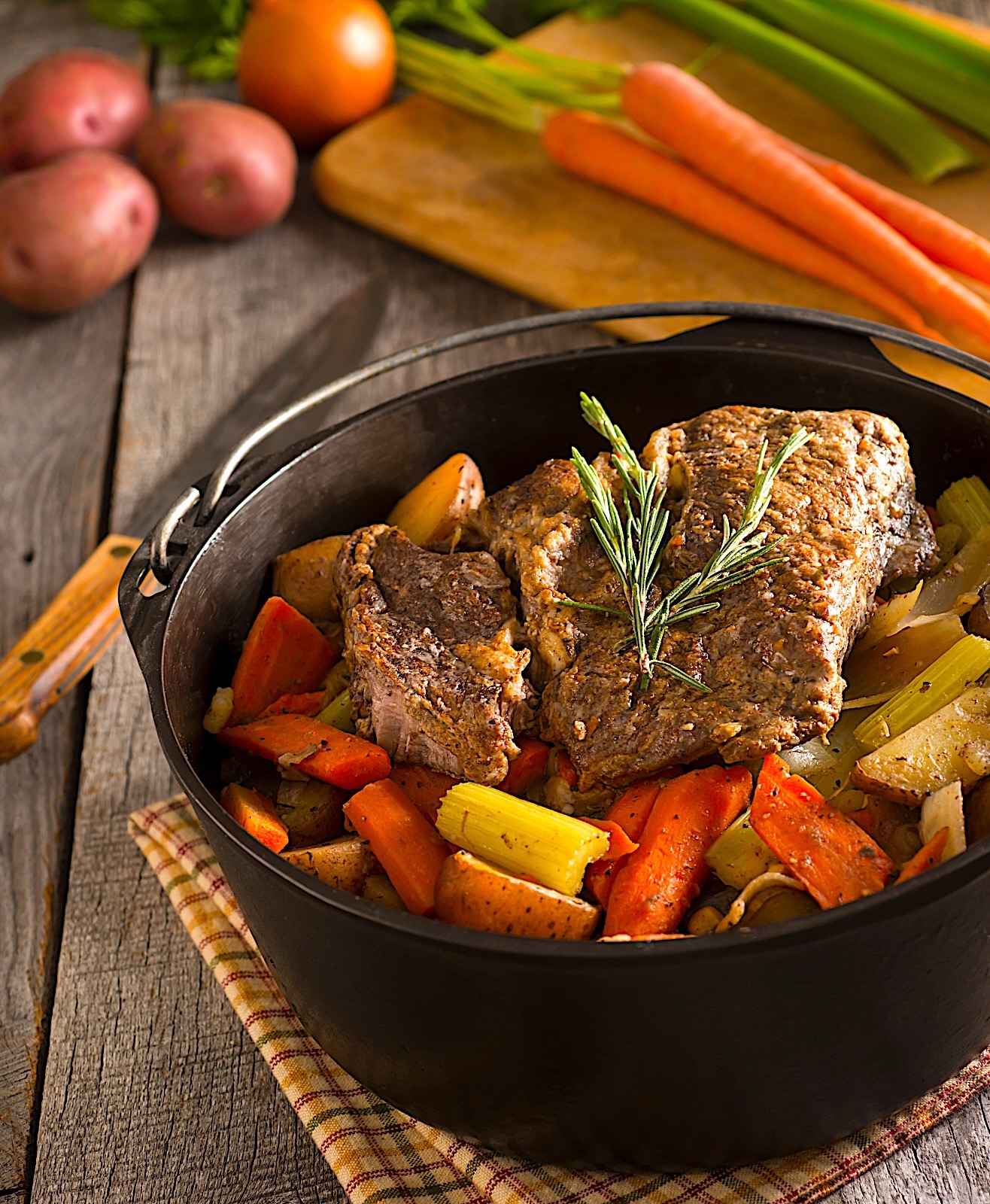 There is no need to add corn starch to this recipe that so many recipes require to 'thicken up' the sauce, because:
This sauce thickens up perfectly by itself! Another element of 'easiness'!
Plate your beautiful pot roast and vegetables on a beautiful platter. Then ladle the sauce from the pot into a nice serving dish to pass around to your guests. The pot roast will be so tender that it will literally feel as if it could melt in your mouth!
I have several other recipes for pot roast simply because there are so many yummy ways to prepare it. Here are a few that you'll enjoy reading and revising for your own personal preferences:
Here are several more delicious recipes for pot roast:
Get ready for lots of compliments!
Please pin this vertical image on Pinterest. Your pin-love is very appreciated!
Print
Perfect and Easy Pot Roast
Author:
Prep Time: 0 hours
Additional Time: 0 hours
Cook Time: 0 hours
Total Time: 0 hours
Category: Entrees / i Primi
Cuisine: American
---
3 lb. chuck roast (use a cut with lots of white marbling fat throughout)
1/2 stick of butter (more if necessary during searing of the beef)
1 Tbsp. Nature's Seasons (seasoning)
1 Tbsp. Mrs. Dash (the original flavor, salt-free seasoning)
1 tsp. onion powder
1/4 cup chopped garlic (either fresh or from the jar)
6 – 8 medium size potatoes, peeled and cut into 2" cubes OR 2 lbs. of small potatoes, left whole and unpeeled
10 carrots, peeled and sliced into 1" – 2″ pieces
8 stalks celery, sliced into 1 – 2" pieces
1 large onion, peeled and cut into 1/2" pieces
2 jars button mushrooms (crimini), fresh is also fine, remember to brush them clean
2 cups beef broth
24 – 32 oz. tomato puree
1 Tbsp. Worcestershire sauce
2 Tbsp. "Better Than Bouillon", beef flavor
1 tsp. "Kitchen Bouquet"
1 Tbsp, each: minced fresh thyme and rosemary
1/2 cup minced Italian parsley
---
Instructions
Melt butter in a large heavy pot on medium-high heat.
Place chuck roast in pot and season on all sides.
Sear on each side for about 5 minutes on each side, until a nice dark char (but not burned) surface forms.
Transfer seared roast to slow cooker. If roasting in the oven instead, use the same pot.
Layer the vegetables all around the roast. Add all remaining ingredients
Cover and cook in a slow cooker on low heat for 8 – 9 hours OR roast in an oven heated to 275 F degrees for 3 hours minimum.
Plate the roast and vegetables.
Garnish with sprigs of fresh thyme and rosemary.
---
Originally posted in 2018 and reposted with updated photos and content 2022