Creamy Risotto with Lemon, Asiago and Rosemary
Ahhh, creamy, cheesey risotto!
What a wonderful creation from the food gods, you are!
.
This week I've been preparing recipes from Nigella Lawson. Each and every one of her creations has filled my family's tummies with delight and our faces with smiles. I simply MUST run out and collect all of her cookbooks! Today I decided to try her risotto recipe.
.
So many people sadly shy away from preparing risotto due to the continual stirring and adding of broth while the rice absorbs the broth and becomes creamier by the minute. For me, the process of standing by the stove, and the stirring, stirring, stirring while the cream thickens around the rice is beautiful in the love and patience required for this specialty. The results always reward the patient cook!
.
Just look at this gorgeous, creamy, rich risotto . . . simplicity and perfection!
.
.
Print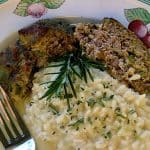 Creamy Risotto with Lemon, Asiago and Rosmary
Author:
Prep Time: 0 hours
Additional Time: 0 hours
Cook Time: 0 hours
Total Time: 0 hours
---
2 green onions/shallots
1 stalk celery
1/4 cup unsalted butter
1 Tbsp olive oil
1–1/3 cups risotto rice (preferably Arborio)
1 quart vegetable stock
1/2 lemon, zested and juiced
Needles from 2 small sprigs of fresh rosemary, finely chopped
1 tsp. minced garlic (or garlic powder) — my addition
1 egg yolk
4 Tbsp grated fresh Parmesan (I used 1/2 Parm and 1/2 Asiago cheeses)
4 Tbsp heavy cream
white pepper
Sea salt to taste
---
Instructions
In a mini food processor, finely chop the celery and green onions/shallots.
In a deep pot, heat half the butter, the olive oil, and the celery/shallot mixture until softened, about 5 minutes, stirring so that nothing sticks to the bottom of the pot.
Mix in the rice, stirring to coat the rice with the butter and oil.
In another saucepan, heat the stock and keep it warm and simmering.
Pour a ladleful of stock into the rice mixture and keep stirring until all stock is absorbed.
Add another ladle of stock, stir again.
Repeat this process until the rice is cooked to 'al dente'.
Use your judgement with the stock — you may not need it all, or you may even have to add some hot water beyond 1 quart.
Mix the lemon zest and rosemary into the risotto.
In a small bowl, beat the egg yolk, lemon juice, Parmesan (and Asiago), cream and pepper.
When the risottos still has a little 'bite', remove it from the heat and add the bowl of lemon juice, egg, cheese mixture.
At this point, I also added the garlic.
Add the remaining half of the butter.
Salt to taste.
Check your seasoning and make adjustments.
---
.
Dig in, savor, and ENJOY!
.
.
.
Saute green onions and celery in butter and olive oil and then add the rice to coat.
.
Ladle broth in rice mixture, stir, absorbing the liquid; continue to add broth, stir, absorb.
Risotto begins to thicken and cream up.
Continue to add broth and keep stirring the rice constantly to create more creaminess.
.
When rice is nearly al dente (has a bit of a bite), add the cream, egg, cheese, lemon mixture.
I also added garlic to the risotto at this point, tasting as I added it.
.
Season to taste with sea salt
.
The fresh rosemary is straight out of my herb garden, and grows year-round in the Carolina's.
I served this with my family's Italian meatloaf recipe . . .
now how much more comfort food can you get with that combination?
.
.