Encrusted Ahi Tuna Pupus ~ ~ Aloha from the islands / Honolulu, Hawaii
Hello from tropical paradise! My farm sitter is home with all my furry animal family and baking in the 100 degree temperatures while hubby and I escaped! After a few days of soaking in the sun, taking in the aroma of all the tropical blossoms, listening to the waves gently washing ashore, we decided to venture out and try a new restaurant. I simply love Thai food, so we chose Singha Thai due to all of the international accolades showered on the chef/owner and his culinary style.
.
Little did we know that one of the appetizers or 'pupus' as they call them here in Hawaii, is one of the top favorite dishes that Chef Chai created and serves at both of his award-winning restaurants. To me, no ingredient represents Hawaiian cuisine more perfectly than Ahi Tuna. So as curious as I am, after we returned to our room, I googled the recipe! To my surprise this is one of the recipes that he shares with his fans. It is simply incredible and even my husband who despises raw fish/sushi/sushimi was impressed.
This delightful appetizer consists of beautiful, fresh, red Ahi Tuna dipped in a tempura batter and then encased in a panko crust. Then the tuna is fried for just a few seconds only so that the tuna stays raw inside. Finally, it is plated and beautifully presented in a perfectly spiced curry sauce with a wasabi sauce drizzled around for that extra little Asian bite! A tropical mango salsa marriage tops it all off!
This is literally a tropical culinary paradise in your mouth!
.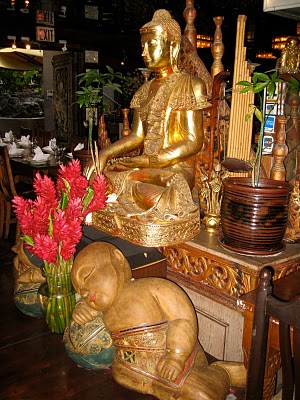 Sitting Buddha and Reclining/Sleeping Buddha statues among the Thai decor
.
Print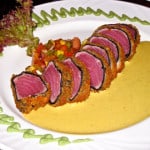 Encrusted Ahi Tuna "Pupu's"
Author:
Prep Time: 0 hours
Additional Time: 0 hours
Cook Time: 0 hours
Total Time: 0 hours
---
Tempura Batter
3/4 cup all-purpose flour
1/4 cup cornstarch
1 egg, beaten
1/2 cup water
Salt and pepper, to taste
Fort the Ahi Tuna Katsu
2 blocks fresh 'ahi (about 1 1/2–2 lbs.), cut into an inch tube about 6 to 8 inches long
4 sheets nori (Japanese seaweed)
1 cup Tempura Batter (recipe above)
1 cup panko breadcrumbs
Vegetable oil, enough to fill a frying pan a minimum of 1-inch deep
For the Thai Yellow Curry Sauce
1/2 Tbsp. Thai yellow curry paste
cups coconut milk
Tbsp. fish sauce or Aloha Shoyu
1/2 Tbsp. curry powder
1/2 Tbsp. sugar
Mango-Tomato Salsa
Tbsp. ripe mango, diced
Tbsp. tomato, diced
1/2 Tbsp. Chinese parsley, chopped
1/2 Tbsp. onion, chopped
1/2 Tbsp. bell pepper, chopped
1/4 Tbsp. lemon juice
1/4 Tbsp. balsamic vinegar
1/4 Tbsp. sugar
Pinch of salt, to taste
Dash of Tabasco, to taste
---
Instructions
For the Tempura Batter
In a small bowl, combine all ingredients above until the batter has no lumps; set aside.
Wrap each piece of 'ahi tuna with two sheets of fresh nori.
Dip them into the tempura batter.
Coat with panko breadcrumbs.
In wok or deep fryer/cast iron pan, preheat oil to 375°F.
Fry fish until golden brown (about 30 to 45 seconds).
Slice into 8 to 10 ¼-inch-thick pieces.
For the Thai Yellow Curry Sauce
In a saucepan over medium heat, combine all of the ingredients above; bring to a boil.
Simmer on low heat for 10 minutes or until the sauce thickens to the consistency of mustard.
For the Mango-Tomato Curry Sauce
In a small bowl, combine all of the above ingredients.
Presentation
Plate ahi tuna katsu slices on one side of plate.
Spoon some of Mango-Tomato Salsa next to tuna slices.
Ladle/pour some Thai Yellow Curry Sauce on the other side of plate.
Drizzle wasabi sauce around the outside of plate (for both taste/use as well as enhanced presentation).
---
Mahalo (thank you) to Chef Chai and his aloha generosity for sharing this recipe!
.