Orchid's of Halekulani Sunday Brunch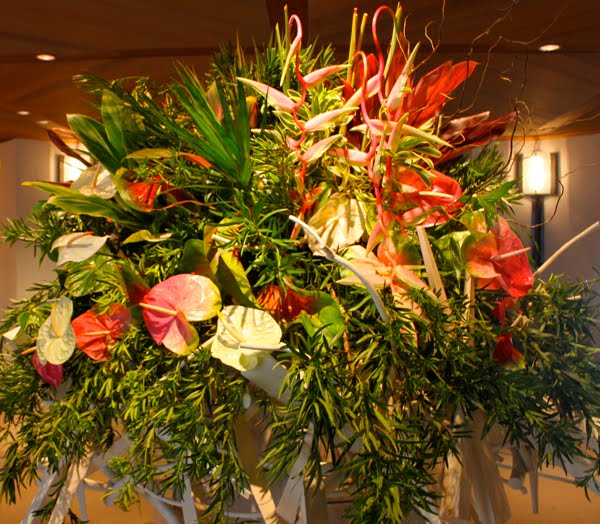 One of the things that my hubby and I always make sure that we do while on vacation is to find one or two really nice restaurants, especially those where local cuisine is prepared that we cannot enjoy when we are home. So for this trip to the island of Oahu, my research found that "Orchids" in the 5-Star Halekulani hotel is ranked quite high on the travel web-sites (Trip Advisor, Urbanspoon, Yelp, etc.), but especially for a not-to-be-missed Sunday brunch. Hands-down, after experiencing this tropical brunch, we can say it was the most wonderful that we have ever been to. .
.
Everything was as perfect as could be! From the attentive service, pristine cleanliness, awesome setting and views, quality, taste and variety of food selections ~ ~ well, it was just an over-the-top "wow" dining experience. And to top it off, you really received your moneys worth!
.
Oh yes, all the normal standby food items are available to select from, such as a prime rib, turkey and ham station, an omelette station, a dessert station, salad station, ice cream and topping station, eggs, bacon, sausage and hash brown station, but there were also sushi and raw food stations, Japanese noodle and soup stations, Chinese rice stations, and even Thai salad stations.
.
I go for the unusual, hard to find sushi, raw ahi tuna items that I never prepare at home due to the expense and inexperience in preparing and hubby, being the true meat and potatoes guy that he is, only goes for the prime rib and traditional brunch items.
.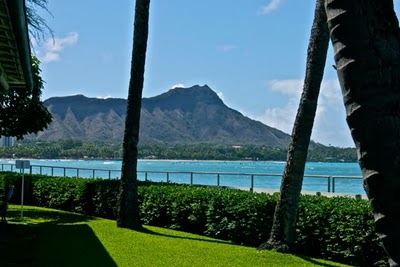 This was the gorgeous view from our ocean-side table . . . the dormant Diamond Head volcano is in the background with the surreal turquoise blue waters of Waikiki Beach. If you look hard enough, you can see some dots in the water which are surfers up early waiting for the surfs to come in and ride.
.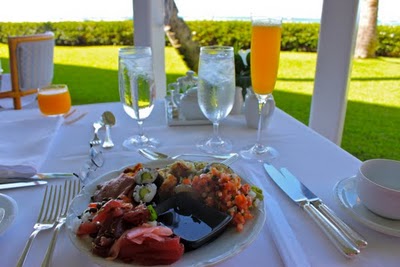 A perfectly set white linen table with a strong champagne Mimosa. This plate is full of tropical foods such as lomi lomi salmon, ahi tuna, steak tartare, salmon poke (po-keh), sushi, wasabi, ginger, and soy sauce.
.
.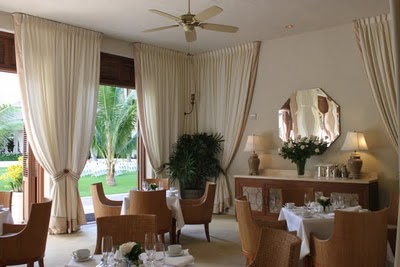 This was one of the lovely dining rooms in the restaurant. You can see that chairs have been set up out in the garden lawn beyond the room where a wedding was about to take place.
.
.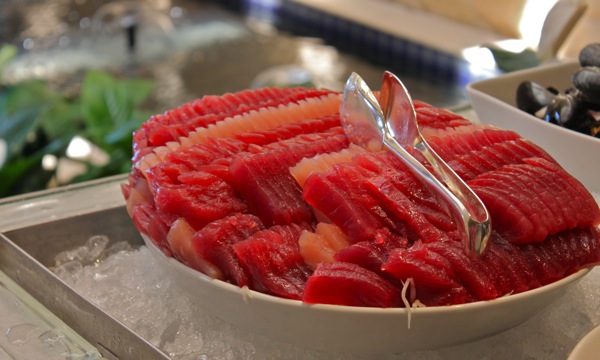 This bowl of ahi tuna on ice was at least three layers deep! The servers kept refilling the bowl endlessly. To think of the value of this food selection alone is mind-boggling to me, because at 'market price', if you order an appetizer of ahi tuna, you'll be lucky to receive 6 pieces for $15 to $20! This brunch was just an incredible value!
.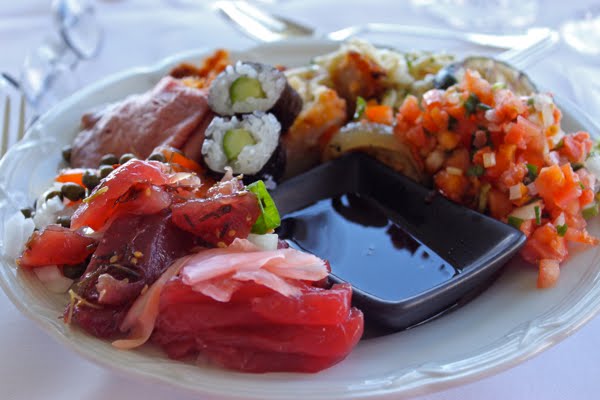 This is a close-up of the ahi tuna (with fresh ginger slices on top) on the left, smoked salmon, capers and onions above the tuna, steak tartare above the salmon, a few rolls of avocado sushi, an artichoke and avocado salad, and on the right is lomi lomi salmon and soy sauce dish. A raw foodie's dream!
.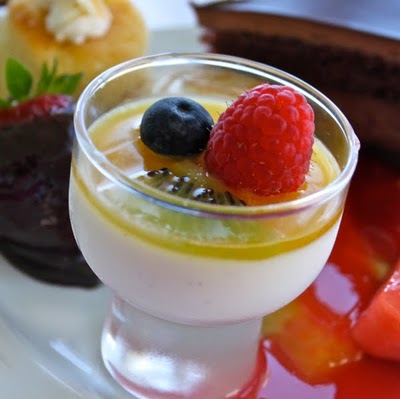 OK, now I have to show you my husband's dessert selections. This is a tiny cup, no more than two inches high of a tropical, citrus panna cotta with fruits. Very, very light and tangy! Chocolate covered strawberries and tropical fruit in a raspberry sauce mingle in the background.
.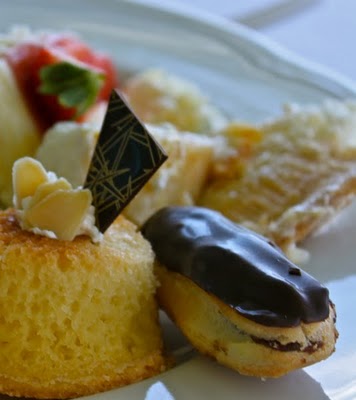 This shot shows miniature desserts, again no more than a few inches wide, a little lemon cake with a gold-painted slice of chocolate garnish. The attention to detail was incredible!
.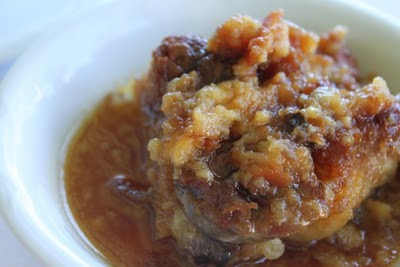 This was both of our favorites; it's a banana, pineapple warm bread pudding. Hubby has me on a search to find a recipe to duplicate this as best as possible! Yummy to say the least!
.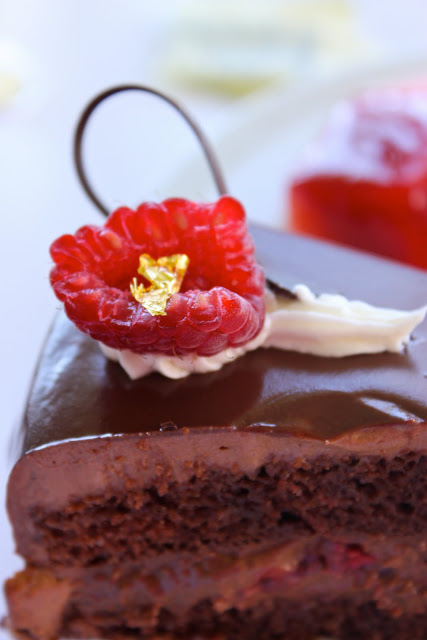 .
The grand finale was on my plate . . . gosh, I do love the combination of chocolate and raspberries and simply could not pass up this chocolate raspberry mousse cake. Just look at the gold garnish inside the raspberry! A thread of chocolate completes the garnish. Not your ordinary chocolate cake!
.
So if you ever get to Oahu, I highly, highly recommend without any hesitation, to make a reservation (required) at Orchids for an absolutely divine tropical brunch experience!
.
.
Aloha!
.