Pasta with Three Cheeses, Prosciutto and Peas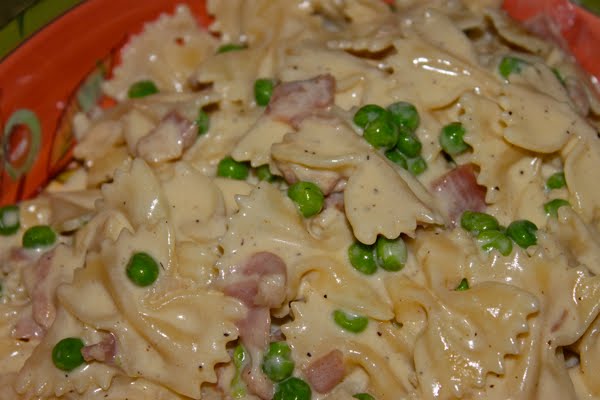 .
I gave in to pure indulgence today!
My husband is away on a guy's weekend at a Nascar race this weekend. Since I just can't get into any of that, I stayed home for some "me" time.
So when it came time to prepare something to prepare and eat by myself, a friend of mine said "Make something that your husband normally wouldn't eat and that you love!"
So I thought about what was in my frig and my pantry to use. Hmmm! Well, I just made Tres Leches cake, so I've got some cream left over. I also have pasta, butter, eggs, and Parmesan cheese.
And then the thought crossed my mind: "Why don't I splurge and make a pasta in a classic Alfredo sauce, a sauce that my husband dislikes and yet one that I love?" It's such a simple sauce that can be made while the pasta is cooking. Yes, hubby would eat it, but he prefers tomato sauces on his pasta rather than cream sauces. So that's what I jumped up from reading a book on the couch to do!
But this is not the original Fettuccine Alfredo recipe….. yes, that is the base from which I prepared this dish, but I made some adjustments that through time, I have grown to love.
I ADDED both Asiago and Fontina cheese to the recipe for some extra bite and flavor, and I added chopped prosciutto and peas into the creamy, buttery, decadent, heavenly sauce.
It was PERFECT!
I haven't made this recipe in 15 years since I found it on a menu and ordered it from a restaurant in the Midwest. I had first tasted this pasta dish when I lived in St. Louis, Missouri and when I visited the area known as "The Hill", the Italian neighborhood that is full of endless and delicious Italian restaurants, bakeries, and meat shops.
Being of northern Italian descent and unfamiliar with cream sauces for pasta, I can say that I simply fell in love with the cream sauce at first bite right then and there. The only thing that was different then, was that it had only a few little tortellini floating in the sauce and not just a plain pasta as this dish contains. I totally understand! Hand-made tortellini is extremely expensive in terms of time and ingredients . . . not the best for top sellers among frugal Midwestern customers.
So when you really, really want to splurge, take some of your homemade tortellini and add it to this sauce. Magnifico, to say the least!
Now and then, you can afford to splurge, but not daily, or even weekly with this high calorie and high fat dish. But every once in a while, jump in, give in to a temporary indulgence, and just ENJOY! (and then get on the treadmill tomorrow!)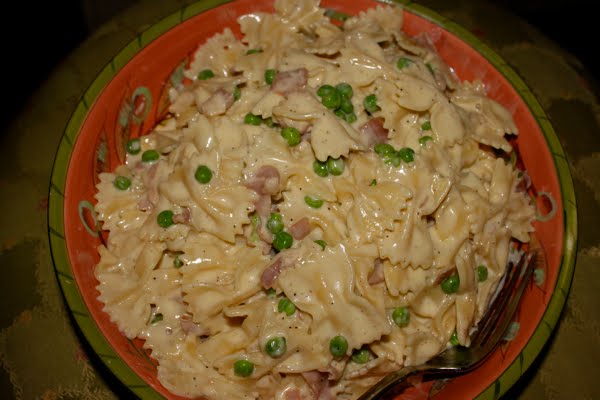 Print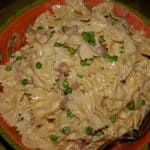 Pasta with Three Cheeses, Prosciutto and Peas
Author:
Prep Time: 0 hours
Additional Time: 0 hours
Cook Time: 0 hours
Total Time: 0 hours
---
4 Tbsp. High Quality Butter (I use European butter)
1–1/2 cups Heavy Cream
1 Tbsp. Sea Salt
1/2 pound Farfalle or Fettuccine pasta
2 egg yolks (I use jumbo size)
1/2 cup freshly grated Parmigiano Regiano cheese
1/4 cup freshly grated Asiago cheese
1/4 cup freshly grated Fontina cheese
1/8 lb. Prosciutto, diced
1 cup Green Peas (frozen or fresh, but not canned)
1/2 tsp. Black Pepper
---
Instructions
Fill a large pot with water and bring to a boil. I add about a teaspoon of salt, but that is up to you.
Cook pasta for the length of time necessary for 'al dente' (about 7 – 10 minutes depending on the pasta shape).
Saute' the butter in a large saucepan.
Add the cream.
Drain the pasta when it is finished cooking.
Pour the butter-cream sauce into the pasta.
Add the egg yolks, three (3) cheeses, and the pepper.
Add the diced prosciutto and peas.
Stir really well, so that all of the pasta is coated with the sauce, yolks, and the rest of the ingredients.
Cook for another minute or two so that the yolks are cooked.
Taste and add any salt and pepper that you desire for your preference level.
Serve immediately with additional grated cheese to pass around.
---
Pasta With Three Cheeses, Prosciutto and Peas
.