Cool Summer Cocktails from the Tropics – Honolulu, Hawaii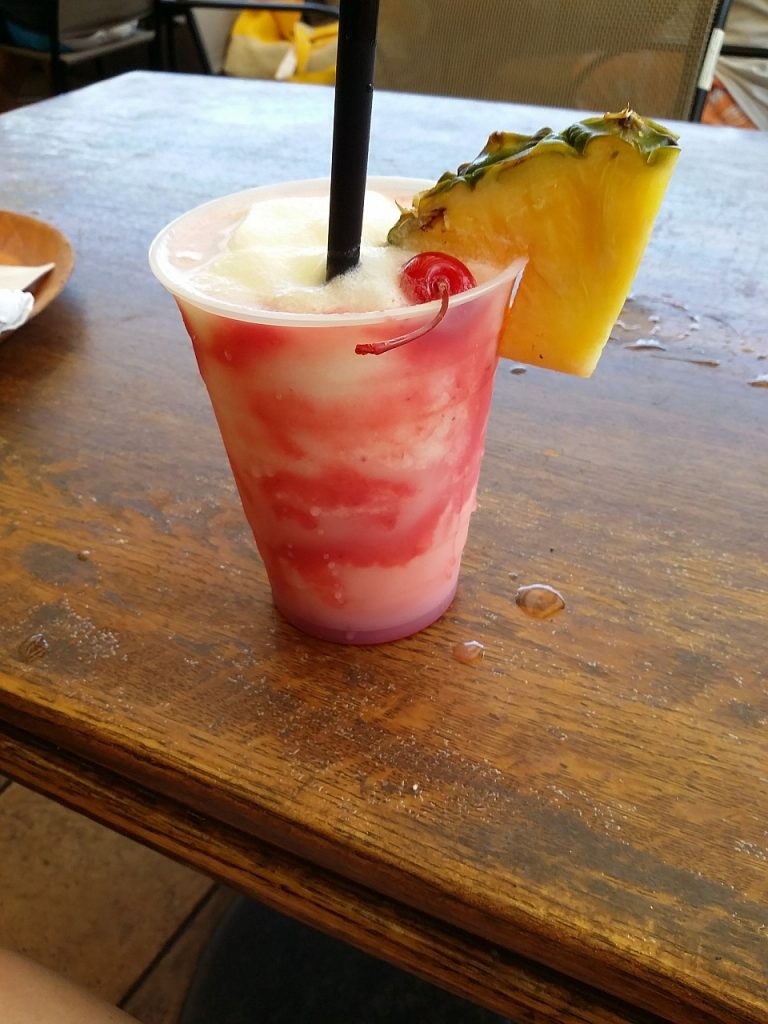 Lava Flows at Duke's Canoe Club and Barefoot Bar
Is it hot enough for you this summer? Goodness, we're all just baking and melting away! Plus my home town of Ames, Iowa is completely underwater this week from the extreme flooding of these two normally harmless rivers that flow through it. All of that water with temps in the high 90's make it a very undesirable environment to be in right now. I've already called and Facebooked my family and friends in Ames to check on how they are doing. My parents have the best attitude — they're boiling water, living without showering, etc. etc. At 82 and 90, they are such troopers, having lived in the days of outhouses and bringing in water from a well pump oustide, so this is not terribly difficult for them. But I digress (as usual).
So for those of you who DO have clean water and household amenities, yet it's still hotter than 'broil' on the oven, here's some fantastic, oh-so-yummy cocktails from the Tropics to share with you. The photos were taken from our trip out there last week, and the recipes are authentic from the sources that I've cited. So come on, light that kitschy tiki torch hidden in the garage or basement, grab your best rum, and mix up some tropical good times!
For my husband and me, there is one tropical drink that we both absolutely love: The Lava Flow. It's like a strawberry shake, with a little coconut and banana whipped in, plus rum. Since my hubby's favorite thing is ice cream and his fave flavor is strawberry, this cocktail is easy for him to give in to. Be careful, you think you're just drinking a strawberry shake and so after 2 or 3, you may fall flat on your face from the rum that is extremely well hidden! You can also make this a VIRGIN Lava Flow without any alcohol and still have a great summer beverage!


Print Lava Flow
Author:
Prep Time: 0 hours
Additional Time: 0 hours
Cook Time: 0 hours
Total Time: 0 hours
---
1 oz. coconut syrup
2 ozs. pineapple juice
2 ozs. light rum
Splash vanilla ice milk (or ice cream)
1/2 cup ice
(1/2 a banana, optional)
1 1/2 ozs. strawberry puree (we like another ounce added for more strawberry-ness!)
---
Instructions
Blend all ingredients except strawberry puree.
Pour into a cocktail glass and gently pour in the strawberry puree (which is to resemble 'lava flowing').
---
We enjoyed these Lava Flows at the infamous Duke's Canoe Club and Barefoot Bar on Waikiki Beach in Honolulu. This landmark establishment sits right on the beach where guests dine and drink under palm-leaf thatched and bamboo umbrellas and sit in beach-y rattan chairs. Memorabilia from Duke Kahanamoku, the famous Hawaiian surfer who won Olympic medals in swimming, are placed all over the restaurant. If you ever go, you MUST try the salad bar's FAMOUS Caeser Salad — the best on the planet . . . and that's the truth! Duke's even serves anchovies for your Caeser, which most eateries are eliminating due to the expense (yet some still have them listed in their salad's ingredients on their menus! I think that's bad business myself!)
Here is another version straight from "Hawaii" magazine on how to make Lava Flows the way they are made in Hawaii:
http://www.hawaiimagazine.com/blogs/hawaii_today/2009/8/30/_lava_flow_hawaii_tropical_cocktail




Just a fun tropical drink menu!
On the left is a typical Mai Tai (for hubby) and on the right is a Zombie (a more potent Mai Tai for me!)
The La Mariana Sailing Club, one of the very last authentic tiki bars left in Hawaii, which is being threatened to be demolished for modern developments such as condos, hotels, or office buildings. This little gem is so threatened that it may not be there when you get to Honolulu. Elvis could have walked in the joint at any given moment it seemed!
Although this photo is a bit blurry (from excitement while holding the camera!) this is the
Mai Tai at Along Wong's with THREE rums!
The towering, ceiling high tropical floral centerpiece of Alan Wong's Restaurant
Back in the 1940's a guy named Trader Vic concocted this now world-famous cocktail and introduced it to Honolulu for the Royal Hawaiian and Moana Surfrider hotel bars. Apparently there is an ongoing debate on how to prepare this drink, so instead of referring to my cocktail recipe bible, I did my research and found the original, classic Mai Tai recipe from Francesco Lafronconi, a highly esteemed and respected author on the history of American cocktails (as a research professor myself, I wonder why I didn't choose that research focus!)
The Original Mai Tai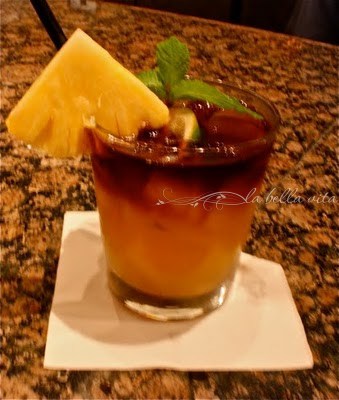 Ingredients
1 lime
1/2 ounce orange Curacao
1/4 ounce simple sugar syrup
1/4 ounce orgeat syrup
2 ounces rum (one ounce dark Jamaican rum, one ounce light Martinique rum)
(Alan Wong's uses 3 ounces of rum!)
Fresh mint leaves
Pineapple slices
Maraschino cherries
Instructions
Cut the lime in half.
Squeeze all of the lime juice over ice (preferably shaved or crushed ice) in a double old-fashioned glass.
Save the lime rind for garnish.
Add the remaining ingredients with the light rum poured in first and the dark rum poured in second.
If necessary, fill the glass with more ice.
Decorate the cocktail with the lime rind, fresh mint leaves, fresh fruit on a stick, and if possible, a colorful little paper umbrella and an orchid!
Decorate the cocktail with the lime rind, fresh mint leaves, fresh fruit on a stick, and if possible, a colorful little paper umbrella and an orchid!Mmmmmmm Ahhhhhhhh! I guarantee you that these will cool you off
during these intensely hot summer days! Salute' and ching ching!
.
.