Prosciutto, Fresh Fig, and Manchego Cheese Sandwiches
Italians have culinary contributions, such as prosciutto di Parma, that once tasted, I cannot imagine being without it in the kitchen! One of the time-tested food combinations of Italians is prosciutto and fresh figs. Nearly every cookbook or Italian chef will have a unique way to pair these two food friends together!
Every now and then, a recipe comes along that just sends your taste buds soaring into the heavens! This sandwich recipe is just one of those unique, packed full of diverse flavors recipe! I discovered it from one of my favorite bloggers, Velva, on her tomatoes on the vine blog. Velva gives credit to Cooking Light which never fails to amaze me with wonderful recipes. After reading about the ingredients that are currently fresh and in season right now, I simply could not wait to prepare these. The marriage of flavors in this creation are sweet and savory al magnifico! The sweetness of the fresh figs and fig jam, combined with the savory Italian prosciutto di Parma, Dijon mustard, and Manchego cheese is indescribable. Besides being a delectable lunch/dinner sandwich, another great idea would be to cut the sandwiches into little mini-sammies for party finger food (with toothpicks to keep them held together). Your guests will certainly be impressed when they bite into them!
First of all, I had to order the fig jam from an Italian grocer on the web, since I could not find any at Whole Foods or The Fresh Market. You really need this ingredient for the flavor combination! It arrived in the mail one hour ago from my making the sandwich and posting it!
I must also give you a heads-up on another little important tidbit about this recipe . . . it isn't cheap at all; in fact, it is rather pricey! Good quality Italian prosciutto can cost at a minimum of $12.00 a pound, the 1-year old Manchego cheese was commanding $19.00 a pound, the imported Italian fig jam was $12.00 plus $7.00 shipping and handling, the fresh figs were about $4.00 for a small basket, and a small jar of Grey Poupon Dijon mustard is about $5.00. Of course those full quantities weren't used, but I'm just letting you know that this isn't your every day turkey sandwich! For a splurge of a sandwich, this is it!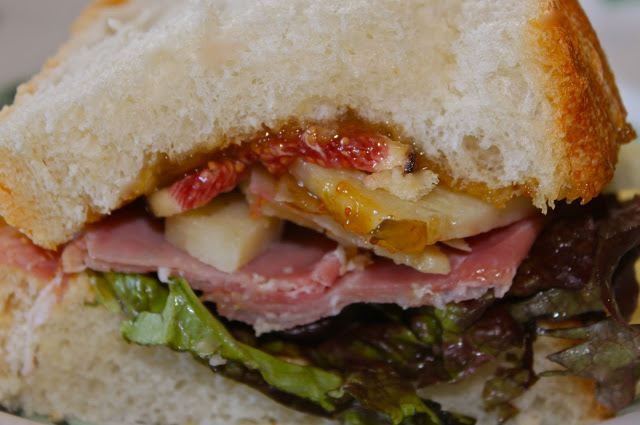 Print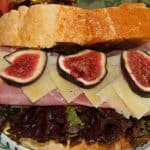 Prosciutto, Fresh Fig, and Manchego Sandwiches
Author:
Prep Time: 0 hours
Additional Time: 0 hours
Cook Time: 0 hours
Total Time: 0 hours
---
4 teaspoons Dijon mustard
8 thickly sliced Italian bread, toasted
1 cup arugula, (I used red leaf lettuce for brighter color, plus arugula was unavailable in the market)
2 ounces very thinly sliced prosciutto (of course, I added more to my sandwich . . . yum!)
2 ounces thinly sliced Manchego cheese (again, I added more, and used 1-year old aged Manchego for a stronger flavor)
8 fresh figs, cut into slices, top stem cut off
2 Tablespoons fig jam (or more!)
---
Instructions
Spread the Dijon mustard on four slices of bread.
Spread the fig jam on the other four slices of bread.
On the mustard bread slices, layer the arugula or red leaf lettuce.
Place the prosciutto on top of the lettuce, divided evenly among the four sandwiches.
Top each with the cheese slices.
Top each with 3 – 4 fig slices.
Place the bread slices with the fig jam (jam side down) on top of the sandwiches.
---
Notes
I served this with a little bowl (a tiny dipping bowl size) of Dijon mustard and another with fig jam to pass around to my guests to add to their sandwiches (I liked a little more Dijon on mine).
Enjoy these Prosciutto, Fresh Fig, and Manchego Cheese Sandwiches!
.
..
Do you enjoy La Bella Vita Cucina?
We'd love to have you as part of our community!
Click here: La Bella Vita Cucina to get the latest recipes, travel tips and gardening ideas straight into your inbox!