Blood Orange Vinaigrette on Salmon Salad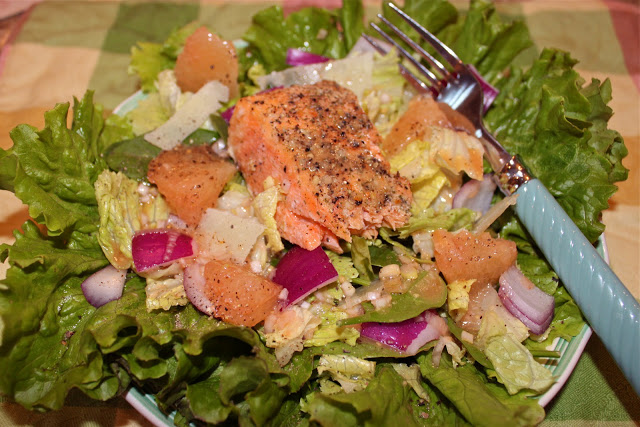 Never give up . . . never, ever give up!
Those famous words of Winston Churchill!
Keeping that sentiment on the forefront of my mind, I've stayed motivated to reach my health goals. The official date that marks when most people end their efforts to meet their goals (whether to lose weight, quit smoking, pray more, meditate, etc.) has come and gone. But I'm still on this bus ride, so I continue to peruse more healthier and lower calorie recipes to try and then share with you.
.
Here's a nice recipe for a lighter salad for a filling meal. I used salmon filets that we had left over from the weekend. All of the other ingredients were on hand as well. I've been so intrigued by blood oranges lately and the nice thing is that they are available in some markets right now. Luckily, this recipe jumped from the pages of my Cooking Light cookbook. It is quite easy to make and packed with Vitamin C. Although the vinaigrette is a bit on the sweet side for my tastes, it was simple to add more Dijon mustard for a more savory blend in flavor. If this vinaigrette isn't appealing to you, then you can always use your own favorite.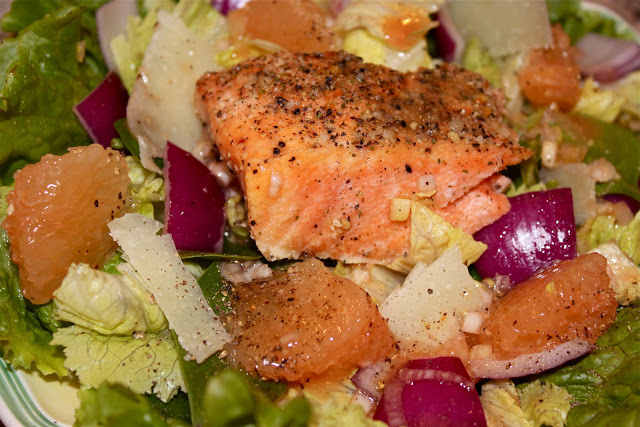 Print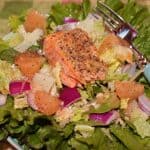 Grilled Salmon Salad, Grapefruit & Manchego Salad with Blood Orange Vinaigrette
Author:
Prep Time: 0 hours
Additional Time: 0 hours
Cook Time: 0 hours
Total Time: 0 hours
---
For the Salad
2 (6-ounce) salmon filets
Lemon pepper seasoning (my addition)
Mrs. Dash Garlic and Herb seasoning (my addition)
Nature's Seasons (my addition)
1 large red onion, cut into 1/2" slices and chopped
Cooking spray
8 cups mixed baby salad greens, or baby spinach, or combination of both
1 red grapefruit, halved, sectioned, and removed from skin, drained.
Manchego Cheese slivers (my addition)
Blood Orange Vinaigrette
1/3 cup freshly squeezed blood orange juice
2 Tbsp. minced shallots/green onions
2 Tbsp. honey (locally harvested, if possible)
1 Tbsp. Extra Virgin Olive Oil
3 tsp. Dijon mustard (I increased from 1 tsp.)
1/8 tsp. salt (preferably sea salt)
1/8 tsp. freshly ground black pepper
---
Instructions
Prepare the Vinaigrette
Combine all ingredients in a small bowl; stirring well with a whisk.
Prepare the Salad
Prepare grill, pan, or heat oven to 350 degrees.
Season salmon filets.
Coat grill, pan or baking pan with cooking spray.
Grill, cook or bake fish until flakey when tested with a fork.
The onions can also be grilled, cooked, or baked with the salmon.
Place salad greens on 4 salad plates.
Arrange 2 ounces of salmon, the onions, grapefruit sections, and Manchego cheese evenly over the greens on each plate.
Drizzle Blood Orange Vinaigrette evenly over each salad.
---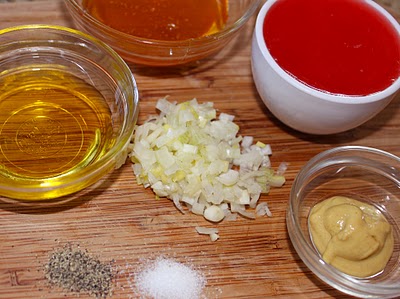 .
The ingredients for the vinaigrette. Look how RED the blood orange juice is on the upper right! Wow!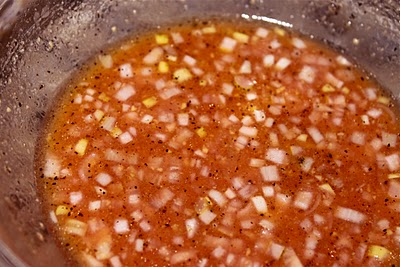 .
The vitamin C-loaded vinaigrette once blended well.
Truly this IS a delicious salad, with a slightly sweet, citrusy vinaigrette that is quite light and fresh, and that I am HAPPY to SHARE it with you!
Please let me know what you think of this salad and vinaigrette once you prepare it! It would be my pleasure to share your thoughts, revisions AND your photos here with other readers!
.
.