Thai Chicken Laab Salad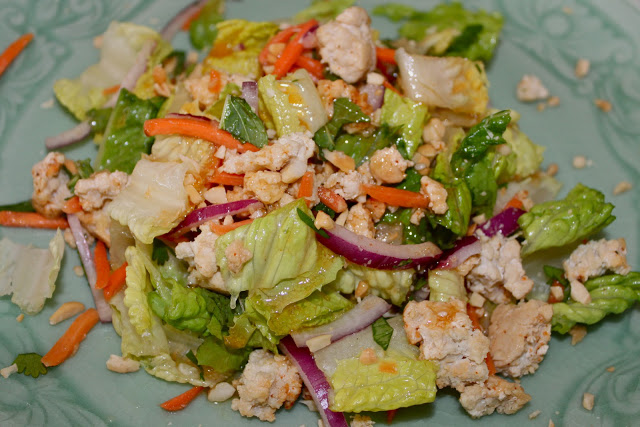 .
No one needs to suffer through terribly tasteless food while losing the excess poundage on one's bod-ay on their journey towards better health, huh? Not me anyway. Otherwise, the whole thing ends without results, because I just cannot, simply cannot eat garbage-tasting, bland food for even a second, let alone a prolonged period of time in order to lose excess fat on these old bones of mine.
Anytime I hear the word "Thai" I know, without a shadow of a culinary doubt, that there will be a circus of flavors going on in the recipe. I also know, with solid conviction, that a Thai dish will be very healthy for me. Just think about it for a moment: there are just not that many overweight Thai people on this planet, and yet they are a people/a culture whose lives are centered around incredible food . . . just like Italians. So here I go . . . off to Thailand for some beautiful food inspiration, a distant cry from Italian cuisine, but oh so delicious, healthy, and good for us! I'm lovin' this Thai Chicken Salad (often called "Laab" or "Larb") and will pack whatever is left over for my lunch tomorrow at the office! Your taste buds will surely sing "Wow" too!
The fresh lime, pungent ginger, sharp cilantro, spicy, garlic-y Thai seasoning are blended with the mild, buttery nuttiness of cashews and the sweetness of natural honey to balance those powerful playing ingredients! Like all Thai recipes, it's all about a balance of contrasts and this recipe has it all. Even my mother, who has never eaten a morsel of Thai food in her 83-years of life, enjoyed this flavorful salad. I hope you try it!
Print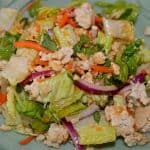 Thai Chicken "Laab" Salad
Author:
Prep Time: 0 hours
Additional Time: 0 hours
Cook Time: 0 hours
Total Time: 0 hours
---
For the dressing
(Double the following ingredients)
2 Tbsp. freshly squeezed lime juice
1/2 tsp. freshly minced ginger
1 tsp. honey (preferably locally-produced)
1/4 tsp. Thai chili garlic sauce, increase to taste preference
1/8 tsp. salt (preferably sea salt)
1–1/2 tsp. extra-virgin olive oil
For the salad
1/3 pound extra-lean freshly ground chicken breasts
Cooking spray
2 cups chopped romaine lettuce
1/2 cup shredded carrot
1/4 cup red onion slivers
2 Tbsp. freshly chopped mint leaves
2 Tbsp. freshly chopped cilantro leaves
4 Tbsp chopped cashews
---
Instructions
In a small bowl, combine the lime juice, ginger, honey, chili garlic sauce and salt. Whisk, gradually adding the oil, until well blended.
Lightly coat a small non-stick frying pan with cooking spray.
Add chopped chicken to the pan, cook, breaking up into small chunks, for about 5 minutes, or until no longer pink.
Remove cooked chicken from the heat. Stir in 1-1/2 Tbsp. of the dressing.
In a large serving bowl, combine the lettuce, carrots, onions, mint and cilantro.
Add the remaining dressing and toss until well blended.
Top with the cooked chicken, blend.
Plate the salads.
Sprinkle each salad with the chopped cashew nuts.
---
Notes
** NOTE: I recommend making even more dressing than the doubled recipe above in order to pass around to your family and/or guests to use more if desired.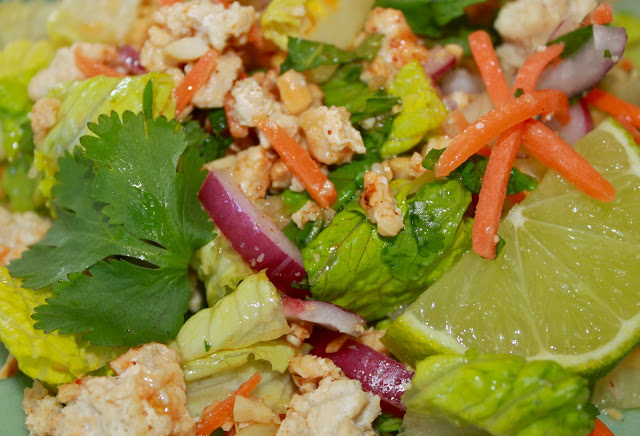 The brilliant, vivid colors of this salad in the middle of this cold, dreary winter, just make me so happy!!

.
.