Fresh Peach and Pineapple Crumble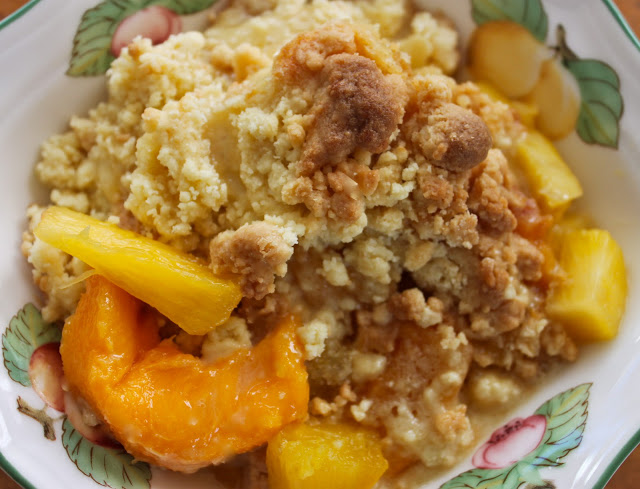 I have a man in my life who has been screaming for me to make a dessert. That would be the man that I married; a rather thin guy who has been super supportive of the lower calorie, less fattening dishes that I've been making to help me reach my weight-loss goal. He has happily been eating everything because the recipes have been so surprisingly full of flavor.
But no desserts have graced our kitchen since the holidays and he has been very patiently waiting to have something sweet to eat other than ice cream and Oreo cookies (always a good stand-by for him).
So I turned to that trusty little cookbook that I've been cooking from this month, Fresh Food Fast, by Cooking Light and found a delightfully refreshing Tropics-meets-the-South crumble. Nothing beats fresh fruit, so I bought a fresh pineapple and thawed out some of my summer Carolina peaches that I always freeze in huge batchs every June and July. Mmmmm . . . what a surprisingly yummy pair that pineapple and peaches make. I never would have thought to put the two together. This is really good, everyone . . . plus it is on the lighter side, because you don't bake the cake, you simply use the cake mix (sorry, not completely home-made) to sprinkle on the top with a little butter (use butter replacement if you like) instead. So simple too!
I was really good too; having only about 4 bites of this, plus no ice cream or frozen yogurt either that is recommended in the recipe. Hubby, of course, indulged in not only one, but two servings of the crumble with generous scoops of real vanilla ice cream (in other words, no low-fat ice cream for him).
Fresh Peach Pineapple Crumble
Ingredients
1 cored fresh pineapple (if available, purchase one that is already cleaned and sitting in juice)
3 cups fresh peaches, peeled and sliced
Cooking spray
1/2 cup butter, melted (1/4 was recommended, but it did not moisten the cake mix enough to create the crumble batter)
1 box of pineapple supreme cake mix (such as Duncan Hines Moist Deluxe)
1/4 cup chopped pecans, toasted (optional: I left off since hubby hates nuts, but they'd be nice to add)
Low-fat vanilla frozen yogurt
Instructions
Preheat oven to 350 degrees.
Coat an 11 x 7 inch baking dish with cooking spray.
Drain pineapple, reserving 3 Tbsp. of the juice.
Chop pineapple to measure 3 cups.
Combine chopped pineapple and juice with peaches and pour into the baking dish.
Stir butter into the cake mix.
Spread batter over the fruit.
Generously spray the top of crumble mix with more cooking spray.
Bake for 40 minutes or until golden and bubbly.
Serve warm with frozen yogurt.