Roast Pork Tenderloin with Roasted Garlic Vinaigrette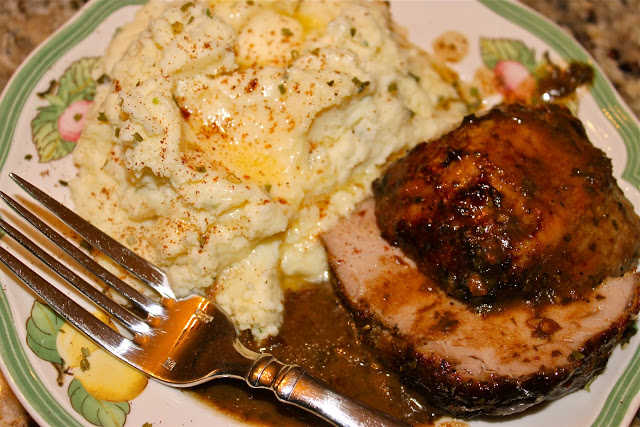 Although I have the most kick-butt-can-never-go-wrong-everyone-loves this pork tenderloin recipe from the late Craig Claiborne's "Classic New York Times", circa 1970's somewhere-in-time cookbook, I decided to take on another roast pork tenderloin recipe from Giada de Laurentiis for the "I Heart Cooking Clubs" weekly theme. The theme was "Roasting" and if there is one food that I love to roast, it is a pork tenderloin. Thank Heaven, that Giada had a recipe for Roast Pork Tenderloin in her extensive repertoire! And it was widely praised among the family tonight!
Despite my personal preferences belief that the balsamic/roasted garlic sauce should be slightly tempered down a notch, my family raved about this. The pork was cooked to perfection, soft and succulent, and with a dip of the pork into the sauce, it was simply divine. My father is on a restricted soft food diet while he recovers from his health 'challenges' and he ate every bit of his slice of pork and devoured the mashed potatoes that I prepared as a side dish for this Giada entree'!
So here's the recipe directly from the cookbook "Giada at Home":
Print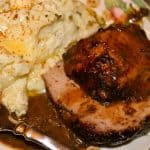 Roasted Pork Tenderloin with Roasted Garlic Vinaigrette
Author:
Prep Time: 0 hours
Additional Time: 0 hours
Cook Time: 0 hours
Total Time: 0 hours
---
Prepare the Roasted Garlic
2 full heads of garlic, cut in half
2 Tbsp. olive oil
Sea salt
For the Roasted Pork Tenderloin
1 4-1/2 pound boneless pork tenderloin
Mrs. Dash Garlic & Herb salt-free seasoning (I use this all the time in place of salt that is listed in recipes)
For the Vinaigrette
Roasted garlic (from above)
1/2 cup fresh Italian parsley, chopped (this is twice the amount indicated in the recipe)
1/2 cup balsamic vinegar (I reduced this amount to 1/3 cup, it was very potent)
3/4 cup extra-virgin olive oil
1 teaspoon sugar (I used 2 packets of Splenda) this is necessary to take the bite out of the Balsamic vinegar
1 tsp. sea salt
1/2 tsp. freshly ground black pepper
2 Tbsp. water
---
Instructions
Preheat oven to 475 degrees.
For the Roasted Garlic
Cut the heads of garlic in half cross-wise.
Place the garlic halves on a sheet of aluminum foil.
Drizzle them with the olive oil, and sprinkle with the salt.
Fold the foil up and around the garlic halves, making sure that the garlic stays upright.
Seal the foil into an airtight package around the garlic halves.
Roast until the garlic cloves are golden and soft, about 45 minutes (not 60 minutes as indicated or they will turn BROWN).
Keep the garlic halves in the foil and cool slightly.
For the Pork Tenderloin
Thirty minutes after the garlic has started roasting, place the pork in a medium, heavy roasting pan.
Season the tenderloin on all sides (with seasoning of choice).
Roast the pork along with the garlic until an instant-read meat thermometer reads 150 degrees (slightly warmer than what the original recipes calls for because there was still plenty of pinkish-red sections in the pork), for about 40 more minutes, 70 minutes maximum.
Remove the roasted pork tenderloin from the oven and form a tent of aluminum foil over the pork.
Let rest for 15 minutes.
For the Vinaigrette
Open the garlic packets and squeeze the the roasted garlic cloves into a blender, squeezing the base of each garlic half.
Add the parsley and balsamic vinegar.
Pulse until well blended.
Drizzle or pour the olive oil into the blender and blend well again.
Add the sugar or sugar substitute, salt, pepper, and two Tbsp. of water.
Blend until well mixed.
Drizzle some of the vinaigrette over the pork tenderloin.
Slice into desired thickness of slices.
Pass around the remaining vinaigrette in a small 'gravy' type dish.
---
For this ultra taste filled entree, I chose to serve a more balanced, mild, freshly home-made and heavily buttered mashed potatoes, sprinkled-with-paprika side dish – – which proved to be simply PERFECT to soak up the roasted garlic-balsamic vinaigrette. I do hope you enjoy this if you choose to prepare this someday! A special thanks is extended to Giada, especially on behalf of my father, whom my mother and I are having so much difficulty finding 'soft' and yet delicious foods to prepare for him. He truly did eat one whole slice of this soft and tender pork plus a full scoop of my mashed potatoes with total pleasure! And that is tremendous progress after what he's been through (health-wise) this winter!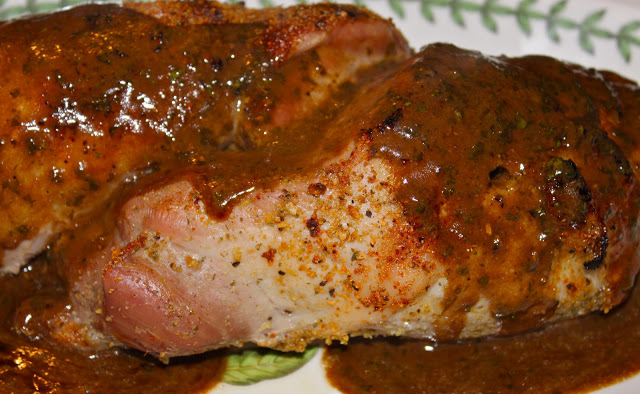 There is nothing special about these mashed potatoes: just prepare your favorite recipe, add some chives (fresh is best, but expensive and hard to find in January), then simply add some good butter to melt all over the potatoes, and sprinkle on some pretty red paprika – – truly that's all I do! Just make sure that you prepare your mashed potatoes with milk and/or whipping cream and not (ugh) water for the best 'wowza' results from your guests. This way of preparing potatoes is so nice nestled beside the roast tenderloin from which you can simply dip them into the Balsamic-Roasted Garlic Sauce or drizzle a little bit of the sauce on top of the buttered mashed potatoes. Either way that you prefer to prepare or serve them, this is pure Italian comfort food for this oh-so-cold month of January ~ ~ no matter where you live!
But if you want the best, most magnificent mashed potatoes on the planet, then you need to make my "Creamiest, Dreamiest Mashed Potatoes"! You'll thank me! And beg for more recipes like this!