Incredibly Good, Low Cal Pork Chops with Mustard Cream Sauce and Roasted Potatoes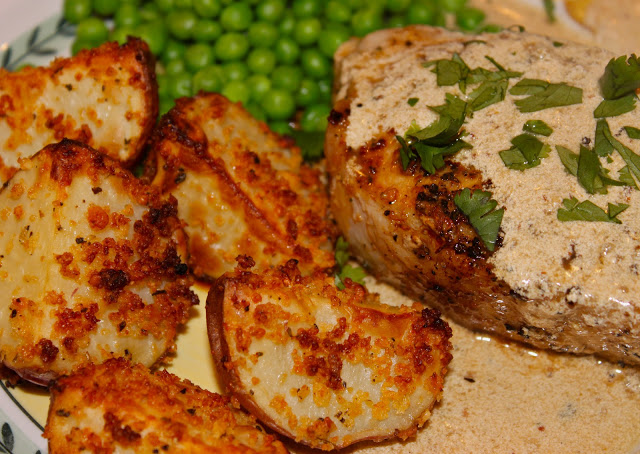 As promised, here is my first 'heathier' entree and side dish for 2011 that I said that I would share with you. It is slightly adapted from one of my favorite healthy cookbooks, Fresh Food Fast by Cooking Light. I'm a spoiled cook and diner . . . I like, I enjoy, I savour good, delicious food. Period. Delicious food is part of my life and always has been; it's one of the greatest parts of my Italian heritage. So if I'm going to get healthier, the food that I put on the tip of my tongue and into my body had better be darn good! Or it will never, ever cross my lips again. This has always been my biggest obstacle to taking off some pounds and getting healthier.
So my search for tasty, yummy, good recipes that are low-cal, low-fat, or even low-carb continues on. Here's a winner. Even my perfect cook mother raised her eyebrows in disbelief at dinner tonight. Even my skinny, can-eat-anything husband wanted more! That's spells a STAR in this family. And here it is for you to try, to tweak, or even to throw out if you like (but I doubt that you'll choose the latter option)!
One last plus: This was prepared in less than a half hour . . . so move over Rachel Ray, this recipe is super fast and that's a big issue for a woman who works and commutes a long distance!
Tip: Get the potatoes in the oven and then begin preparing the pork chops in order to make this in 30 minutes.
Print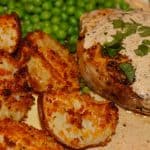 Pork Chops with Mustard Cream Sauce
Author:
Prep Time: 0 hours
Additional Time: 0 hours
Cook Time: 0 hours
Total Time: 0 hours
---
4 (4-oz) boneless center-cut loin pork chops (1″ thick)
generous sprinkling of Mrs. Dash original blend (I omitted the salt and added Mrs. Dash instead)
Cooking spray (preferably olive oil-based)
1/2 cup fat-free, less-sodium chicken broth
1 cup fat-free half-and-half
1/2 to 1 Tbsp. Dijon mustard (we liked it more on the lighter mustard-y side)
2 tsp. freshly squeezed lemon juice
1 Tbsp. butter replacement (such as "I Can't Believe It's Not Butter")
Chopped parsley for garnish
---
Instructions
Sprinkle both sides of pork with Mrs. Dash salt-substitute.
Coat a large non-stick skillet with cooking spray and heat it over medium-high heat.
Add pork to the skillet, and cook for 5 minutes on EACH side or until lightly browned and done.
Transfer the pork chops to a serving plate and place in warm oven.
Add the chicken broth to the pan, scraping browned bits from the pan to loosen them.
Stir in half-and-half, mustard, lemon juice and butter replacement. Taste and tweak to your taste preferences.
Reduce heat, simmer uncovered for 10 minutes or until sauce is slightly thick.
Remove pork chops from the oven and place on plates.
Spoon sauce over pork and sprinkle with chopped parsley for garnish.
---
Print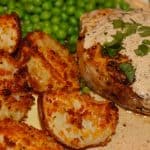 Roasted Potato Wedges
Author:
Prep Time: 0 hours
Additional Time: 0 hours
Cook Time: 0 hours
Total Time: 0 hours
---
1 pound small red potatoes, quartered
2 teaspoons olive oil
1/4 cup panko breadcrumbs with Italian seasoning
2 Tbsp. grated Parmesan-Romano cheese blend
Cooking spray
---
Instructions
Preheat oven to 475 degrees.
Combine potatoes and oil in a medium bowl, tossing to coat potatoes thoroughly.
Combine panko and cheese in a large zip-top bag; add potatoes and shake to coat them well.
Place potatoes on a jelly-roll pan coated with cooking spray; discarding remaining breadcrumb mixture.
Bake for 20 minutes or until browned and crispy.
---