Sun-Dried Tomato Pesto Turkey Burgers With Basil Aioli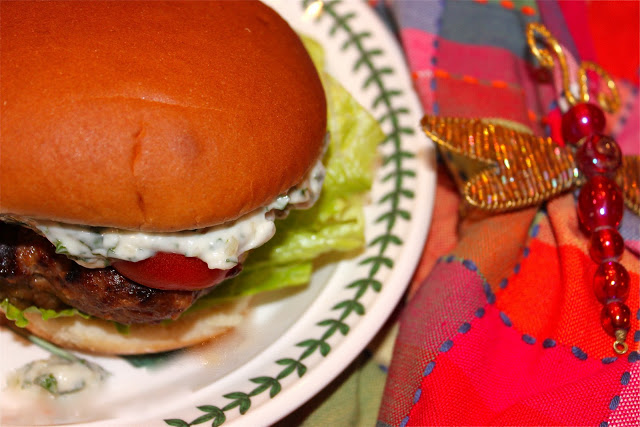 You know it really is true: if we plan ahead and go to the market/store with a list of all the ingredients that we'll need for our planned menus, we'll stick to a healthier food plan overall! Plus, if it snows like it has been doing right here in the South (and subsequently icing up ~ which is even worse!), we don't have to venture out onto uncleared snow-covered roads.
So I followed this healthy rule last week and had all of the necessary ingredients on hand for a week's full of good stuff. Who would have 'thunk' that this would have been the week that no one was able to drive on ice-covered roads in a state with only 20 snow plow and ice clearing trucks . . . even the National Guard was summoned in this week to help us out! I don't know about you, but that's a big "Wow" in my book, especially being from the Midwest where roads are cleared in the middle of the night and schools are NEVER closed!
Even our Internet connection has not operated in two days; so this is truly a late recipe for "y'all". I do apologize, but this recipe is certainly worth the wait! It is completely outstanding! No lie, friends! You've got to add this to your healthy recipes file! It is truly the best of the last three healthy recipes that I've posted BY FAR! Once again it is from Cooking Light's "Fresh Food Fast" cookbook, with my own adaptations and additions (that made a big difference!); a resource that is shocking my family and me for the tasty, yet good-for-us recipes that are provided. I'm just amazed! You'll never know that this recipe is actually good for you! And isn't that one of the goals that eating more healthfully is all about: Enjoyment!?
Print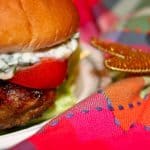 Sun-Dried Tomato Pesto Turkey Burgers with Basil Aioli
Author:
Prep Time: 0 hours
Additional Time: 0 hours
Cook Time: 0 hours
Total Time: 0 hours
---
1–1/4 lb. ground turkey breast
1/4 tsp. salt
1/8 tsp. freshly ground black pepper
1/4 cup (2 oz.) crumbled goat or feta cheese (I substituted Parmesan, cuz hubby hates feta cheese)
1/4 cup chopped and drained oil-packed sun-dried tomato halves (I substituded sun-dried tomato pesto instead)
1 Tbsp. freshly minced garlic (this was my own addition)
Cooking spray
Green leaf lettuce
White-wheat hamburger buns (such as Nature's Own)
4 tomato slices (or more)
Basil Aioli
1/4 cup light mayonnaise
2 Tbsp. chopped fresh basil (I used more, but that's just me)
1/4 tsp. salt
1 garlic clove, minced (I doubled this amount!)
---
Instructions
Prepare Basil Aioli
Combine all ingredients in a small bowl, stirring with a whisk.
Turkey Burgers
Prepare grill and combine first 6 ingredients.
Divide turkey mixture into 4 equal portions, shaping each into a 1/2″ thick patty.
Place patties on a grill rack coated with cooking spray; grill 8 minutes on each side, or until a thermometer registers 165 degrees.
Place lettuce leaves on the bottom halves of each bun; top each with a turkey burger, and one tomato slice.
Assembly
Spread 1 Tbsp. Basil Aioli on one side of each bun top.
Place one bun top on top of the other bun half and turkey burger.
---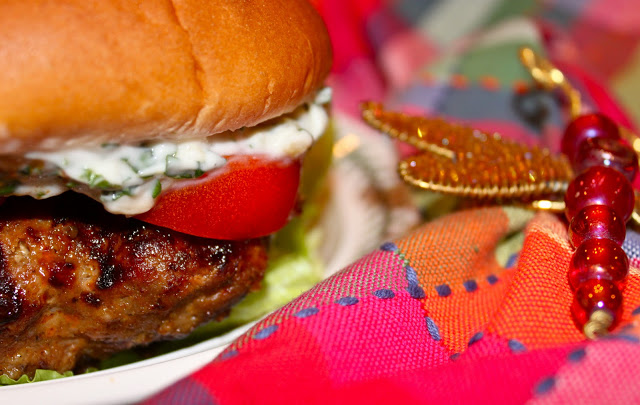 Stay healthy, everyone! And more importantly, stay happy and positive!
.