Italian Sausage, Peppers and Mushrooms on Toasted Garlic Buns
Italian comfort food! Italian street food!
That's what mouthwatering Sausage, Peppers and Onions is all about. Although this Italian hoagie/submarine style sandwich is often associated with people pushing street carts in Italy, it was in family-owned Italian taverns in the Midwest where my family introduced these mouth-watering, sloppy, often messy to handle with spill-down-your-face-with sauce sandwiches. Actually, I serve these with a fork and knife to cut into instead because I can't handle being a messy eater.
Whenever I make these, hubby comes into the kitchen and declares "What smells so good?" It's the garlic, darlin', it's the garlic! This is so aromatic bubbling on the stove! The sweet peppers balance out the spiciness of the sausages and tomatoes; plus the buttery mushrooms, garlic and basil, and a splash of Marsala just bring this dish to a perfect melody of flavors. Top that off with the garlic buttered bread . . . well, you cannot go wrong. So completely comforting.
You can serve this a variety of ways: by itself, ladled over creamy polenta, or as I have here (as part of our Super Bowl spread), on toasted, garlic-buttered hoagie buns!
Mmmmm! Perfett-o
Print
Italian Sausage and Peppers on Toasted Garlic Buns
Author:
Prep Time: 0 hours
Additional Time: 0 hours
Cook Time: 0 hours
Total Time: 0 hours
---
6 – 8 links of sweet, mild Italian sausages (or if you can find it, Italian turkey sausage)
1/4 cup extra-virgin olive oil
8 – 10 cloves of garlic, sliced into slivers, not minced or pressed
1 lb. crimini or baby portabello mushrooms, cleaned with a cloth, stem ends trimmed, and sliced
2 large yellow onions, cut in half and then sliced
2 green peppers, cored, seeded, and sliced into 1/2? wide strips
2 red peppers, cored, seeded, and sliced into 1/2 " wide strips
1 yellow pepper, cored, seeded, and sliced into 1/2? wide strips
1 8 – 15 oz. can of crushed tomatoes
2 Tbsp. tomato paste (to thicken the sauce; add more if you like it much thicker)
1 tsp. dried oregano
1/2 cup fresh basil, chopped
1/4 to 1/2 cup Marsala or red wine (optional)
2 pinches crushed red pepper flakes (optional)
Freshly ground sea salt and black pepper to taste
Italian submarine/hoagie buns
butter
garlic powder
---
Instructions
Instructions
Poke the sausages all over with a fork.
In a large, deep, heavy skillet, pour in the extra virgin olive oil, heat on medium heat.
Place the sausages in and cook until fairly brown.
Add the garlic to the sausages when they are not fully cooked, but fairly golden brown, so that the garlic does not burn from cooking too long.
Place the sausages into a large (13 x 9?) baking dish, draining the oil to stay in the skillet.
Place the sausages in a pre-heated 400 degree oven to stay warm while cooking the peppers and onions.
Add the sliced onions to the hot left-over olive oil in the skillet.
Cook onions until browned and caramelized, but still crunchy, 6 minutes.
Add mushrooms to the cooked onions until browned and caramelized, 6 minutes.
Add the cooked onions and mushrooms to the sausages in the oven, draining the oil from them to be left in the skillet to saute' the peppers.
Add more olive oil to the pan if there is not enough.
Add all of the peppers and saute' 6 minutes; keep them at a nice level of crunchiness, not wilted or soft.
Remove the sausages, onion, and mushrooms from the oven.
Add the peppers to the sausage, onions, and mushrooms to the sausage mixture.
Add the oregano, basil and red pepper flakes; blend well
Add tomato sauce and wine at this point and carefully blend together.
Salt and pepper to taste.
Return to the 400 degree oven and bake uncovered for 20 minutes.
While baking, melt a stick of butter.
Add garlic powder to the melted butter to your preference level, about a Tablespoon.
Blend well.
With a pastry brush, thoroughly and heavily brush on the garlic butter on both sides of the hoagie/submarine buns.
After the sausage, peppers, and onions are done baking, turn on the BROILER.
Place the buns under the broiler for about 2 – 3 minutes and watch them so they do not burn!
When golden brown, remove from the oven.
Place a sausage on each bun and smother with the peppers, mushrooms, and onions!
---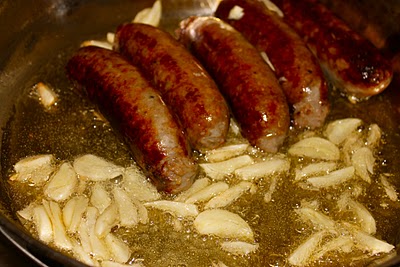 After the sausages are nicely browned, add the garlic to cook, but do not burn.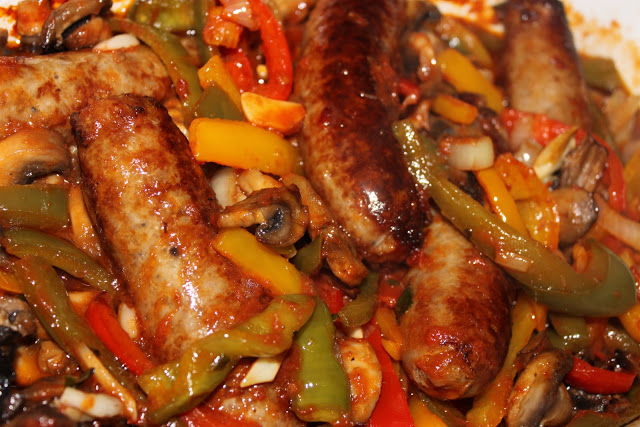 Straight out of the oven and smelling like Italy . . . now this is comfort food!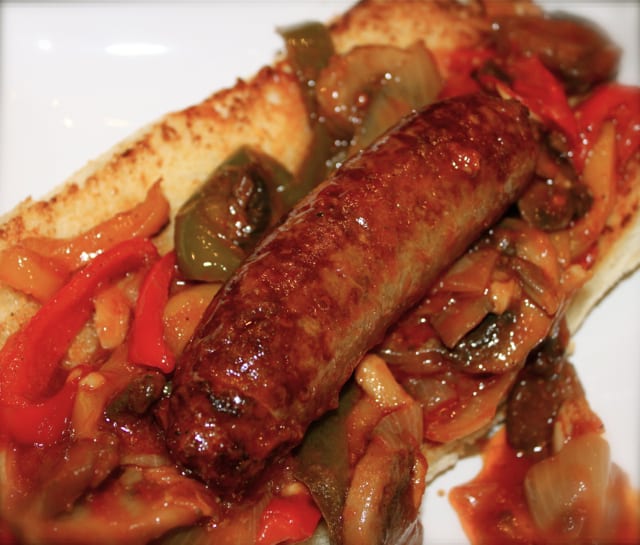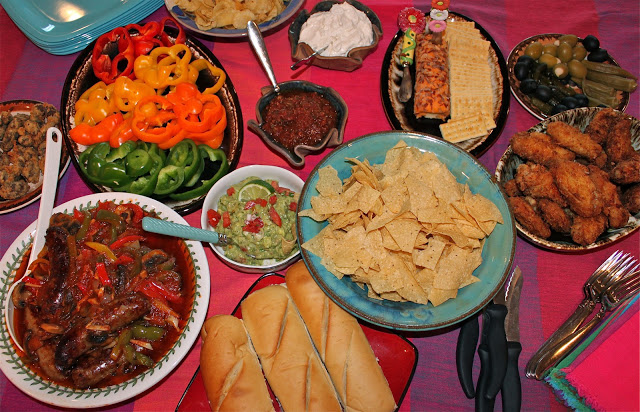 The only dish missing from this photo is the chili. But this was just far too much food for 4 people and there were plenty of left-overs!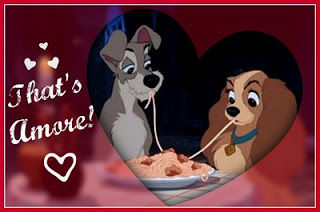 This week the "I Heart Cooking Club" theme is "That's Amore'!" with Giada de Laurentiis recipes. Giada's recipe has received a 5-star rating among readers, however, I doubled the garlic (it's just second nature for me!) and added the mushrooms from my inspiration from Lydia Bastianich for this love-filled, comfort food. So I'm sharing this post with the others who are also sharing some amore'!
Here are more classic Italian sandwichs that you'll just love: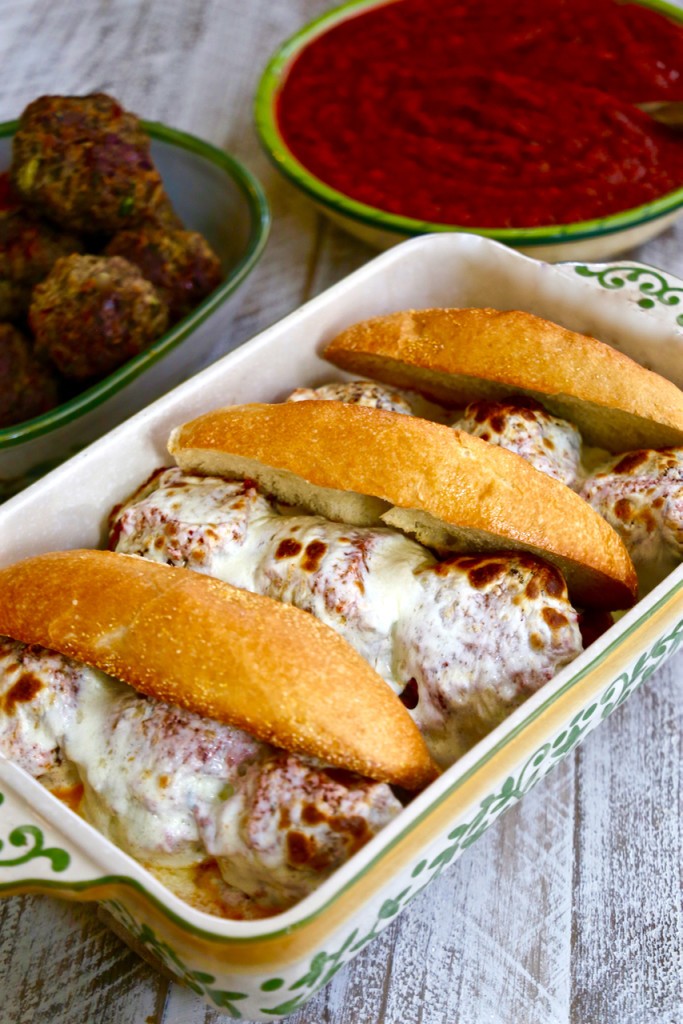 .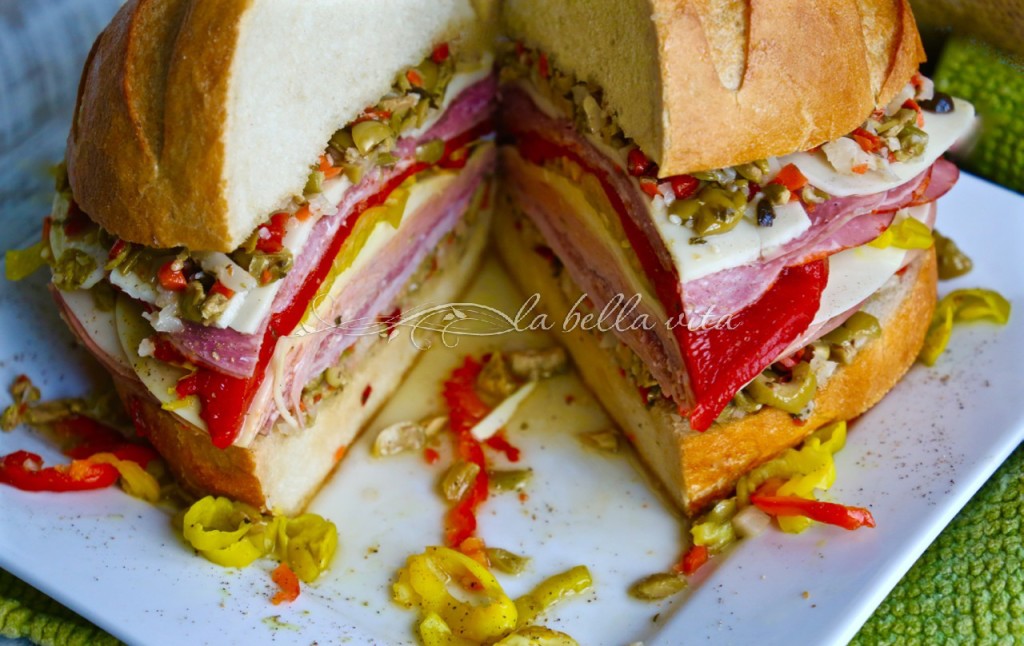 .
.