Frittata with Mushrooms, Thyme, and Parmigiano Cheese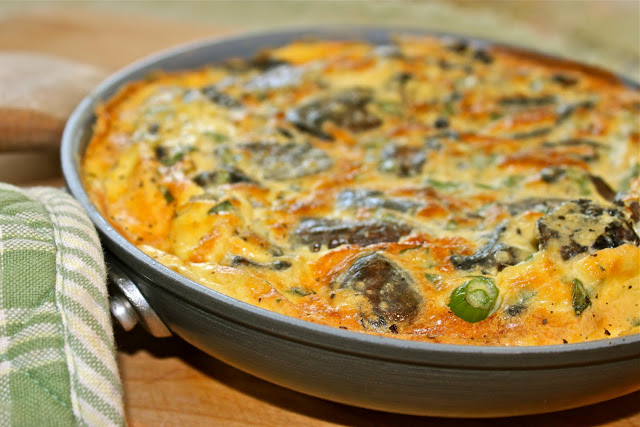 Eggs! Glorious, miraculous eggs! One of the perennial food symbols of springtime. I could eat eggs every day, I love them that much. Whether scrambled, fried, as an omelette, or even better yet, for Italian frittatas, I just love eggs. I had some fresh mushrooms in the frig that needed to be used so I immediately thought that preparing this egg dish would be perfect for a light lunch this week and to take a slice in a packed lunch for the office.
.
Actually, this is quite customary for Italians to do with frittatas. I snipped the thyme straight out of my herb garden just outside of my kitchen. I also lightened this up a bit by replacing half of the egg amount with egg replacements and by using half and half instead of whole cream.
.
Did you know the main reasons why an Italian frittata differs from a French omelette?
.
First, there's always at least one ingredient included, which is always added to the beaten raw eggs; whereas with an omelette any ingredient is laid over the mostly-cooked egg mixture before it is folded.
Frittata egg mixtures are often beaten longer and more vigorously which results in a deeper, fluffier egg dish.
Frittatas are cooked more slowly over a lower heat than omelettes, until the bottom is cooked, but the top is still runny, unlike omelettes that are cooked through on both sides. Which leads to the next difference:
Frittatas are not folded, but simply turned over in it's entirety or once cooked on the stove, they are finished off by baking and grilling/broiling in a hot oven.
Frittatas are sliced and shared among several people, and omelettes are served whole to one person. And lastly,
Frittatas are also served hot or cold, whereas omelettes are always served hot.
If you're giving up meat for personal health reasons or for this season of Lent, then let me tell you that you'll not feel any sense of deprivation when enjoying frittatas. They are incredibly healthy, full of flavor, and so comforting! Plus, they are simply beautiful to look at!
.
If you have never made a frittata before, please give them a try because they are so easy and versatile with numerous ingredients that you can include in them.
.
And now, here's a great recipe for a very delicious frittata!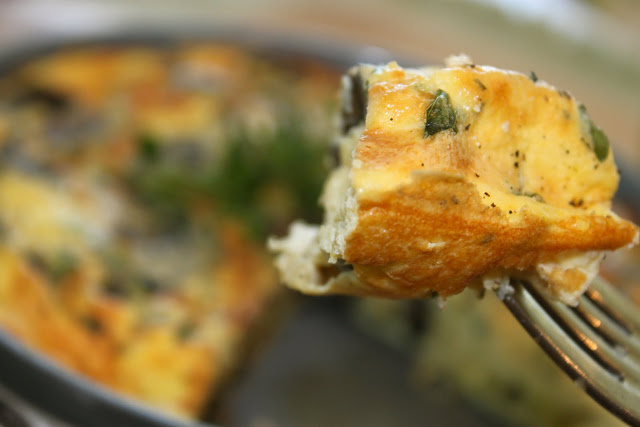 .
Come and take a bite!
.
Garnish with fresh sprigs of thyme.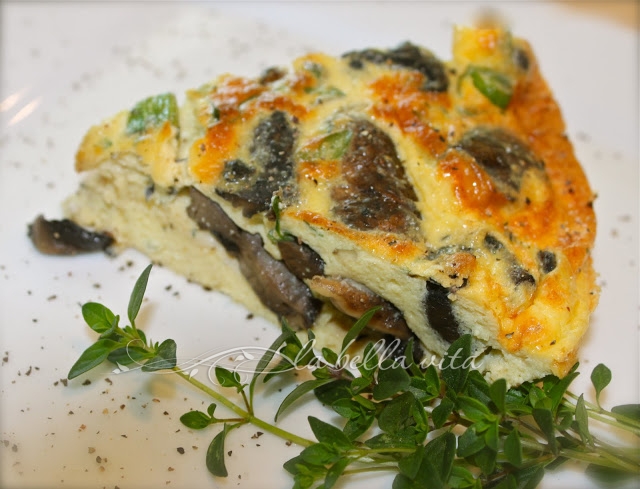 .
Sprinkle a bit of black pepper all over each individual slice.
Print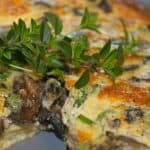 Frittata with Mushrooms, Thyme, and Parmigiano Cheese
Author:
Prep Time: 0 hours
Additional Time: 0 hours
Cook Time: 0 hours
Total Time: 0 hours
---
3 Tbsp. butter or cooking spray
16 oz. fresh mushrooms (of your choice), wiped clean, stems trimmed, sliced
6 green onions, sliced
3/4 cups egg replacement
3 jumbo eggs
1/4 cup half and half (or you can use whole milk)
1/2 cup Parmigiano cheese, fresh and finely grated
1 1/2 Tbsp. chopped, fresh thyme leaves
(optional: chopped, fresh chives and/or Italian parsley)
salt to taste
fresh ground black pepper to taste
---
Instructions
Pre-heat oven on to 350 degrees (later you'll change it to "Broil").
Heat an 8-inch ovenproof skillet over medium-high heat.
Coat pan with cooking spray or butter.
Add mushrooms and green onions to pan; sauté 12 minutes or until mushrooms are nicely browned.
In a medium bowl, add the eggs and egg replacement.
Add the half and half.
Add the Parmesan cheese.
Add the thyme and any additional herbs that you like.
Add salt and pepper and whisk everything together.
Pour the egg/cheese mixture into the same pan with the sauteed mushrooms and green onions.
Heat pan over medium heat.
Cook, covered, for about 6 minutes or when it is just a little bit liquid-y/runny on the top.
At that point, place the pan into the oven and cook on 350 for another 5 – 10 minutes.
Once the frittata is completely set and cooked (not runny on top) change the oven temperature to "Broil".
Place the pan on the lowest rack of the oven and broil for about 2 minutes or until a golden brown color forms on the top.
(this fritatta can be cut into 6 slices).
---
.
Frittata with Mushrooms, Thyme, and Parmigiano Cheese
.
.