Heirloom Tomato Frittata with Fresh Basil and Parmesan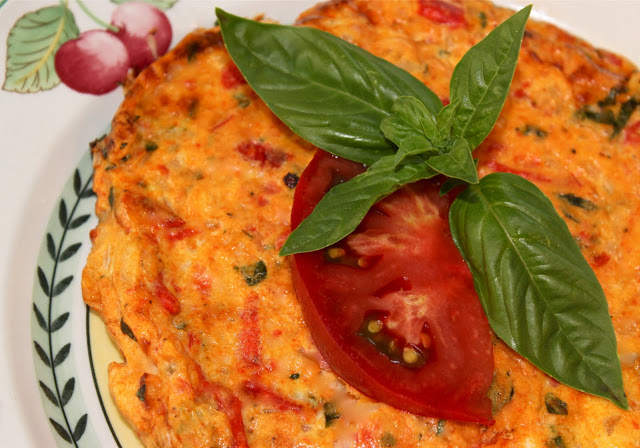 Heirloom tomatoes have the most intense flavor! And their color(s) are so vivid and rich! I just love simply looking at them. So far, Bill and I have frozen 6 (gallon-size) freezer bags of blanched tomatoes. We've eaten countless amounts of BLT's (bacon, lettuce, and tomato sandwiches) every day for lunch as well . . . somehow we just never tire of that sandwich combination. We never run out of tomatoes, but we always run to the store for more bacon and lettuce! LOL!
Anyhow, here's a superb Italian frittata recipe that helps use some of those fresh tomatoes, basil, and onions that you've got growing in your garden (or from the farmers' markets/roadside stands). It is packed with flavor in it's simplicity! I hope that you enjoy!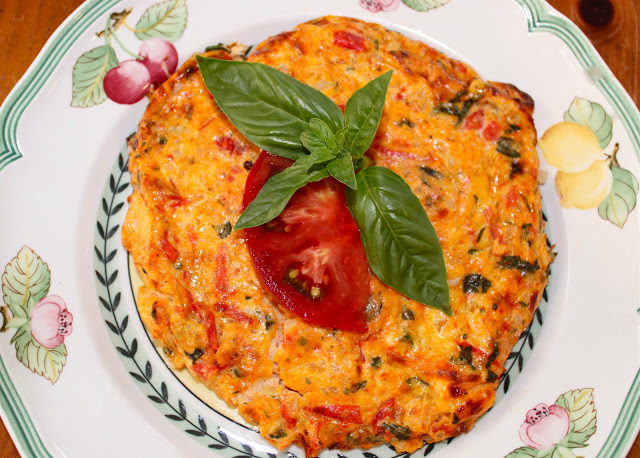 Print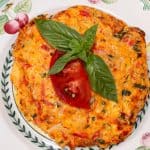 Heirloom Tomato Frittata with Basil and Parmesan
Author:
Prep Time: 0 hours
Additional Time: 0 hours
Cook Time: 0 hours
Total Time: 0 hours
---
2 – 4 Tbsp. olive oil
3 jumbo eggs, beaten
1/2 small onion, chopped fine
1 medium tomato, heirloom or hybrid (regular), cut into small chunks
8 fresh basil leaves, finely chopped
3 – 4 Tbsp. freshly grated Parmigiano cheese
salt and pepper to taste
---
Instructions
Turn the oven on 'broil'.
In a small frying pan, pour 2 Tbsp. of the olive oil and heat on 'low' for just a few seconds so that you do not burn the olive oil.
Add the chopped onion and cook until soft, about 2 to 3 minutes. Again, do not burn.
While the onion sautes, beat the eggs in a medium-sized bowl, and set aside while the veggies cook on the stove.
Add the chopped tomato to the onions in the frying pan (not the eggs), turn up the heat of the stove, and cook until most of the liquid is reduced (too much liquid will lead to very runny frittatas that are undercooked and mushy).
Add the basil to the onion/tomato mixture in the frying pan.
Remove pan from heat and add all of this cooked veggie/herb mixture to the bowl of beaten eggs.
Add the parmesan cheese, salt and pepper.
Blend everything together well.
Add another Tbsp or two of olive oil to the pan. Heat on low.
Pour the egg/veggie/herb/parmesan mixture back into the pan, cover, and cook on LOW for 20 minutes or until the egg mixture is cooked.
Place the frying pan with frittata in the oven and broil until the frittata is cooked through and golden brown. Keep your eyes on it so that it doesn't burn.
With a good oven mitt/glove, take the frittata out of the oven.
If you like, sprinkle with some freshly grated Parmesan cheese.
Garnish with pretty tomatoes and sprigs of fresh basil.
---
Enjoy!