Pineapple Grill's Signature Pineapple Upside Down Cake in Caramel Rum Sauce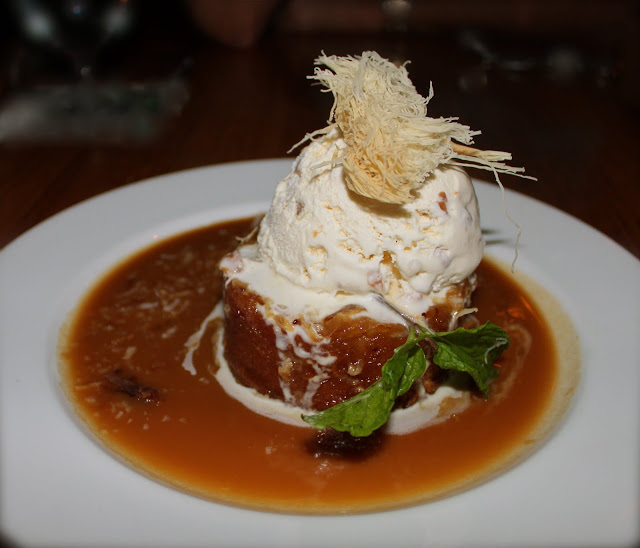 After our experience for Mother's Day dinner, my husband and I can say that hands down, without a shadow of a culinary doubt, Pineapple Grill on Maui is our most favorite and preferred restaurant. Now, this is saying a LOT, because we've always favored Mama's Fish House, previously ranked as #1 on the island, and where we always dine before catching the red-eye flight back to the mainland on our last night on the islands. I can't emphasize enough the fact that this special restaurant, Pineapple Grill, has won the prestigious ranking among Maui food critics for being the best restaurant on Maui for 2009 and 2010, with second place earned this year in 2011. Not too shabby!
…..
Recently, Pineapple Grill was honored by the "Best of The Best" having recently being recognized as offering the "Best Hawaiian Regional Cuisine" by "Maui No Ka Oi" Magazine, "Maui Restaurant of the Year" and receiving the "Hale 'Aina Award" for Best Maui Restaurant from Honolulu Magazine.
…..
.
Maui native and Executive Chef Ryan Luckey and his team create culinary magic for an increased loyal fan base of locals, critics, and visitors alike! I'm ready to go back for the unbelievable weekly events that take place!
Print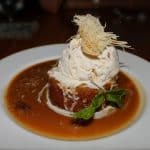 Maui Gold Pineapple Upside Down Cake with Caramel Rum Sauce and Macadamia Nut Ice Cream
Author:
Prep Time: 0 hours
Additional Time: 0 hours
Cook Time: 0 hours
Total Time: 0 hours
---
For the Cake
1 tbsp. unsalted butter
1 cup granulated sugar
1 egg
1 tsp vanilla extract
1 cup all purpose flour
1 pinch salt
1/2 tsp. baking soda
1/2 cup sour cream
1/2 cup of diced pineapple (cooked with a
dash of cinnamon, brown sugar and butter)
2 tbsp. coconut flakes (toasted)
For the Dark Rum Sauce
1 tbsp. unsalted butter
1 tbsp. granulated sugar
1tsp. brown sugar
Dash of cinnamon
2 tbsp. corn syrup
2 tbsp. dark rum
1/2 cup heavy whipping cream
Macadamia Nut Ice Cream (Chef Joey recommends Maui's Roselani Ice Cream)
---
Instructions
For the Cake
Using a mixer – cream butter and sugar together
Mix dry ingredients in a separate bowl
Add egg into wet mixture then add in dry
ingredients, mix at low speed
Fold in sour cream to the mix and reserve
Place sliced pineapple in a 4 oz. Non-stick loaf pan
and spread soft butter inside
Pour batter into about half of the pan and tap the side
of the pan to make the batter even
Bake for at least 20 minutes in pre heated oven at 300 degrees
For the Dark Rum Sauce
In a pot – place butter, sugar, corn syrup, cinnamon and bring to a boil
Add rum – flame to burn off alcohol
Slowly whisk in cream, keep warm and reserve
Assembly
Place upside down cake in the center of the place and glaze with the sauce over the top.
Place Macadamia Nut Ice Cream on the cake and sprinkle with toasted coconut flakes.
---
I know one thing for certain: I am going to try my amateur best to prepare this sweet indulgence at home! Mahalo (thank you) to the Chef and Owner of Pineapple Grill for kindly sharing this recipe.
.
** It was last reported by to me by Lisa, one of our readers, that Pineapple Grill is now only open for private parties.**