On The Road Again ~ Thai on Hilton Head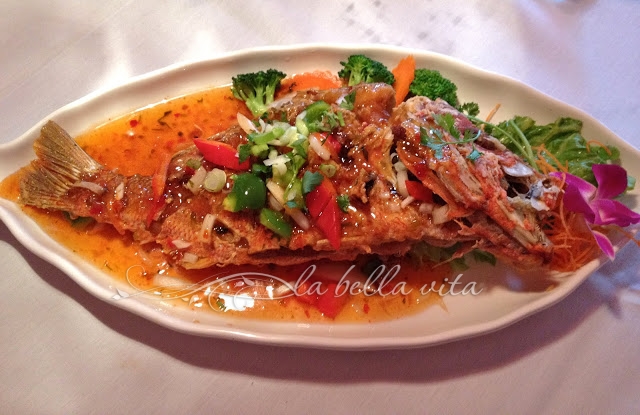 3 Spice Encrusted Red Snapper in Thai Chili Sauce
.
I need to have a Thai food fix more often than not! Although my favorite food on the planet is Italian, Thai cuisine is to me the next most beloved food genre! Having been to Thailand twice for extended periods of time, I have to admit that I'm really, really particular when it comes to finding excellent Thai food outside of Thailand. I want the real deal now, and nothing less than that. This quest has not been easy, because most Thai restaurants in this country are just 'so-so' . . . passable . . . and nothing to jump up and down over! The real deal still lies in The Land of Smiles. Only a handful of Thai restaurants in the U.S. have earned the stamp of authenticity by the country of Thailand as well. I've never been in any one of those eateries but hope to be able to do so someday!
In the meantime, while on the island of Hilton Head for our "May escape/retreat", we decided to check out a very highly rated Thai restaurant, "Ruan Thai Cuisine". We were not let down. Everything was excellent, although not hot in 'heat' at all despite asking for "hot, but not Thai hot". Some Thai restaurants in this country are overly mild on the heat due to our preferences here in the States. However, if you want the real deal, folks, ya gotta go for the gusto and have some fire hot Thai food where your lips burn after every bite! OK, I know most Americans won't do that, but even what is called "Thai Hot" in the States is as mild as butter compared to the real stuff that is served in Thailand. What is considered 'mild' in Thailand is 'super Thai hot' here!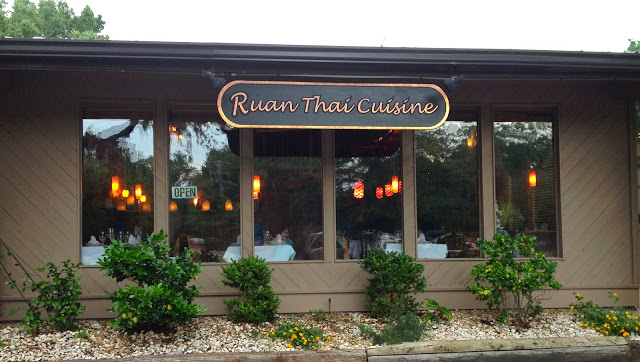 So back to our dining experience: Ruan Thai Cuisine is a small, quaint, and very nicely decorated restaurant with soft spa-soothing music to take you away. I've always loved the soft, gentle sound of water fountains upon entrance to Thai restaurants because it reminds me of the Thai tradition of graciously offering fresh cold water to guests when entering a home or business to refresh oneself from the intense heat of Thailand.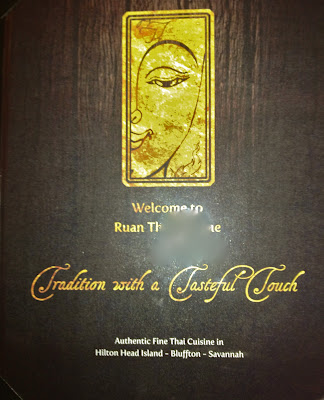 An immense, 3″ menu is presented to you at the table.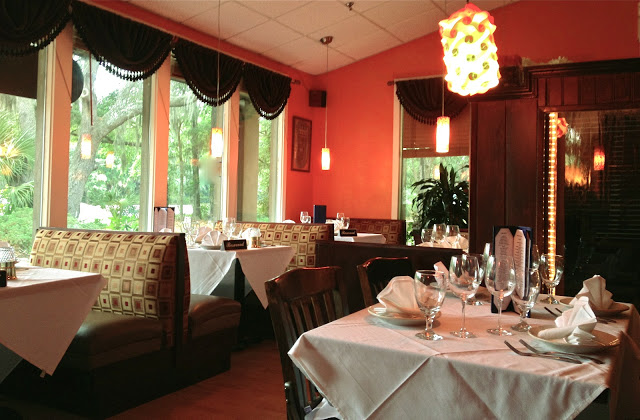 Interiors decorated with a soothing, yet stimulating hue of salmon are filled with fresh linen-dressed tables and lovely contemporary tableware. No paper napkins at this place!
Another water feature (on the left) which I've just got to find for our home: A clear glass wall with a water fountain that continues to enhance the atmosphere of this darling restaurant. The local Thai restaurant in our hometown has a ceiling to floor version of this water feature and I just love it!
To begin our dining experience we enjoyed the combination appetizer platter of chicken satay, spring rolls, pot stickers, and wontons. Three sauces: chili, soy, and peanut were accompaniments in addition to a small Thai cucumber salad to cleanse the palate. Very nicely prepared and presented!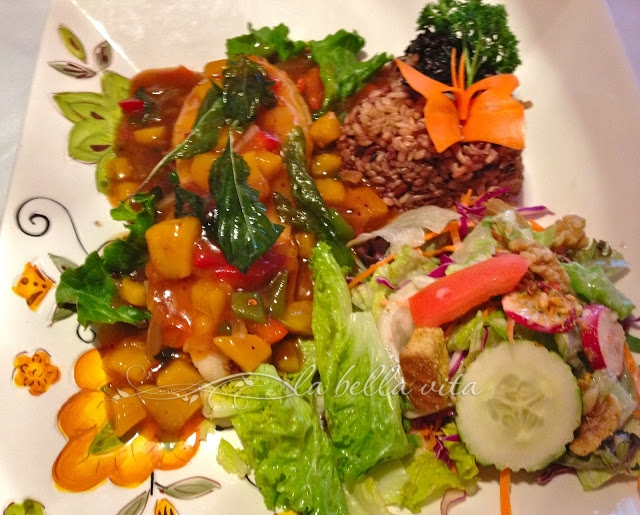 My husband enjoyed the Thai Mango Sea Bass with Thai salad (above) that was just marvelous. He didn't leave one bite left on his plate and that says a lot for Mr. M. and P. (meat and potatoes).
This is a dish that really excites your taste buds, evoking many of Thailand's signature flavors that are light and fragrant! For a side dish, we are always served Thai rice which pairs perfectly with fish. For this recipe, I've added a lovely fragrant Thai-style paste to enhance the rice to a higher flavor level.
Thai Mango Sea Bass with Steamed Rice
4 (6 – 8 oz.) sea bass fillets, skin scored
a handful of snap peas
2 bunches green onions, long green stems leaves discarded, trimmed and finely sliced
1 – 2 fresh red chilies, de-seeded and finely sliced
lemon juice
Cilantro (stems and leaves)
1 – 2 limes, quartered
sea salt and freshly ground black pepper
Thai Paste Flavored Rice:
2 large bunches of fresh coriander, leaves picked and stalks reserved
2 thumb-sized pieces of fresh ginger, peeled
3 cloves of garlic, peeled
2 fresh red chilies, halved and deseeded, and stemmed
2 teaspoons sesame oil
6 tablespoons soy sauce
juice and zest of 2 limes
1 can of coconut milk
14 oz. Basmati rice (or more if desired)
In a food processor blend the following: cilantro stalks and half of the cilantro leaves, ginger, garlic, halved chilies, sesame oil, soy sauce, lime juice and zest and the coconut milk.
Cook rice in salted, boiling water until it's just undercooked.
Drain in colander.
Place a piece of aluminum foil on top and sides of a high-sided roasting pan.
Brush/spray some olive oil on foil.
Spread rice out onto the pan.
Pour the Thai paste over rice, mix in well, then spread the rice out flat in the pan.
For the Mango Salsa:
Prepare this in advance and let sit in the fridge for 1 – 2 hours.
4 large mangoes (Thai mangoes are best – the smaller yellow ones but the other big mangoes will work too as long as they're ripe)
1/4 red onion, chopped into small pieces.
Cilantro leaves
1 1/2 jalapeño peppers (seeds and stem removed), minced/chopped.
1 bunch fresh cilantro
2 – 4 limes, juiced
1 Tbsp. olive oil
Salt
Chop mangoes into a bowl.
Add red onion. Add chopped jalapeño.
Add a handful of cilantro.
Add olive oil and lime juice.
Salt to taste.
.
For the Sea Bass:
Rub olive oil onto the fish (on top and sides – should be covered with a thin layer).
Sprinkle with sea salt and pepper (salt it generously).
Lay sea bass fillets on top of rice.
Scatter over the sugar snap peas, green onions, sliced chili and the other half of the coriander leaves.
Squeeze juice of half a lemon over the fish.
Cover the dish tightly with aluminum foil and put it in the preheated 400-degree oven.
Depending on the size of the fillets, bake for about 15 minutes.
Check by putting a fork into the thickest part of the fish. If the fork goes all the way through easily, it's done.
.
To serve:
Place rice on each plate, lay a sea bass fillet on top of rice,
Top each with the mango salsa.
Place roasted snap peas, onions, chili, and cilantro on the side.
Garnish with a wedge of lime.
A purple iris flower and some decorative carrots also enhance visual appeal...