Risotto with Porcini Mushrooms from Harry's Bar in Venice, Italy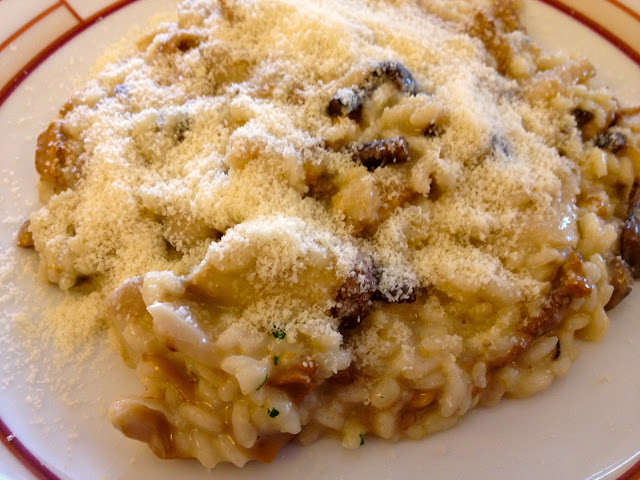 Ahhhh, beautiful, romantic, and mysterious Venice, Italy!
What an extraordinary experience
of a lifetime
to visit and experience (even if only for a brief moment in time) Venice that is said to be sinking during our lifetime (which I hope Italian engineers will prevent)! After seeing the major sites of Venice among
unexpected throngs of tourists
in the 'off-season' of October, I ventured to successfully check off one of my "bucket list" items . . . "to enjoy a famous "
Bellini"
cocktail at the infamous Harry's Bar in Venice, Italy" where Hemingway often dined and drank.
.
Tucked away in a semi-hidden side street is where you can find Harry's Bar. The establishment's location is not quite what I expected from reading about it in all of the tour guide books that stated Harry's Bar is located on the Piazza di San Marco. That is NOT where it is located at all! You must walk over several canal bridges to arrive to the correct 'via' or street and turn right where it is on your immediate right . . . and without a sign. This is what you need to look for: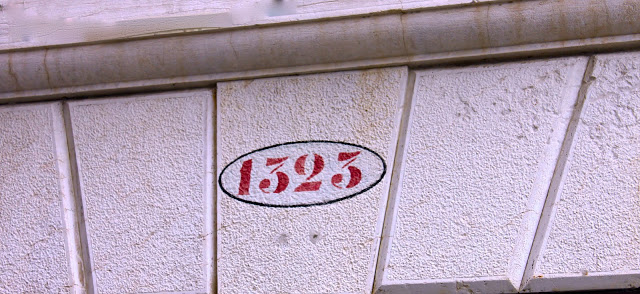 1323 Calle Valleresso
which is on the right in the very first location.
It is easy to miss with very little signage!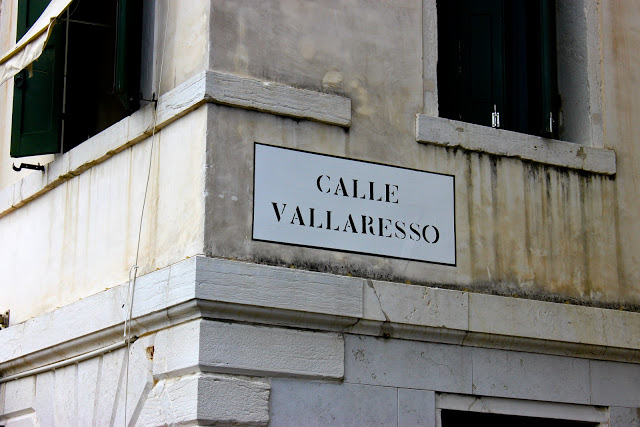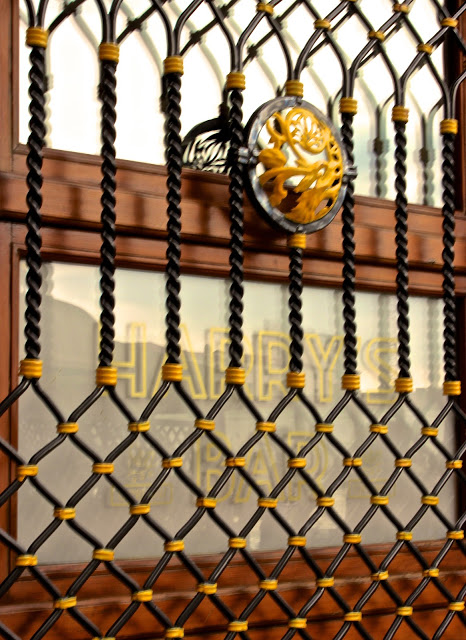 And as with many windows in Italy, it is protected by bars against criminal activity. How sad, but true in Italy. From what I could see, this is the only visible sign to know that you are at "Harry's Bar" in Venice, Italy. My mother purchased the phenomenal cookbook, and yes, this window is the one and only sign to identify Harry's Bar. Again, this a 5 minute walk away from the central piazza of San Marco and NOT on the piazza itself as popular tour guide books state. It is very worth the trek . . . even while wearing a back brace (post-surgery) as I did!
.
Upon entry into the super-crowded and amazingly-small dining area of Harry's Bar, I was immediately and kindly swifted away to the top floor at a wonderful table for two facing opened, screen-less windows that allowed a full view of the Venetian lagoons on a beautiful warm and sunny October afternoon!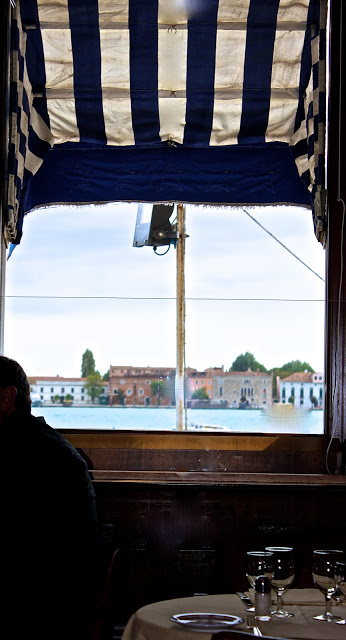 the view of a Venetian lagoon through the restaurant windows directly from my table!
.
Pinch me, am I really here in Venice, Italy seated at a table in this infamous foodie and cocktail location?
.
The service for a single woman was spectacular (something usually poor given employees providing less service due to the 'smaller' tab total for his/her tip amount). I had three (3) men attend to my every foodie and beverage need with not one moment of hesitation to serve and satisfy me for my complete enjoyment!
.
On the right of my table was a lovely Italian couple who knew Italian cuisine inside and out, yet were willing to spend time to chat with me about all things regarding Italian cuisine and the Italian way of life focused on high-quality food! On my left was a delightful couple from England, enjoying their food selections and chatting with me in English . . . a welcome language amidst my broken Italian that I could barely remember from my college Italian courses!
.
Both couples' mouths were humming with sounds of blissful enjoyment as they enjoyed each and every morsel of their meal. And then I joined them in harmony as my creamy risotto entered my mouth!
I had previously done my research and knew that it would probably be impossible to order the Venetian specialty of "Bacala" (salted codfish), knowing that Venetian fishermen do not fish on Sunday nights . . . and because I was there on a Monday, I knew that fresh fish was not to be found on any Venetian menu. EVERYTHING is served as fresh as possible; nothing is frozen whatsoever in Italy!
.
Upon looking at the menu, I found that the luncheon special for this particular Monday was Risotto con Porcini (Risotto with Porcini Mushrooms). It was pure and creamy heaven on a plate! What could have served three or four people, I devoured by myself alone, especially due to the price of 36 Euros (approximately 50 American dollars). Please note, that with all of the walking in Italy, I actually LOST weight while eating like an American pig at the same time! How much fun is that? PLUS, I do NOT spend that kind of money on any food(s) in my little hometown in SC.
.
I admit it . . . I splurged here! But "Harry's Bar" was the one and only place in Italy that I did so. And it was worth every penny and every delicious bite!
.
For me, to eat wonderfully and exercise naturally by walking among beautiful historic architecture without grunts and groans in a gym, and yet still not gain one pound was a dream come true!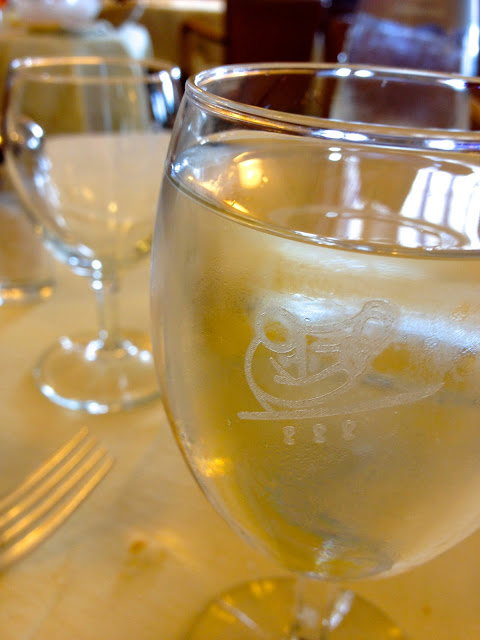 When in Italy, be prepared to order water and to pay for it by the bottle, either natural or with bubbles (sparkling). Another simple part of life that we take for granted in the States is the ability to receive a free glass of natural, clean tap water with re-fills (including ice) in restaurants . . . and here in the Carolina's in our restaurants of choice, my husband and I are even given free, tall, large-sized 'to-go' cups of water! Keep that in mind in Italy, you pay for every little thing in restaurants!
.
You even pay to go to the 'toilettes', so bring Euro coins because most do not offer change for larger bills.
.
Expect no ice cubes in your water . . . it doesn't happen in Italy, although the bottled water that you order (anywhere) for a price is extremely cold and completely refreshing.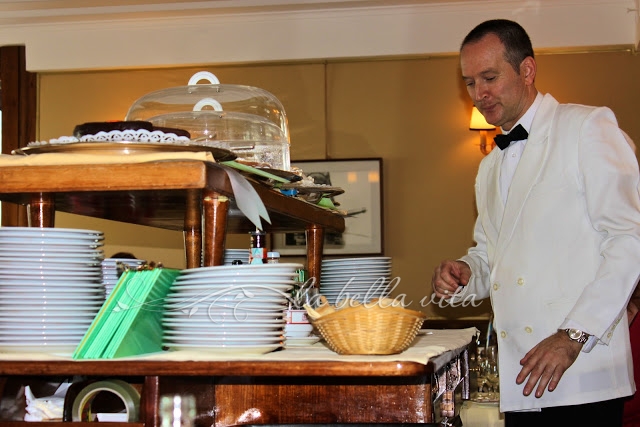 Table side dish preparation with 3 men in white tuxedos was a luxury that I have
never experienced, thus justifying the price a tad bit better!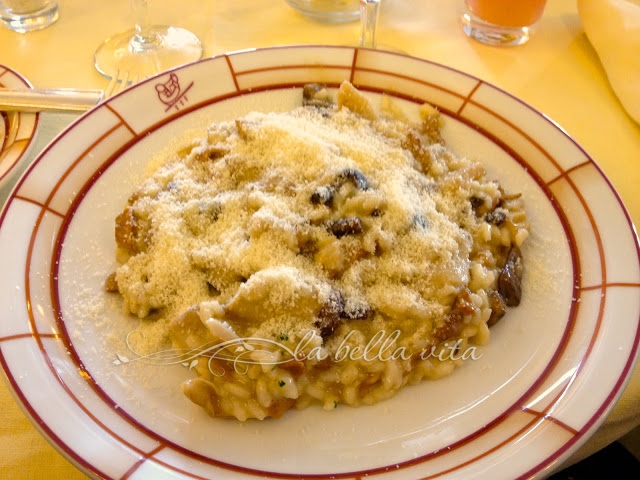 beautiful and delicious risotto from Venice, Italy!
the best risotto that has ever crossed my lips!
Print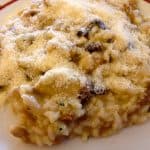 Risotto with Porcini Mushrooms
Author:
Prep Time: 0 hours
Additional Time: 0 hours
Cook Time: 0 hours
Total Time: 0 hours
Yield: 6 servings 1x
Category: Rice / Risotto
Cuisine: Italian
---
3 cups fresh porcini mushrooms, thinly sliced
3 Tbsp. olive oil
1 garlic clove, minced
1/4 cup finely chopped Italian parsley
1/2 cup dry white whine
freshly ground black pepper and sea salt to taste
1 recipe Risotto Parmigiana ( ** see below)
---
Instructions
Clean the porcini mushrooms by gently brushing or wiping away any dirt.
Wipe the mushrooms with a slightly damp paper towel.
Do not immerse them in water.
Heat the olive oil in a large skillet over medium heat.
Add the porcini mushrooms and cook until golden brown, about 7 minutes.
Add the garlic and parsley and cook for 1 minute, stirring well. Be careful not to burn the garlic.
Add the wine, stir well, cook for 1 minute more, and set the skillet aside.
Season the mushrooms with a little freshly cracked sea salt and black pepper.
Make the risotto as directed in the following recipe, stirring the cooked porcini mushrooms into the rice at the beginning.
---
Notes
from "The Harry's Bar Cookbook" by Arrigo Cipriani, 2006
.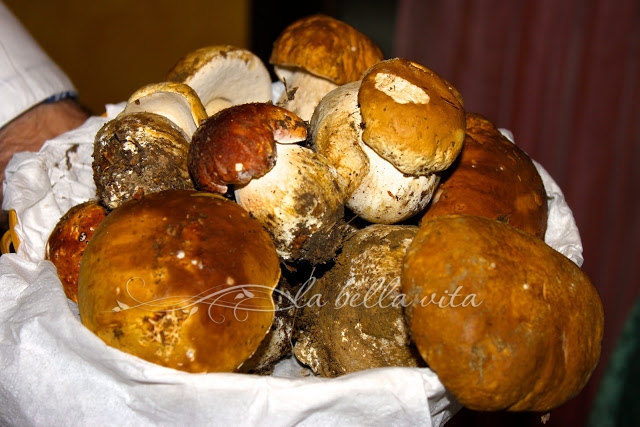 porcini mushrooms that grow in abundance in the forests of the northern mountains of Italy . . . about the size of a man's fist!
Print Risotto Parmigiana
Author:
Prep Time: 0 hours
Additional Time: 0 hours
Cook Time: 0 hours
Total Time: 0 hours
Yield: 6 1x
Cuisine: Italian
---
5 to 6 cups chicken stock (brood), preferably home-made (you can search on my blog for a delicious home-made chicken broth (brodo) that is also freezable!)
1 Tbsp. olive oil
1 small onion, minced
1–1/2 cups short-grain Italian rice (preferably 'Vialone' or 'Carnaroli rice)
5 Tbsp. unsalted butter at room temperature
2/3 cup freshly grated, first quality Parmigiana-Regiano cheese, plus extra grated cheese to pass around the table.
Freshly grated sea salt and black pepper to taste.
---
Instructions
Bring the chicken stock (brodo) to a simmer in a saucepan and keep it at a bare/lowest simmer.
Heat the olive oil in a heavy-bottomed 3-quart saucepan and cook the onion over medium heat, stirring until the onion is golden, but not brown, about 3 – 5 minutes.
Add the rice and stir with a wooden spoon to coat the rice well with the oil and onion.
Turn the heat up to medium-high.
Add 1/2 cup of the simmering stock, and keep the mixture boiling, stirring constantly.
As soon as the stock as been absorbed, add another 1/3 cup of stock and stir until it is absorbed.
Adjust when necessary, the heat from time to time — but keep the risotto boiling, yet at the same time, it must NOT stick to the pot.
If the risotto tends to stick, put the pot on a 'flame tamer' (I place a pizza or cookie pan on top of the burner).
Continue adding the chicken stock (brodo), about 1/2 cup at a time, stirring constantly and waiting until each addition of brodo is absorbed before adding the next amount of stock (brodo), until the rice is creamy and tender on the outside with each grain still distinct and firm.
This will take at least 20 minutes, maybe as long as 30 minutes, depending on your pot and your stove.
If the rice is still a bit hard in the middle after you have used all but a few tablespoons of the stock, add some boiling water, 1/4 cup at a time, stirring it in as you did the stock (brodo), until each grain of rice is tender but still has the slightest bit of firmness and the mixture is creamy.
Remove the pan from the heat and vigorously stir in the butter and the Parmigiana-Regiano cheese. This stirring will make the risotto even creamier.
Taste and season with freshly cracked sea salt and black pepper.
While continuing to stir vigorously, add the remaining tablespoons of hot chicken stock (brodo) or boiling water if you have used all of the stock (brodo) to make the consistency softer and softer.
In Italy it is called "all'onda" (like a wave).
Taste carefully for seasoning and serve immediately, passing a bowl of grated Parmigiana-Regiano cheese.
---
Notes
(from "The Harry's Bar Cookbook" by Arrigo Cipriani, 2006)
This recipe is 'basic' for all risotto dishes.