The Traditional Food of Florence and Tuscany, Italy! A Taste of Tuscany!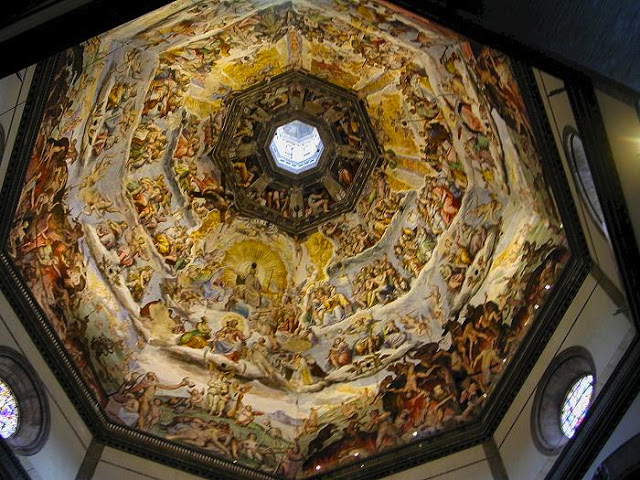 Interior ceiling fresco of The Duomo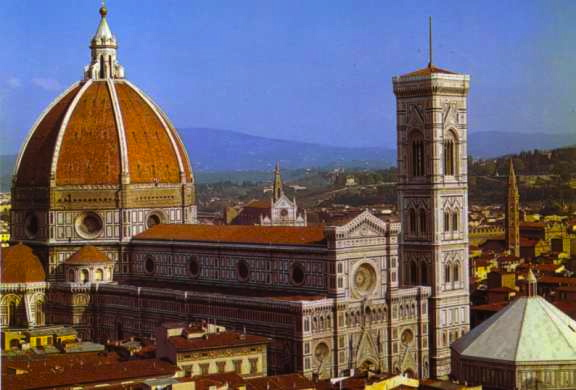 The Duomo of the Cathedral of Santa Maria del Fiori
.
We've just arrived in beautiful Florence, Italy, considered to be the center of the Renaissance at the end of the Middle Ages. It's almost impossible to find a point to begin discussing this incredible city, considered to be on the most important historical cities world-wide. Florence shares with Venice a top position on anyone's list of 'must-visit' destinations! It's simply incredible that I am walking in the same place where the brilliant Michaelangelo, da Vinci, Botticelli, Gelileo, and Giotti walked . . . and that's pretty humbling! Did you know that Julius Caesar was the founder of Florence? I didn't, continuing to learn something new every day!
Without a doubt, our brief time in Florence will include seeing Michaelangelo's "David" in the Galleria dell'Accademia and walking through the cathedral of Santa Maria del Fiori with it's infamous red terra-cotta tiled roof, the Duomo. Also on our must-see list is the Campanile, The Galleria deli Uffizi, and the Ponte Vecchio.

I'll happily, no, JOYFULLY post more photos upon my return to the States. So in the meantime, let's get down to talking foodie chatter:

THE FOOD of Florence and Tuscany!
As with all of Italy, Fiorentini or Tuscans, prepare their unique regional cuisine with gusto and passion! Much of the cuisine of Tuscany is 'cucina rustic' (rustic cuisine) that is comfort food at its best and known more for its simplicity. A minimum of seasoning and herbs are used in this region along with olive oil and vinegar for the purpose of keeping the focus on quality ingredients. Italians (including my family) who came from poverty never wasted anything.
Poverty was the norm in Tuscany where Florence is located and is know for its 'waste not, want not' philosophy. Yet despite the lack of wealth, at the heart of Florentine cuisine are simple, humble, but fundamental ingredients necessary for creating delicious recipes based: bread, olive oil, beef or game, fresh vegetables and wine! Creative soups, stews, and other dishes were created to use up every part of an animal, bread, vegetable or fruit. "Cucina Povera", what my family grew up on in the mountains of Northern Italy, is now extremely popular not only because of the flavor, but also because this type of cooking is much more healthy for us!
Tuscans are also affectionately known 'bean eaters' because of for their love of beans which is an absolute essential staple of the Tuscan table. Plus this is the home of Chianti wine.
As I mentioned, nothing was ever thrown away, especially bread which is the basis for two very well known Florentine dishes: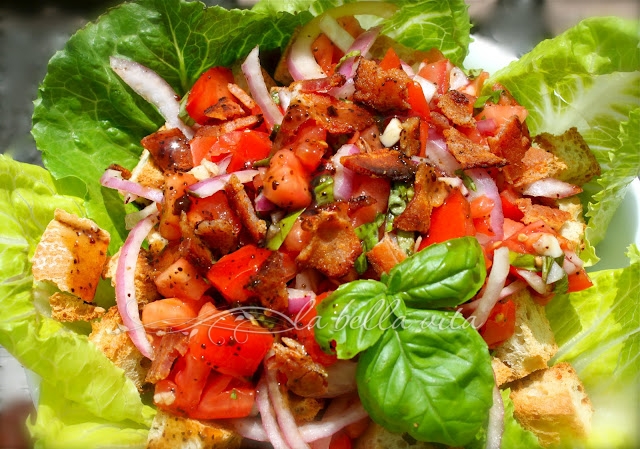 (photo credit: Rosalind Corieri Paige,
Panzanella
A simple and popular Tuscan dish made of Italian bread that is at least a day or two old blended with fresh tomatoes and basil and than allowed to soak in vinegar and oil. Other variations abound, all with different vegetables add, and I've even added cooked Italian pancetta (bacon). Because panzanella consists of garden fresh tomatoes and basil, it is primarily a dish eaten in the warmer months of summer.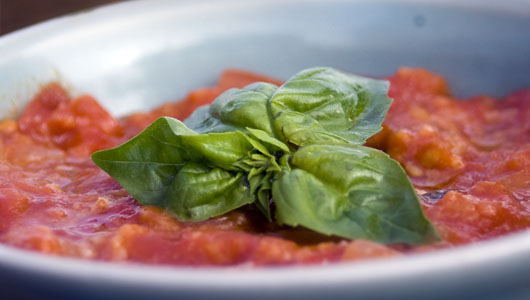 (photo credited to the talented chefs of "Organic Tuscany", link to the recipe)
Pappa al Pomodoro (Mush of Tomato)
A humble, yet hearty soup made of dense, crusty, stale Italian bread and tomato, olive oil, onion, garlic, freshly cracked sea salt, maybe a pinch of dried red pepper flakes (pepperoncini), and garnished with fresh basil. This soup is often enjoyed in the colder months of the year, but truly is eaten year-round if whenever fresh tomatoes are available. Often olive oil is drizzled on top.
(photo credit: Rosalind Corieri Paige,
link to my Pasta e Fagioli recipe)
Pasta e Fagioli (Pasta and Beans
Undoubtedly one of my family's favorite soup is this hearty, traditional bean and tomato-based soup that simmers in seasoned water for several hours over very low heat. Pasta is then added to cook al dente which is then cooked with very, very briefly with the pasta. Nothing soothes and comforts the soul on cold days as does this wonderful soup!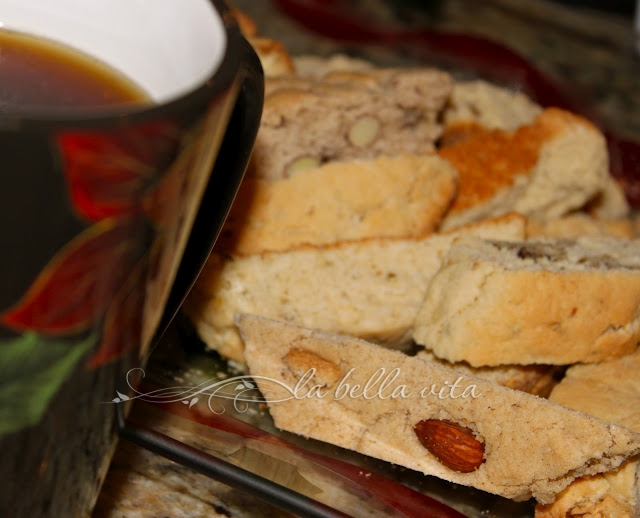 (photo credit: Rosalind Corieri Paige,
link to my Contucci/Biscotti recipe)
Biscotti / Cantucci
These are the famous small, almond-based cookie that is twice baked (thus the name) and shaped like a crescent moon. Growing up, I remember my grandfathers dipping them into wine after dinner! No one where I grew up in Iowa had ever heard of these cookies until their popularity exploded in the States sometime in the 80's, yet my mother made them for us every Christmas as did her mother when she was growing up too. The holidays would not be the same without these special cookies in my home!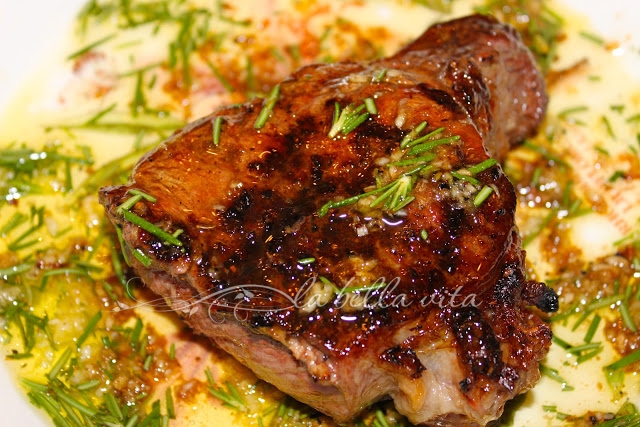 (photo credit: Rosalind Corieri Paige,
link to my Bistecca all Fiorentina recipe)
Bistecca alla Fiorentine
This enormous steak is widely celebrated around the world that is a huge, fat, thick cut of beef with the bone and filet included and from a specialty breed of cattle known as the Chianina (white cattle). The Chianina beef possesses a more tender, flavorful essence and is of the highest quality beef in Europe. These superb steaks are always and exclusively grilled to a 'rare' level and no more! This guarantees the exterior of the steak is seared and crisp with good, black grill marks and ensures an interior that is tender, soft, and succulent.
The thickness of the steak cuts helps maintain these qualities because they are cut about 4 inches thick! Bistecca all Fiorentina is prepared simply with olive oil, some freshly cracked sea salt and black pepper and often sprinkled with rosemary (the way that we prefer it).
There are butchers in Tuscany who have become famous for their mastery of beef preparation and who have even penned poems and songs for this famous bistecca (Dario Cecchini of Panzano in Chianti). You may have seen him interviewed on some of the American food shows by David Rocco or Anthony Bourdain.
Of course, you're thinking that this is certainly not the food of peasants . . . and you would be absolutely correct! This a dish that was coveted for special occasions and actually the incredible size of this steak could feed four people! At least one steak certainly feeds four of us when we grill these huge steaks in my family.
This certainly is not a comprehensive list of all the traditional specialities of Florence and Tuscany, but they are definitely some of the most well-known dishes. Time is of the essence, and I've got to get busy and get to some ristorante or trattoria to 'mangia' (eat) and get in some sight-seeing. I'll be chatting with you in my next post when I am in Roma!

If you feel that I have left out any important, classic dish of Florence and Tuscany please let me know in your comment and I will make sure to edit this post upon my return to the States.