The Traditional Food of Rome, Italy! A Taste of Roma!
Being in Rome this weekend is simply hard for me to believe. The "Eternal City" is simply so overwhelming in every way! It's impossible to see even a small amount of the treasures that this city holds, especially when "all roads lead to Rome"! And here to share with you is a bit of information if you are seeking to know about The Traditional Food of Rome, Italy! A Taste of Roma
and the must-see
Michelangelo's Sistine Chapel in the Vatican
"When in Rome, do as the Romans" is a well-known saying, and when it comes to THE FOOD of Rome, I'll be delighted to quench my hunger and experience her traditional mouth-watering cuisine. Although the essence of authentic Roman food is not elaborate, it is definitely satisfying and generous in flavor and character. The farmlands surrounding Rome in the region of Lazio are some of Italy's finest with extremely fertile soil that produces superb vegetables which contribute to the simplicity of Rome's cuisine. With such flavorful ingredients the guiding principle is to keep things as simple as possible to prevent anything from being overpowered. As with my family, we have have always followed this wisdom of doing less to a recipe to allow the high quality of the ingredients shine through.
"La Cucina Romana", Roman food is based on its ancient past and based on a heavier use of inexpensive cuts of meats of veal and lamb, fresh vegetables (especially artichokes), deep-fried methods, and the use of Lazio's famous sharp-flavored sheep's milk cheese, Pecorino Romano. Where rice prevails more in Northern Italy, pasta rules in Rome. Although pasta is a staple for all Italians, in Rome pasta served with less focus on red sauces and more so on with sauces of butter, olive oil, and cheese! The pasta sauces that are used demonstrate the simplicity of Roman cuisine.

Bucatini all'Amatriciana
A classic, zesty Roman pasta dish with pasta noodles that are long, tubes of pasta with a holes, dressed in a zesty sauce of tomatoes, pancetta or guanciale, olive oil and spicy peperoncino (dried red pepper flakes).

Buccatini all'Arrabbiata ('angry')
A similar pasta dish, but spicier, with the addition of garlic and hot pepper for some extra fire and punch in the sauce!

Spaghetti alla Carbonara (Charcoal Burner's spaghetti
A favorite of my family's, this pasta dish is a specialty that has been been prepared for generations in Rome. There is debate about the origin of this famous dish between those in Umbria and Lazio. Wherever it was created, it is a pasta in a rich, mouthwatering sauce of perfectly balanced flavors from butter, eggs, Parmigiano and Pecorino Romano cheeses, pancetta/guanciale (pork cheeks), and black pepper. When my family came to the States, they were first coal miners in the Midwest, so this recipe is special to us because some say the name derives from 'carbone' (coal) and was favored by Italian coal miners. Then there is a second opinion on the name that ascribes it to the freshly cracked black pepper added in the sauce.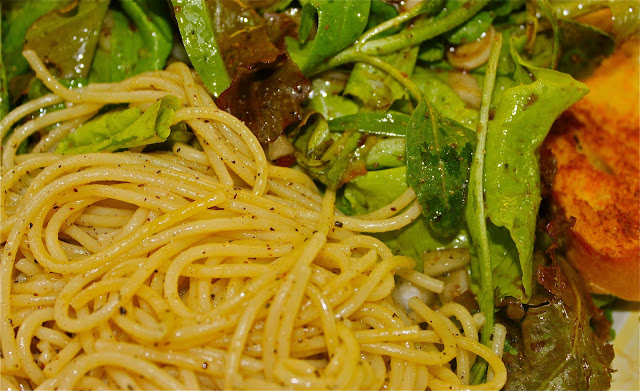 Spaghetti Aglio e Olio (Spaghetti with Garlic and Olive Oil)
This pasta class is simple 'cucina povera' at best and served in most Italian trattorias. This is a 'pasta in bianca', in other words it is not a pasta served in a red tomato sauce, but rather a 'white sauce' of butter, olive oil, and/or cream, without the inclusion of red tomatoes. With garlic as the star of the dish, often a fiery bite of hot peppers or flakes is added which then becomes Aglio Olio e Peperoncino. Don't worry, the cloves of garlic are discarded and what is left for you to enjoy and savor is a fragrant, garlic-infused pasta dish. Delightful! For those who prefer their food less peppery, the hot peppers can be left out and instead have more fresh Italian parsley incorporated for a lovely addition.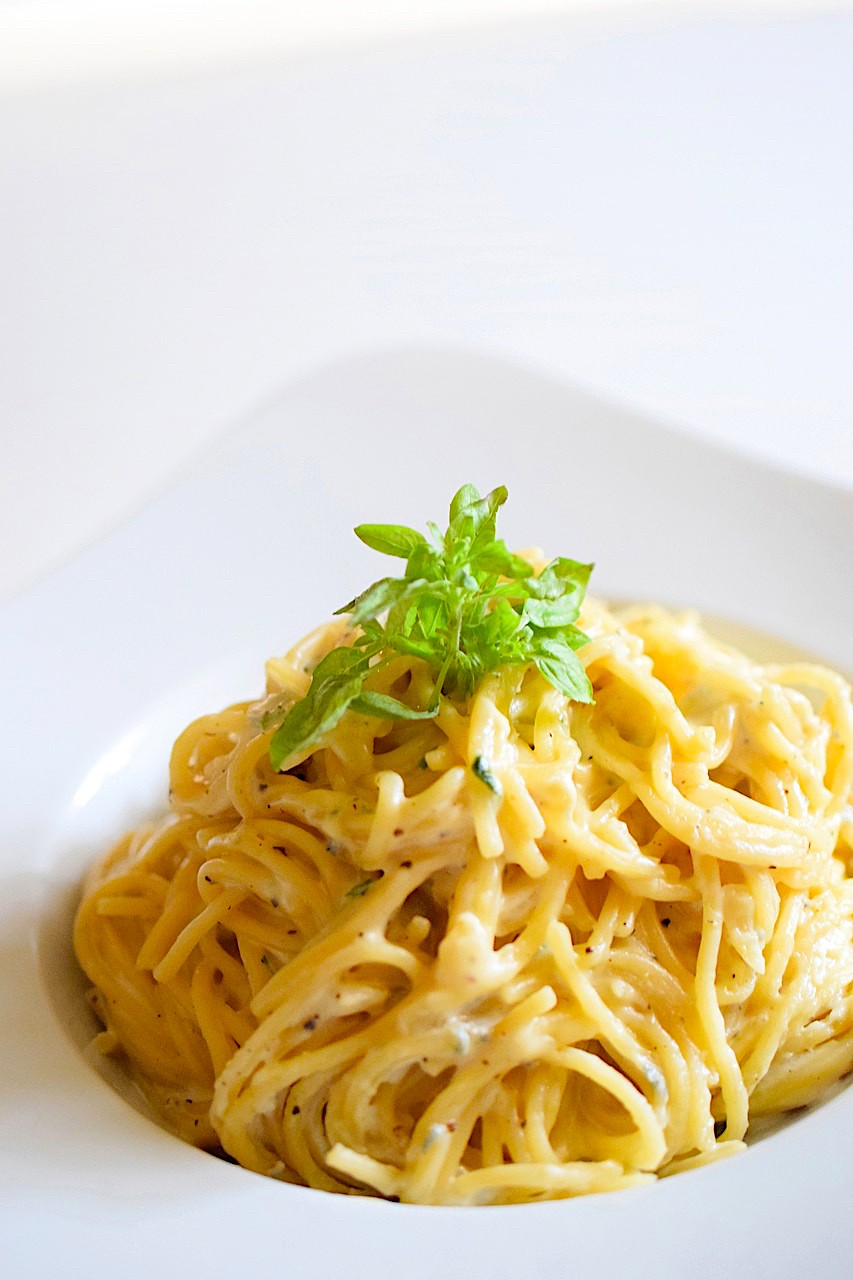 Spaghetti Cacio e Pepe (Spaghetti with Cheese and Pepper)
One of the most commonplace and simple pasta sauces of Rome with the sharp flavor of Pecorino Romano cheese and lots of peppers with a bite is the theme of this pasta dish. Perhaps a drizzle of olive oil and some Parmigiana to mellow out the Pecorino may be added before tossing it with vigor to prevent the cheese from clumping. This is the simplest of 'Rome in a bowl'.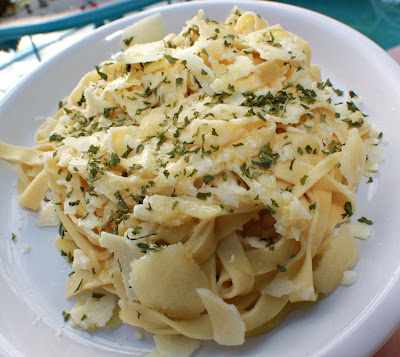 (photo credit: What's Cooking Italian Style Cuisine — click link for recipe)
.
Fettuccine Alfredo
Ah, one of true favorite Italian dishes originated in Rome from Chef Alfredo di Lelio. This decadent, supremely rich cheesy pasta dish consists of long, flat fettuccine noodles in a sauce of heavy cream, good quality butter, and Parmigiana-Regiano cheese. In the States, this is what we often call the pasta dish that is a 'heart attack on a plate'! But we can enjoy it in moderation can't we? Will it hurt to have a few bites of this heavenly pasta just once a year? I have also added sweet spring peas and prosciutto to make a different version that is literally over-the-top!
Veal Saltimbocca alla Romana ("hops into your mouth")
Topping my list of non-pasta favorites is this celebrated, delicious and savory dish made from thin slices of veal medallions or cutlets that are quickly cooked in a wine sauce and topped with cheese, prosciutto and sage. Butter and capers are often added for extra richness. This is absolutely, one of my all-time favorite Italian recipes!Stracciatella
When it comes to soup this is a popular Roman egg-drop version, but is also popular in other regions of Italy too. This soup is made of beaten eggs, semolina flour, nutmeg, grated Parmigiana cheese, salt and pepper in a broth.
Pasta di Ceci
For a thick, fragrant Roman soup of peasant origins this comfort dish is made with chickpeas (that have been soaked in water overnight) and pasta and seasoned with rosemary. This hearty soup could be considered to be a meal in itself and is often served on Fridays because of the Catholic tradition to eat meat-less meals on Fridays. Although you can find this soup throughout Italy, the Roman version has some slight differences. The most notable is that Romans add anchovies to the soup which adds a little more of a saltiness to the soup and truly livens it up! This soup can be prepared with any pasta shape imaginable, so I encourage you to make it with your favorite pasta or whatever you have in your pantry.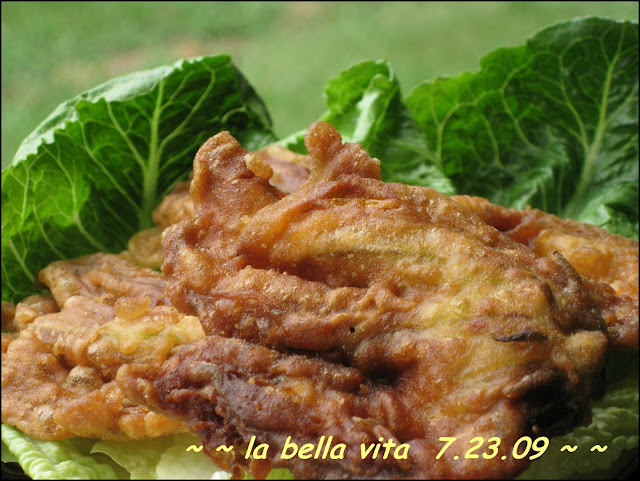 (photo credit: Rosalind Corieri Paige,
.
Fiori di Zucca Fritti (Fried Zucchini Blossoms)
My family has enjoyed the arrival of squash blossoms from our gardens since I can remember! This classic is made from the yellow flower blossoms from zucchini or other squash plants and are deep fried with or without a filling of mozzarella cheese and anchovies. My stuffed version also includes prosciutto! Just wonderful! My family has been making these delicious appetizers or antipasto for as long as my memory recalls.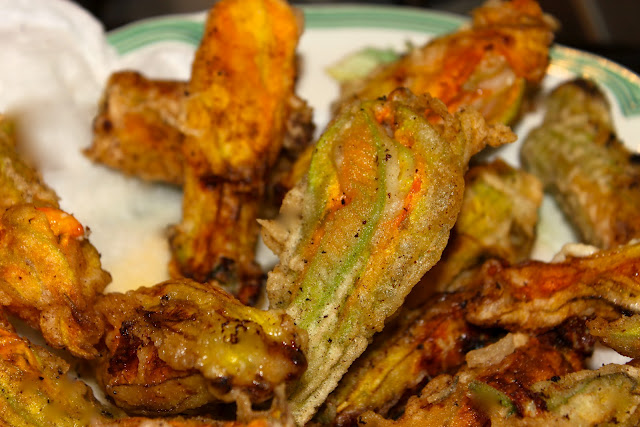 (photo credit: Rosalind Corieri Paige,
..
Carciofi alla Romana
If you love artichokes as I do, this dish highlighting artichokes is prepared in the spring time when they are in season, fresh, young, and plentiful. Braised in olive oil, garlic and mint, this is a Roman specialty. I prefer my artichokes stuffed with breadcrumbs, garlic and cheese though!
.
Gnocchi alla Romana
The Roman method of making gnocchi is unique in that they are made from semolina wheat flour instead of the traditional potato flour. The dumplings are roasted in butter flavored with garlic and herbs and served with a cheesy-meat sauce. Interestingly, it is also a Roman tradition to serve gnocchi on Thursdays.
Pecorino Romano
The classic hard cheese with a nice 'bite' to it comes from Lazio that is produced from sheep's milk. Pecorino possesses quite a salty-tasting cheese making it an excellent choice to serve grated, especially over sauces that have a stronger flavor.