Fresh Strawberry and Romaine Salad with Poppy Seed Dressing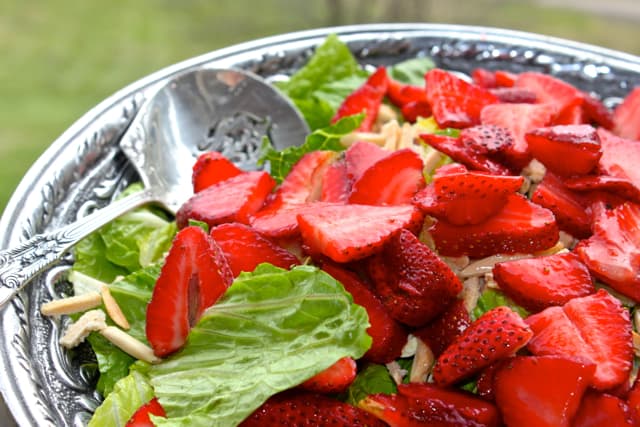 .
We just love fresh fruit mixed in a bed of green leafy lettuce. Plus the crunch of slivered almonds in salads is our new food fetish!
Over the weekend, our daughter spoiled us with her cooking and gave me a few days out of the kitchen to just work on this new blog formatting. It's so nice to just chill for awhile!
Plus she shared her recipe for her home-made (translation: non-bottled with no preservatives included!) Poppy Seed dressing that is so delicious you're guests will BEG for the recipe just as I did!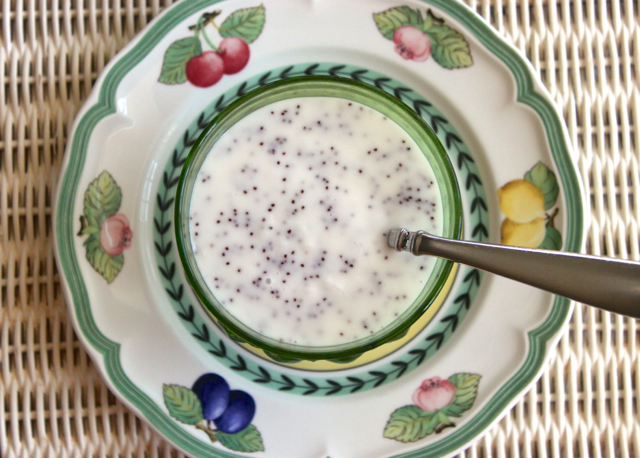 .
This Strawberry Romaine Salad with Slivered Almonds and Poppy Seed Dressing was devoured by everyone at the table. So pretty too with fresh strawberries. This is so easy and delicious! I hope you enjoy it:
Fresh Strawberry And Romaine Salad With Poppy Seed Dressing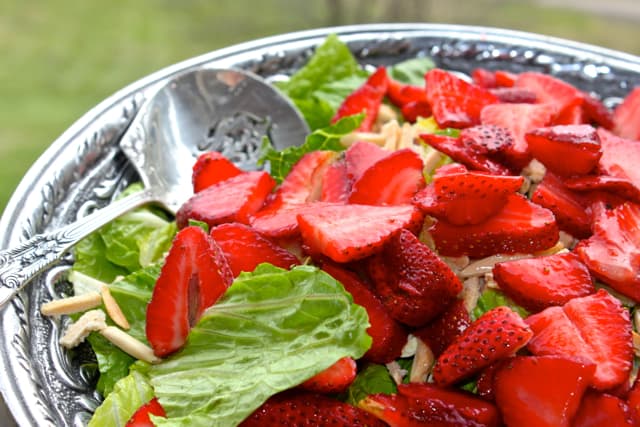 Ingredients
For the Dressing
1/2 cup mayonnaise
2 Tbsp. sour cream
1/4 cup whole milk
2 Tbsp. white wine vinegar
2/3 cup white sugar
2 Tbsp. poppy seeds
For the Salad
1 pint strawberries, hulled, and sliced
1/2 red onion, sliced
1-1/2 cup slivered almonds, sugared and toasted
1 head Romaine lettuce, cut into 2" pieces
Instructions
Lay the slivered almonds on a metal baking sheet.
Sprinkle generously with sugar.
"Broil" in the oven on the top rack to toast the almonds to a nice golden color and caramalize the almonds.
Watch carefully so that the almonds do not burn.
Remove from the oven and cool completely.
If the almonds are stuck together, use either your hands or a metal spatula to pull them apart.
Stir the mayonnaise, milk, sour cream, vinegar, sugar and poppy seeds together until the sugar has dissolved.
Prepare and mix all of the salad ingredients.
Either place the salad in a pretty bowl for guests to serve themselves, or plate the salad on indivdual salad plates.
Pass the poppy seed dressing around to your guests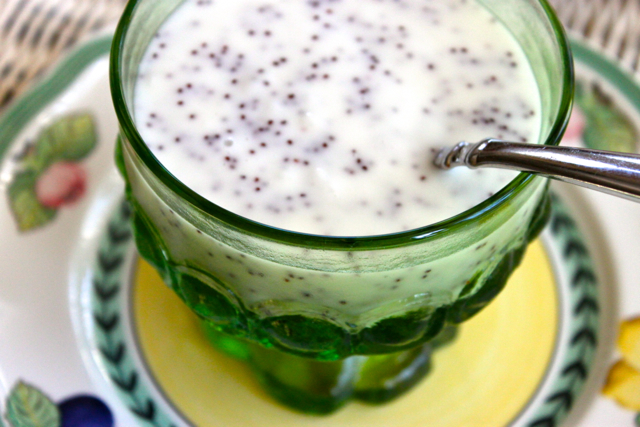 .
.