Pork Chops alla Marsala with Risotto alla Milanese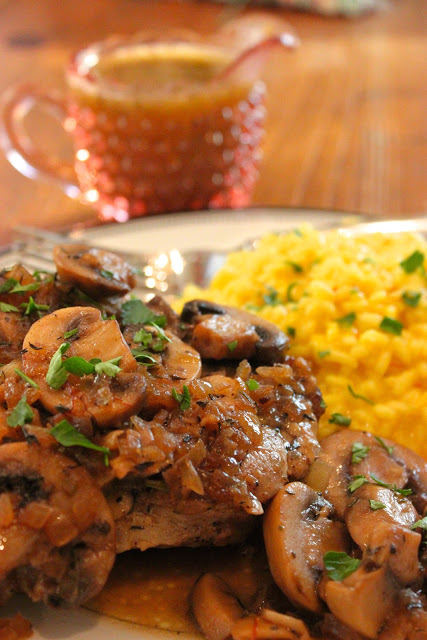 Nothing is so fine as the flavor that is enhanced by the simple addition of Marsala wine! It's distinctive sweet flavor when combined with the savoriness of a piece of meat, onions, and garlic is unbelievably memorable. From the moment of first tasting a sauce with a Marsala base, you'll know that unique flavor forever! I have to thank my mother from for inspiring me to elevate some ordinary pork chops to sublime in this recipe for Pork Chops alla Marsala with Risotto alla Milanese. I never thought to substitute veal or chicken for pork chops and now I realize how much I have been missing out!
Don't be intimidated by the name of this recipe. I think that all in all, I prepared this entire dinner in less than one hour. This recipe has all the elements that both chefs and cooks enjoy: over-the-top flavor, ease and simplicity, beauty to the eye, and an aromatic aroma . . . plus it seems as if you spent countless hours and work in the kitchen for your family and/or guests!
With a few adjustments (more Marsala!) I combined this Pork alla Marsala entree with classic golden, creamy Risotto alla Milanese. I had some precious saffron in the kitchen, the most expensive spice on the planet, since the 'threads' are picked by hand from each crocus flower. I can't remember what the price was for the saffron, but I know that it was a splurge!
a heavenly sight to one's eyes on the plate and the aroma and flavor is so incredible!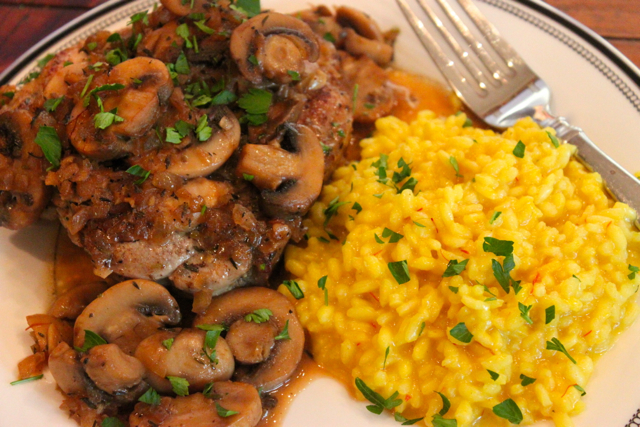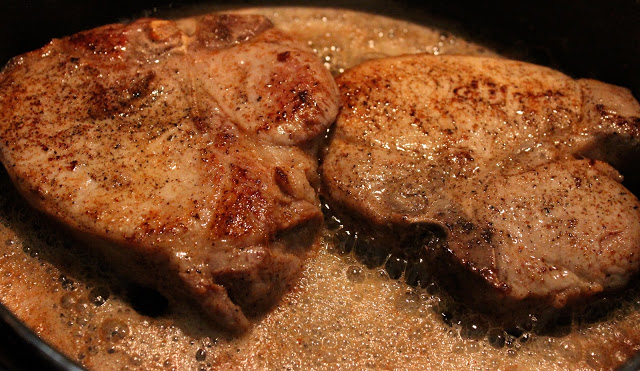 saute' the pork chops until a nicely brown color is achieved in the melted butter and extra virgin olive oil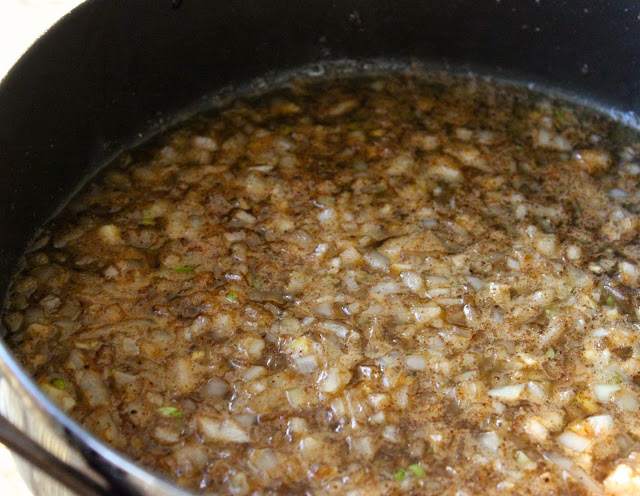 remove the chops and place on a warming platter in a warm oven
while sauteing the onions and garlic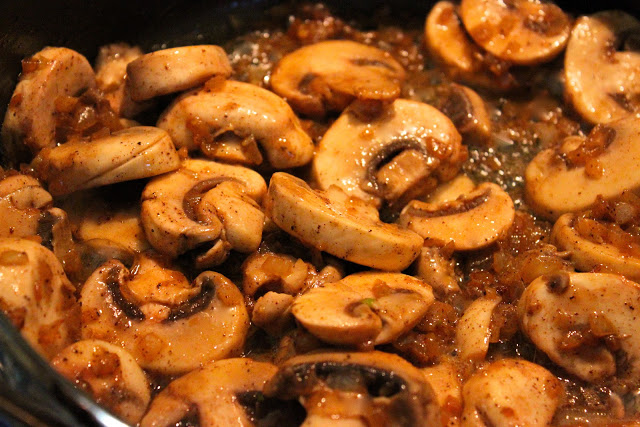 add the mushrooms and sauté until browned and cooked well, usually 5 – 10 minutes
add Marsala, other liquids and mascarpone cheese after mushrooms are cooked enough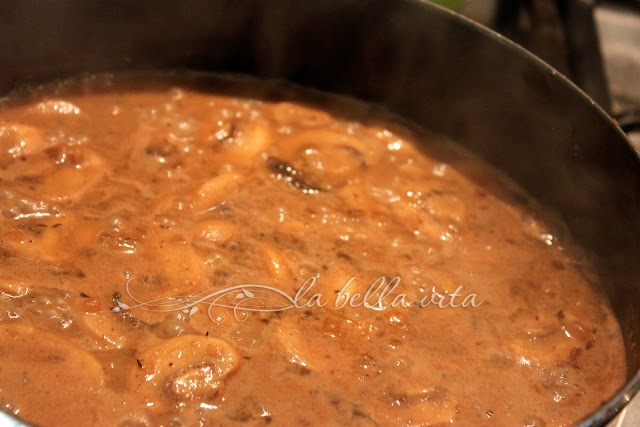 cook the mushroom-Marsala sauce until thickened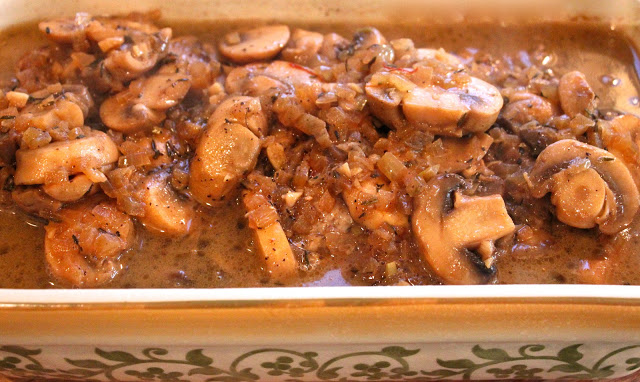 in a pretty baking pan, place a little bit of the mushroom-Marsala sauce on the bottom
and place the browned pork chops on top
pour all of the remaining mushroom-Marsala sauce on top
bake in the oven at 350 degrees for about 10 – 15 minutes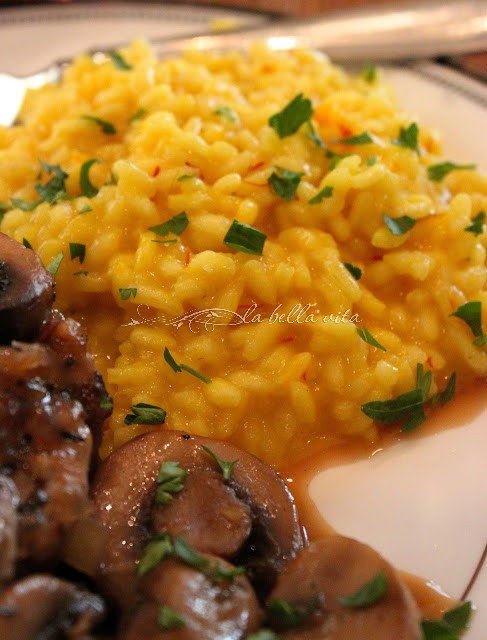 Risotto alla Milanese, the creamy rice dish that achieves its vivid golden color and flavor from saffron, is the perfect pairing for Pork Chops alla Marsala. This tremendously classic risotto recipe from the northern region of Italy became famous from it's golden color that was presented to guests in the year 1574, at a chef's daughter's wedding dinner during which he surprised everyone with 'golden' colored risotto in honor of gold, the ultimate of wedding gifts.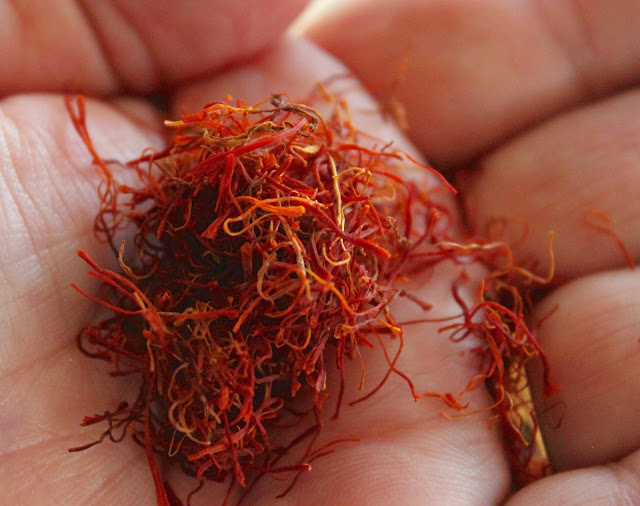 the classic Risotto Milanese gets its extraordinary flavor from
beautiful reddish-orange saffron, the most expensive spice in the world
that is picked by hand from each flower.
Saffron crocus flowers thrive in the hot, dry summers of the Mediterranean.
To produce just ONE pound of dried saffron requires the harvest of 50,000–75,000 flowers;
forty hours of labour are needed to pick 150,000 flowers!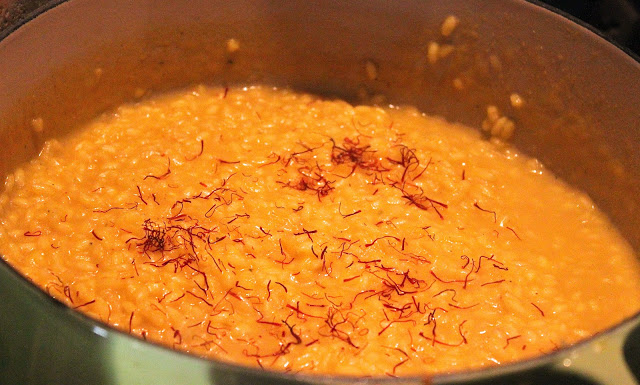 I sprinkle just a little more saffron in though!
Magnifico!
Print
Pork Chops all Marsala
Author:
Prep Time: 0 hours
Additional Time: 0 hours
Cook Time: 0 hours
Total Time: 0 hours
---
2 – 4 pork chops
2 tablespoons olive oil
2 tablespoons unsalted butter
2 minced garlic cloves
1 yellow or red onion cut into rings
1 box of crimini mushrooms left whole, stems removed
3/4 cup sweet Marsala wine
3/4 cup chicken broth
3 tablespoons mascarpone cheese
fresh thyme and parsley
---
Instructions
Sprinkle chops with salt and pepper, add to a heated skillet with 1 tablespoon of melted butter and 1 tablespoon of olive oil, remove when brown.
Add remaining oil and butter, brown your garlic and onion rings, remove.
Add mushrooms and saute till all juices evaporate then add Marsala, deglaze pan and reduce by half.
Add broth and a couple sprigs of thyme and let that reduce.
Add chops and all juices back in the pan along with the mascarpone cheese, whisk in until melted, then cover and simmer until chops are cooked through and sauce has thickened.
Garnish with chopped parsley and thyme.
---
Print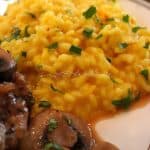 Risotto alla Milanese
Author:
Prep Time: 0 hours
Additional Time: 0 hours
Cook Time: 0 hours
Total Time: 0 hours
---
6 cups chicken stock
1 tbsp. saffron threads
3 tbsp. unsalted butter
2 small yellow onions, minced
2 cups Arborio rice
1 cup dry white wine
1/2 cup grated Parmesan
Kosher salt and freshly ground black pepper, to taste
---
Instructions
Heat stock and saffron in a 2-qt. saucepan over medium heat; keep warm.
Heat butter in a 4-qt. saucepan over medium-high heat.
Add onions; cook until soft, about 4 minutes.
Add rice; cook until lightly toasted, about 4 minutes.
Add wine; cook until evaporated, about 2 minutes.
Add ½ cup warm stock; cook, stirring, until absorbed, about 2 minutes.
Continue adding stock, ½ cup at a time, and cooking until absorbed before adding more, until rice is tender and creamy, about 16 minutes total.
Stir in Parmesan; season with salt and pepper.
---
Enjoy this recipe for Pork Chops alla Marsala with Risotto alla Milanese !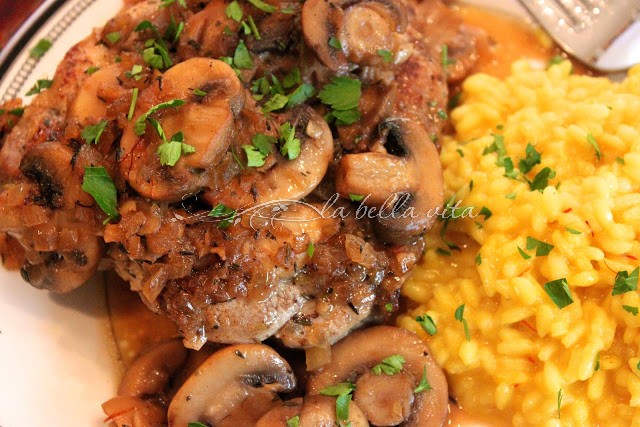 Here are some more risotto recipes that I've prepared that I know you will enjoy:


Creamy Risotto with Lemon, Asiago Cheese, and Rosemary



Risotto with Porcini Mushrooms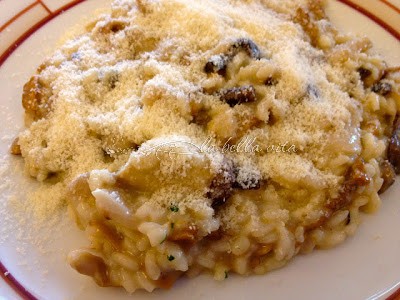 .
.