pork saltimbocca with creamy polenta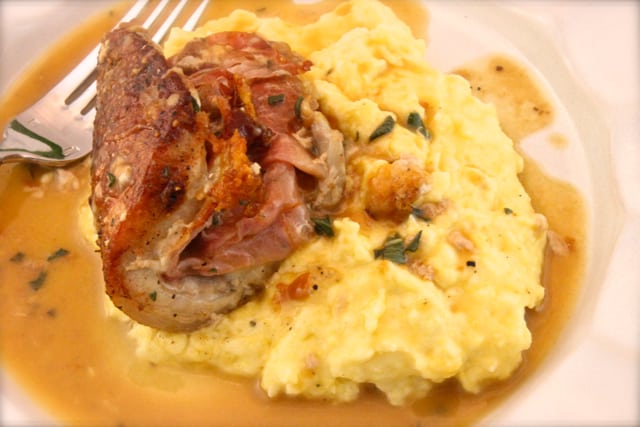 I am so excited to share this recipe with you that is outrageously delicious, bursting with flavor and just mind-boggling wonderful . . . it is literally Italian nirvana on a plate!
I'm not kidding anyone here, this is as good as it gets at 510 calories! Taste plus the helpful assistance to keep us from packing on additional flab on our bodies sure works for me!
This entree' Pork Saltimbocca with Creamy Polenta is COMPANY WORTHY, yet family-friendly at the same time!
PLUS, you can make this in a snap-of-a-finger-time! Gotta love that, especially if you're like me and have a full-time job or if you've got family responsibilities to juggle!
Print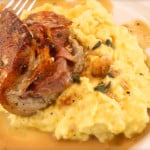 Pork Saltimbocca with
Author:
Prep Time: 0 hours
Additional Time: 0 hours
Cook Time: 0 hours
Total Time: 0 hours
---
For the Pork
6 (4-ounce) boneless center-cut loin pork chops, trimmed of any fat
6 very thin slices prosciutto (I doubled this)
6 large fresh sage leaves
12 thin slices of fontina cheese
1/4 teaspoon freshly ground black pepper
1/8 teaspoon salt
2 tablespoons all-purpose flour
1 tablespoon olive oil
1/2 cup dry white wine
1 cup fat-free, less-sodium chicken broth
1 tablespoon thinly sliced fresh sage
Freshly grated sea salt and black pepper
For the Polenta
2 cups 2% reduced-fat milk
1 (14-ounce) can fat-free, less-sodium chicken broth
1 cup instant polenta or stone-ground corn meal
1/2 teaspoon salt
---
Instructions
To Prepare Pork
Place each chop between 2 sheets of heavy-duty plastic wrap and pound to 1/4-inch thickness using a meat mallet or rolling pin.
Arrange several prosciutto slices over each chop.
Top each pork chop with 1 sage leaf and about 1 tablespoon cheese.
Fold chops in half to sandwich filling, and secure with wooden picks.
Sprinkle both sides of chops with pepper and 1/8 teaspoon salt.
Place flour in a shallow dish; dredge stuffed chops in flour.
Heat olive oil in a large nonstick skillet over medium-high heat.
Add chops; cook 3 minutes on each side or until done.
Remove from pan; cover and keep warm in a 350 degree heated oven.
Add wine to pan, scraping pan to loosen browned bits; cook until reduced to 1/4 cup (about 2 minutes).
Add 1 cup broth; bring to a boil.
Cook until reduced to 1/2 cup (about 5 minutes).
Stir in 1 tablespoon sage.
Reduce heat to medium.
Return chops to pan; cook 2 minutes or until thoroughly heated, turning once.
To Prepare Polenta
Bring milk and 1 can broth to a boil.
Gradually stir in polenta and 1/2 teaspoon salt.
Cover, reduce heat to medium-low, and cook 2 minutes.
Serve polenta immediately with chops and sauce.
---
This recipe will leave your guests saying "I can't talk right now, I'm enjoying this blissful flavor!" SERIOUSLY!
This recipe is quite simply INSANELY delicious! And I do mean mean INSANE!
For the most part, I take no credit for this recipe's incredible taste, but I did make a few personal adjustments that contributed to making the flavor blow over the top! For instance, I was not impressed with the quality of the prosciutto offered in my local market, so I really amped up the prosciutto to compensate for the weakness in flavor of the prosciutto that was available. This certainly proved to be worth the enhancement!
I also used corn meal instead of instant polenta (because corn meal and polenta are truly the exact same thing . . . one just has an Italian name! Corn meal is corn meal, but stone-ground corn meal is a completely different texture altogether!) NOTE: the original recipe calls for instant polenta with a cooking time of 2 minutes. However, if you choose to use regular yellow corn meal instead, as I did, you will need to cook it for 20 – 30 minutes while constantly stirring. ALSO ADD another 1/2 cup of heavy cream! I cheated and added that to make it super extra creamy!
I also added a little bit more Fontina cheese to the recipe. It worked and that's all that matters to my family's discriminating taste buds.
The theme for this month's Cooking Light Virtual Supper Club is "Deceptively Easy Gourmet".
Trust me, you will deceive anyone who tastes this Pork Saltimbocca with Creamy Polenta into believing that you spent hours in the kitchen when in fact you only spent an hour and a half MAX! There is simply nothing not to love about his recipe! We can still enjoy the delights of eating well while at the same time eating with an orientation for better health and well-being!
Cheers and salute'!