Tortellini alla Panna with Prosciutto and Peas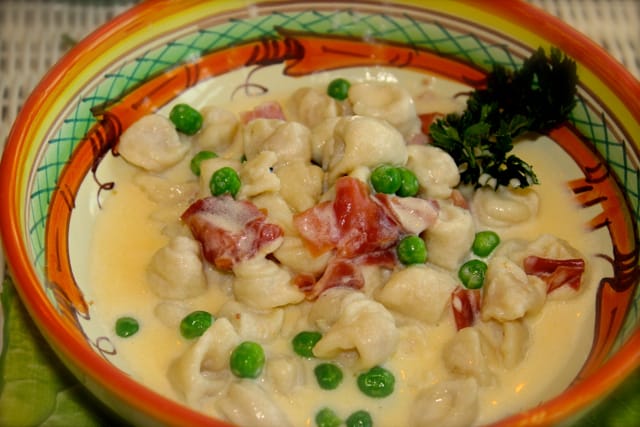 If I die of a heart attack tonight, you will know why!
It would be the result of this decadent, cholesterol and fat-laden recipe of Tortellini alla Panna with Prosciutto and Peas! The addition of peas does NOT make this recipe healthier! However the green peas do add a touch of fresh sweetness and spring that delight the palate amidst the cheesy sauce and pasta. Just so heavenly!
I had some tortellini left over from Easter from the batch I made for our traditional Tortellini in Brodo that we serve at holidays only. With about 100 tortellini left over, I decided to prepare this recipe. It is seriously so rich and over-the-top that I've only made it about 5 times in my entire life. Just look at the butter, cream and cheese in the photo below and you'll understand why!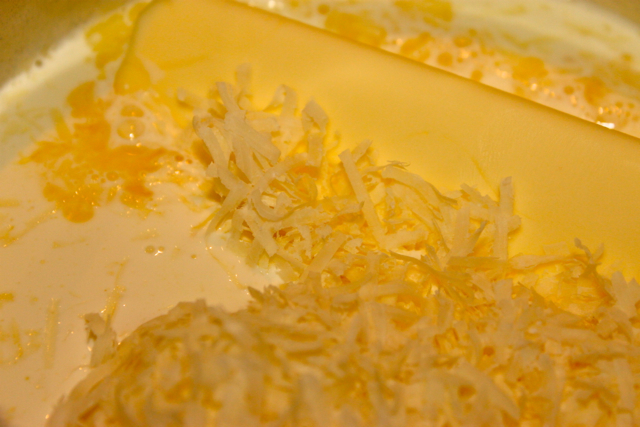 Every now and then, it's OK to take the plunge and splurge on something absolutely and divinely decadent . . . "everything in moderation" as the saying goes. This is certainly not everyday Italian fare. . . at least it's not in the U.S.
Tortellini alla Panna is, however, commonly on Italian ristoranti and trattorie menus! But then from what I experienced and witnessed in Italy, Italians do eat and dine so much better at every meal!
Food is life in Italy.
And in the Emilia-Romagna where my family lives, tortellini is traditionally served in broth on holidays. It's a major production to make 1000's of tortellini for every holiday so the it becomes a family and social affair.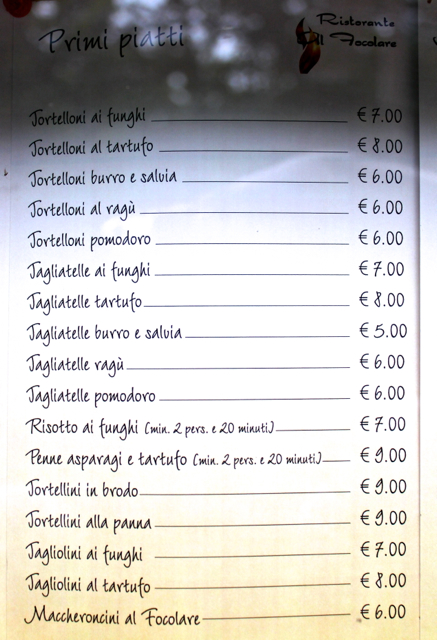 (Above) is the menu from a ristorante in Montecreto, Emilia-Romagna with Tortellini alla Panna (near the bottom at 9 euro approximately $13.00 American dollars). To most of us, this may seem to be quite a pricey lunch item by itself. But the portions were huge as you can see below! In Italy, people order different entree's and then pass them around for everyone to take an individual portion from.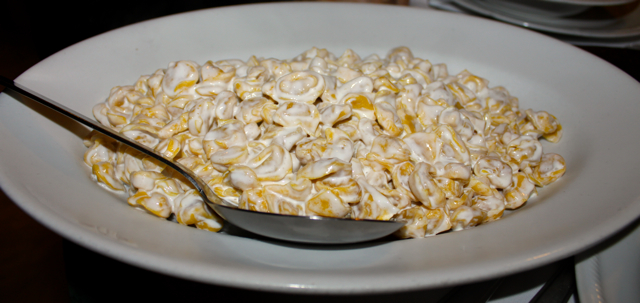 For those of you who recall that my family owned and operated their own Italian restaurant for numerous decades, know that I come from a family of VERY PARTICULAR and very critical connoisseurs of Italian cuisine. My mother, father, and I all agreed that there was not enough cream sauce in the entree we had for lunch at this particular ristorante. But then again, we Americans prefer more of any sauce on our pasta than Italians do in Italy.
"Way back" in the late 70's when I lived in St. Louis, Missouri, I used to go to "The Hill", the Italian neighborhood of the city. Family-owned restaurants, pizzerias, bakeries, butcher shops, and grocers that had been owned and operated for decades were available to please the most discriminating of Italian palates. It was in this district that I savored my first taste of Tortellini in Cream Sauce, aka Tortellini alla Panna. What I'll never forget about that pasta dish was that it also included bits of prosciutto and sweet green peas.
However, it seems that the classic Italian cookbook authors (Hazan, Buglialli) exclude the prosciutto and peas.
That's too bad because this pasta is SO MUCH better with the addition of prosciutto and peas.
This is an incredible pasta recipe that is eyes-roll-back AMAZING!
If you are wanting that perfect pasta dish for a special occasion, romance, or celebration, than search no further; this is it!
I hope that you enjoy! And then go on your diet again the day after!
Print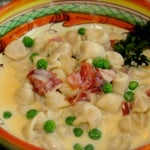 Tortellini alla Panna with Prosciutto and Peas
Author:
Prep Time: 0 hours
Additional Time: 0 hours
Cook Time: 0 hours
Total Time: 0 hours
---
100 – 200 tortellini, homemade, if at all possible . . . (my recipe and step-by-step instructions are available by a search on the blog's sidebar)
1 Tbsp. olive oil
2 Tbsp. freshly grated sea salt
1–1/2 sticks of good quality butter
1 cup green peas (frozen is fine, just have them thawed out)
1/2 cup prosciutto, chopped (or a little more if you prefer)
2/3 cup heavy cream
8 ounces Parmigiano cheese, freshly grated
freshly ground sea salt to taste
freshly ground white pepper to taste
freshly ground nutmeg to taste
---
Instructions
In a large, deep stock pot add the water, salt and olive oil (yes, Marcella Hazan says to use olive oil to help prevent the pasta from sticking together)
When the water begins to boil, add the tortellini, a few at at time.
If your tortellini is fresh, they will cook to al dente in about 3 minutes or so; taste as they cook.
Cooking time for dried homemade tortellini will take at least 20 minutes.
When cooked to the 'al dente' point, remove the tortellini with a strainer.
While the tortellini is cooking, heat and melt the butter in a large frying pan on a low temperature.
Gently add the tortellini when it is 'al dente' and toss ever so gently so that they do not break open.
Add the peas and prosciutto.
Add the heavy cream and the grated Parmigiano.
The tortellini MUST be prepared IN the sauce; do not make them separately and then pour the sauce on the tortellini.
Continue to mix everything very gently for 2 – 4 minutes.
Sprinkle with salt, pepper and nutmeg to your taste preferences.
Serve immediately.
---
.