A Maui Mother's Day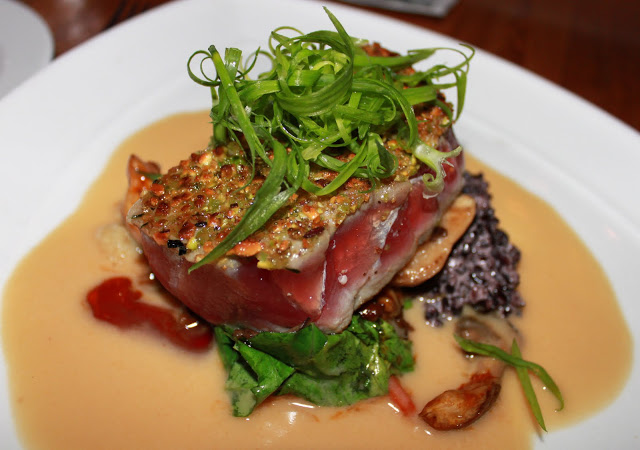 We celebrated Mother's Day on the island of Maui with a day of simple resting while the 'pineapple juice' (drizzling rain) misted the sky throughout the day. We took a nice walk along the beach boardwalk and stopped in at the new Duke's Beach Club at the Westin Resort in Kaanapali. My husband and I have a tradition of enjoying smooth and creamy Lava Flow tropical cocktails upon arrival to Hawaii to make a cheers/salute to a wonderful vacation
Rather than do a breakfast in bed, or go to a brunch, we opted to do dinner at a highly rated and most amazing restaurant: Pineapple Grill. Whenever we travel, we always dine at eateries that we've not tried yet . . . and make our selections based on conducting a LOT of research from trusted travel guidebooks, as well as from the unsolicited tourist comments on the web's travel sites such as Trip Advisor. Frommer's 2011 exclaims that "If you had only a single night to eat out on the island of Maui, this (The Pineapple Grill) would be the place to go." Now that is a compelling recommendation for this 'Pacific Island' focused cuisine and venue.
The considerable talent and impeccable service of all those associated with Pineapple Grill began at the threshold of the front door! We were warmly welcomed with a gracious hostess overflowing with an aloha-filled spirit, were kindly wished a Happy Anniversary, and seated immediately with our reservation to what was to be a simple, yet elegant and lively island dining experience in a beautiful tropical setting with matching ambience. Our table was one with a view of both the ocean and the mountains of Maui. Despite the gray skies, the views were lovely and a reminder of our good fortune of being in Maui! A very extensive, noteworthy and smart wine list worthy of Wine Spectator's Top 100 began our evening, with offerings by the glass, a truly rare opportunity.
The diverse and tasteful array of menu selections that tempt you are highly focused on using the freshest, locally-grown ingredients, and as Fodor's states, "attracts foodies who appreciate exceptional Pacific Island cuisine". The seafood, such as the ahi tuna entree (below) that I enjoyed, is harvested sustainably. The service was perfect and flawless with Erin as our main server.
I just had to have some fresh ahi tuna and went with Erin's and Frommer's recommendations for the incredibly creative "Pistachio and Wasabi Pea-Crusted Rare Ahi Tuna Steak" (shown above) with coconut scented 'forbidden' rice, roasted 'Hamakua' mushrooms, in a wasabi-soy butter sauce. I WAS IN FOOD HEAVEN with this culinary masterpiece! Savoring each bite with my eyes shut, I was in flavor paradise! I didn't want it to end and wanted more! Just incredible!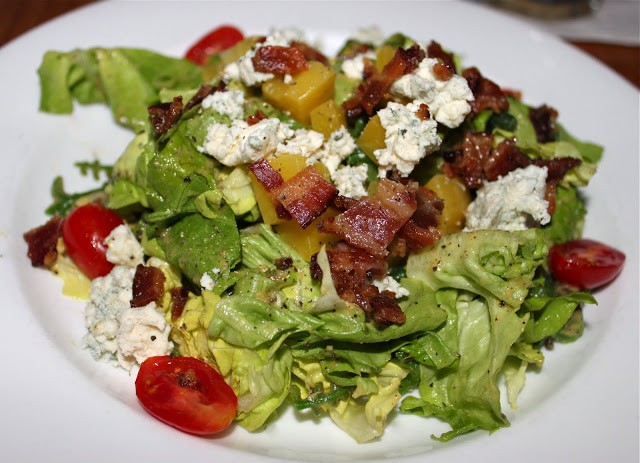 .
The salad above is the "Maui Farmer's Chop Salad" that I was delighted with prior to the entree. The sheer portion size and amount of veggies in our salads was astoundingly huge compared to other fine restaurants who serve about 5 leaves of lettuce and overcharge you for it. As I said, everything was perfect in exceeding our elevated expectations. This salad combines 'Waipoli Farms' butter lettuce, 'WeFarms' local grape tomatoes, roasted beets and green beans, loads of crumbled, soft bleu cheese, 'Hana Herb Farms' pohole fern shoots, and a generous amount of applewood smoked bacon bits. All of these were tossed in a perfect amount of a local papaya seed vinaigrette. Simply delectable!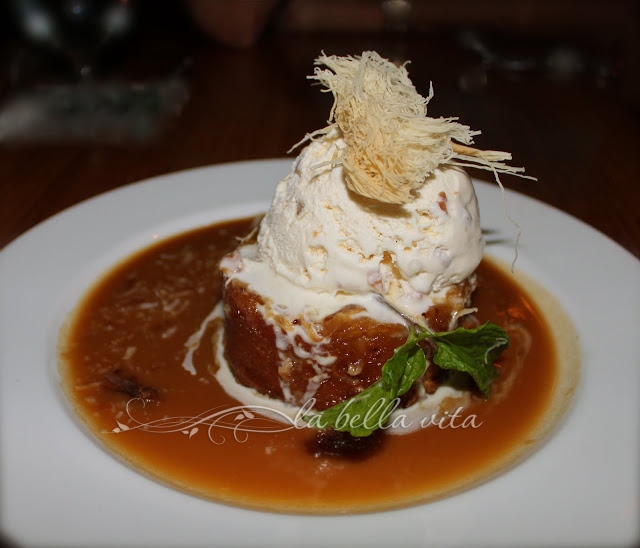 .
We shared the restaurant's signature dessert that sent us over the tropical moon on the horizon of the Pacific: "Maui Gold Pineapple Upside-Down Cake". There is not one recipe for pineapple upside down cake that can ever rival this! This sweet indulgence is prepared with fresh, sweet Maui gold pineapples, swimming in a pool (not a silly drizzle) of 'Hana Bay' dark rum-caramel sauce, Maui 'Roselani' macadamia nut ice cream, and toasted coconut. What a sublime perfect ending to a perfect Mother's Day dinner!
.
.
On the way in, guests walk through a two-level bar with a tasteful, beautifully painted ceiling that causes you to feel as if you are underwater with the fish looking up towards the sun. So creative and fun! Nothing stuffy here at all, but totally A+++ in every way! Every necessary element, from the smallest details and simple courtesies, was evident and manifested into a dining experience not to be forgotten.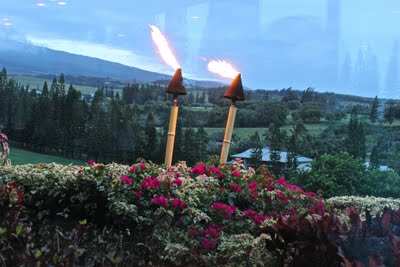 .
One of our views of the mountains on Maui. My photo of the ocean was too blurry to share due to the misty rain.
What an unforgettable Mother's Day on Maui!
.
Happy Mother's Day!
.
.