Creamy, Cheesy Chicken Enchiladas
The merry month of May brings so many wonderful events to celebrate life in a delicious and beautiful way!

Where does one begin?
On Mother's Day we pay tribute to all of our wonderful mothers. We applaud at Graduations for those who have worked so hard for years to achieve their educational goals (my personal favorite as an educator). We honor all who have passed away and those who've served in our military to protect us on Memorial Day. . . . and so many more events in May that we celebrate with family and friends!
Of which includes the festive CINCO de MAYO!
Our Latin neighbors simply have one of our absolute favorite cuisines on the planet — Mexican/Hispanic food! My husband and I are so fortunate to have an incredible, locally-owned Mexican restaurant in our little community that is literally 5-star in quality, taste, and ambiance! It's the kind of place where they know your name and have ready and waiting on the table some home-made salsa prepared at just the right level of heat that you prefer . . . and even before being seated (they see us enter the front door). The people who work in this restaurant and the food that they create instantly compel one to fall in love with this delightful little eatery and to return religiously!
Whenever we eat at "La Hacienda" (lovingly known by the locals as "La Ha") during our weekly visits when we work late, we feel just like family. Because this little eatery is so amazing, my husband and I rarely, if ever, prepare authentic Mexican cuisine at home.
But I do have a super recipe that I'd like to share with you. Over the years I have prepared this creamy, cheesy chicken enchilada entree for my family who now serve it to their friends!. So get out your tortilla chips, salsa, guacamole, and sour cream for a mouthwatering feast to celebrate Cinco de Mayo!!!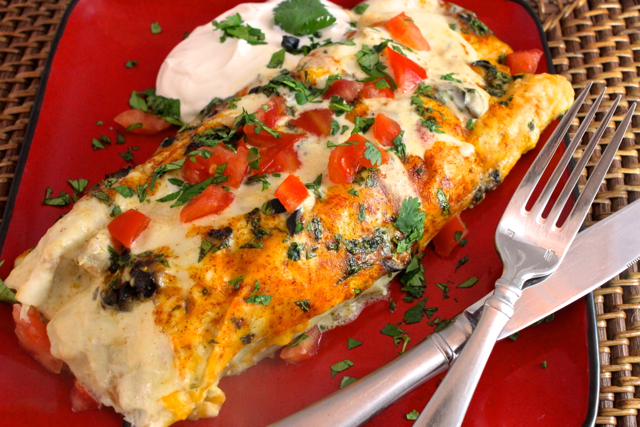 Print Creamy, Cheesy Chicken Enchiladas
Author:
Prep Time: 0 hours
Additional Time: 0 hours
Cook Time: 0 hours
Total Time: 0 hours
---
4 chicken breasts, skinned and boned, cut in cubes
1 medium onion, finely chopped
4 Tbsp. butter
1/2 cup chopped black olives (4-1/2 oz. can), more for garnish
1/3 cup (canned) green chilis, chopped
1 small jar chopped pimentos, drained
1 cup fresh cilantro, minced
2 envelopes chicken gravy mix
2 cups chicken broth (canned is OK if you don't have homemade)
1/2 cup whole milk
2 cups sour cream
1–1/2 tsp. salt
8 flour tortillas
2 cups Monterey Jack with Jalapeno Pepper cheese (Pepper Jack)
1 cup shredded mild cheddar cheese (or Mexican Blend cheese)
Paprika
Nature's Seasons
Lawry's Chicken Spice or Weber Kickin' Chicken
For GARNISH / to SERVE in bowls on the table for guests:
Diced tomatoes
Chopped lettuce
1/2 cup chopped black olives
1/2 cup fresh cilantro, diced
Guacamole
Salsa
---
Instructions
Pre-heat oven to 350 degrees.
Saute' chicken and onions in butter until tender (about 5 minutes).
Sprinkle generously with Nature's Seasons and Lawry's Chicken Spices/Weber Kickin' Chicken.
Mix in well.
Stir in olives, cilantro and pimentos.
Set aside.
Combine chicken broth, milk and gravy mix in a medium-sized skillet.
Heat to simmering, stirring often.
Stir in the sour cream and salt; heat gently.
Keep the sauce warm on the stove.
Place a generous large spoonful of chicken mixture at one end of each tortilla and roll up.
Butter the bottom of a large rectangular baking dish.
Place each chicken enchilada in the baking dish.
Bake in a 350 degree oven for 15 minutes.
Remove from the oven and pour the cream sauce all over the top of enchiladas.
Sprinkle the shredded cheeses all over the top.
Scatter additional chopped black olives on top.
Sprinkle 1/2 cup diced cilantro on top.
Sprinkle with paprika.
Bake at 350 degrees for 10 minutes or until hot and when cheese is golden on top.
Serve immediately with garnish on top or on serve without garnish on the table for guests to individually garnish their enchiladas
---
---
before baking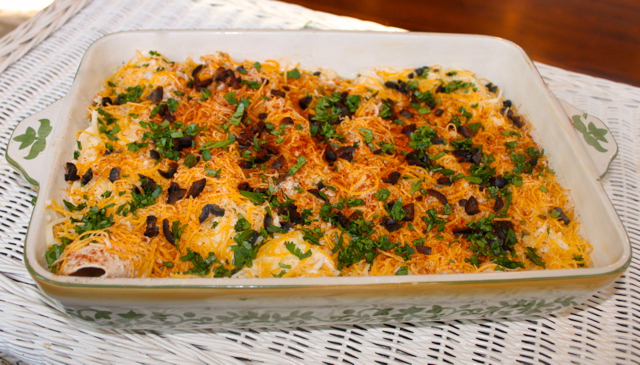 after baking . . . nice and golden, cheesy top!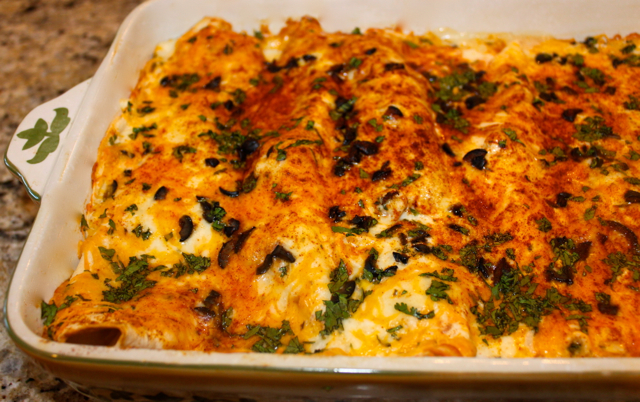 garnish with chopped tomatoes and cilantro for some additional pretty colors!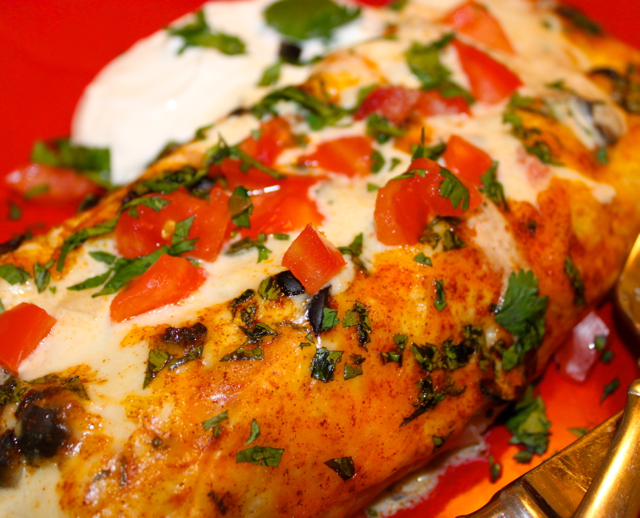 How can it get any better than some spicy Spanish/Latin love in your tummy?

A giveaway for an authentic, made-in-Mexico, PURCHASED in Mexico, transported-in-my-suitcase-from-Mexico, rich, deep cobalt blue glass flower vase! Valued at $50.00, it measures about 12″ tall by 5″ wide. This vase is truly gorgeous and it is my pleasure to give it to one fortunate reader of La Bella Vita Cucina.
When I was in graduate school, I went on a study tour to Oaxaca, Mexico where the culture is rich, the shopping is unique, the weather is divine in January, the food is fresh and sublime, the air is filled with aromas of open-air markets, and the famous hand-made native crafts are beautiful!
Within one suitcase, I packed an extra empty 'expandable' suitcase, courtesy of my parents who know how much I like to buy authentic, local, native, and indigeneous, hand-made crafts from every spot on earth that I visit. In this 4 foot high suitcase, I stuffed my treasures of Mexican pottery, woven blankets, jewelry, kitchen linens, food products, and hand-blown glass!
Included in that suitcase, I brought home this beautiful cobalt blue glass vase. This is the real deal and is directly from an artisan's hands in Oaxaca, Mexico.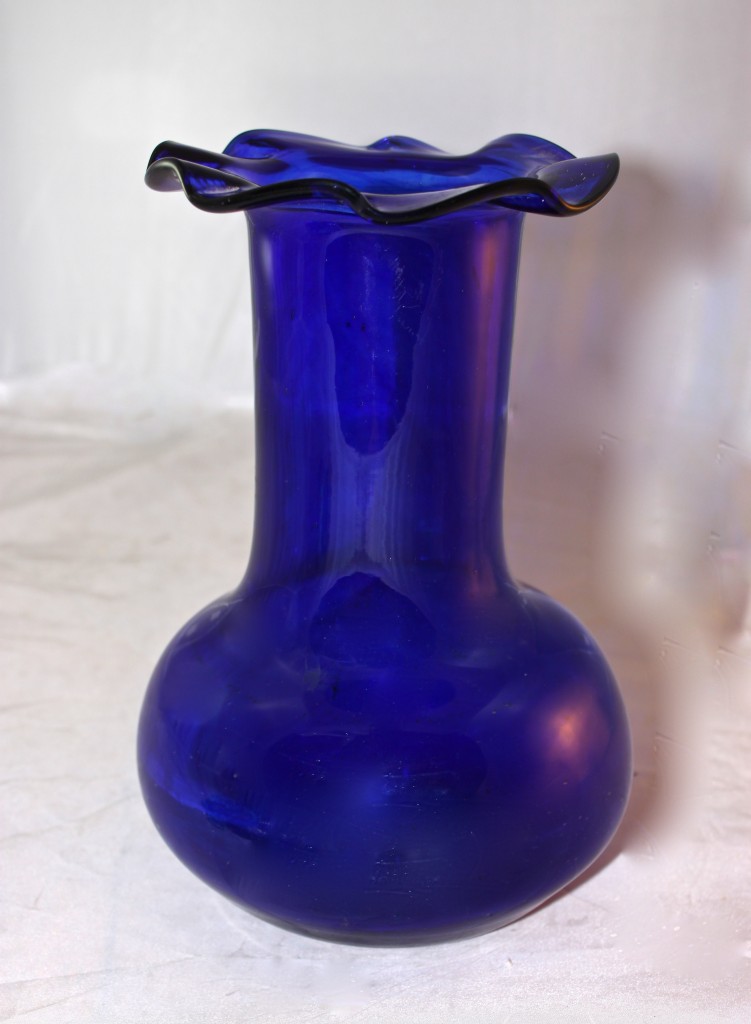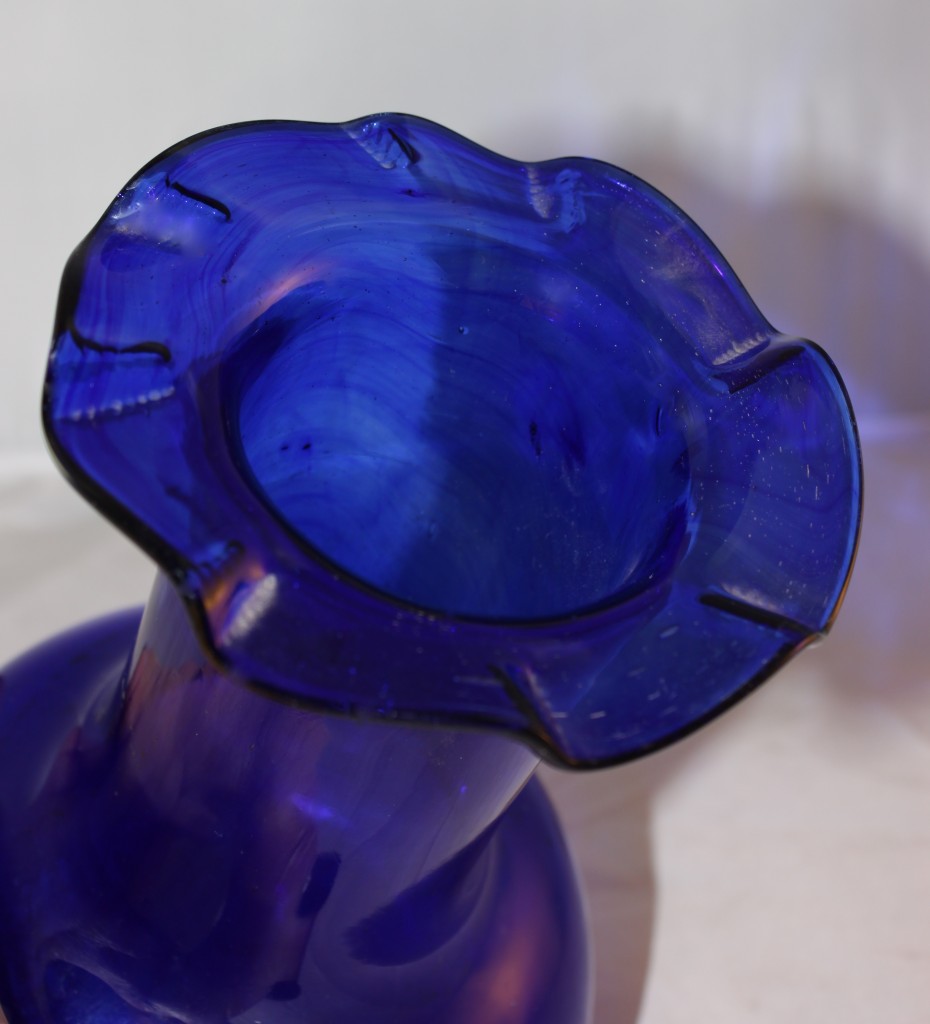 The winner of this beautiful cobalt vase was Kathy B.P. of New York, #383 out 414 entries on Rafflecopter and was selected randomly by the Rafflecopter software. The vase was shipped to her in May, 2013.

Other delicious Mexican recipes that you may enjoy include: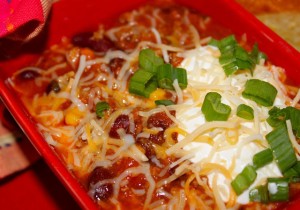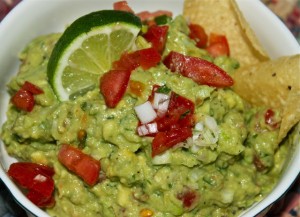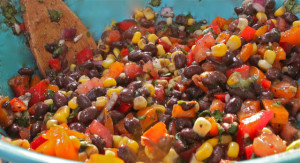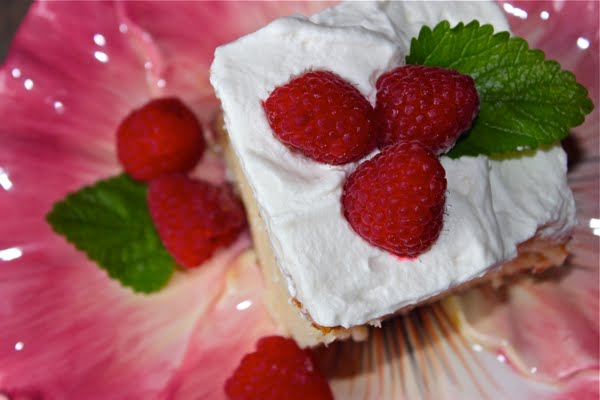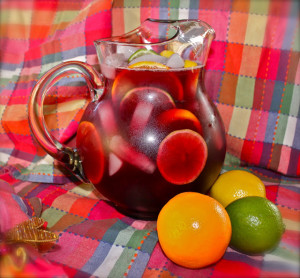 Thank you so much for stopping by my blog today! If you've enjoyed this recipe, please consider leaving a comment and subscribe to my blog to receive e-mail notices of any new posts and recipes! I'd love to follow you in return.