Buffalo Beef and Pepper Jack Burgers plus a Tablescape
Beef is my husband's protein of choice. Hands down, no debate, no discussion, it's simply beef! No matter how much I try to decrease the beef in his nutrition, this guy just plain likes his beef.
And I bet that I'm not alone on this when it comes to 'many' men's food preferences (not all men, OK?)!
So how can I make a beef-focused entree any healthier for a guy with cholesterol issues?
I had read that Buffalo/Bison beef are much healthier than cattle beef. In fact, "Buffalo meat fits the dietary guidelines of the American Heart Association and is often prescribed by physicians to patients who should limit their fat intake. Several weight-loss programs (i.e.: Weight Watchers) list Buffalo beef as a recommended "diet food" because it contains 4 times LESS fat than cattle beef. Since Buffalo/Bison meat is more dense, it satisfies us more while eating less!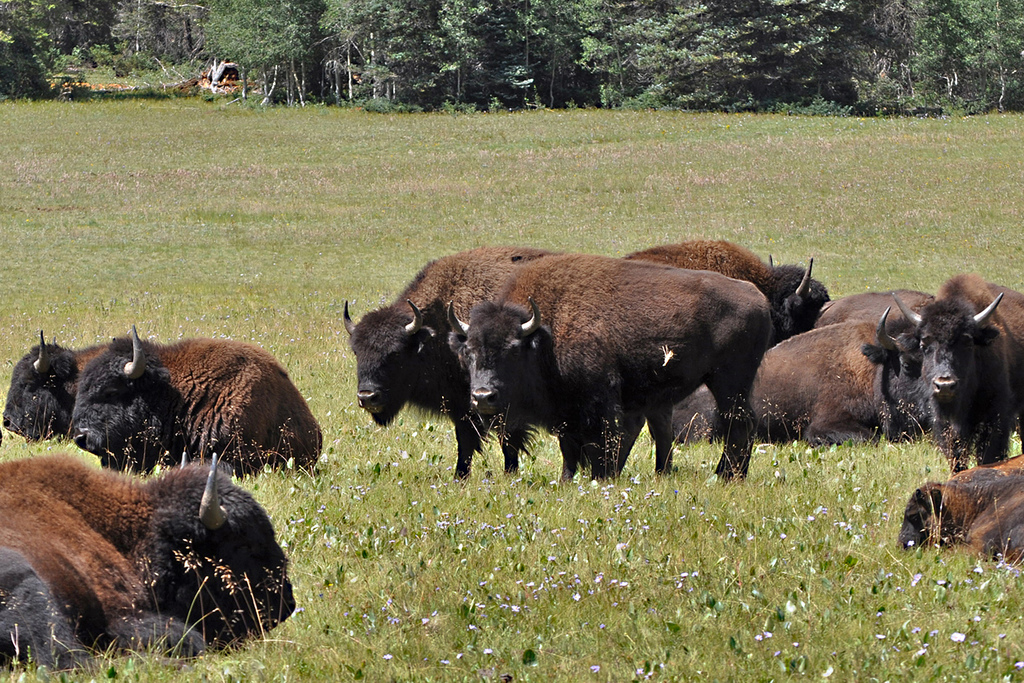 Why didn't I know this before for the weight issues that I've struggled with?
In fact, I discovered that "Buffalo/Bison is handled as little as possible, spend their lives on grass, and are not subjected to questionable drugs, chemicals or hormones.
Pretty healthy stuff for beef eaters!
So off to Whole Foods I go . . . to purchase my first pound of, you got it . . . Buffalo beef.
Knowing that my husband would be a skeptic, I blended it into a second pound of lean Iowa beef. I formed 1″ thick burger patties and sprinkled them with our usual favorite spices and topped each with Pepper jack cheese for an extra zippy flavor. With the addition of the usual toppings of bacon, lettuce, tomato, onion, pickles, ketchup, mustard, and mayo we created some monster-huge burgers!
We love Pepper Jack cheese and I recently read in Cook's Country magazine (June-July/2013) that the trend for Americans' enthusiastic desire for more spicy hot foods has caused Pepper Jack to be one of the most popular cheeses in the States. It was interesting to read that Boar's Head Pepper Jack was the magazine's kitchen testers' most recommended brand. Another reason that I love to use Pepper Jack is because of it's creaminess when melted (as you can see in the photos!).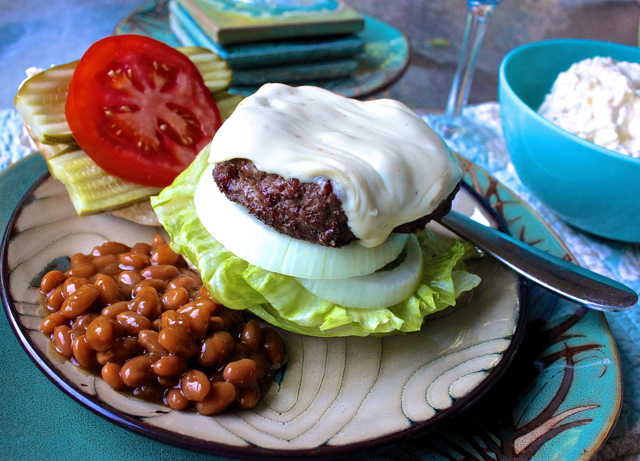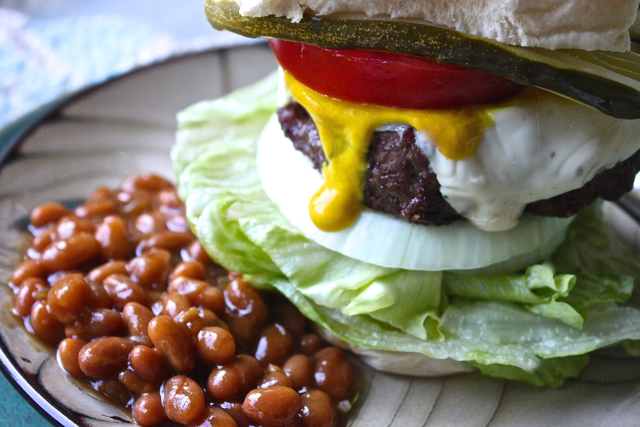 Buffalo meat is similar to beef, however, when preparing buffalo/bison you need to cook it differently. Because of the lack of marbling, bison needs to be cooked at a lower temperature than cattle beef.
While on Maui a few weeks ago, I did a little shopping at a wonderful shop that had a unique variety of table linens. I just had to pick up a few sets of placemats and coordinating napkins for our summer outdoor dining. I have always loved the combination of blues and greens together and have 'slowly' been adding them into my interior decor, including the patio and deck. I just feel so much more serenity surrounded by these lovely colors! There's just something so soothing about the colors of earth and sky combined on a summer eve!
Here's the tablescape that I created for our Buffalo/Bison Burger grill-out, al fresco dinner on our deck: