Superb Spicy Fried Buttermilk-Garlic Chicken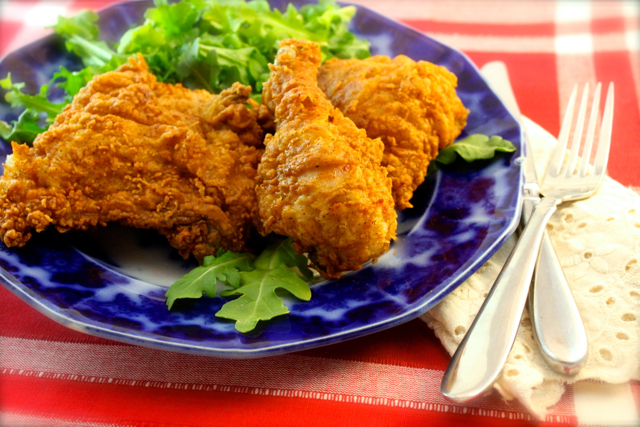 Fried chicken has to be one of the most quintessential foods of summer. But how can we amp up an ordinary recipe for fried chicken to one that is extraordinary?
By spicing it up!
Here's a recipe for Spicy Fried Chicken that I've made for my family for a few decades now (time flies when you're having fun, right?) and all I can say is that this recipe is 'excellent, excellent, excellent!'
One of the secrets to preparing outstanding fried chicken is to MARINATE the chicken first in a buttermilk sauce! Remember when I gave you the "Pork Braised in Milk" recipe a few months ago? The same principle is in action with the buttermilk's effect on the chicken . . . it tenderizes the meat, making it uber-delicious!
Another tip: This recipe needs to be prepared one day of ahead of serving for the marinating to do its magic, so plan on that time; you'll be so glad that you did this slowly instead of in a hurry. Patience is a virtue they say!
Garlic is added to the buttermilk as well and wow, does it pack the extra flavor!
After a nice little bath in the spiced up garlicy-buttermilk marinade, the chicken is dipped in another spicy breading before plopping it into the frying pan.
Mmmmm . . . smell the goodness as it fries!
Garnish with some pretty green lime wedges and chopped cilantro.
Serve with icy cold sun tea and your favorite side dishes. If you are a big fan of the Colonel's KFC cole slaw, I prepared the 'copycat' version and it truly is delicious and tastes identical to the real thing. Here's the link into the archives of my blog for the cole slaw.
With summer officially just around the corner, I hope that you enjoy this recipe for Spicy Fried Chicken!!
Mangia!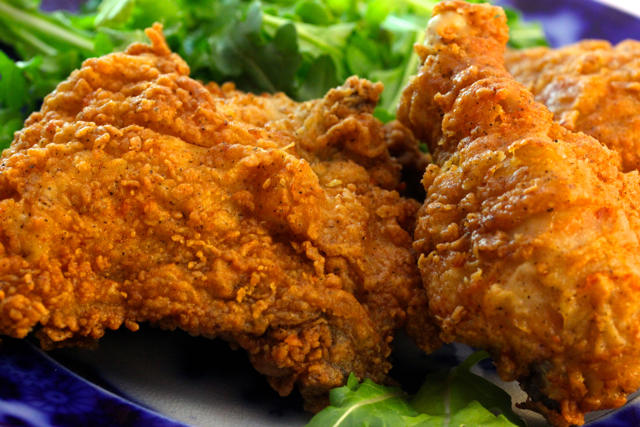 Print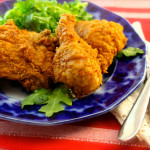 Superb Spicy Fried Chicken
Author:
Prep Time: 0 hours
Additional Time: 0 hours
Cook Time: 0 hours
Total Time: 0 hours
---
1 (one) 3 to 4 lb. chicken, cut into pieces (breasts, wings, thighs, drumstick legs)
To Marinate Chicken:
6 – 8 medium cloves of garlic, finely minced
2 cups buttermilk
1 tsp. ground cumin
1/2 tsp. freshly cracked black pepper
1/4 tsp. cayenne pepper
Breading for the Chicken:
1–1/2 cups unbleached all-purpose flour
1–3/4 tsp. freshly cracked sea salt
1–1/2 tsp. freshly cracked black pepper
1/2 tsp. cumin
1/2 tsp. cayenne pepper (or more if you really want some extra heat!)
For Frying the Chicken:
Safflower oil, enough to fill a deep, heavy frying pan at least an inch high
---
Instructions
Prepare Marinade:
Put minced garlic in a medium bowl.
Add buttermilk, cumin, salt, pepper and cayenne; whisk to blend.
Place chicken pieces in a 13×9 inch glass baking dish.
Pour buttermilk mixture all over the chicken; turning each piece over to coat completely.
Cover and chill (at least 8 hours or overnight), turning occasionally.
After the marinating period, place a rack over a baking sheet.
Remove the chicken pieces from the marinade and set on the rack to drain for 10 minutes.
Bread the Chicken:
Mix flour, salt, pepper, cumin and cayenne pepper in a large bowl.
Toss the chicken pieces individually in the flour mixture, turning to coat; shaking off excess.
Once again, toss each piece (a second time) in the flour mixture; shake off any excess again.
Transfer chicken back to a clean rack over a baking sheet; allow to stand for at least 15 minutes and up to 45 minutes.
To Fry and Bake the Chicken:
Pre-heat oven to low.
Line baking sheet with paper towels.
Pour oil into a large, heavy skillet to a depth of 1 inch.
Heat the oil over a high heat of 375 degrees (or until a small cube of fresh bread sizzles instantly when added to the oil).
Add the chicken thigh and leg pieces to the skillet first.
Adjust the heat so that the temperature remains between 340 and 350 degrees (or until a small cube of bread sizzles slowly when added).
Fry chicken until golden brown and cooked through, turning chicken occasionally, about 15 minutes.
Using tongs, transfer the chicken to paper towel-lined baking sheets.
Place baking sheet with chicken in the pre-heated oven to keep warm while frying the remaining chicken.
Reheat the oil back up to 375 degrees.
Add the chicken breast and wing pieces to the skillet.
Adjust the heat so that the temperature is between 340 and 350 degrees.
Fry the chicken until cooked through and golden brown, about 10 minutes, turning occasionally with tongs.
Using tongs, transfer chicken to another prepared baking sheet and drain.
Place in the oven to stay warm until ready to serve.
Plate and Garnish the Chicken:
Transfer the chicken to a pretty platter.
Garnish with cilantro and lime wedges (optional).
Serve immediately
Mangia
---
---