Creamy Strawberry, Rhubarb and Mascarpone Cheese Bars
This year my garden has just gone crazy in the rhubarb department. Because of past winter freezes we've lost a few of our precious rhubarb plants. So last fall we planted about 6 more plants just in case another freeze took place. By doing this, we were hoping that we'd have a better chance of more plants surviving the cold for a nice harvest in spring.
Well, our plan worked. Bill even said to me, "What are you planning on doing with all of that rhubarb?"
Uh oh!
Looks like we'll be making lots of jams, sauces, ice creams, pies, cobblers . . . well you get my drift! And of course, my addicted-to-sweets husband loved that response!
.
.
.
Here's a recipe for 'Creamy Strawberry, Rhubarb & Mascarpone Cheese Bars' that will have you flipping over backwards in love with the marriage of rhubarb and strawberries . . . what a perfect spring combination. Yes, I know that tomorrow is the first day of summer, but with the wet and mild spring that we've had this year, this rhubarb is still coming on strong out in the garden. And yes, it's later than normal for South Carolina. I'm even ready to plant my second round of heat-wave resistance lettuce now that the spring lettuce is over.
When you bite into the crunchy, nutty crust along with the creamy filling plus the sweet and sour combination of the rhubarb and strawberries, you'll know instantly why this recipe is such a favorite! Yes, it's a keeper recipe alright!
.
.
.
.
Now, here's the recipe for you! Enjoy!
Creamy Strawberry, Rhubarb & Mascarpone Cheese Bars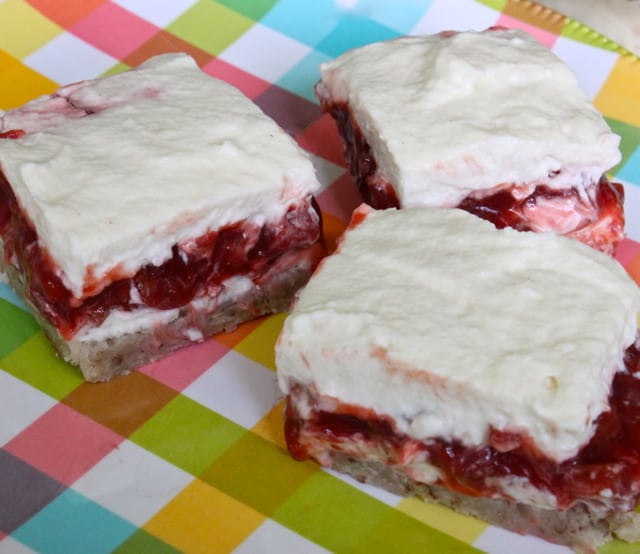 Ingredients
For the Crust
2 cups all purpose flour
1 cup chopped pecans
1 cup butter, melted
1/3 cup sugar
For the Mascarpone Cheese Filling
1 8 oz package Italian Mascarpone cheese, softened
1 cup powdered sugar
1 cup heavy whipping cream, whipped
For the Strawberry Rhubarb Filling
1 cup brown sugar, packed
3 Tbsp. cornstarch
3 Tbsp. corn syrup
3-1/2 cups chopped, fresh rhubarb
2 cups sliced, fresh strawberries
For the Cream Topping
1 cup heavy whipping cream, whipped
1 tsp. vanilla
1/2 cup sugar
Instructions
Prepare the crust
Heat oven to 350 degrees (F).
In a small bowl, combine flour, pecans, butter and sugar.
Press into a greased 13 x 9 inch glass baking pan.
Bake for 20 - 25 minutes or until golden brown.
Cool the crust on a wire rack.
Prepare the Strawberry Rhubarb Filling
In a large saucepan, combine brown sugar, cornstarch, corn syrup, and rhubarb (not the strawberries!).
Bring to a boil, stirring often.
Reduce the heat and cook while stirring for 5 minutes or until thickened.
Remover the pan from the heat and allow to cool.
NOW add the strawberries to this mixture.
Prepare the Mascarpone Filling
In a large bowl, beat the cheese with powdered sugar until smooth.
Whip all of the whipping cream, sugar and vanilla together, because you will need it for this mascarpone filling.
Fold in only 1 cup of the whipped cream/sugar/vanilla mixture.
Assembly
After crust is cool, spread the Mascarpone Filling on top (this will then become your second layer).
Place in the frig while the rhubarb strawberry mixture is cooling.
Don't add any layers until the previous layer is COOL.
When cool, spread the rhubarb strawberry mixture on top of the Mascarpone cheese layer.
Spread the remaining whipped cream/sugar/vanilla mixture on top.
Refrigerate for 3 or more hours before serving.
This is a great recipe to make a day ahead!
And now for my blue, blue giveaway for the 4th of July!
The lucky winner will be able to select one of the following beautiful royal blue pieces of beauty for the home:
An antique Flow Blue Plate (the size of a dinner plate), approximately 100 years old an authentic Italian Murano Handblown Glass Bowl, each valued at $100.00! Make sure that when you leave a comment that you let me know which one of these gifts you'd like to receive!
Disclaimer: I am not associated with any company for this free giveaway; the gifts are entirely from my personal collection. I will also pay for shipping and packaging.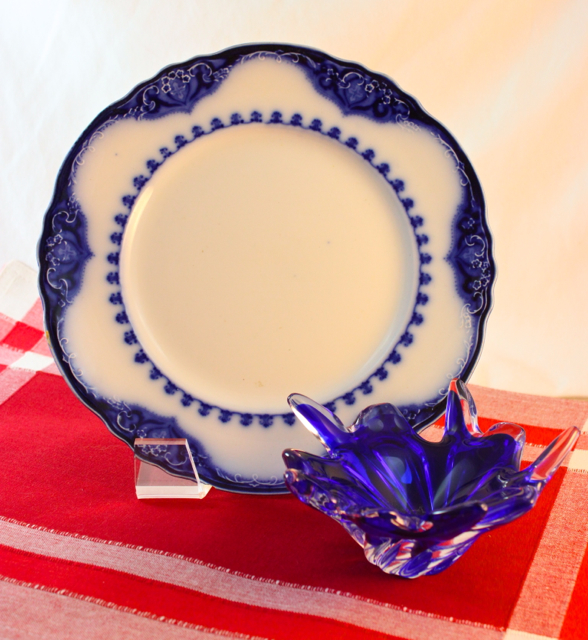 .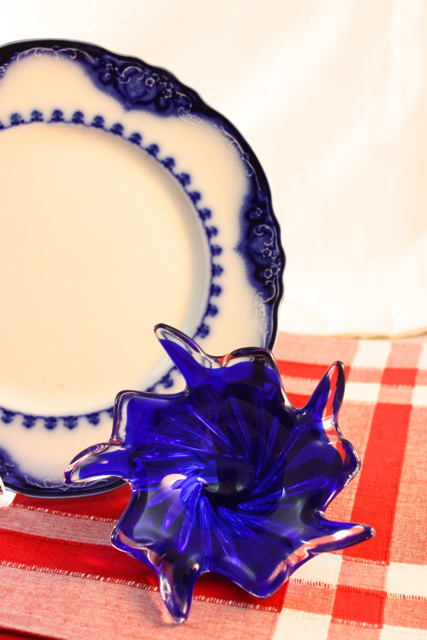 .
I have collected Italian Murano glass and antique Flow Blue plates for years. Both of these beautiful pieces are from my collections. I am lovingly giving one of them away to a lucky current or new subscriber to La Bella Vita Cucina (winner selects one single piece). Each piece is valued at $100.00. The blue Murano candy/tidbit bowl is genuine and from Italy and the Flow Blue plate is approximately 100 years old and is a dinner plate size.
This giveaway is now over and the winner is:
Susan from Wisconsin who chose the Italian Murano Handblown Glass Bowl. Congrats Susan!
.