Italian Tuna Pasta Salad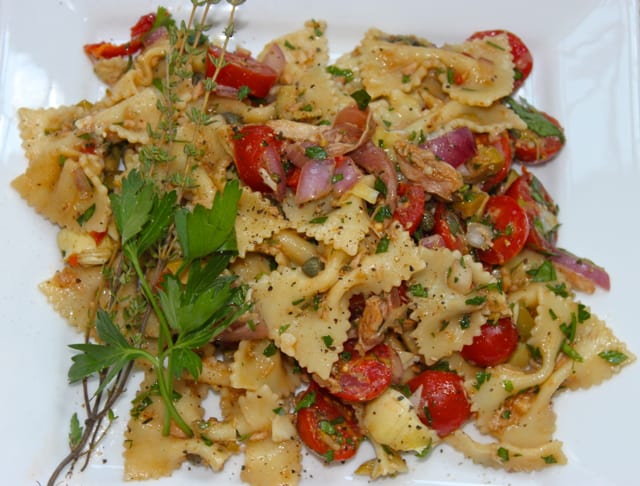 Summer eating naturally means 'lighter' eating of recipes that are just not as heavy as what we prefer in the colder months of the year. A pasta salad with Italian tuna fits perfectly in this category! Whether you dine outside 'al fresco' style with soft summer breezes or indoors with less humidity and bugs, there's nothing easier than putting together a cold pasta salad (pasta fredda). Endless possibilities exist for a pasta salad and what you toss into the chilled pasta is limited only to your culinary imagination.
With the mercury currently in the 90s, our favorite time to eat outdoors during a Carolina summer is for breakfast, brunch or lunch on the back deck while taking in nature's splendor. Italians call this 'mangiare fuori a tavola' or to eat among the flowers at the table.
Isn't that sweet?
Don't you find yourself wanting to eat less or lighter food during summer?
It's truly a natural thing and not your imagination! And in Italy the mantra for cooking in warmer weather is 'restore leggiere' or to stay light by eating perfectly fresh, simple, and lighter foods, with a preference to serve foods at cold or room temperature. More salads with raw vegetables, cooked and chilled pasta or rice, and fish are offered at this time of year. It's also customary in hot Italian summers to serve and enjoy one dish complete with proteins, vegetables and carbohydrates in that one dish, known as 'piatto unico'. Nothing satisfies this combination better than a fresh Italian tuna pasta salad prepared with heart healthy olive oil and seasoned with fresh-cut herbs for added flavor and color.
Just as Spain is known for its famous tapas, Italy is known for its 'cichetti' or little bites that are enjoyed standing up at a bar in the middle of the afternoon . . . and very often with a chilled beverage such as a fruity, sparkling Prosecco. A perfect way to eat lighter without sacrificing on flavor!
.
.
Even though my gardens are drenched from the daily downpours of rain this summer, the trusty farmers' markets continue to display the bounty of summer brought in from drier parts of the region. Vibrant shades of red, green, yellow, and even purple are beautifully displayed for buyers of fresh produce! So for the classic Italian summer pasta salad, make sure that you pick up some fresh tomatoes, peppers, onions and herbs while in the market. Of course olives, capers, artichoke hearts and tuna are a must too!
What are some of your favorite ingredients for adding to salads? Just add them into your pasta salad. Here is a recipe to provide a foundation of what you mix in . . . use all or just some of the ingredients. I know it will be delicious!
.
Print
Italian Tuna Pasta Salad
Author:
Prep Time: 0 hours
Additional Time: 0 hours
Cook Time: 0 hours
Total Time: 0 hours
---
1/2 package of Farfalle (butterfly) pasta (100% semolina flour),
1 can Italian tuna packed in olive oil (drained)
2 large garlic cloves, minced
1/4 cup sliced dried sun-dried tomatoes
1 – 2 jumbo green olives, diced
4 artichoke hearts (from a can and not marinated)
3 slices of prosciutto (diced/sliced into slivers)
1/2 red onion, diced
3 tsp. capers
1 tsp. fresh thyme, simply pulled off of the stems
1/2 cup fresh Italian parsley, minced
2 cups sliced cherry tomatoes
1/2 cup extra virgin olive oil
4 Tbsp. balsamic vinegar
freshly cracked sea salt to taste
freshly cracked black pepper to taste
---
Instructions
Bring a deep pot of water to a boil, adding about a couple tablespoons of salt.
Once the water is boiling, cook the pasta for only 5 minutes (the pasta continues to cook in the bowl).
Immediately remove with a strainer from the water — do not rinse the pasta, the pasta water is important to the flavor of the dish as well as to the texture.
Drizzle several tablespoons of extra virgin olive oil in the slightly drained pasta to prevent it from sticking together.
Add all remaining ingredients together.
Gently mix.
Place in the refrigerator to marry the flavors for about a half hour or longer.
Note: Add more olive oil and balsamic vinegar to your own level of preference; keeping in mind that it is always better to use more olive oil in proportion to less vinegar.
Serve on a pretty platter with a garnish of beautiful, fresh stems of thyme and Italian parsley!
---
Notes
Note: Add more olive oil and balsamic vinegar to your own level of preference; keeping in mind that it is always better to use more olive oil in proportion to less vinegar.
Optional to add: chunks of soft buffalo mozzarella cheese, diced red pepper or roasted red peppers, anchovies, chopped celery……the possibilities are only limited to YOUR imagination and personal taste preferences!
disclaimer: In no way was I paid or compensated in any manner to mention or advertise Genova Tuna; I use this brand of imported Italian tuna and simply want to inform readers of this high quality tuna to use in Italian recipes..
.