Peach Bundt Cake with Amaretto Cream Glaze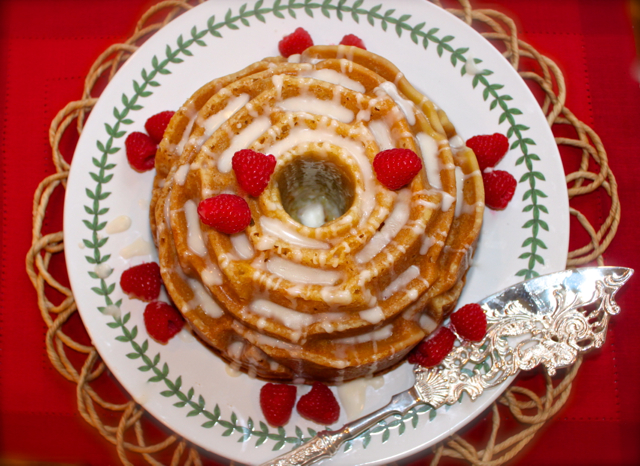 There's still time left to enjoy fresh picked peaches!
Fresh. Local. Peaches!
And when when you bite into this divine Peach Bundt Cake with Amaretto Cream Glaze drizzled on top, you'll enjoy that fresh summer flavor! Garnished with beautiful red raspberries and dappled inside with chunks of ripe peaches picked right at their peak of freshness, this is a spectacular cake to serve your family and friends.
Even though there is nothing quite like biting into a warm peach on the porch along with a cold glass of iced tea, this cake epitomizes the delicateness of sweet peaches! It doesn't yell "super-sweet" of a frosted layer cake, or scream of "heavy" as does a dense chocolate cake from which thin slices are in order (although I'd never pass up chocolate!). This peach cake is simply one of 'subtle' perfection in texture, flavor, and peach-y summer sweetness.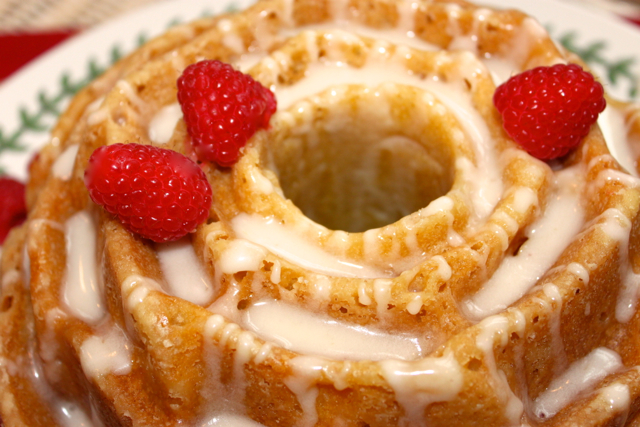 I enhanced an everyday cake glaze with Amaretto liquor and fresh peach juice and did the same to the cake batter . . . definitively worth it! After each bite of this cake, you experience an incredible lingering flavor of peach, cream and almond. Just heavenly!
You will smile! And you will hum "Mmmmm!"
So before you devour all of those fresh peaches with juice dripping down and sticking to your chins, save some peaches to make this cake!
Do it now, before it's too late when peaches with their sweet aroma disappear along with the twinkling evening lightning bugs until another warm summer's arrival.
And then pull up a rocking chair on your porch, pour yourself a cold glass of ice tea, enjoy this peach of a cake, and let the sultry days of August gently drift by.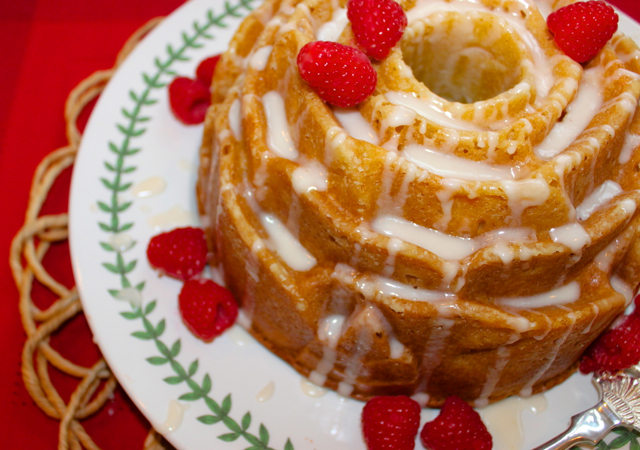 Peach Bundt Cake with Amaretto Cream Glaze
Ingredients
For the Cake
3 sticks butter, softened to room temperature
2-1/4 cups sugar
6 jumbo eggs
3 cups flour
3/4 tsp. baking soda
1/2 tsp. salt
1 cup sour cream
1 tsp. almond extract
1 Tbsp. vanilla extract
2 tsp. Amaretto Liquor
2-1/2 cups fresh peaches, diced and well drained, set any juice aside to use in the glaze.
For the Amaretto Cream Glaze
2 cups powdered sugar
4 Tbsp. heavy cream
2 Tbsp. fresh peach juice
2 tsp. Amaretto liquor (add more to your taste preference)
Instructions
Instructions
Combine and cream butter and sugar.
Add one egg at a time, mixing thoroughly after each.
In a separate bowl, mix the flour, baking soda and salt.
Mix the flour mixture into the butter-sugar mixture alternating with sour cream, mixing thoroughly after each.
Mix in all of the extracts and Amaretto liquor.
Gently fold in the diced peaches.
Grease and flour a bundt cake.
Bake at 350 degrees (F) for 60 minutes.
Set on a baking rack to cool for 10 - 15 minutes.
Place a decorative serving platter on top of the bundt pan, then carefully flip it over onto the platter.
Tap the bundt pan several times and wiggle the pan up and off of the cake.
When cool, drizzle the glaze on the cake.
For the Amaretto Cream Glaze
Blend all of the ingredients together, adding more or less of any ingredient that you prefer and to the consistency that you prefer.
The glaze should be somewhat runny to drizzle over the cake easily.
.I
I hope you enjoy my Peach Bundt Cake with Amaretto Cream Glaze!
,