Detox Tabouli Salad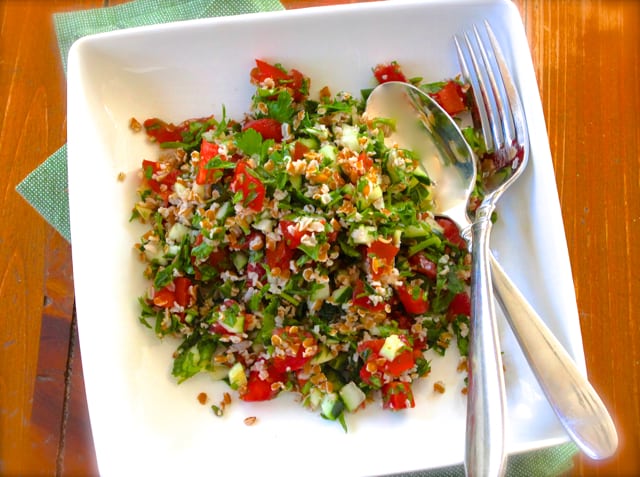 Need a delicious way to detox and cleanse out the ol' body?
If so, than think of chopping up some fresh parsley to your salads,or adding it to your smoothies, juices, and soups.
PARSLEY? Yup, parsley!
Parsley is a super powerful natural green plant food that's amazingly effective for detoxing your body, especially the liver, kidneys, and lympathic system. It is a highly nutritious culinary herb that too overlooked for its health benefits.
Hey, it's not just a pretty garnish!
Parsley is smack full of healthy goodness and provides nature's best anti-inflammatory goodies (eugenol, lutein, zeaxanthin, apiole, rutin and aligning).
Now for a quiz: say all of the above again!
This tiny-leaf plant is a nutritional powerhouse full of vitamin C (more than oranges to help our immune system), beta-cartene, chlorophyll (a great blood purifier), and folic acid (helps our sweet hearts). It's also a fantabulous natural diuretic that helps flush out toxins, which also decreases water retention (I love that part) . . . all needed for a really good detox.
You know all those darn free radicals that we can't totally escape from? Parlsey, a natural anti-oxidant, helps get rid of these little buggers too!
Goodness, inside those little green leaves of this emerald green herb are magnesium, calcium, potassium, and zinc! Talk about beneficial to our systems!
Italians and Greeks have known about the benefits of combining parsley with garlic for ages! Eat these two together and you have a powerful, natural antibiotic, immune booster, and digestion aid. I love to use Italian parsley in my cooking and grow mounds of it in my culinary garden. Italian flat-leaf parsley is a darker green herb with smooth, flat leaves that has a more fragrant and less bitter taste.
And Tabouli is a delicious Mediterranean salad that combines all those good-for-you foods: Parsley, garlic, olive oil, lemon juice, tomatoes and more!
So how do YOU de-tox? What are your favorite foods and methods? I'd love to know!
** NOTE: Parsley may be high in oxalic acid, so must not be consumed by individuals who have kidney stones.
Detox Tabouli Salad
Ingredients
For the Salad
½ cup dry bulgar wheat
¾ cup boiling water
1 packed cup of minced Italian parsley
2 medium tomatoes, diced
1 cucumber, seeded and diced
Optional
10 leaves of mint, minced (this is traditionally added, but we don't prefer it, so we leave it out)
For the Dressing
1 tsp. salt (I like to use sea salt)
1/8 cup fresh-squeezed lemon juice
1/8 cup extra-virgin olive oil
2- 3 large cloves garlic, minced
4 scallions (both white and green parts), diced
black pepper to taste
Instructions
For the Dressing
In a medium bowl, add the salt and pepper, lemon juice, olive oil, scallions.
Cover and refrigerate for 20 minutes before serving.
Salad
Boil the water.
Add the bulgar.
Cover and let stand for 30 minutes minimum, until the bulgar is tender.
Assembly of Salad
About 30 minutes before serving, stir all remaining ingredients.
Mix well.
Mix in the dressing.
Serve cold with pita bread (toasted or non-toasted).