Cheesy Artichoke and Garlic Bread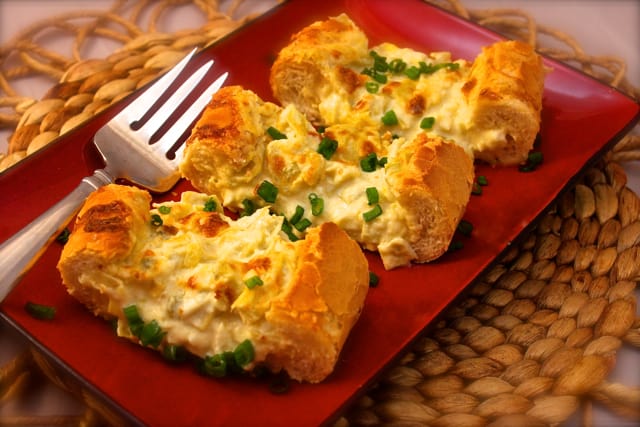 It's the big game day!
And all I've been thinking about for the last two weeks is what to ADD to our annual Super Bowl spread (as well as what to delete) to keep variety, that good old 'spice of life' into the traditional mix.
Cheesy Artichoke and Garlic Bread with a blend of four Italian cheeses was my top choice to add this year. I experienced my first bite of this bread at a friend's party back in 2000. I absolutely fell in love with this amazingly delicious cheesy, garlicy bread! Any recipe with artichokes gets me every time and this recipe is at the top of my unforgettable recipes. Thank goodness she shared her recipe with me, which I've tweaked (quite) a bit.
If you like artichoke dip, then you'll flip over this cheesy bread! Chunks of yummy artichoke hearts mixed in a plethora of cheeses and garlic, then baked to a melted, bubbly concoction of golden cheesy perfection . . . inside a loaf of Italian bread baked to a nice crispiness on the outside, yet soft and moist on the inside.
Mmmmm!
This year we're just having a small gathering in front of the tube, so I decided to eliminate the Italian Sausage and Pepper Sammies that we've had in previous years. We always include our hot and spicy "Some like It Hot' Chili", as well as our awesome Guacamole that was chosen as one of Foodista's best recipes for Guacamole. We added some baked buffalo chicken wings, a sausage queso dip with mini peppers for dipping, and from my archives dated back to 1979, a veggie dip that has withstood the test of time (all recipes will be in upcoming posts)!
I hope you try this Cheesy Artichoke and Garlic Bread and check out the recipes for our Super Bowl spread too.
What did you add to your Super Bowl feast this year? I'd love to know for future parties. Leave a link too so I can find it on your blogs!
Excuse me while I go pig out a bit . . . hey, it's the Super Bowl!
.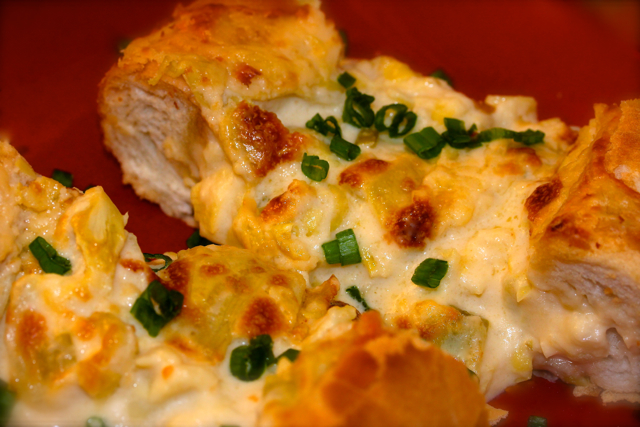 Cheesy Artichoke and Garlic Bread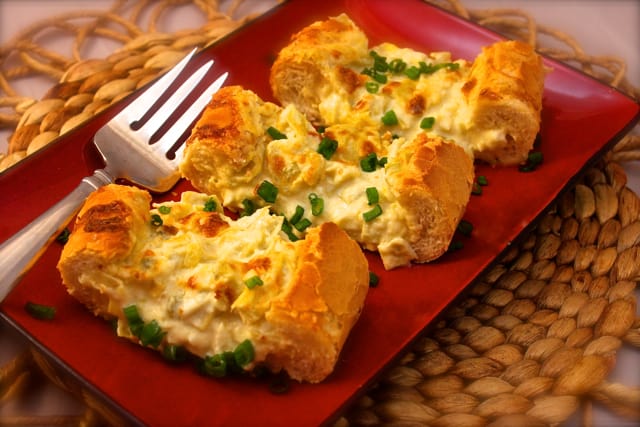 Ingredients
3 Tbsp. olive oil
1 - 2 (14-oz) cans artichoke hearts, drained and chopped (use what you like, but at least use a minimum of one can)
3 - 4 large cloves of fresh garlic, minced
4 green onions, sliced
3 large cloves of fresh garlic, minced
1 cup freshly grated Parmesan cheese
½ cup Mozzarella cheese (or ½ cup Italian blend cheese), shredded
½ cup Fontina cheese, shredded
½ cup sharp Cheddar cheese, shredded
¼ cup sour cream
4 oz. mascarpone cheese (Italian cream cheese)
1 tsp. freshly ground sea salt
1 loaf Italian bread, the top sliced off, lengthwise
Garnish: minced green onion stems
Instructions
Slowly and gently heat the olive oil.
Add garlic and green onions, sauté for a few minutes, do not burn the garlic.
Add all of the remaining ingredients (except the bread).
Heat until all ingredients are hot and blended together.
Slice the top of the bread off, lengthwise, but not completely in half.
Scoop out a "little bit" of the interior bread (save to use and dip into artichoke mixture).
Pour the artichoke-cheese mixture into the bread shell.
Bake on the bottom rack of oven until it begins to turn golden brown and bubbly.
Broil for only 1 or 2 minutes (still on the bottom rack).
Keep a close watch on this so that it does not burn.
Remove from the oven.
Allow to set for about 10 minutes to allow the heated cheese to harden up a bit, so that it's not runny.
Garnish with minced green onion stems.
Slice and serve!
Notes
Can be made ahead and wrapped in aluminum foil and kept in the oven on low to keep warm!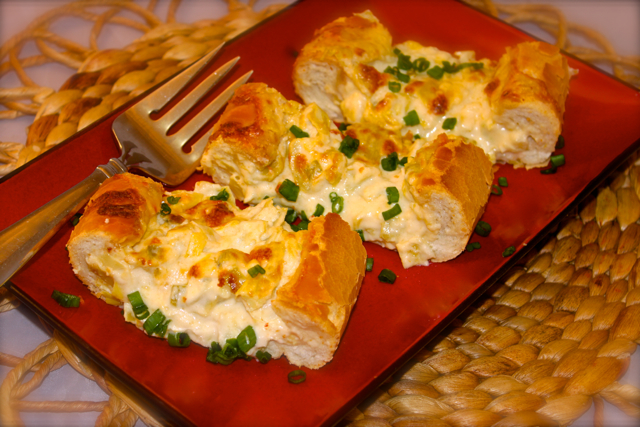 .
.