Buffalo Turkey Chili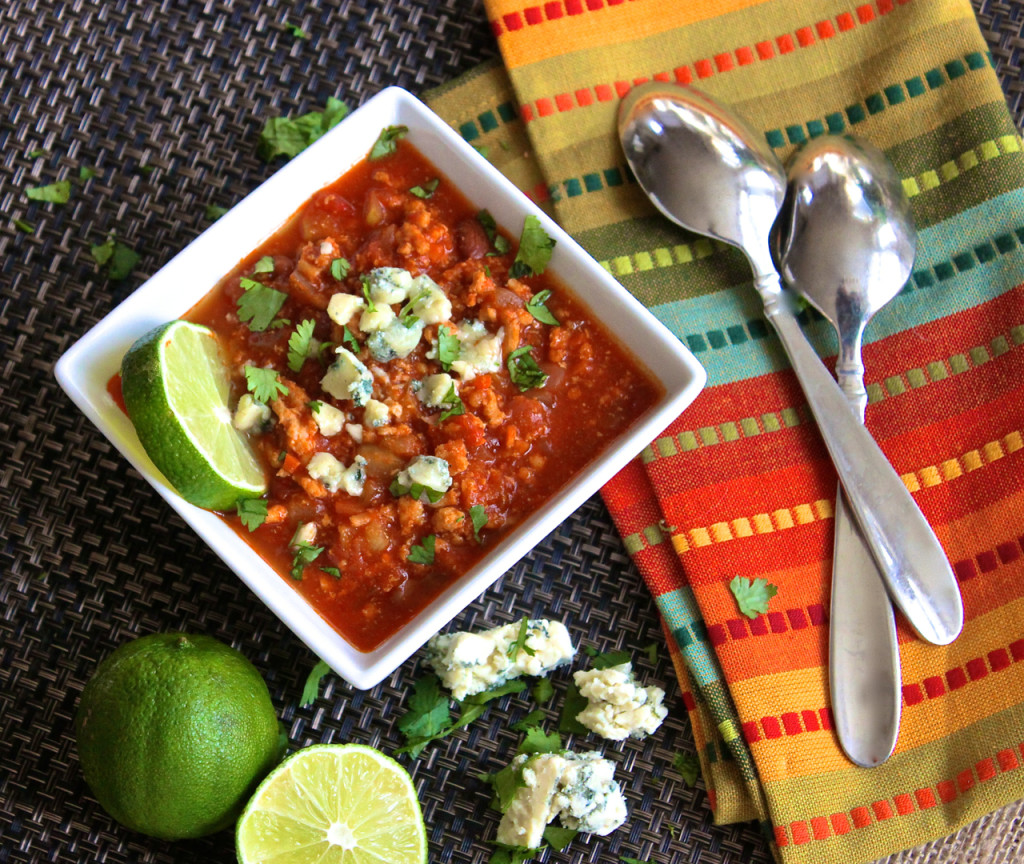 Any recipe that has a "Buffalo" flavor immediately grabs my attention! I'm so addicted to the distinctive hot buffalo flavor and just love how it has been used so creatively lately . . . and I normally don't get into trendy foods. Weird doesn't fly in this household!
In this Buffalo Turkey Chili, the buffalo flavor shines through, but not in an overpowering way. Ground turkey (or chicken) is used instead of beef . . . so I guess that means it has less cholesterol in it, making it a bit more healthy than beef versions of chili. If you think that you'll miss the beefy flavor of traditional chili recipes, you'll never know the difference with the turkey/chicken in this recipe!
Plus if you want easy, this is a cinch to make!
Goodness, all that you do is sauté the best food buddies of onion, celery, garlic and carrots . . . brown the ground turkey or chicken . . . add some spices . . . then throw in some broth, tomatoes, beans, and hot sauce for that BUFFALO KICK! Let it simmer and you're good to go!
For a more true buffalo wing experience, serve this chili with crumbled blue cheese.
Even my husband, Mr. Bill, who is not a huge fan of buffalo wings, really enjoyed this chili. And if he thinks that this chili recipe is a keeper, than you have to trust him (and me) that it is!
This chili is just the yummiest!
Print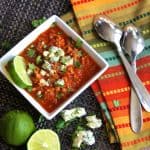 Buffalo Turkey Chili
Author:
Prep Time: 0 hours
Additional Time: 0 hours
Cook Time: 0 hours
Total Time: 0 hours
---
4 – 5 Tbsp. extra virgin olive oil
2 lbs. extra lean ground turkey or ground chicken
2 large carrots, peeled and finely chopped
1 large onion, finely chopped
4 stalks of celery (plus leaves), finely chopped
5 large garlic cloves, minced
1 Tbsp. paprika
2 cups chicken broth
1–1/2 cups of Frank's Red Hot Sauce (less if you prefer)
1 can chopped tomatoes with jalapeños
1 small can tomato paste
1 15 oz. can tomato sauce
1 can cannellini beans, rinsed and drained
1 can pinto beans, rinsed and drained
salt and pepper to taste
Garnish
crumbled blue cheese
sliced lime
chopped fresh cilantro
---
Instructions
Cook the ground turkey (or chicken) in a skillet over medium heat, crumbling it as it cooks, and set aside.
Heat the extra virgin olive oil in a deep pot.
Add onions, celery, carrots, and garlic . . . cook until tender, about 10-15 minutes.
Add chicken broth and deglaze the pan.
Add turkey/chicken, tomatoes, tomato sauce, tomato paste, beans, paprika, and hot sauce.
Simmer for 15 minutes.
Garnish with crumbled blue cheese, sliced lime, and chopped cilantro.
---