Fudgy Dark Chocolate Brownies with Raspberry Sauce
It's time to indulge in something rich and dark!
It's Valentine's Day!
So go ahead and dig in, jump in, or swim in these intensely rich and fudge-y dark chocolate brownies . . . just perfect for two, or one, or how many peeps you want to make happy, happy, HAPPY in the tummy (just make more!).
What do you enjoy for Valentine's Day?
Roses?
Champagne or a delightful red wine?
A romantic candle-lit dinner?
Intimate moments in front of a warm and glowing fire in the fireplace?
A sexy, silky nightgown or pajamas?
Cuddling up to watch a love story movie?
A bottle of your favorite perfume?
For me, it's a romantic dinner ending with something wonderfully chocolate! A true weakness of mine!
And if you like your brownies fudgy, oozy and gooey, than you'll love these! Just look at the inside of this brownie!!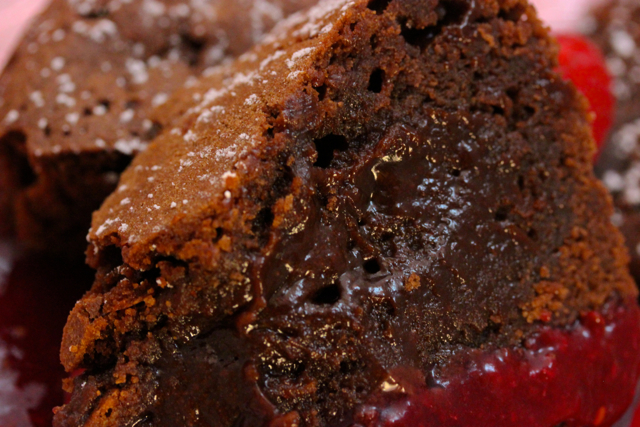 And the beautiful red pool of fresh, sweet raspberry sauce is simply the perfect accent to both the eye and the palette!
This is a super easy recipe too with just a few ingredients, so it won't break the bank either!
And that's what I call AMORE!
Print Fudgy Dark Chocolate Brownies with Raspberry Sauce
Author:
Prep Time: 0 hours
Additional Time: 0 hours
Cook Time: 0 hours
Total Time: 0 hours
---
1 – 4.9 oz (140 g.) dark chocolate
1 stick plus 1 Tbsp. butter, room temperature
1 cup plus 2 tbsp. sugar
3 jumbo eggs, room temperature
1 tsp. vanilla
1 cup flour
Raspberry Sauce
1 package fresh raspberries (or 1 bag frozen raspberries)
Sugar to taste.
Garnish:
Powdered Sugar
Fresh Raspberries
---
Instructions
Preheat oven to 350 degrees F.
Melt chocolate (I use the microwave and it usually takes about 3 minutes).
Add the butter to melted chocolate and blend, slowly not to incorporate a lot of air.
In a separate large mixing bowl, whisk the eggs.
Add sugar to the eggs.
Pour the chocolate-butter mixture into the egg-sugar mixture.
Mix gently.
Add vanilla and flour; mix well.
Line a square baking pan with parchment paper.
Pour the brownie batter into the lined baking pan.
Bake for 40 minutes.
Cool before serving.
Prepare Raspberry Sauce:
With a hand-held immersion blender, blend the raspberries into a smooth, liquidy sauce.
Blend in sugar to taste.
Serve brownies with raspberry sauce in a pool on a plate or decorated as you like.
Garnish with fresh raspberries and powdered sugar.
---
---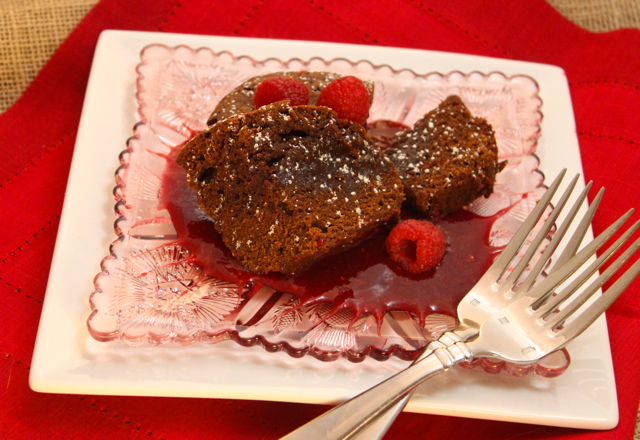 Happy Valentine's Day!
Here are all of the wonderful Valentine's Day recipes shared this week:
Alluring Appetizers:
Exquisite Entrees:
Decadent Desserts and Drinks: