Farfalle with Asparagus, Peas and Pancetta in Cream Sauce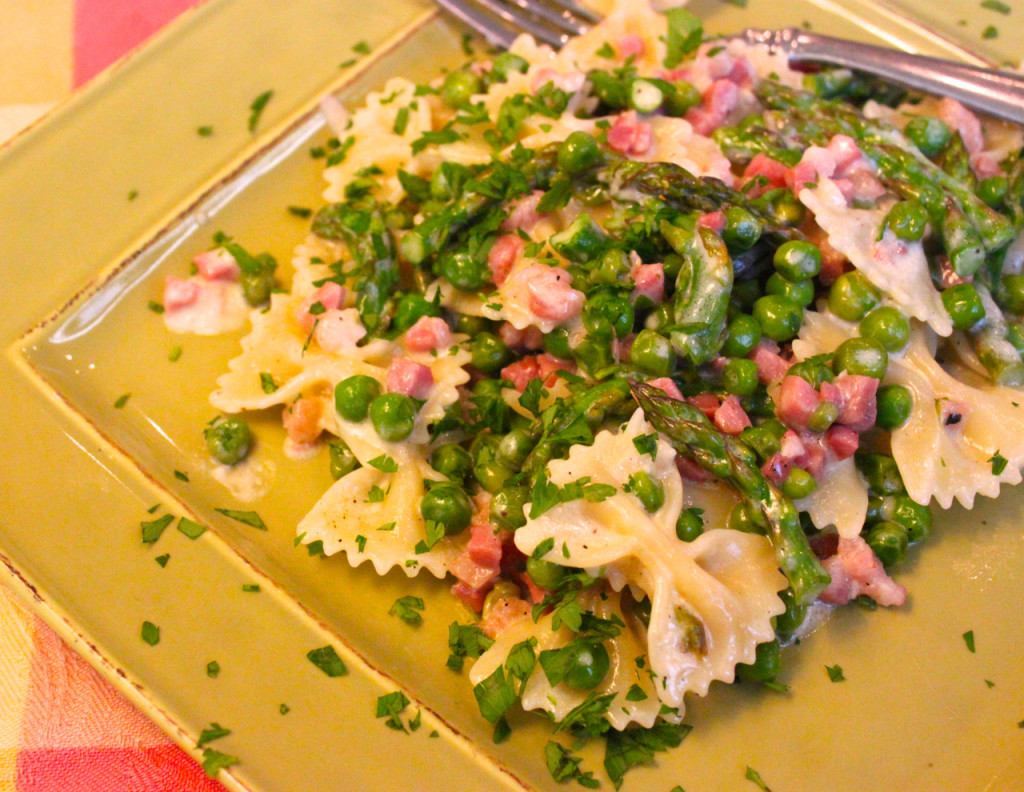 What a wonderful time of year to prepare delicious spring recipes fresh from the garden or local farmers' markets!
Everyone knows what an unusually harsh and long winter we had this year! I can't even believe it snowed in Colorado this week AND IN MAY! Even here in the South, it was unusually colder and for longer periods of time, with many freezing nights that damaged so many of my 'southern weather only' plants (such as gardenias)! So the warmer weather, longer days, and having flowers in bloom are just what we've been needing for our minds, bodies, and souls!
Spring just makes me happy!
Spring also brings some of the best, sweetest, most flavorful vegetables and fruit to use in our recipes. My family absolutely loves sweet peas and fresh asparagus, so those fresh spring ingredients have been exactly what I've been cooking with lately to stay fresh and in season for this Italian pasta dish: Farfalle with Asparagus, Peas and Pancetta in Cream Sauce.
You'll love this!
And talk about easy?
Less than an hour and you've got this yumminess on the plate and table for your family and guests to "ooh", "ahh" and "mmmm" over and certainly ask for more!
.
Print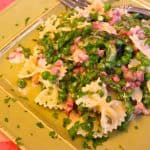 Farfalle with Asparagus, Peas and Pancetta in Cream Sauce
Author:
Prep Time: 0 hours
Additional Time: 0 hours
Cook Time: 0 hours
Total Time: 0 hours
---
1–1/2 cups pancetta, diced into 1/4" cubes (you could also use thick cut bacon if you can't find pancetta in your area)
1 cup of the top tips of asparagus cut off into 1 to 2 inch lengths
2 large garlic cloves, minced
1 cup of fresh or frozen spring peas
1/4 cup fresh Italian parsley, finely chopped
1/2 box of farfalle (bow tie) pasta (if you want more, than you should consider doubling all of the other ingredients)
2 Tbsp. lemon flavor-infused extra virgin olive oil
1 cup heavy cream
3/4 cup freshly grated Parmesan cheese
---
Instructions
In a tall pot, boil water with about a tablespoon of salt added.
In a small sauce pan, heat the lemon flavor-infused olive oil and heat on low (remember, olive oil is sensitive and burns easily).
Add the chopped pancetta and sauté for about 5 minutes.
Place the pasta (farfalle) into the boiling water.
Add garlic, peas, and asparagus to the saucepan with pancetta.
Heat on low for about 10 minutes.
In a large, wide sauce pan, pour in the cream and the cheese, heat on low.
When pasta is cooked to a nice light chewy 'bite' (al dente), drain and add to the wide sauce pan with creamy-cheese sauce.
Add the sautéed mixture of pancetta, garlic, asparagus and peas.
Plate the pasta on pretty plates.
Garnish with minced Italian parsley.
Pass more freshly-grated Parmesan cheese around to your guests.
---