Strawberry Rhubarb Pie with Mascarpone Cream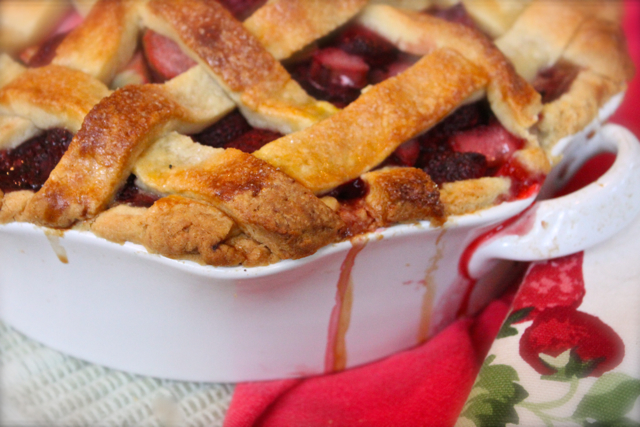 Have you got a sweetie in your life that has a sweet tooth?
Well, my husband is in good company then! And since it is Father's Day, I knew that baking him a pie would be just the thing to bring a HUGE smile to his face!
My rhubarb plants have gone absolutely crazy this year and the strawberries are gorgeous, so what else?
A Strawberry, Rhubarb and Mascarpone Cream Pie!
.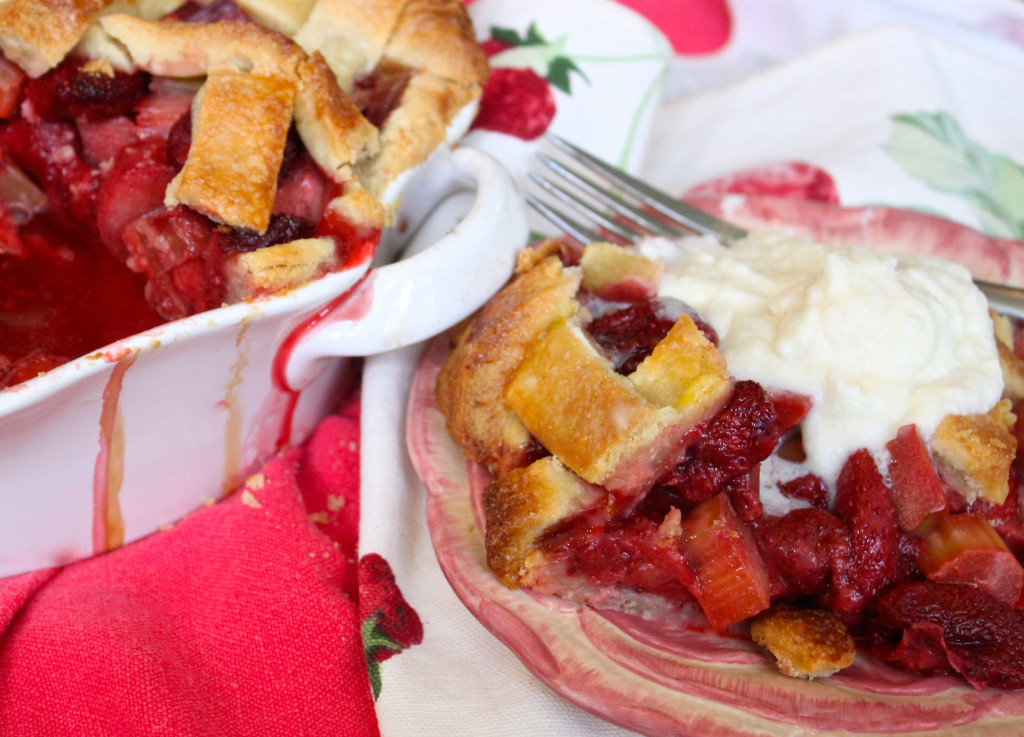 The father of my children is of 'the age' where he isn't asking for any gifts, but anytime I ask him what he'd like for me to make for him, he'll ALWAYS ask for something sweet and baked from the oven.
Perfetto! My kind of gift! Something to make any father's tummy happy . . . happy . . . HAPPY!
The father in your life will definitely feel the love with this sweet gift.
Just look how pretty this pie is BEFORE popping it in the oven!
.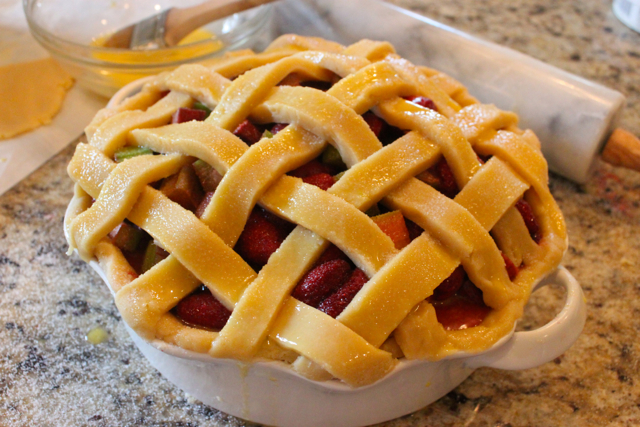 I love to bake and need to bake more often. I'm the savory-preference person in this duo and forget how fun baking something sweet is!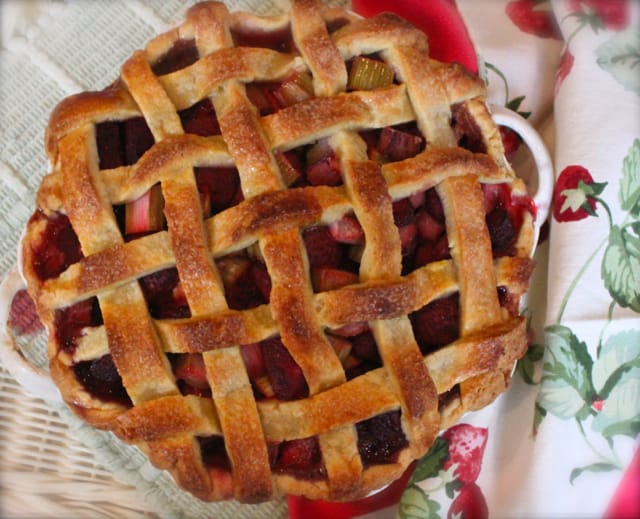 In honor of Father's Day, I'm focusing on something to prepare for the guys in our life, often called "Man Food"!
Well, this may not be a huge beef steak sizzlin' from the grill, but this is man food enough for my guy, plus the gals in my life love strawberry rhubarb desserts too.
So everyone wins with this recipe!
Strawberry, Rhubarb and Mascarpone Cream Pie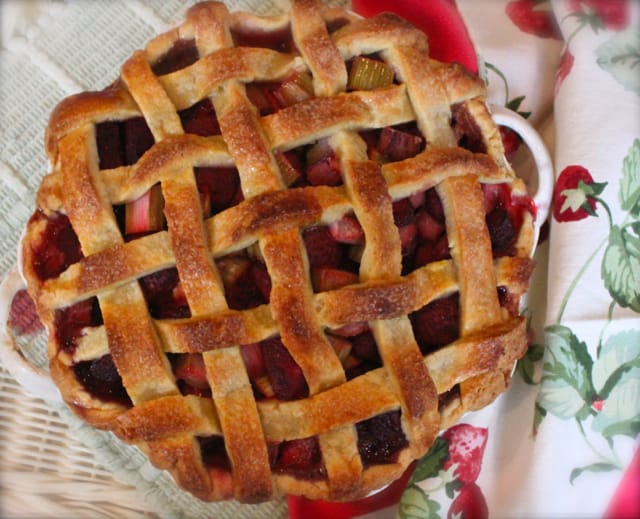 Ingredients
For the Crust
4 cups flour
½ tsp. salt
4 Tbsp. sugar
1-½ cup cold butter, sliced
1 jumbo-sized egg yolk
7 Tbsp. buttermilk
1-½ tsp. vanilla
To Brush on Top of Pre-Baked Pie Lattice-Top Crust
1 egg beaten with a little water, about a teaspoon.
Sugar sprinkled on top (heavily sprinkled)
For the Strawberry-Rhubarb Filling
3 cups fresh rhubarb, cleaned, and cut into ½" pieces
4 - 5 cups fresh strawberries, cleaned, stems removed, sliced in half
1 cup sugar
½ tsp. slat
½ cup corn starch
2 tsp. vanilla
For the Mascarpone Cream Topping
2 cups mascarpone cheese
¾ - 1 cup heavy cream, depending on how thick/thin you like your topping
½ cup sugar
½ tsp vanilla
Instructions
Prepare the Crust
Place in a bowl of a food processor: flour, salt, and sugar. Pulse to combine.
Add butter slices and pulse until the mixture looks like bread crumbs.
Whisk together the buttermilk, egg yolk and vanilla in a bowl.
Add the buttermilk mixture to the flour mixture in the food processor bowl. Pulse until the crust mixture sticks together in small crumbly clumps. If necessary add more buttermilk if dry, or flour if too wet.
Flatten the crust dough into two separate circles of dough and then wrap them individually in plastic wrap and refrigerate for one hour minimum.
Prepare the Strawberry-Rhubarb Pie Filling
Combine rhubarb with strawberries in a large mixing bowl.
Add sugar, brown sugar, salt, corn starch and vanilla.
Stir gently until all fruit is coated.
Preheat oven to 390 F
Remove the chilled crust dough from the frig after at least one hour.
Place a long piece of parchment paper on the workspace and put one of the dough discs on top and then place another long piece of parchment paper on top of the dough.
Using a rolling pin, roll out the dough into a circle that will fit your pie pan with a little extra.
Peel off the top parchment paper layer. Be very careful and sprinkle the top of the dough with flour and place the paper back on top and flip it over.
With care, peel of the new top piece of parchment paper and carefully place the dough in an unbuttered pie baking dish.
Press the crust dough into the baking dish and trim any excess dough off of the sides.
Drain the liquids from the rhubarb and strawberry mixture.
Scoop the fruit onto the pie crust dough.
With the second circular disc of dough, use the same methods above to roll out the top crust layer.
Cut strips approximately ½" wide and then weave into a lattice-top crust.
Brush the top of the crust with the egg wash. Sprinkle very generously with sugar.
Bake for 20 minutes in the lowest rack of the oven at 390 F.
Keep an eye on the crust to prevent burning; place aluminum foil on the top as soon as it begins to look like it is getting too dark and not a golden brown.
Reduce the oven temperature after 20 minutes to 350 F and bake for another 40 minutes when the juices bubble and the crust is golden brown.
Prepare the Mascarpone Cream
Combine the mascarpone cheese with cream, sugar and vanilla; mix until thickened.
Remove pie from oven and allow to cool.
Top with the sweet mascarpone cream.