Packing for Rome, Italy — Great Tips on HOW TO PACK for the ETERNAL CITY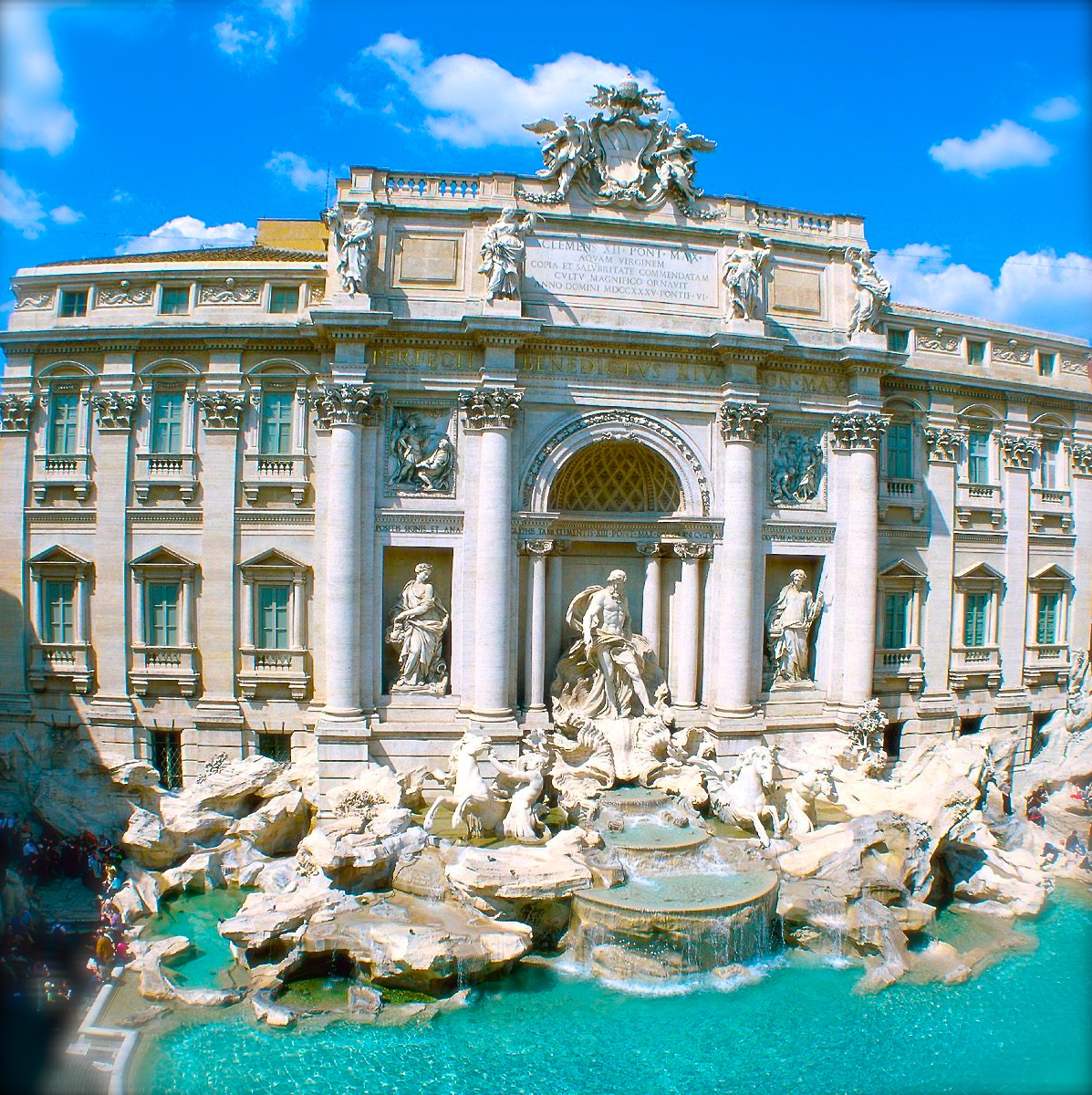 Going to Rome? Dreaming of visiting the Eternal City? Or have you "been there, done that" . . . and like many who love Rome, you're simply wanting to return?
Well, this middle-aged woman and husband will arrive in Rome very shortly and man, have I ever been doing my research for our brief 5 days in this incredible city!
One great thing about teaching in a university is that graduation is often (at least for my college) after the first week of May (like NOW!) and the Kindergarten through 12th grade little kiddos are still in school until Memorial Day (and even later if they have snow make-up days such as this year). Meaning — LESS CROWDS in Rome at this time because families are still at home until their kids are finished with school.
We'd love to travel in October, but that's when I MUST be in class to teach . . . so May it is for us to travel overseas!
I've been to Italy in October . . . yes, less crowds, OK weather, but lots of rain.
Weather in May, springtime, is supposed to be nice, but yet unpredictable in Rome. Isn't springtime that way EVERYWHERE?
For example, some say it's really hot and often in the 90's during May in Rome . . . but today my weather app. shows that it is currently 72 F degrees there, while we're sweating it out in South Carolina at 92 F degrees today (and normally we have a 79 F degree average!). I have been buying and packing stuff for expectations of 90 degrees and now I'm thinking 'hmmm, better pack a jacket for him and a sweater for me for possible chilly evenings' when we're walking around doing the passiagatta!
Here's a list of the MUST-PACKS for visiting Rome, what I pack and why:
Super-comfy walking shoes!
WHY these?
Whatever you do, do NOT wear new, uncomfortable, in-fashion shoes to Rome! It cannot be stressed enough to invest in GOOD walking shoes in this city, because Rome is a walking city and it will tear up your feet.
Bring VERY comfortable shoes. This is the single most important thing to take on your Roman holiday! Walking for hours on cobblestones (and that's pretty much all you'll be walking on) is incredibly rough on your feet, so pack the most comfortable walking shoes you have. . . preferably 2 pairs.
Secondly, I don't like my feet getting dirty, so closed toes and closed heels only for me, please. Rome's streets and 'sidewalks' are cobblestones and bumpy . . . you want comfort and flexibility. Many floors are marble and slippery . . . rubber soles necessary! Forget the heels, even pumps for that matter! Stop trying to make a fashion impression . . . now is not the time when walking around Rome, Italy!
These shoes are also stretchy and airy . . . LOVE the khaki neutral colors! Where have these shoes been for all of my travels? We're not staying in any fancy resorts that spray the sidewalks off twice a day . . . we'll be in Rome with dirt on the streets, just like any other big city. Elastic, airy and breathable, comfortable, and enclosed. A perfect shoe for my travel needs.
Pack a pair of pretty shoes for going out in the evening.
I always pack in layers. I bring several tops (no t-shirts), several sweaters (lighter weight ones will be fine), 2 pairs of pants, and a mid weight jacket for my husband. Remember that in Rome, it's all about layering your clothes to easily adjust to the weather conditions.
Don't pack flip flops, and don't pack white walking shoes! It screams tourist! And you want to blend in 'as best as possible' because you'll still look like a visitor! Italians wear a LOT of skinny tight jeans in any color ….. "Converse" tennis shoes and super bright-colored sneakers! Scarves are worn everywhere!
Don't forget for your aching feet: Band Aid healing blister pads! Band-aids go with us everywhere . . . You can thank me for this tip!
Low Cotton Footy Socks
Why?
You can wear them inside your shoes if you like, but most importantly, you can pack and wear them around your hotel or apartment room where the floors are dirty (actually this in all countries and cities . . . carpets are rarely cleaned) and you'll go to bed with clean feet.
They are also comfy to wear on a long-plane or train flight!
Wide-Brim, Cotton, Packable Sun Hat
Why this hat?
Water wicking ability to keep your head and hair dry(er); crushable for packing, hidden pocket inside; not as wide as a hiker's hat, double chin cord if a wind gust blows it off, plus on the water (and we are on the beach a lot), it floats!
Also pack SUNBLOCK and ALOE VERA for sunburns! We live further south than Rome and we KNOW how hot and intense the sun gets, especially for my husband who has super-white Scottish skin! Even though I'm Italian with olive skin, I still wear sunscreen!
Supportive Cotton Razor Back Strap Bra for Boobie Gals Like Me
Why this bra?
#1 – I demand cotton undergarments at all times, especially where it is hot! Look at the airy panel on the back! This was a huge selling point . . . cooler yet!
#2 – Front closure, so it's easier to put on, and
#3 – no darn, hard, uncomfortable underwire.
#4 Racer-back straps so they aren't always falling down!
Skin-Toned, Neutral-Full-Coverage briefs (one size larger)
Why these?
Again, cotton, cotton, cotton. I buy a couple packs of new briefs in a size larger . . . no one needs to see a panty line, even if they don't know me! Neutral colors . . . always!
Neutral-Colored, Cotton Krinkle Guaze Pants
Why these pants?
Comfort, coolness, no ironing needed, very packable doesn't show much dirt (from Brownstone's — a top seller).
Why?
Same reasons as above: neutral, goes with everything, packable and no ironing needed, classy color . . . note that Italians don't wear a lot of loud colors, so you blend in better! AND they also don't wear a lot of black as some people misunderstand! Going to a funeral in Italy? Then that's when to wear black!
Olive is another great color that Italians wear . . . after all, they are fashionistas in Italy!
During spring, Rome can get chilly in the evening so pack a cute jacket or sweaters.
Bring items that are simultaneously stylish and comfortable.
Note: Vatican dress code requires all those entering St. Peter's to be modestly dressed. Shoulders must be covered. No shorts are allowed for men or women. Men must wear long pants and women choosing to wear skirts must have the length to the knee at minimum.
Several Pretty Scarves
Why?
Scarves can dress up any casual outfit for dining out. Plus Italians love them and wear them often; you'll fit in better with the locals and won't look like the stereotypical ugly American tourist. Romans dress up for everything.
PS: Buy some more Italian scarves; you won't find anything more beautiful anywhere!
One Casual-Nice Outfit & Nicer Casual Shoes for Finer Restaurants/Opera, etc.
Why?
Pack items that are stylish, yet versatile to mix and match and still comfortable. Romans are quite fashionable, so bring accessories to dress up an outfit.
A BackPack (preferably with a lock)
Why?
These are more difficult for thieves to steal off your back then from off your arms . . . and if locked, it's even harder to unzip and steal things that are great in a (locked) backpack: cameras, binoculars, maps, guidebooks, water bottles, wet towels in a zip lock bags, etc.
PACK THE FOLLOWING FOR ON THE PLANE/TRAIN/CAR:
Neck Money/Passport/ID Pouch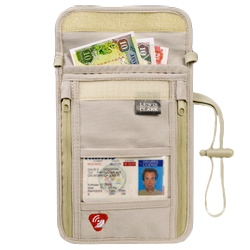 Why pack one of these?
Pick pockets are everywhere! . . . especially in touristy areas where you're looking up and gawking at something beautiful; and that's just about everywhere in Rome, Italy! Tuck this under your bra and don't let the strap show if possible. The only thing that should be in anyone's back pocket (male or female) is a cheap wallet that is EMPTY! If you put your money in your front pockets, keep your hands in your pockets, split your money in both pockets and with your travel companion, and put the cheap, empty wallet in your back pocket. That said, I still use a pouch and keep my arms crossed at all times . . . even if I appear to be looking 'mad or indignant' . . . keep your arms crossed when taking a handbag, BUT . . .
DO NOT PACK A HANDBAG! Especially an expensive designer bag to flaunt or to try and fit in with the very, high-fashion conscious Italian women who wear them everywhere: you will be a easy target! If you have to pack a purse, take an old, junky one and where it strapped over your neck like a book bag! Hanging on one arm is just asking for trouble. Going out for the evening to a nice ristorante? Pack a tiny evening bag that carries only your necessities and keep it close to your chest when not in the ristorante! Make sure you take a handbag that has a zipper, if you need to pack a handbag!
Noise-Cancelling Head Phones
Why?
My husband and I travel by plane A LOT! We finally decided to give each other a pair of these indispensable head phones for each other for our Christmas gifts — they are pricey and worth every penny! All of the noise on the plane or 'anywhere' is buffered out, PLUS, you can plug it into either the music or movies offered on the plane or your own electronic device (that is allowed on the plane).
These are so awesome that my parents bought some . . . Tip: Get the 'over-the-ear' model . . . you'll thank me!
Speaking of peace and quiet, I also pack ear plugs (and truthfully have these in my handbag) at all times!
Ear Plugs!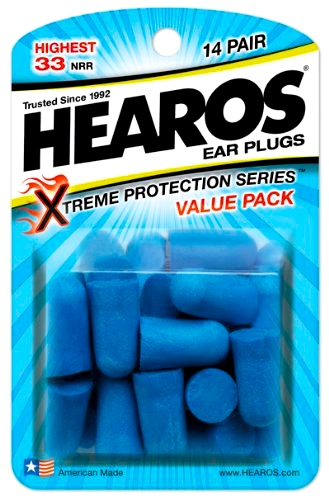 Why ear plugs on top of headphones?
First I put these on WITH my headphones on the plane when I sleep . . . I hear nothing AT ALL! In fact, my husband has to use hand signals to communicate with him! Plus, you'll need these in hotels that might be noisy (happened in Russia when I heard things in the next room that I seriously could have lived without . . . if you know what I mean)! Or you may sleep with someone who snores (i.e. my mother on a trip to London with me! Ugh)! Or you may have a hotel room on a noisy street (like I did with my sister on a trip to Paris)!
You need good, deep sleep on vacation . . . take ear plugs! They're cheap!
Eye Mask
Why take an eye mask?
When someone on your plane has their reading light on, these are the best. If you're flying during daylight and you're tired, you'll love these! I sometimes even use them around my house if I take a nap during the day. The kind that I buy? The kind that has SPACE between the mask and your eyes so it doesn't smash up your make-up or your eyelashes. I can't remember where I found them or the brand name, but they are great!
Travel Neck Pillow
Why?
Many airlines don't offer travel pillows anymore in coach seats (sorry, we're cheap and that's where we sit), plus why do you want to use a pillow that someone else most likely used? Ick! They're great for when you're driving on the European auto-strada or American interstate system too. Don't forget trains, which we'll use all over Italy to avoid driving on this trip. I have a FOM micro-bead pillow that has a soft down-like smushable interior, unlike all of the hard-as-a-rock pillows offered. I don't know where to find FOM adult neck pillows anymore; they used to have kiosks in every international airport, but I haven't seen them for years and T can't find them online either. Mine is beige and neutral like everything I have for traveling.
Luggage on Wheels
(no more than one large size luggage for TWO people and a carry on)
Why?
Cobblestone, rough, bumpy streets and sidewalks, many stairs. Few elevators in old buildings. Plus this is so much easier on your back!
PACK LIGHT!
Electricity Converter / Adapter Devices
Why?
Got a hair dryer, curler or flat iron? Want to charge your smartphone? Want to charge your tablet? Want to use your electric shaver? Want to charge your camera batteries? You gotta have these!!! We don't have REI, actually, I don't even know what brand we have . . . but I have a KIT with several different conversion models for Europe, Asia, etc. Rome operates on 220 volts, while American outlets use 110 volts.
Don't leave the country without this!
Small Compact Binoculars!
Why?
These are helpful to view just about anything from the top of the Colosseum to viewing the Sistine Chapel!
Extra Camera Batteries and Camera Memory Discs!
Why?
When you are in a beautiful city like Rome, you'll take tons of photos and you'll run out of space on your memory discs and your batteries will die quickly. Pack more of each!
Don't forget your camera and cell phone battery chargers and CORDS! We're just so electrical now!
Also get a back-up iPhone battery charger for when you are out and about and your battery is dying. I have a "Mophie" available at Verizon.
High-Quality Polarized Sunglasses!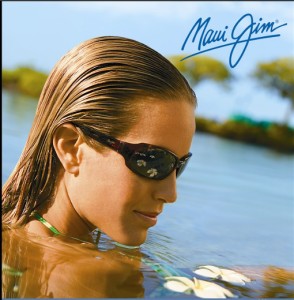 Why?
Nothing beats sun glare like polarized shades, plus protecting your eyes! We are brand loyal to Maui Jim's, maybe not the most fashionable like Prada's, but we go for function!
A foldable umbrella!
Why?
It rains (and sprinkles often) in Rome and you don't want to be in a position of having to buy an umbrella from the people trying to sell you one on the streets because they know you need one.
Plastic Bags
Why?
Don't leave home without them! Put your dirty clothing in them, put ANYTHING that might spill in your luggage in them! Pack books in them to bring home! We always pack about 5 of each size and always use every one of them!
Wet Wipes
Why?
To clean your hands, surfaces, anything! I pack a brand new package that lasts an entire trip! Wipes aren't just for baby's butts!
Small Hand Towels & Wash Clothes
Why?
When it is hot, like it was in Thailand and the last time I was in Italy, run your hand towel under running cold water (and in Rome, there are free-flowing water fountains free to use all over the city), wring out all but a little bit of the cold water and put it in a large zip-lock bag. Carry it in your back pack or zippered tote (don't put your money in that tote or back pack!), and when you're hot, you've got a clean, cold towel to refresh your face anywhere! To be honest, I wear it around my neck to keep me cooler. I don't care what I look like to others . . . I'll never see them again! Are you a warm person or a woman going through, well you know, "the stage"? Then you'll need to pack two of these towels. I don't recommend stealing towels (or anything) from hotels. That's just a bad, dishonest thing to do. Take your own; you have them!
Take wash clothes because they aren't offered in Italy since they don't use face wash cloths like we do in the States.
Re-Fillable, Durable Water Bottles
Why?
As stated above, there is free, clean-as-a-whistle, uncontaminated water flowing from free fountains all over Rome. Stay hydrated! You may also consider freezing your water in your hotel or apartment freezer overnight, because it will thaw out in the Roman heat and you won't have to buy over-priced bubbly, mineral water on the streets.
Pain Relievers and Over-The-Counter Pharmacy Items
Why?
In Italy, you won't find convenience stores. And if you find a drug store (pharmacy) you will have a difficult time picking up little things such as Alleve, Advil, Tylenol, or baby aspirin and PEPTO-BISMOL, laxatives, and antacids (I have a bad tummy!). It's quite an ordeal to pick these up in Italian pharmacies, often requiring a physician's prescription. Take the supply that you'll need. Who needs a bigger headache in Italy, if you already have one!
Meds and Prescriptions
Why?
No brainer . . . they won't fill them in Italy!
Hard-To-Find GOOD GuideBooks!
Why?
These are the little gems of books that are written by specialists in each area: architecture, music, art, religion, culture. The contributors offer inside secrets not shared in 'regular' tour guide books.
My favorites are:
The Little Black Book of Rome: The Timeless Guide to the Eternal City" (2010) by Vena Neskow. A lovely tiny leather, spiral bound book with pull-out maps of each section of Rome with: main things to see, dining, and lodging tips. Also this is no bigger than a large-sized man's hand! Why pack an encyclopedia??? We take this everywhere we go in Rome!
"City Secrets: ROME The Essential Insiders' Guide" (2014) by Robert Kahn (plus it is beautifully bound in fabric the way books used to be bound). ANOTHER BIG PLUS: this is a very small book, but packed with excellent tips not found in the 'common' tour guide books. Again this little book is no bigger than a large-sized man's hand!
If you want a more commercial, large tour guide book, I recommend:
LONELY PLANET's "Discover Italy and Experience the Best"
A Small Essential Survival Italian Phrase Book
Why?
Italians will appreciate the fact that you are trying to speak their beautiful language. It's great to know simple phrases such as:
"Hello" — "Salve" (don't say 'ciao' because you don't know them; therefore you speak in formal terms to strangers in Italy . . . remember your manners in Italy.
"Thank you" — "Grazie"
"How are you?" — "Come stai?"
"Good morning/evening/night" — "Buon Giorno/Serra/Notte"
"I'm sorry, but I don't speak Italian" — "Mi dispiace, ma parlo l'italiano non molto bene."
"Excuse me" — "Mi scusi"
"Please" — "Per favore"
Other commonly used survival phrases that will come in handy when spoken in Italian:
"Where is the bathroom?"
"How much does this cost?"
"What is the specialty of the house (both food and wine)?"
"Where is a good restaurant?"
"Where is the train station?"
"I'd like to buy tickets to ….. "
"Can you give me directions to . . . . please?"
A Beautiful Journal
Why?
Just a personal preference of mine to record and stash some prints of a remarkable journey in life! Barnes and Noble has a beautiful selection OR you might even want to pick up a (very expensive) hand-made Italian paper journal in a gift shop. Italian artisan paper is exquisite!
Camera, Camcorder, Several Memory Discs and Batteries, Chargers
Why?
You'll take LOTS of photos in Italy!
I pack my DSLR camera with a couple of lens, two 512 memory cards and a 2 gig card, a circular polarizer filter that truly makes a difference in your pictures by reducing reflexions from windows or in water. They just make everything more vivid.
Take a storage device to download your pictures to (an external hard drive or several flash jump drives). I also take my laptop and download all our pictures every night. Memory cards are expensive in Rome so get them at home.
Miscellaneous items to consider:
Take plenty of cash because many places do not accept credit cards!
A small container of liquid laundry detergent for washing out clothes in the bathroom sink (you won't have to pack as much)
A flashlight app installed on your smartphone
Italian apps for language and 'where to eat/see/go to' on your smartphone
A cheap magnifying glass to read the tiny, super, TINY print on maps, plus you never know when you're lost wondering the streets of Rome (as you should do) and need a small compass (or install an app for a compass on your smartphone)!
Mini tri-pod for camera — just don't think you can take it into the Vatican, you'll be escorted out by the police…..seriously! They aren't allowed in the Vatican!
An extra roll of toilet tissue (yes, Italy has toilet paper, but if you have a little bit on you and you get into one of those horrible 'have-to-pay-for-it-ain't-free' potty stalls, and there isn't any T.P., you'll be so glad that you brought some! Trust me, it happens!
Anti-bacterial gel . . . despite what some say, I don't care . . . I just don't like germs of any nationality . . . even American germs!
Your daily toiletry items — only in smaller travel sizes. Good grief, they do sell shampoo, etc. in Italy for crying out loud if you run out of things! It is by the way, a developed country!
Take a good camera bag with a large strap that can go across your body not just your shoulders, your camera(s), various lenses, an external storage device for photos with card reader and battery charger.
Travel packs of kleenex/tissue since most of the pubic bathrooms (for a fee) are disgusting in Italy (truly something Italy needs to work on), but then as my father used to say, "They aren't asking us to come here!"). Rome is ancient, unlike the young USA, so be prepared for a little dirt and don't complain . . . it may be cleaner in the USA (in some ways) but we don't hold a candle to Rome's antiquities.
Put this in your each piece of luggage: Name and phone number of the lodging where you are staying (in case your luggage is lost),
In my carry-on: (2 tiny guide books, iPhone, iPad, headphones, make-up, toothbrush and paste, brush, a change of underwear, and footies to wear on the plane.
Spare contact lenses (if you wear them like my husband does)
Extra reading glasses
Nice but not expensive accessories: Italians tend to dress up a bit more for dinner. For well-dressed Italians it's all about the details. Some pretty bracelets and/or necklace and earrings, several pretty silk scarves.
Forget Packing an Empty Suitcase for Bringing Souvenirs Home
Why?
Airlines make you pay for more than one bag now and the weight will cost you more.
Do what we do — ship everything home from a local MailBoxes, Etc./UPS/FedEx store where breakage is insured (and isn't in your suitcases), and everything is bubble-wrapped. Plus this gives you less to handle, get lost, or worry about.
If you can think of anything else to recommend to each other,
please let me know in your comment!
We can all learn from each other's experiences!
Please share the love and pin this vertical image:
Thank you!