Authentic Spaghetti alla Carbonara, a Roman Pasta Tradition
You know the saying, "When In Rome, Do As The Romans"!
My husband and I live by this motto no matter where we travel!
And in our latest journey to Italy, we did just that! While in Rome, we ate every meal as do the Romans . . . with no regrets except for the several extra pounds that we gained. Yet we easily walked the pounds off within days in this very walkable city.
Eating traditionally, as the locals do, is the only way to dine for my husband and me, no matter where that destination might be: The Hawaiian Islands, The Amish Villages of Iowa, or the various regions of Italy. By eating what the local natives have thrived on, we immerse ourselves deeper into the culture of the 'places' we have had the pleasure of visiting. So I did a little research on what it was that we were noshing on in Rome and the origin's of the dishes. This is just the first in a series of seven (7) posts on Roman cuisine! I'll begin with Spaghetti alla Carbonara, and continue in subsequent posts about the savory staples of Veal Saltimbocca alla Romana, Cacio e Pepe, Carciofi Alla Giudea (Artichokes), Bucatini all'Amatriciana, Gnocchi alla Romana and Roman-Style Pizza.
Keep in mind that Italy's cuisine is very regional and Roman cuisine is known for many of its distinct culinary specialties: Caci de Pepe, Veal Saltimbocca, and Spaghetti alla Carbonara just to name a few.
Beginning with Spaghetti alla Carbonara, truthfully what I discovered is that the origin of this recipe, despite much discussion, is indeed vague and unclear (no one really knows for sure where or how this pasta dish originated in Rome).
First of all the name itself, 'carbonara' means 'charcoal burner'. Since the name is derived from the word 'carbonara', the dish may have first been prepared as a meal for Italian charcoal workers. In parts of the United States, the term ultimately led to 'coal miner's spaghetti', of which both of my grandfathers were coal miners in Iowa who immigrated to the States in the 1910's. Some say that this recipe's origins come from the region of Abruzzo where woodcutters created fuel from charcoal and prepared pasta noodles over hardwood charcoal fires just as we in America would grill food over charcoal. It has even been suggested that this classic dish was created as a tribute to the Carbonari , or 'charcoal men', a secret society that existed years ago. Still, other stories claim that the true meaning of this pasta resulted from coal mine workers who prepared pasta with a large amount of pepper to resemble flakes of coal. One other legend states that during the food shortages after WWII, the recipe was developed from the eggs and bacon given to the people of Rome by the Allied troops.
The most likely tale (and that which I'll give my personal stamp of approval) comes from the official cookbook of ALL Italy, "The Silver Spoon": this pasta recipe has always existed within Italian family cucine (kitchens) and in local "osterie" (small eateries that serve wine and simple food) before traditional Roman cuisine became famous and before becoming known as a traditional dish of Roman cuisine.
So who knows the true story and origin of this absolutely delicious and famous Roman pasta dish?
All I know is that while in Rome, I simply HAD TO TRY Spaghetti alla Carbonara from the source . . . ROME. It is simply delicious!
So now what about the recipe, you ask?
SIMPLICITY is key, not only in this recipe but truthfully, behind the genius of all Italian cuisine!
That being said and true of this recipe, this Roman specialty has a tremendous amount of debate over how to properly prepare carbonara!
One thing that is agreed upon is that Roman Spaghetti Carbonara is a pasta recipe based on a delicious, 'white sauce' that develops from cheese (Pecorino Romano), eggs, 'guanciale' and black pepper. Even though the spaghetti pasta shape is the one most traditionally used, you can also use bucatini as a close second choice.
All Italian chefs believe that any dish, including Spaghetti alla Carbonara, is only as good as the quality of the ingredients that one uses in the preparation of the dish. And that begins with the type and cut of pork used in this classic pasta specialty of Rome.
Although difficult to find outside of Italy, most experts and carbonara aficionados will agree that the pork of choice to use in carbonara is the procured meat, 'guanciale' (the cheek of the pig) as the most commonly used meat for carbonara in all of Italy, especially since it is a delicacy from the Roman and Lazio area of Italy. Since this meat is very difficult to find and is also very expensive due to its scarcity, it is acceptable to substitute Italian 'pancetta' and at the very least, a high-quality thick-cut bacon. There is an amazing difference when guanciale is used if you can get your hands on it. It is mostly fat . . . and the fat is where it's at! Using regular American thick-cut bacon is the last resort and if you have to use it, make certain that you do not use smoked bacon.
The preparation of carbonara debate begins with how you first sauté' the guanciale . . . in either olive oil, lard or butter, or all by itself. Many Italian chefs and cooks say that there is enough fat in the guanciale to render it's own hot, melted fat for the proper sizzling sauté. Truthfully, guanciale is fattier than any other cut of pork that I have ever seen! Whatever you choose, do not drain any of the fat from the cooked guanciale! You MUST save this fat to include in the preparation.
When the pasta is hot and cooked 'al dente — to the tooth', it is removed from the source of heat and tossed into the guanciale and fat. From there you add the cheese and raw eggs (that will cook from the pasta's heat — so don't worry). Although you set aside some of the hot pasta water that the spaghetti noodles have cooked in, do not add water to the sautéed guanciale . . . it is not supposed to be boiled! You add any hot pasta water after this last step in case you need to make the 'sauce' more creamy and silky.
Again, there are additional points of disagreement: whether or not to use whole eggs or only the egg yolks: Traditionally, use the entire egg because nowhere did coalminers in Italy save any egg whites in a cooler to save for later use! However, most people today believe that egg whites make the sauce more 'slimy', so I recommend using the yolks only, with the addition of possibly one entire egg . . . I just don't enjoy slimy foods! Also, try to find the best, most freshly-laid eggs that you can find . . . hopefully laid by local, free-range hens. Quality is key! Make sure that you set your eggs out early to rest to room temperature. When draining the pasta, set aside some of the hot pasta water. Whisk a little hot pasta water with the eggs first and then add this to the pasta/guanciale on the lowest heat, tossing continuously until smooth and silky.
The next point of debate is whether or not to include or leave out any cream or butter or to just use a little bit of the hot starchy pasta water to make the sauce more silky by itself. Cream or butter? Not in the classic recipe anywhere will you find cream or butter as ingredients. The eggs, with a little addition of pasta water, are all that is needed.
The recipe war continues with the type of cheese used: Traditionally it should contain Pecorino Romano from the region, but others state that it is fine to substitute Parmigiano. I say stick to tradition if possible, or use a combination of half of each of the cheeses.
Speaking of 'the sauce' it is really incorrect to speak of an actual carbonara sauce because the recipe belongs to those pasta recipes that are inseparable from their 'condiment' or 'sauce'. The sauce—a white-golden cream studded with glistening guanciale bits—is created with the pasta itself during the actual preparation; it is truly not a separate sauce. Despite using the word 'cream', there is no cream in authentic carbonara.
The pasta is not tossed on direct heat so that the eggs don't cook to a lumpy, hard 'curdled or 'scrambled egg' stage. Your goal is to create a creamy sauce from the eggs instead.
Finally, about onions and garlic: neither is authentic in a true Roman Spaghetti alla Carbonara. But if you like garlic, then add it either to the pasta water before boiling the pasta OR add it after the pork has been sautéed. A garnishment of minced parsley is also not traditional. Just a sprinkling of more cheese is used for the final presentation and that's it!
In the States, various versions of Carbonara have been created in a vengeance since falling in love with the dish and sometimes include peas, but these are only variations on the classic recipe in which no vegetables are added — which then would not be a true carbonara at all. There is no culinary argument about adding peas to the original, authentic recipe — don't add peas, despite Americans' desire to add them to the basic recipe equation.
But as in every recipe that I share here on my blog, I recommend that you always prepare recipes that will satisfy YOU and not me or the expert Italian chefs. That said, have fun and enjoy this delicious Roman recipe!
So now that you know a little more about the true, classic, authentic, traditional recipe of Rome's Spaghetti alla Carbonara, it's time to impress yourself, your family and/or friends with your cooking skills in preparing this delicious recipe.
Don't forget to also pour a lovely glass of wine and enjoy; preferably a bianco vino from Lazio, such as a fruity Frascati. Serve with a warm basket of bread to mop up any sauce remaining on the plate.
Buon Appetito!
Here is a youTube video that demonstrates the PERFECT way to prepare Spaghetti alla Carbonara!
Print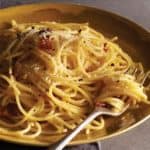 Classic Spaghetti Carbonara
Author:
Prep Time: 0 hours
Additional Time: 0 hours
Cook Time: 0 hours
Total Time: 0 hours
---
Description
This recipe for Carbonara is as classic and authentic as it can get! It's extremely easy as well as fast with a handful of quality ingredients. Loaded with cheese, creamy eggs and pancetta or guanciale. Ready in 15 minutes!
---
4 – 6 oz. Pancetta or Guanciale, cut into 1/4″ cubes
1 Tbsp. good olive oil (for sautéing)
1 lb. imported Italian dried spaghettoni noodles (the largest size of spaghetti, do not use 'spaghettini', 'angel hair' or thin spaghetti)
1 tsp. salt (for the pasta water), freshly ground, if possible
2 jumbo eggs, plus 1 egg yolk (per person) at room temperature (so double this for 4 servings)
1/2 cup freshly-grated Pecorino Romano cheese
1/2 cup freshly-grated Parmigiano-Reggiano
(or use 1 cup of either cheese, depending on your preference)
Freshly-cracked black pepper (generous amount)
Extra grated Parmigiano cheese to garnish individually
Optional – diced Italian parsley for garnish
---
Instructions
In a very tall stock pot, boil 4 – 6 quarts of water with the salt added.
Add the pasta to the salted boiling water and cook, stirring occasionally, removing pasta from hot water 1 minute before it becomes 'al dente' (because the pasta continues to cook a bit).
While pasta is boiling
In a large skillet, heat olive oil (do not burn it).
Add pancetta or guanciale; sauté over medium heat; cook until pork has released the fat and edges are crispy and golden brown; about 3 minutes, making certain that the pork isn't cooked too crisp and you can visibly see the liquid fat from the pork sizzling in the pan.
Reduce stove heat to warm and keep the skillet of pancetta/guanciale on the heat.
While the pasta is cooking, break the full eggs and extra egg yolk into a small bowl.
Add cheese and gently whisk until mixture is smooth.
Drain pasta, reserving about ½ cup of the hot pasta water.
Place the pasta in the warm skillet with the pancetta or guanciale and turn off the stove.
Toss quickly to mix well for one minute.
Remove the skillet from the heat (If you have a warm spot or a food warmer, place the skillet there to toss the pasta) and continue to stir the pasta in the skillet quickly for another minute.
If necessary, add a little bit of the hot pasta water to the pasta and sautéed pork, about ⅛ cup at first to get it silky and creamy.
Pour the egg and cheese mixture into the pan.
Stir quickly again so the eggs don't thicken to the point of becoming 'scrambled eggs'. Remember that it is vital that you work fast during the stirring or the pasta will get cold and as a result the raw eggs will not cook and the 'sauce' will be runny. The heat of the pasta cooks the egg and a creamy sauce should form. (NOTE – If the mixture is too thick, add a tiny bit of the hot pasta water to reach your desired consistency, which should be creamy).
Season very generously with freshly cracked black pepper.
Transfer to individual heated bowls or plates and serve immediately.
Sprinkle with more freshly-grated cheese.
Serve immediately while hot!
---
---
.
Other photos with source citations for you: