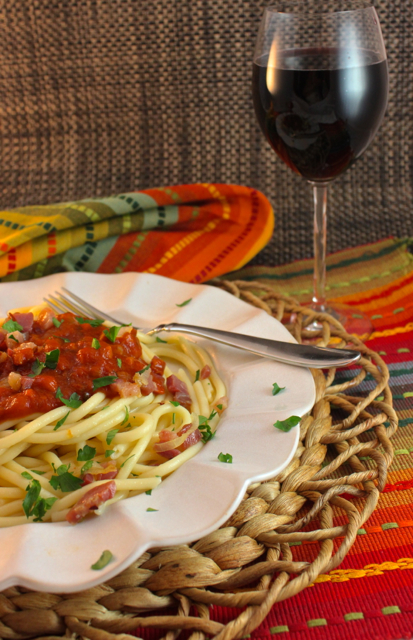 With the tragedy of the recent earthquake in Amatrice, Italy, I've reposted the village's famous pasta recipe that is prepared quite often in my family, both here in the States and in Italy. I am joining restaurants and people around the world who are also preparing this classic recipe for Bucatini all'Amatriciana in a tribute to the victims.
Now before I get to the re-posted recipe and photos, I want to share a step-by-step preparation of Pasta all'Amatriciana by my two cousins from Modena, Italy who visited us in July. It was just as delicious as it possibly could be, prepared with ingredients that their parents had shipped from Italy!
The complete recipe is at the bottom of this post for you.
So, my friends, I present to you Francesco Santi and Filippo Gualdi in my cucina:
STEP ONE
After dicing the pancetta or guanciale saute' the meat in olive oil on medium heat in a heavy skillet. Here is Francesco beginning the dish. Add the onions, garlic, and hot red pepper flakes (or 1 dried peperoncino). Saute until browned, about 10 minutes.
NOTE: It is preferable to use "guanciale" the 'cheek of the pig' as is used in Italy, but it is very difficult to find in the States other than large cities — here's the link to purchase online: GUANCIALE),
STEP TWO
Add freshly chopped tomatoes OR use imported Italian San Marzano tomato 'passata' from the "Mutti" brand. This is what my family in Italy uses and here's the link to purchase it online: MUTTI, because you won't find it in any American stores. My family does not add wine to our sauces, but it is entirely up to you to add wine at this point. Gently stir the mixture until nicely blended together. Bring to a simmer, reduce the heat to medium-low, and cook at a gentle simmer for about 20 minutes, until the sauce is thickened.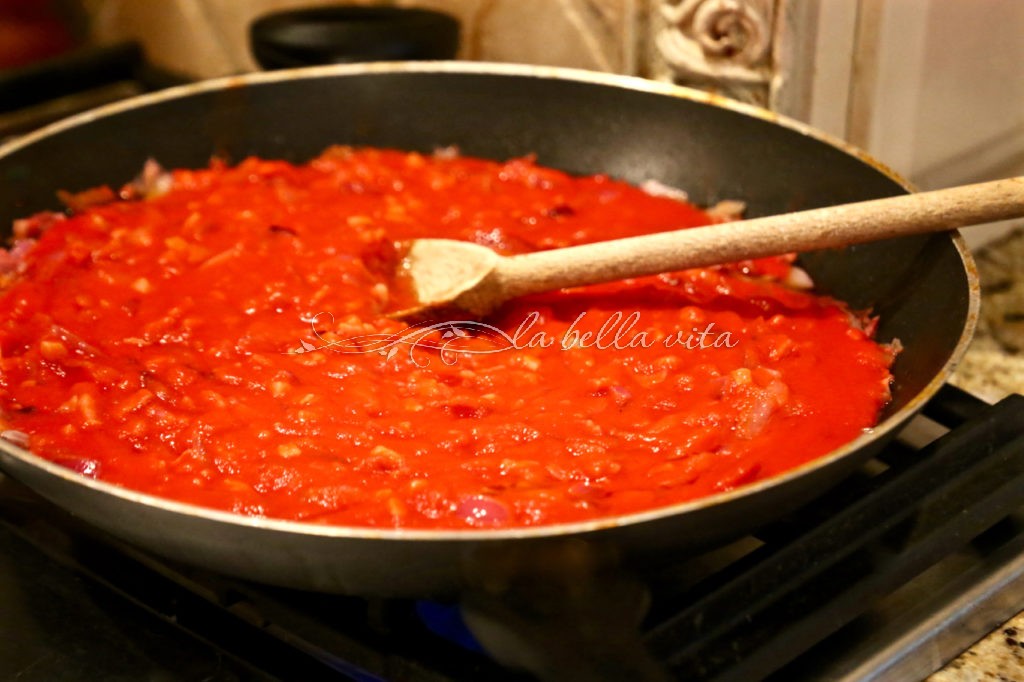 STEP THREE
In boiling, salted water, cook your pasta for no more than 5 minutes until al dente and strain the water, leaving 1/2 cup of pasta water to add to the sauce. Pour the strained pasta into a large, shallow, and wide pasta bowl as Francesco is doing below. Here we are using the pasta (penne shape) that my cousins shipped to us from Italy. You can use any hefty shape of pasta that you prefer, but it is traditionally served with the famous bucatini pasta shape with the hollowed out center as you can see in the photos at the top and bottom of this post. The sauce is too robust and heavy for delicate pasta shapes. Here is the link to purchase Bucatini pasta online: BUCATINI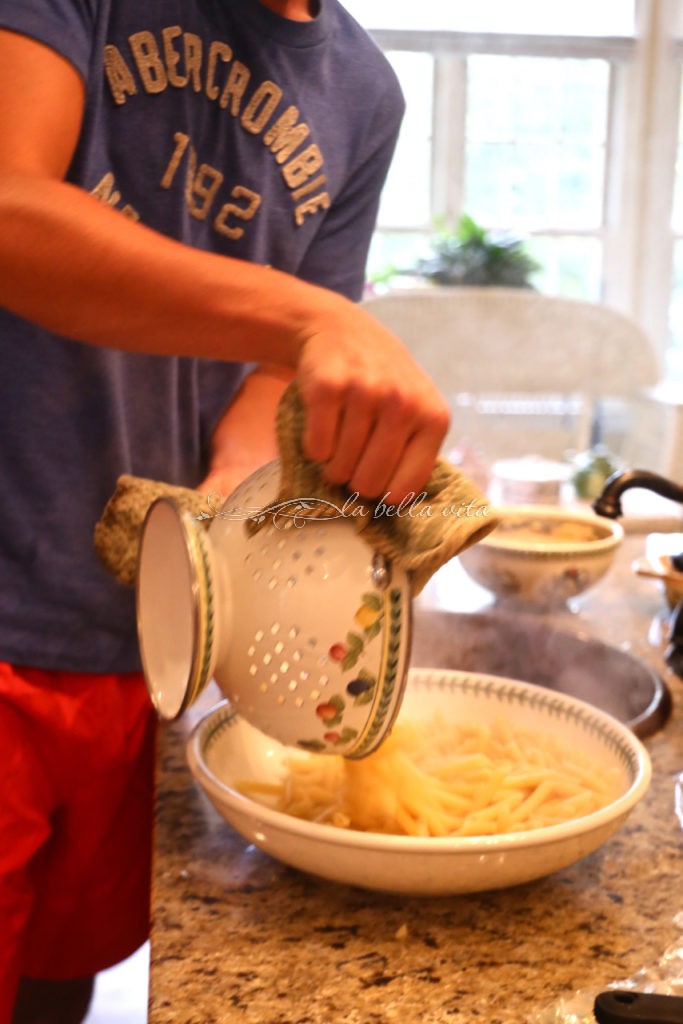 STEP FOUR
Add about a handful of freshly grated pecorino cheese to the simmering sauce on the stove and blend well. Then carefully pour the hot Amatriciana sauce onto the hot pasta.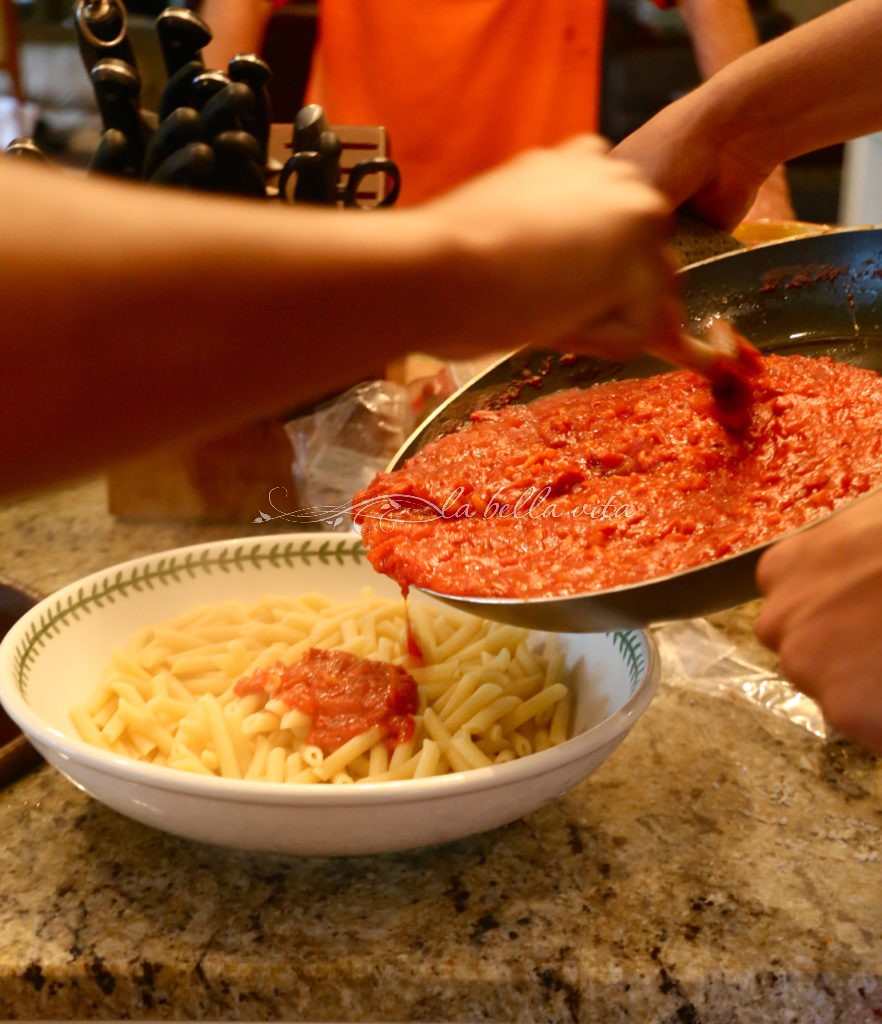 My family (both in Italy and the States) prefers a lot of sauce, so we pour it all into the pasta. We also have another bowl of sauce on the side to pass around the table.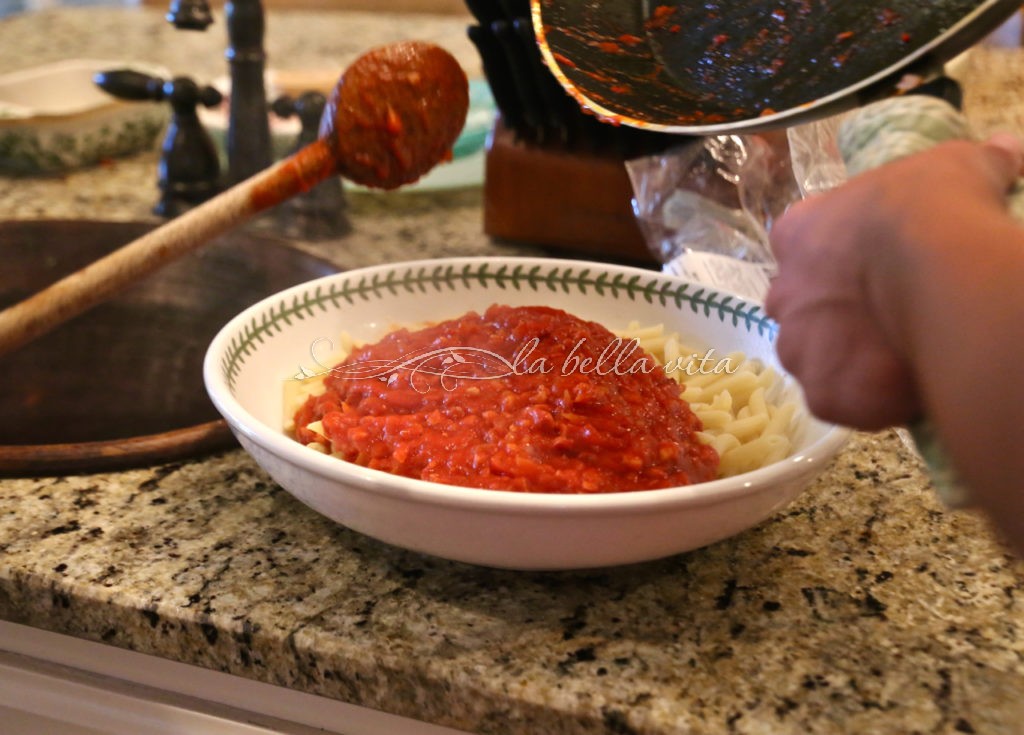 STEP FIVE
Gently and thoroughly stir the sauce with the pasta. Add the reserved pasta water a little at a time to loosen the sauce to your desired consistency. Taste. Add more cheese if you like. Make sure you have a lot of grated pecorino cheese to take to the table also.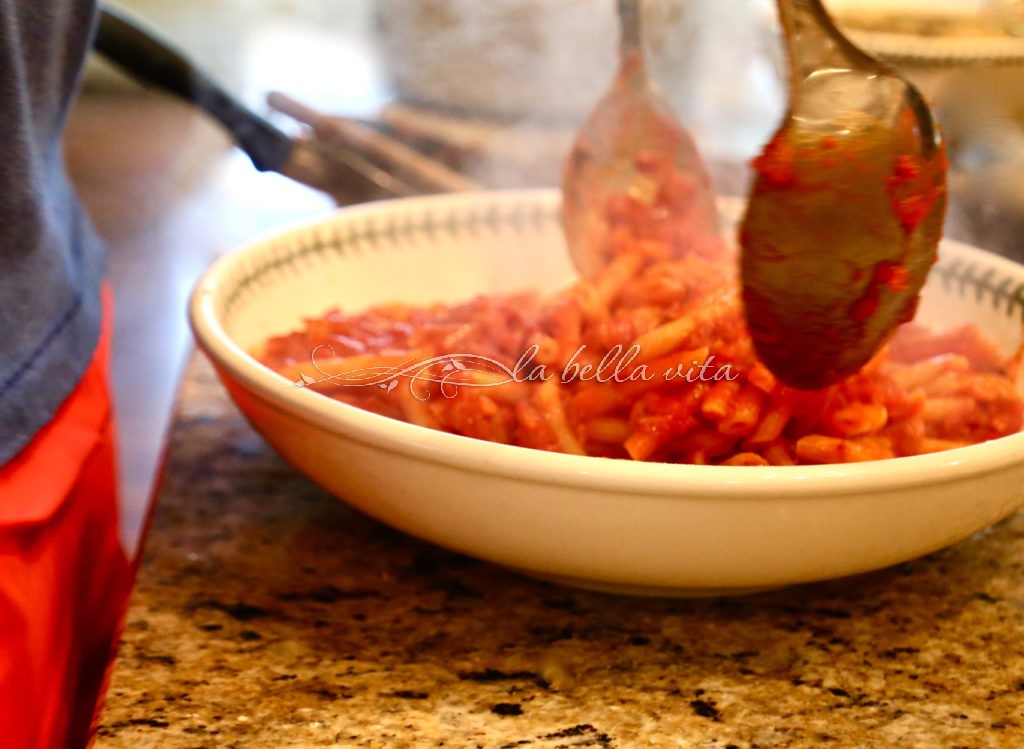 FINALE
Serve at your tavola (table) with amore (love) and enjoy your guests devouring this delicious pasta dish!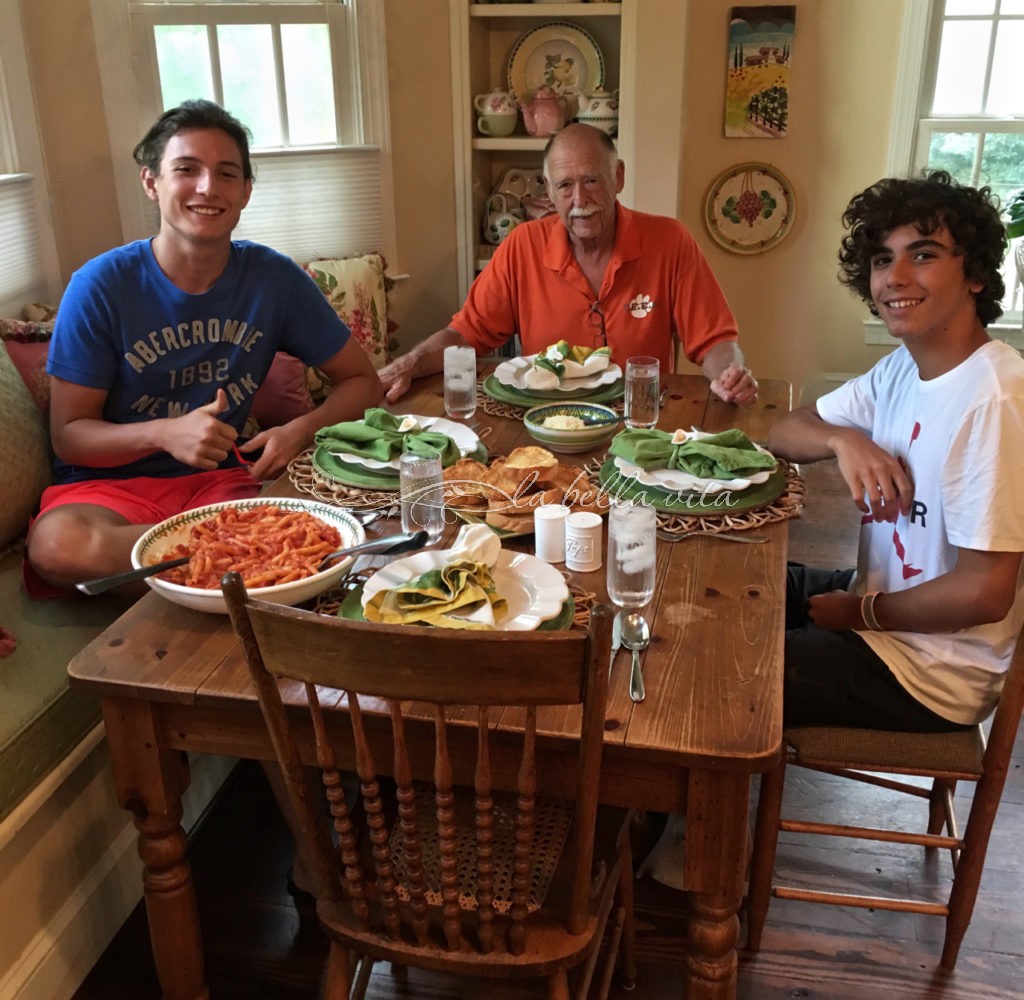 Francesco (on the left), my husband Bill, Mr. Meat and Potatoes (center and who can't get enough pasta), and Filippo (on the right). Notice that Italians in Europe do not use ice in their cold beverages as we do here in the States. Filippo and Francesco were typical in this setting without ice in their water, as did Bill and I.
Again, my family loves a LOT of sauce as well as large portions, proven by Filipo's first portion shown below; he had a second portion of the same size! Now that's a lot of pasta! I'd love to be able to eat that much pasta!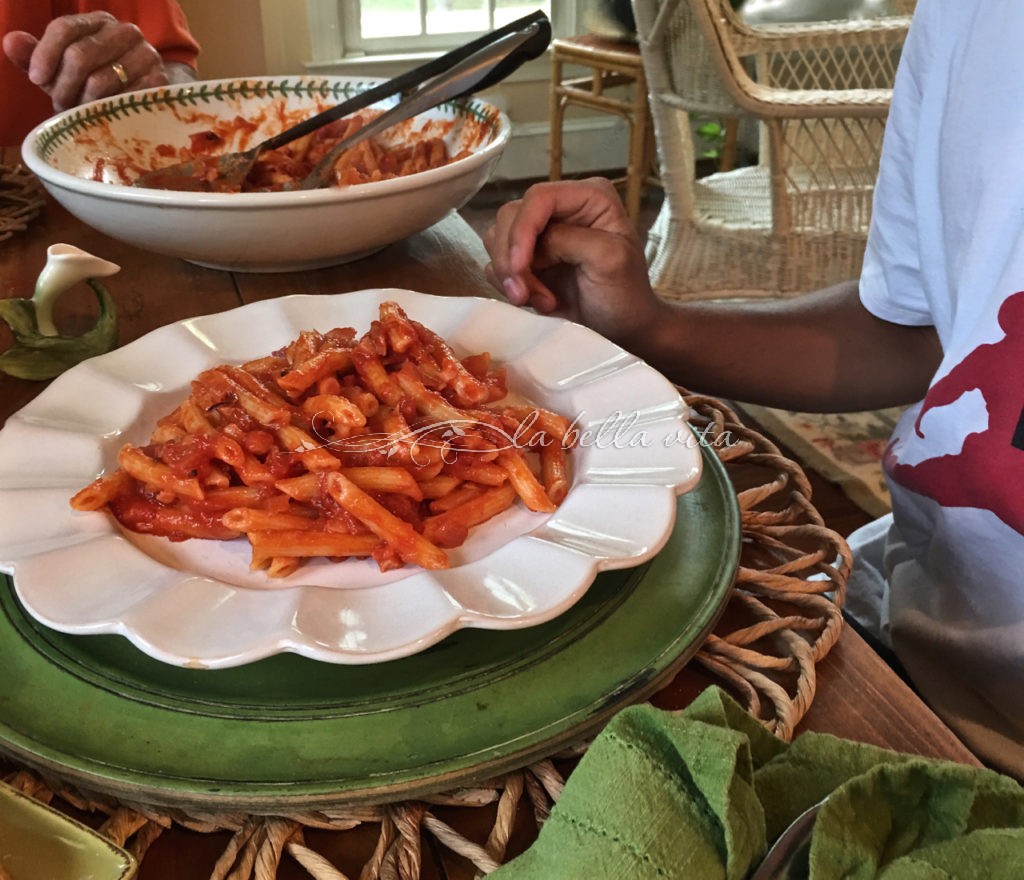 Sprinkle freshly grated pecorino cheese on top. A little sprinkle or a lot . . . in our family, we live by the saying, "You can never have enough cheese". This cheese was also shipped to us from my cousins, so we had extremely delicious cheese on this pasta! Filippo likes a lot of cheese too; after all he's a 14-year old athlete and a growing young man!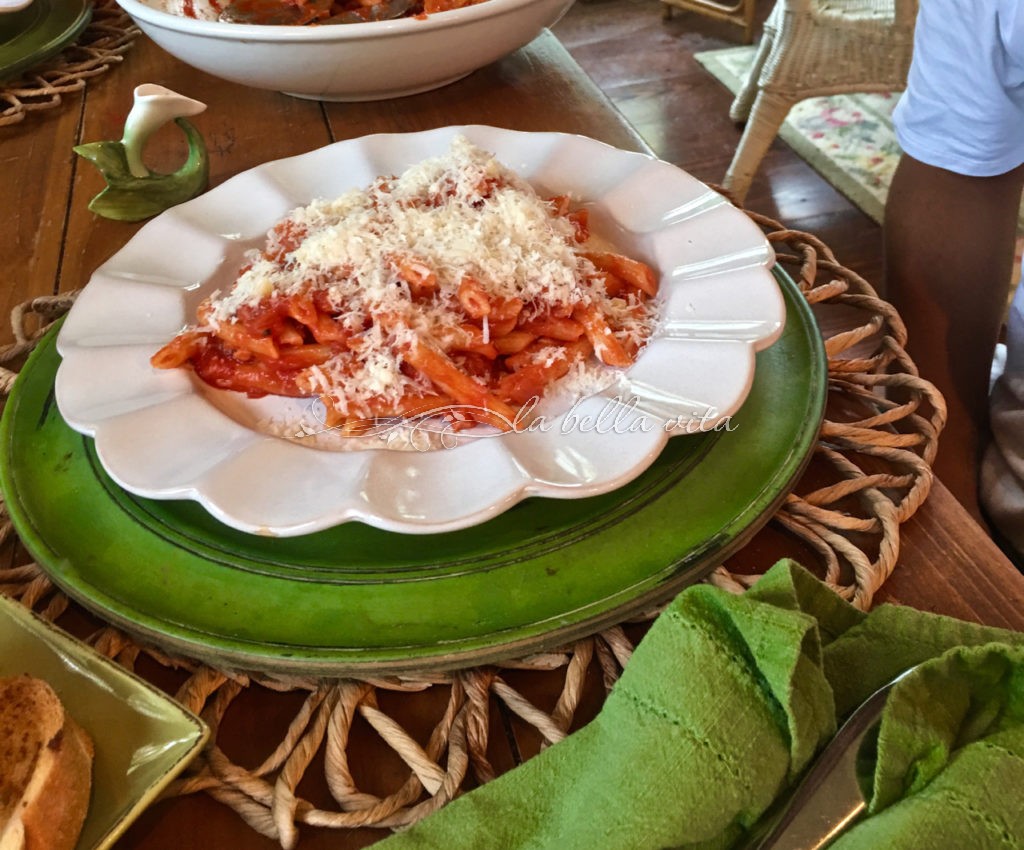 What a blessing we were given to have two teen-age boys from Italy that wanted to spend a few weeks with us here in the States and who even cooked for us! And doubly blessed to have their parents want them to experience 'real life' in the States and not just as a tourist to New York City, Boston, and Miami where they have already visited. I can't wait to visit them again next summer and to learn to cook more delicious pasta recipes!
Here is my original post from 2014 for Bucatini all'Amatriciana!
.
A classic Italian sauce, "Amatriciana" is named after the mountainous town in the province of Lazio: Amatrice, Italy.
This sauce in "Bucatini all'Amatricana" is pure simplicity with an intense flavor all blended together, yet gets its robust gusto from only a handful of ingredients. Numerous interpretations for this recipe abound, but every version always includes perfectly red, sun-ripened Italian tomatoes, pancetta or guanciale, onions, garlic, and a sprinkle of fiery hot peperoncini (hot red pepper flakes). Amatriciana sauce is traditionally served with bucatini, similar to spaghetti, but with a long hollow tube through the entire noodle.
Purists will only use guanciale that has until recently, been difficult to locate in the States. But I've provided a link on Amazon for you to purchase it. It's pricy stuff, but you can freeze what you don't use for later.
The reason for the preference for guanciale (that originated in the Roman Lazio region of Italy) is that it is a cut of pork that has significantly more marbling and fat therefore imparting a richer, more intense meaty flavor than pancetta or bacon. But good pancetta makes a nice substitute.
When preparing this sauce, make sure that you use the best imported San Marzano Italian tomatoes that you can find and a high quality pancetta or guanciale, each of which is like bacon on crack!
This is not exactly a heart-healthy recipe. But if you're like my family and believe that pork rules, than you'll be just fine with some fat every now and then. Eat your cabbage soup the day after you splurge on this pasta!
My husband and I prefer recipes a bit more 'amped up', yet perfectly balanced, so I've added my usual embellishments that accomplishes extra flavor very nicely.
Although this is a typical dish found in Roman homes, ristoranti and trattorie, it was in Northern Italy where we first enjoyed Bucatini all'Amatriciana. For our last dinner at the home of my family in Modena, my cousin Silvia (who works full time outside her home) insisted that we stay for one more meal. Since she works, we felt that this was too much for her. But Silvia insisted and said that the pasta she was preparing was neither difficult or time-consuming, "Not to worry, stay for dinner before you get on the road and drive to Florence."
A huge, gigantic platter of Pasta all'Amatriciana with penne was graciously presented to us to enjoy. We devoured the pasta in a perfectly spiced sauce studded with bits of guanciale. We loved it and asked Silvia about the recipe. My mother and I simply could not get over the flavor that resulted from such a simple combination of ingredients! Nor could we get over how quickly she had dinner ready on the table for us!
Delicious, easy, and fast enough to pull off in less than an hour! Works for me!
I always keep canned Italian tomatoes from my garden in my pantry, as well as pasta, so all I have to do is get the pancetta/guanciale and pick the fresh herbs from my garden right outside my kitchen. I always buy a little more pancetta/guanciale to freeze (as I do with almost every food item that freezes) because we live so far out of town on the acreage. By doing this we keep our freezers constantly stocked so all I have to do is just pull something out when I need it after work.
For my version, I added some basil and Italian parsley . . . simply because my herb garden is ripe and ready to use. And I had a nice bottle of red wine given to me from a student in one of my classes whose Italian father produces a delicious family wine to enjoy with this pasta.
Totally irresistable and seductive!
.
In 2014 I was asked to enter an Italian Cooking Competition by the folks at Tuscany Now to create and submit an Italian recipe that had authenticity and creativity for their second annual Italian Cook-Off. This recipe (since it is so special to my family both here in the States and in Italy) was my top choice of all my recipes to enter into the contest.
It was an honor to be selected among the 100's of 1,000's of food blogs around the world, and you can find my recipe featured on their website here –> Tuscany Now
Grazie mille!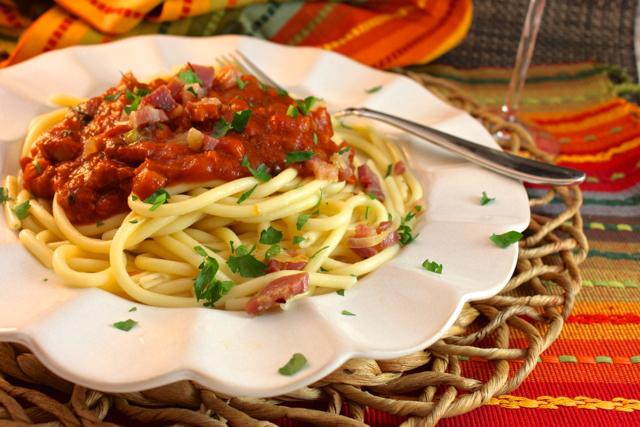 .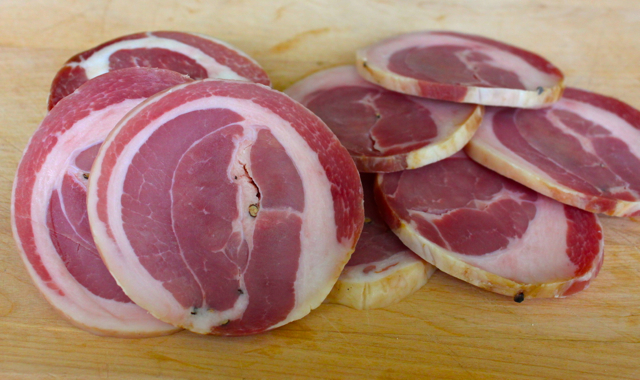 Just look at this beautiful pancetta!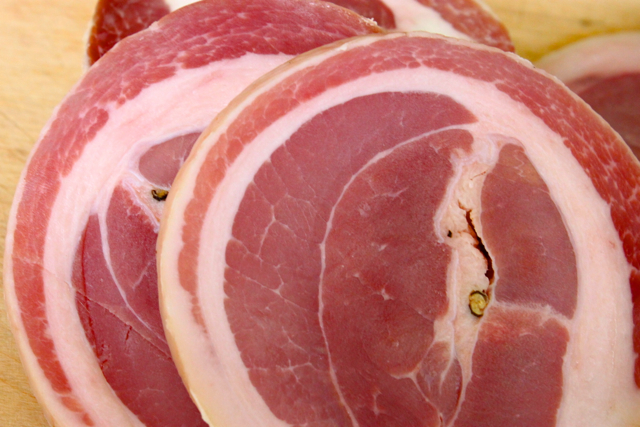 Slice the pancetta or guanciale into 1/4″ thick slices (or have your butcher do this for you).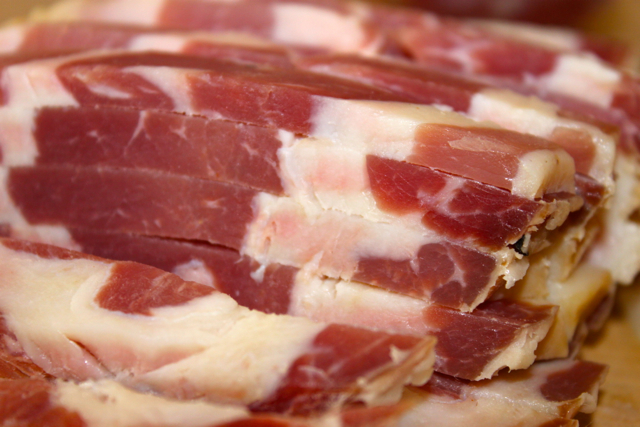 Then slice the pancetta or guanciale into 1/4″ wide strips.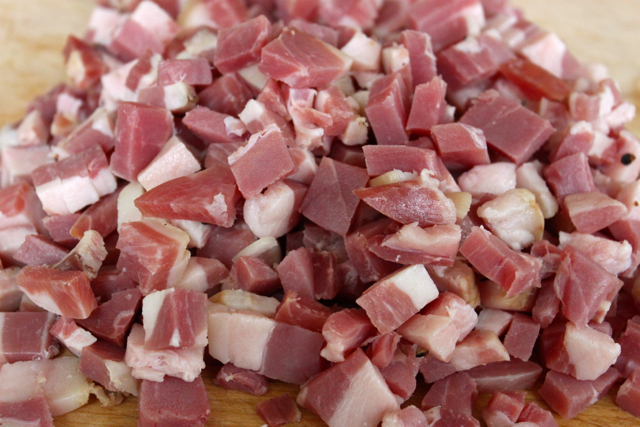 Chop up the strips of pancetta or guanciale.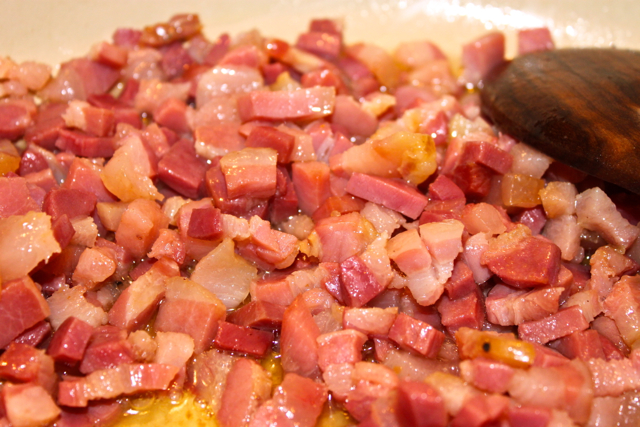 Saute' pancetta or guanciale in the olive oil.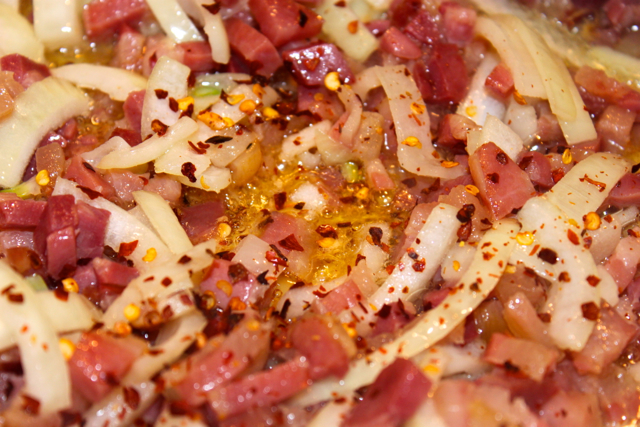 Add the onions, saute' and add the peperoncini (red pepper flakes).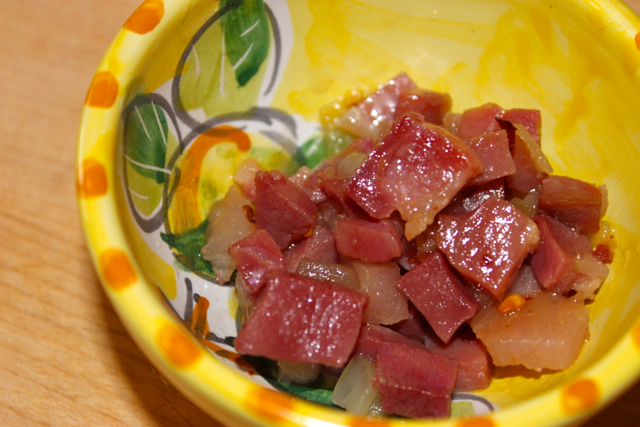 Set aside about 1/3 cup of sauteed pancetta or guanciale for garnishing later.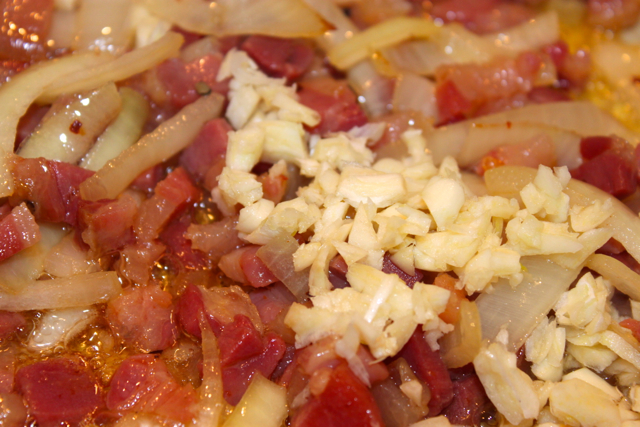 Add chopped garlic.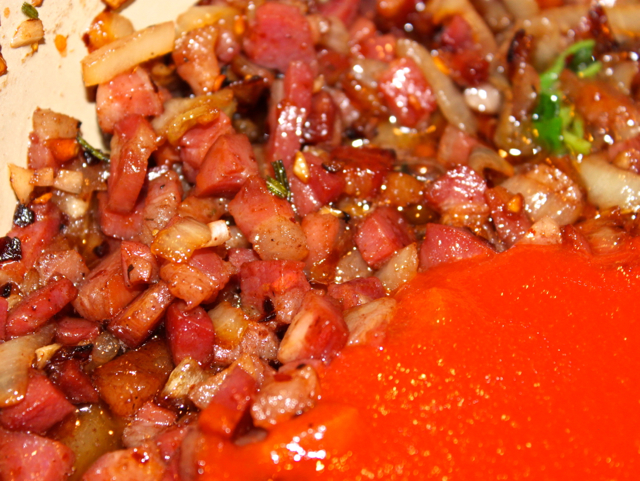 Add the pureed/chopped San Marzano tomatoes or garden-fresh chopped tomatoes.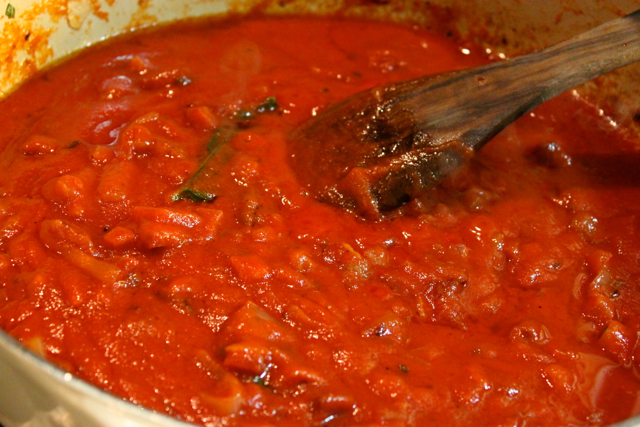 Blend all ingredients thoroughly.
Finally, add the chopped Italian parsley to give the sauce a lovely green accent and additional flavor!
Simmer on the stove for about 20 minutes. The sauce should be THICK, not runny, thin or liquidy. When you strain the pasta, pour about a half cup of the pasta water into the sauce. There will also be a little bit of water in the tubular pasta. This adds flavor and a little more thickener for the sauce.
Enjoy! This is a very hearty, filling pasta that I hope you will try!
Garnish with the chopped pancetta or guanciale that you previously set aside.
Sprinkle a little more chopped Italian parsley over the pasta and sauce.
Pass the Pecorino-Romano cheese around to your guests.
Below is another recipe using the bucatini pasta noodle with a red pepper sauce that is especially great for those who prefer to eat less or no meat in their nutrition:
Bucatini with Roasted Sweet Red Pepper Sauce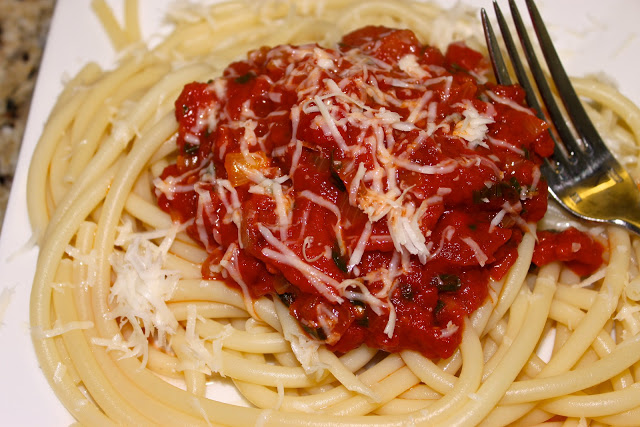 disc.
Print [yumprint-recipe id='41']
---