Risi e Bisi – A Classic from Venice
It's officially SPRING!
I mean, it's about time! We're all just so weary from the long, cold winter that we had this year!
So in the spirit of spring, it's time to start another season of fresh ingredient cooking!
PEAS + SPRING = simple, sweet perfection! This is a one of the most classic dishes from Venice, where rice is king in recipes versus pasta. Once prepared on The Feast of St. Mark on April 25th for the Doge's (Venetian rulers) only, this dish is now enjoyed by anyone at any time . . . but mostly in the spring when freshly harvested peas are at their peak of flavor.
Risi e Bisi (Rice and Peas) is simple, humble, and subtle to taste. It does not have an 'over-the-top' sensation of intense flavors. Subtlety is an understatement!
That's why it's best to prepare Risi e Bisi to compliment an entree that explodes with flavor.
However, if you're like my family, and you prefer a more amped up flavor, than add sautéed pancetta and dry white wine. It really makes a difference!
Traditionally, this is more of a rich, heavy 'soup', rather than a thick risotto, just having enough liquid to require using a spoon. So if you want it more brothy, than add the broth all at once instead of using the risotto preparation method of adding one cup of broth at a time, stirring until absorbed, and then continuing that process until all of the broth is incorporated. Too thick? Add more broth and don't continually stir it in, as you would with risotto. Either way, prepare for a very filling dish, even if you only eat one cup.
Peas really shine in this recipe, they are the focus . . . not the rice. You should see a LOT of peas in Risi e Bisi. The perfect spring vegetable!
You'll certainly capture the essence of spring in this delightful Venetian classic recipe.
Visions of Venice — Inside the Doge's Palace where Risi e Bisi was first served only to Venetian royalty:
Print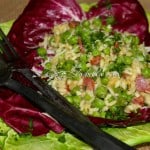 Risi e Bisi
Author:
Prep Time: 0 hours
Additional Time: 0 hours
Cook Time: 0 hours
Total Time: 0 hours
Category: Side Dishes
Cuisine: Northern Italian (Venice)
---
Description
This is a classic springtime recipe using fresh from the garden peas. It is not a true risotto, since it is eaten more as a soup, but if you like, you can add the broth/stock more slowly and stir until absorbed in the traditional manner for risotto . . . and have a thicker version. I also like the addition of garlic and pancetta for a better flavor.
---
2 Tbsp. butter
1 cup of finely diced yellow onion
2 large cloves of garlic, minced
4 oz. pancetta, cut into 1/4″ cubes
2 cups arborio rice
1/2 cup dry white wine
6 leaves of fresh sage
6 – 8 cups of chicken or vegetable broth/stock
4 cups of fresh peas (frozen works too)
1/2 – 1 cups freshly grated parmigiano cheese
1/2 cup freshly grated regianno cheese
4 Tbsp. chopped Italian parsley
---
Instructions
In a medium sized pot, heat the chicken/vegetable broth/stock and then turn down to 'simmer' while preparing the rice.
Heat 2 Tbsp. olive oil and 2 Tbsp. of butter in a wide, deep saucepan.
Add the cup of onions and sauté for about 7 minutes, until glassy.
Add the 2 large minced cloves of garlic and the chunks of pancetta.
Sauté for another 10 minutes . . . do not burn
Add the rice and cook on low-medium for about 5 minutes, until the rice begins to turn glassy.
Add wine and simmer for 2 minutes.
Add whole sage leaves.
Add broth/stock one cup at a time, stirring and fully absorbing the liquid into the rice mixture after each cup is added. (If you want your risi e bici to be more of a soup, than add the broth/stock all at once and stir until the rice is cooked to your preference level).
If the rice is too thick for you and more of a risotto consistency, just add more hot broth.
Add the peas.
Stir in cheese.
Stir in chopped Italian parsley.
Serve garnished with grated parmigiano cheese and chopped parsley.
---