Where to Eat on St. John – ZoZo's and Monday Morning Musings
Looking for breath-taking, brilliant, turquoise waters?
Look no further than the Virgin Islands in the Caribbean! During our spring break vacation to St. Thomas, we took the 20-minute ferry ride over to St. John, a protected national park for everyone to enjoy! We hopped on a safari shuttle 'truck' for $25.00 each to see some of the most beautiful bays in the entire world!
What a treat for the eyes!
It's difficult . . . no, it is impossible to describe the color of the Caribbean Sea waters on the little island of St. John . . . simply impossible!
Doing the 'we-don't-have-a-lot-of-time' touristy things since we didn't want to go to any beach, get oily-sweaty-dirty before going to dinner in a very nice eatery, we decided to take an hour-and-a-half 'safari shuttle' tour of the national park on St. John. Turned out, our driver/tour-guide gave us nearly a 3-hour tour.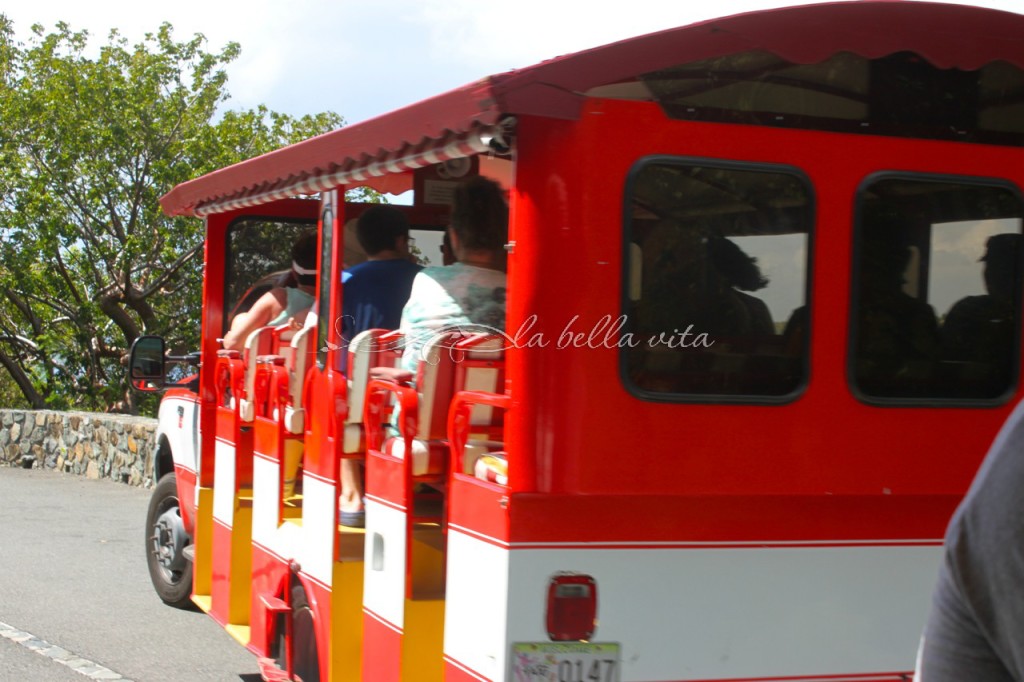 a typical 'open-air' taxi shuttle in the Virgin Islands — and this shuttle was 'high-end, luxurious'!
A wonderful tour and great tour guide worth every penny of the $25.00! The driver did the driving on the steep, winding narrow roads, and we did the looking, staring, gauking, 'wow'ing', and taking of memorable shutter shots! I wish I could remember the name of the driver to recommend to you, but alas, being caught up in the moment, I didn't write it down. Please forgive me!
One of the FIRST stops is for a 'potty break' at the Visitors' Center that you won't get any time later (hint, hint: use the facilities at this point or else use the woods in the park later, which the shuttle will not wait for you to do . . . got the general idea?). If you want to get a 'special stamp' for visiting each of the U.S. national parks, this is your stop to do so! Cute t-shirts, interesting books, and more quaint merchandise await you for purchase, but especially interestingly is this table of a 3-D overview of St. John and this U.S. Virgin Islands National Park.
This table overview reminded us that one trip is simply NOT ENOUGH to experience this beautiful island and national park! For our next visit, we are planning a minimum of 2 days on St. John.
We're now taking scuba diving lessons to enjoy this island (and other islands) more fully in the future!
If you feel (like us) that you can't afford the Ritz or the Westin on St. John, you can rent cottages on the public beaches. This is what we're planning on for our next visit! Nothing wrong with quaint cottages, in our humble opinion! Especially when you'll spend the day snorkeling, scuba diving, or lying along the beautiful, pristine, white-sand beaches of St. John!
Moving on after the brief break at the Visitors' Center, our driver takes us up the extremely steep, narrow, bumpy, curvy roads to experience one of the United State's most treasured natural parks!
Every stop, every turn on our safari shuttle tour is simply amazing! I cannot describe it and just pray that we take care of this precious natural environmental gift so that many generations to come can experience and enjoy it!
A handful of people are fortunate enough to live on this extremely expensive island where EVERYTHING (other than the locally grown fruit) has to be shipped. If you thought that Hawaii is an expensive place to live, the U.S. Virgin Islands is just as pricey.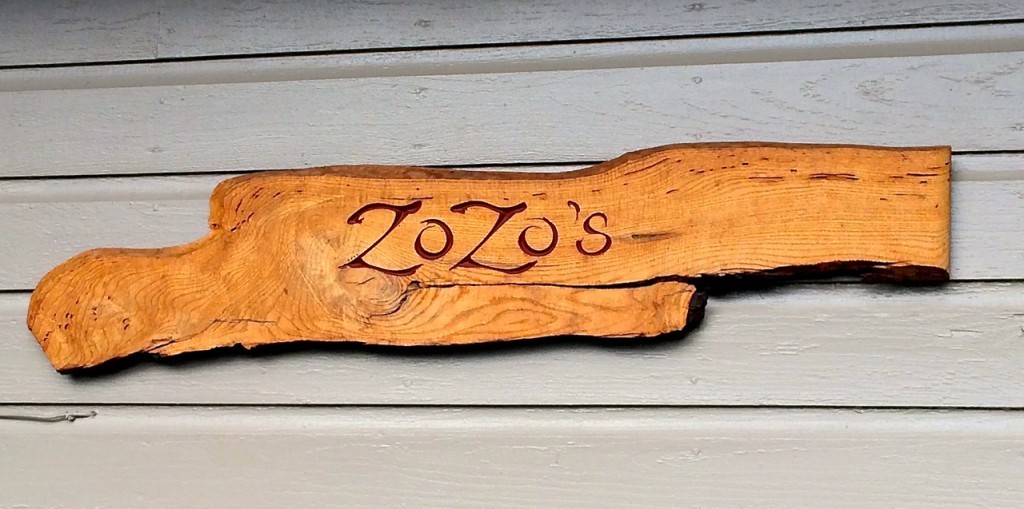 After our tour of the park on St. John ends, we embark back to Caneel Bay to ZoZo's. Let's see what lies ahead for us and for YOU, should you choose to visit and dine on St. John!
My husband walking my 88-year-old mother up another of the endless steep mountain stairs to ZoZo's; past the remains of an old sugar mill, once prominent on the U.S. Virgin islands.
Amidst a beautiful tropical setting with stonework, palm trees, and soft trade winds, one is welcomed to ZoZo's
Being true to the island's architecture and historic buildings, ZoZo's uses the same stonework, old brick and natural coral construction/accents.
The evening begins with soft tropical sprinkles gently falling from the sky and ends with the same drizzle throughout our dinner. Later on, as the soft showers turned into heavier tropical rainfalls, we felt that we shouldn't have had to ask our server to lower the 'wall' tarps to keep us dry….. but sadly, we had to ask . . . and our server did not even know how to lower the blinds. Needless to say, we were, sadly, pretty wet. Although the gentle showers did not dampen our experience, we were somewhat dismayed that we had to ask in such (what we think) an expensive restaurant.
It was a bummer to have to ask for butter and for olive oil with balsamic vinegar to dip the bread. Once oil and vinegar arrived they had grated parmigiano on top and was delicious!
Beginning with strong Caribbean specialty cocktails (very rum-based) we selected some outstanding appetizers! Above is the Filet Mignon Meatball, Garlic Crostini and Smoked Cherry Tomato Fra Diavolo for $18.00 (yes, pricey, bu seriously delicious).
After appetizers, our salads included a (bit on the pricey side again) $17.00 salad of: Diced Watermelon, Local Pineapple, Cucumber, Arugula, Shaved Fennel, Feta Cheese and a Fresh Basil Vanilla Vinaigrette
Swordfish is one of our favorites, and this entree was very good and served in a large portion: At $42.00, the Swordfish was dressed in a Citrus Marinade, Sun-Dried Tomato Glaze, Toasted Orzo Salad, Brussels Sprouts and Mango Chili Brodo. The bed of orzo and brown rice was delicious!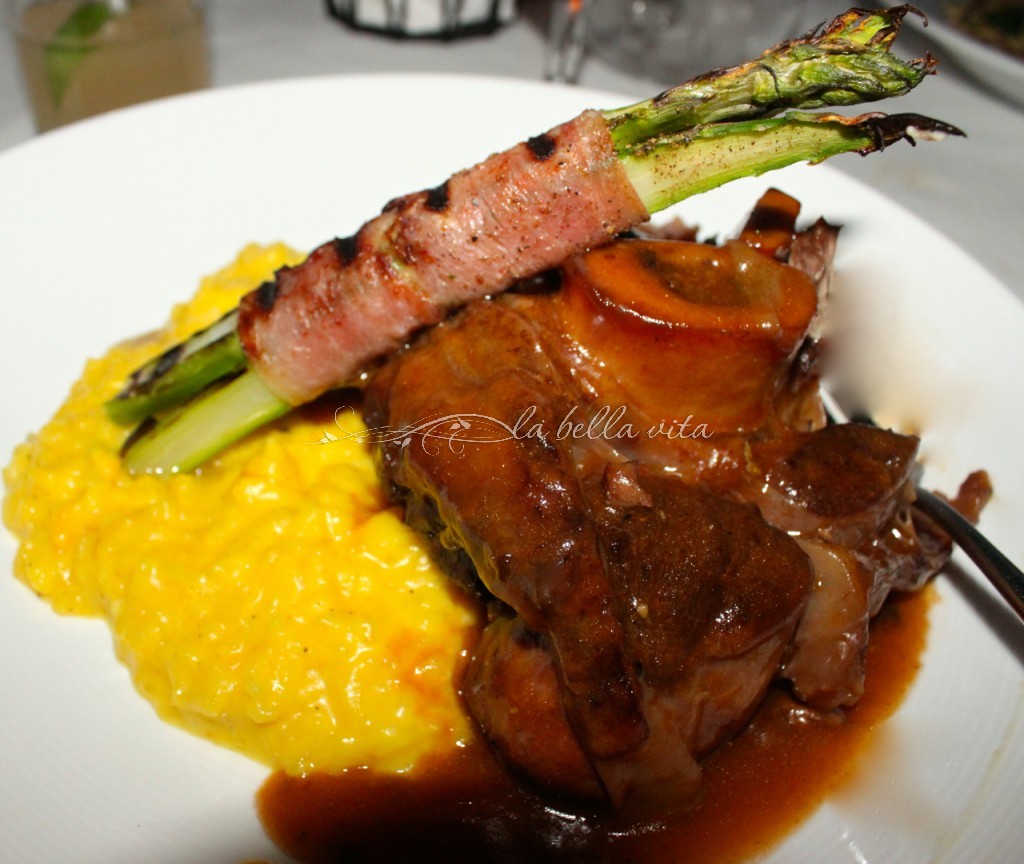 Osso Buco with Risotto ala Milanese (with Saffron) and Prosciutto-Wrapped Asparagus — truly to die for!
The Veal Osso Buco was SUBLIME! At $44.00, it was a meal for two that we took half of the portion back to our room for an awesome lunch to enjoy the next day! In our opinion, since this is a VEAL osso buco, it was certainly worth the splurge! Hands-down, no regrets on this one!
For dessert, we enjoyed an incredibly unique 'mango cobbler' with homemade ice cream. So yummy, and I'm sorry to say that my photo in the dark just couldn't be justified to include here. So just imagine it in your mind! Where in the world can you enjoy the FRESHEST, tropical 'mango' cobbler other than in the tropics?
Yes, it was delicious and worth the extra calories around our bellies!
ZoZo's is an expensive splurge eatery for any Virgin Islands vacation. But that's how we roll when we 'vacay'!! We save our hard-earned pennies to enjoy wonderful, unique dining experiences when we leave our ordinary, daily lives. Some people spend money and time on excursions and activities. Yet, it seems that the older we get, the more that we appreciate simple and quiet experiences together.
ZoZo's will not disappoint those who seek a very quiet dining experience with delicious options to choose from while on St. John.
.
Next up: Saving the best for last: Our high recommendations for what was our best dining experience in the U.S. Virgin Islands: A Room With A View!
.
.