Strawberry Layer Cake with Italian Meringue Buttercream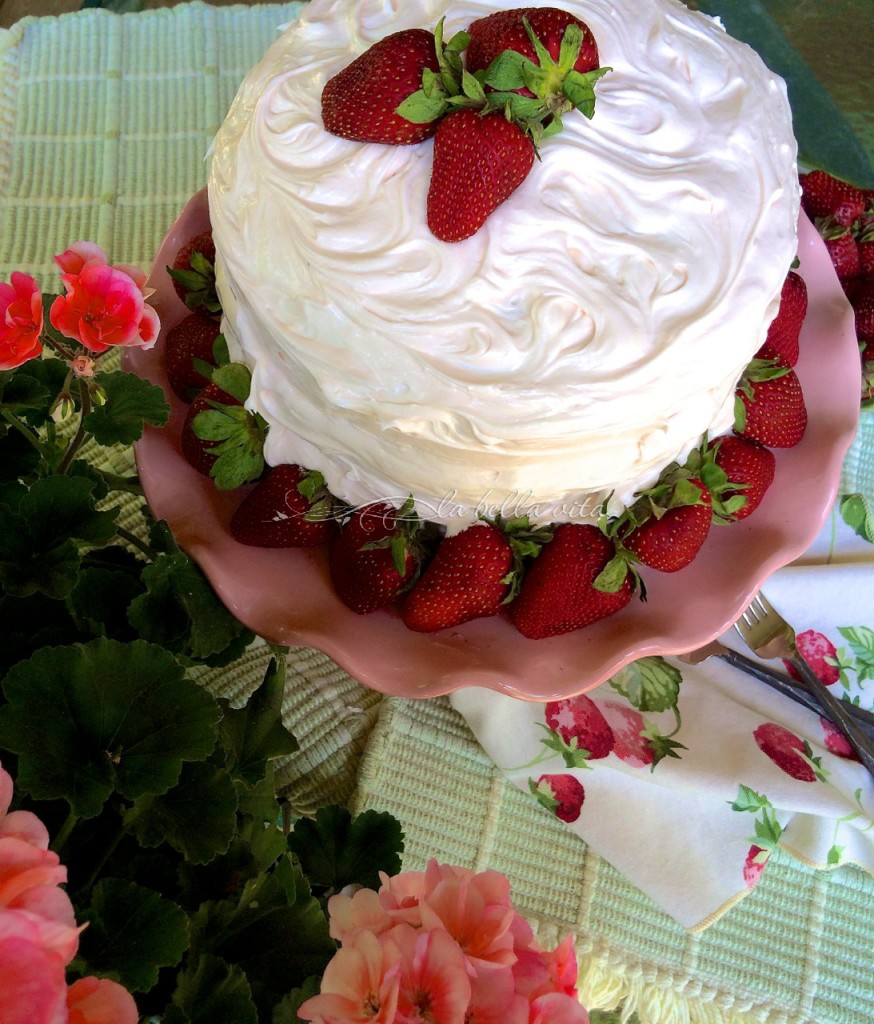 If you're looking for a recipe for a beautiful cake with amazing flavor and texture, you've just found it!
This Strawberry Layer Cake with Italian Meringue Buttercream will leave anyone asking for a second slice. Happens every time!
I found the white cake recipe in Bon Appetit years ago and it is light, fluffy, tender, moist and fabulous in flavor.
For my family this is the BEST. STRAWBERRY. WHITE. CAKE. EVER!
This is not a cake to indulge in if you're worried about your waistline . . . it's buttery and sugary!
'Nuff said!
This recipe is perfect for those special occasions when you want to serve something outstanding for dessert or simply enjoy with a friend with a cup of coffee or tea any time of the day!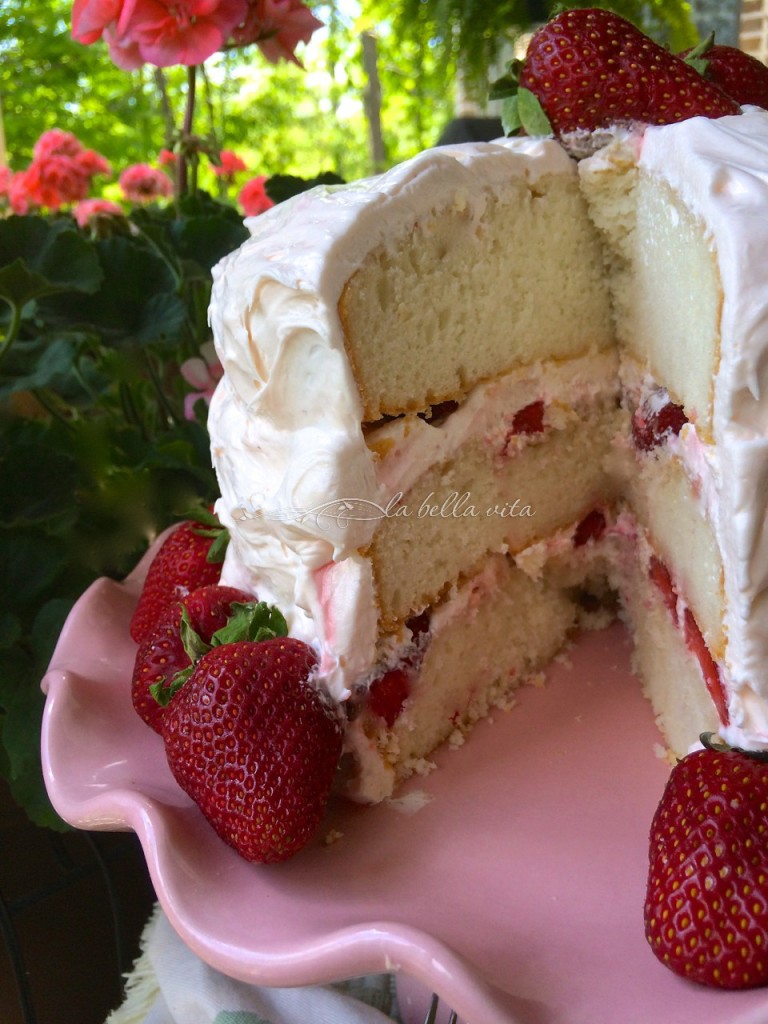 Between each of the three layers, sliced fresh strawberries peak out of thick layers of the meringue buttercream, giving the cake more visual appeal! We eat with our eyes first after all, don't we?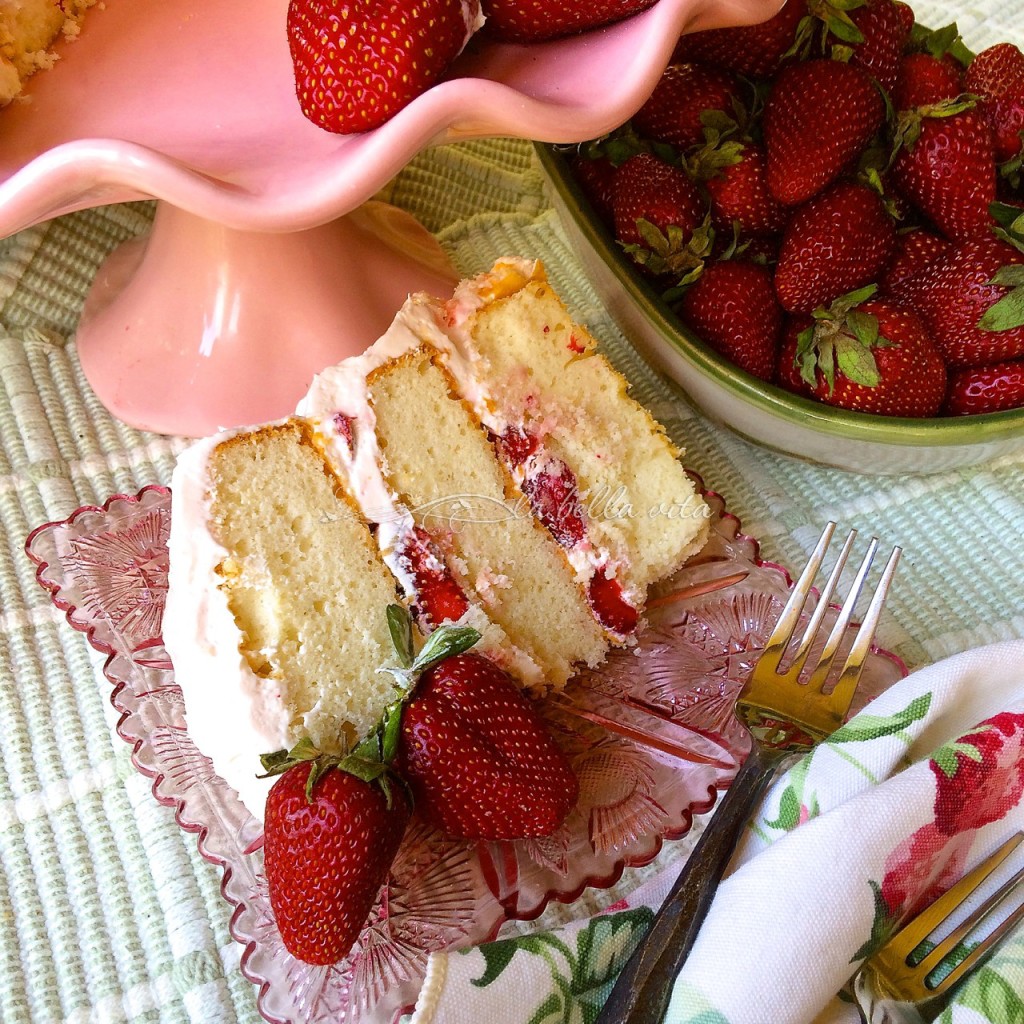 Why spend loads of money on expensive cakes when you can bake one right in your own kitchen. It doesn't get any fresher than that?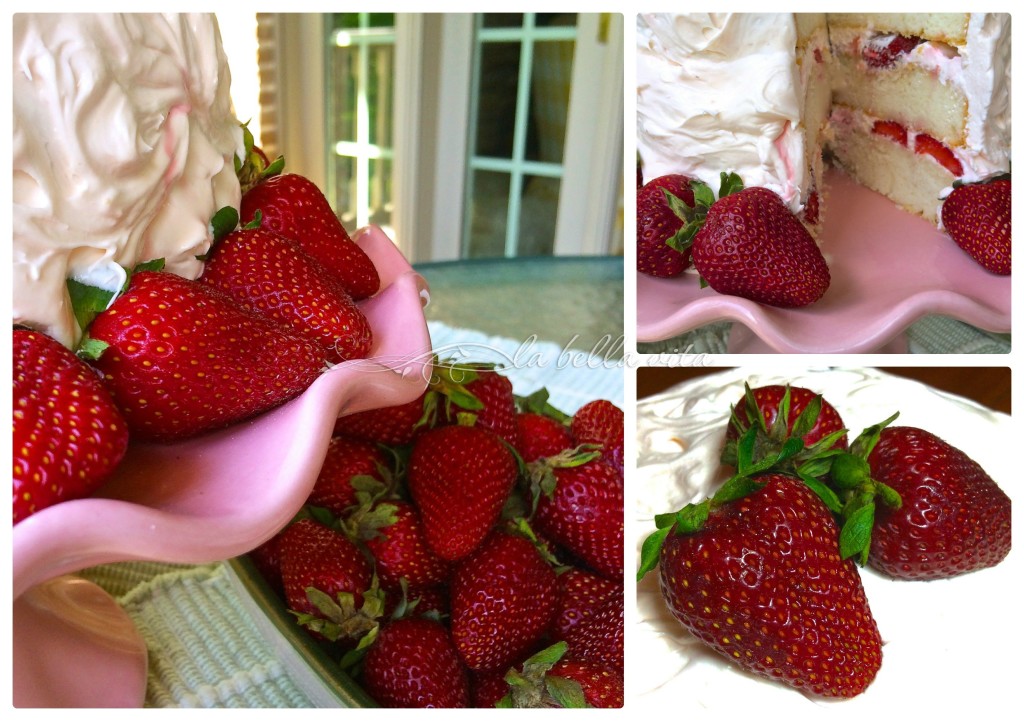 I love to use strawberries whenever they first appear in the farmers' markets every spring. I don't need strawberry patches on our acreage when I know that I can find superior strawberries locally. Plus I feel good knowing that I'm supporting the local producers and not paying for the gas to truck in less-fresh berries from other parts of the country.
Not fresh enough either!
These strawberries are so fresh, the aroma just fills my car with their sweet scent as I drive them home!
Raspberries are my other favorite fruit and would be absolutely lovely with this perfect white cake too.
Print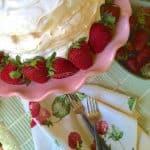 Strawberry Layer Cake with Italian Meringue Buttercream
Author:
Prep Time: 0 hours
Additional Time: 0 hours
Cook Time: 0 hours
Total Time: 0 hours
---
Description
This cake may well become your next favorite for those special celebrations in life. Tucked in between the layers of fluffy white cake are huge chunks of strawberries and more Italian Meringue Buttercream. Heavenly!
---
For the Cake
3 cups cake flour
1/2 tsp.salt
2 tsp baking powder
1/2 tsp baking soda
3 cups sugar
1 cup (2 sticks) butter, softened to room temperature
7 large eggs, yolks removed, use egg whites only
2 Tbsp. pure vanilla extract
1 cup sour cream
2 1/2 lbs strawberries
For The Italian Meringue Buttercream
I double this for a thicker frosting
1–1/4 cups sugar
2/3 cup water at room temperature
7 jumbo egg whites
Pinch of cream of tartar
2 cups unsalted butter at room temperature, cut into tablespoons
1 tsp. pure vanilla extract
---
Instructions
For The Cake
Preheat oven to 325 degrees F.
Butter and flour two 9-inch round cake pans or 3 8-inch round cake pans.
In a medium bowl, whisk together flour, salt, baking powder, and baking soda.
In a large bowl, cream butter and sugar together until light and fluffy.
Add egg whites, one at a time, beating after each addition.
Beat in vanilla.
Add sour cream, and beat for 30 seconds.
Add flour mixture in three additions, beating to blend after each addition.
Divide batter into prepared pans.
Bake cake until a toothpick inserted into the center comes out clean, 50-60 minutes.
Remove from oven and cool for 10 minutes.
Run a sharp knife around the edges of the pans, then turn cakes out onto a rack to cool completely.
If using two 9-inch cakes, take a serrated knife, and slice each of the two cakes in half horizontally. If using three 8-inch cakes, as I did, there is no need to slice any of them in half.
Place first layer of cake on a cake plate.
Spread a thick layer of frosting over the first cake layer.
Slice strawberries, leaving enough unsliced to decorate the cake.
Arrange sliced strawberries all over the frosting in a single layer.
Place the next cake layer on top and press down gently so that the strawberries are firmly set into the frosting.
Frost this second cake layer and repeat laying sliced strawberries on top of the frosting.
Repeat until the top cake is finally placed.
Generously frost the entire cake on top and sides, beginning with spreading two cups of frosting over the top and sides of the cake in a thin layer, then frost with remaining frosting.
This recipe makes a very big 4-layer cake or a thick 3-layer cake!
For The Italian Meringue Buttercream
In a small saucepan over medium heat, bring sugar and water to a boil.
Continue to boil until sugar syrup reaches 240 – 244 degrees F, soft-ball stage on a candy thermometer. As it cooks start step 2, the meringue.
While sugar syrup is cooking, separate eggs placing whites in the bowl of an electric mixer fitted with the whisk attachment, and beat on low to medium speed until foamy.
Add cream of tartar, and whip on medium to high speed until medium to stiff peaks form, but not dry.
With mixer running, add cooked syrup to whites in a slow but steady stream, beating on high speed. Always be careful when working with hot sugar.
Beat on high speed until steam from hot syrup stops, about 5 minutes.
Add butter a tablespoon at a time, beating until smooth, approximately 4-5 minutes.
Beat in vanilla, scrape down sides gently and beat again for 1 minute.
---
Notes
The cake is slightly altered from a recipe I found years ago in Bon Appetit magazine from which I scribbled the recipe down on a recipe card and so I don't have the actual date of the issue. The Italian Meringue Buttercream is from the famous Italian "Cake Boss". If he prefers this recipe for his famous cakes, then I knew that it would be a winner. It is certainly a winning recipe!
Recipe: https://www.italianbellavita.com/2015/05/strawberry-layer-cake-with-italian-meringue-buttercream/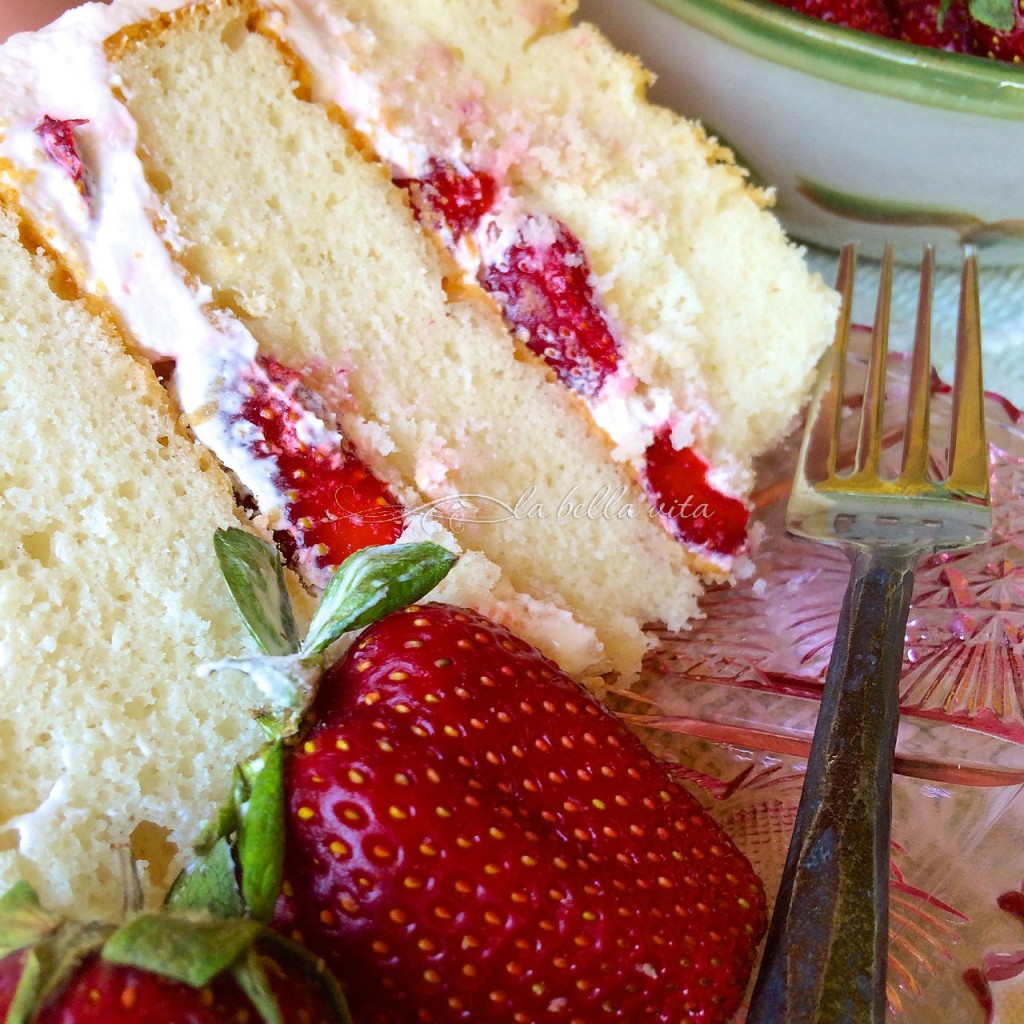 The simple fresh sliced strawberries are perfect . . . no extra sugar added so this cake is not over-sweet . . . just right!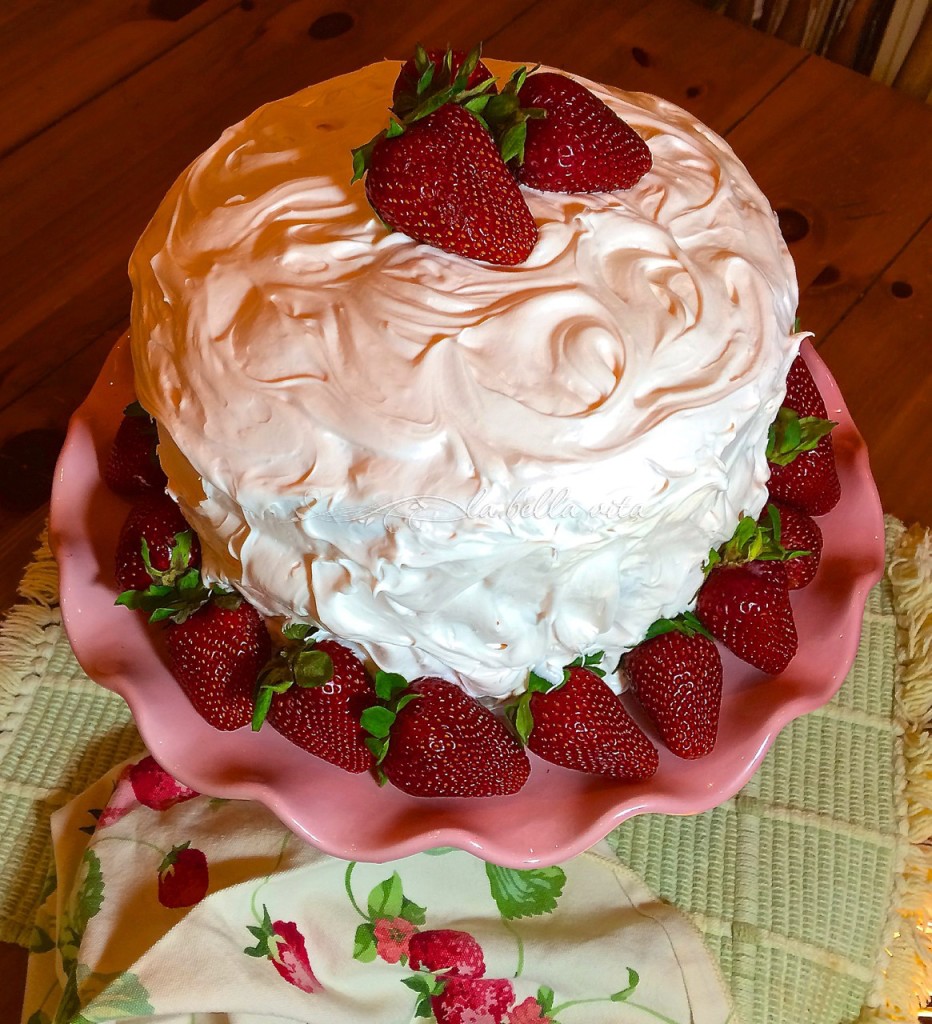 The incredible Italian Meringue Buttercream frosting is from The Cake Boss! That obviously guarantees a winner if he makes this frosting. Buddy Valastro is right! This buttercream tastes wonderful and is very versatile for decorating cakes. This Italian meringue buttercream is made with egg whites only so it has a pretty shines. It has very few bubbles and lumps and holds its shape wonderfully . . . and that's a good thing if you're like me and like to make lots of swirly-do's in your frosting.
One of these days I'm really going to learn how to pipe and decorate cakes correctly, because this buttercream is truly perfect for keeping the shapes you design.
This cake is so pretty when presented outside and enjoyed "al fresco". Today was a perfect afternoon in May with a gentle breeze flowing over our porch. It's a beautiful spring green outside this time of year and the contrast of the red and white of the cake against the green trees is beautiful.
Just add some pretty napkins and plates and you're set to serve this spectacular spring cake!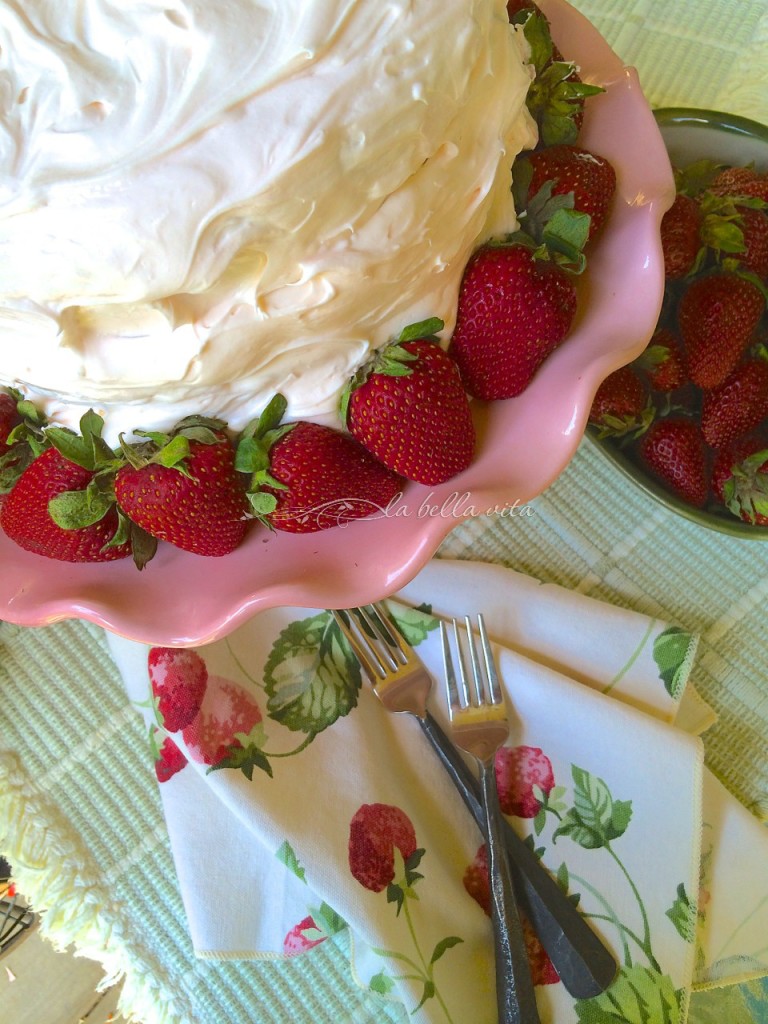 I hope that you enjoy this special spring cake! How do you enjoy fresh strawberries?
Do you have a special recipe that you'd like me to share with others here? Just let me know!
.
I hope that you enjoy this incredible Italian cake!
..